How To Tell If Mussels Are Bad – Straightforward Approaches
How to tell if mussels are bad?
The attraction of this food lies in its taste and texture. It's delicious, delightful, and attractive. However, this food requires freshness to have the best experience.
Otherwise, it brings you unpleasant taste and smell and can harm your digestive system.
Therefore, some recognizable signs of bad mussels will be discussed in this post. Now, let's start to explore this delicious seafood!
What Are Mussels?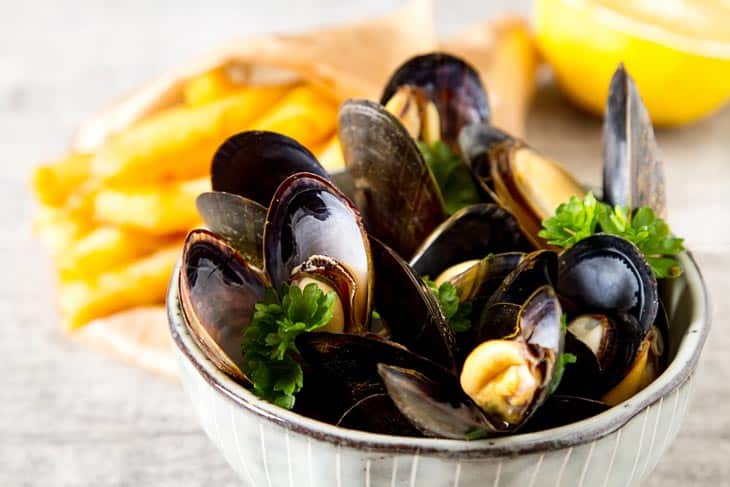 Like the appearance of clams or oysters, mussels are a type of bivalve, which means they have two hard shells with hinges.
It is a mollusk and feeds itself by filtering organic particles from water surroundings, including freshwater or saltwater habitats.
They can occur in subtidal and intertidal coastal environments adhering to gravel, rocks, or seawalls.
If they are housed in a cool, wet atmosphere, they can survive for a long time without water. In other words, they can live in a moist environment.
In the market, the Blue Mussel is the most widely sold species.
How To Tell If Mussels Are Bad?
There are many warning signs of bad mussels. In this post, we'd like to mention three main simple but effective methods to help you know how to tell if a mussel is bad.
Floating
This is one of the easiest ways to check the freshness. All you need is a large bowl of water. Follow the steps listed hereafter.
Put those you need to check in a bowl
Fill them with tap water.
If you see a mussel floating, it's dead or empty. Throw it out.
If you are buying this seafood in the fresh market, you can apply this method. You can choose the good one by discarding floating ones. It's quite easy.
Note: After checking, you should drain the fresh water out because they may die if placed in cool water for more than 15 minutes.
Smell
After using the visible method, we go on with the smell, regarding how to tell if mussels are good.
A fresh mussel does not have a much fishy odor. The right thing here is that they should be a little fishy with a salty scent.
If you find the above descriptive smell hard to feel, you can remind yourself of the fresh smell of oysters or clams. It's not totally fishy, just a distinctive or featured smell of water-based mollusks.
Therefore, if you sense a stinky, strong fish odor, it may be a dead mussel. A very fishy smell can attract flies. So, when you see flies around a mussel, it's surely dead and cannot be eaten.
You might find the unpleasant stink lingering on your hands after that. But don't worry; there are many ways to get fishy smell off your hands.
Look & Press The Shell
Here we come up with a touchable method to know how to tell if mussels are alive. Follow the steps below.
Choose the ones whose shells are intact and closed. In this case, closed shells mean they're still alive.
Most mussels that are open completely are dead and should be thrown away. However, for preciseness, you can press them to see whether they react or not. If not, they're dead.
With the fresh mussels open slightly, you should press the shell to check. The alive ones will close their shells.
Note: If you find any broken shells appear, the mussel is no longer fresh or even dead because of external damages.
How Long Does Mussel Last?
If stored well, they can live for several days (usually 2 – 5 days). Anyway, we recommend that you should eat them right away for the best and fresh taste.
Still, if you're too busy to cook immediately, you can store the fresh mussels in the fridge.
Like any other seafood, a mussel should smell like the sea when purchased. Mussel is a short-life mollusk. Therefore, you should prepare and cook them right after buying them.
How To Store Mussels?
It would be best to keep your mussels in the fridge with a lidless container to catch seawater drops.
Then, let's cover them with a damp cloth or newspaper or a thin piece of wet kitchen towel to prevent them from drying out because of the cold.
In this way, we are trying to create a moist environment for them to be alive.
Live mussels should not be exposed to extreme cold or freeze since they can't survive. In addition, they need air, so don't put them in a plastic bag.
Steps
Put the mussel bag into an open container or a bowl.
Wrap them with a clean moist cloth or paper towel to provide moisture.
Put them in the refrigerator.
Check them every day and drain any excess water.
Note: Do not let these shellfish in water, both the fresh or too-salted water, as they'll die after 15 minutes.
What Do Mussels Taste Like?
Delicious and attractive! A fresh mussel cooked correctly has a mild sea flavor and comes with a sweet saltiness.
About its texture, the flesh of mussels is quite similar to a mushroom. It's firm, a little chewy, and delicate.
They should not have a fishy odor or too salty flavor. In this case, they are no longer fresh or cleaned incorrectly.
Additionally, if they are overcooked, bad cooked mussels may be chewy, bringing an unattractive texture.
FAQs
Can You Eat Mussels If They Are Open Slightly?
It depends! Some slightly open mussels are still alive. So, it's safe to cook and eat them. Yet, in some cases, the slightly open ones are dead.
In these situations, you shouldn't eat them as many harmful bacteria arise. It will damage your digestive system or even cause other poisoning risks. For example, diarrhea, vomit, cold fever, infectious disease, food poisoning, etc.
You can press the shell of those open slightly to check whether they're fresh. If they close after touching, it's safe for us to eat them.
What Dishes Can You Make From Mussels?
Like other delicious seafood, there are multiple plates you can make from mussels. They can be steamed, boiled, baked, or even fried.
There are also other ingredients such as vegetables, meat, shrimp, etc., you can combine with. The below list suggests some popular mussel-based dishes that you can follow.
Steamed mussel in French style
Pasta with mussel and tomato sauce
Thai Curry
Paella
Catalan seafood stew
Roasted mussel
Cioppino
Spicy mussel soup
Mussel-based salads
How To Know If Mussels Are Bad After Cooking?
Usually, the mussel's shells will open during the cooking process, indicating they are done.
As such, those that refuse to open throughout the cooking process should be thrown away. These mussels may be properly dead and should not be eaten.
Moreover, they are also unsafe to eat if they float or have an unpleasant odor after being cooked.
If you happen to cook a large batch of this shellfish, remember to reheat mussels well before eating them again.
How To Know If A Frozen Mussel Is Bad?
The thing you should know is freezer burn. If you see any too-dried spots or discolorations of this seafood after a long freezer time, it's a sign of freezer burn.
Usually, it's still fine to consume frozen mussels. That said, the texture and taste will be affected, bringing unattractive dishes.
Conclusion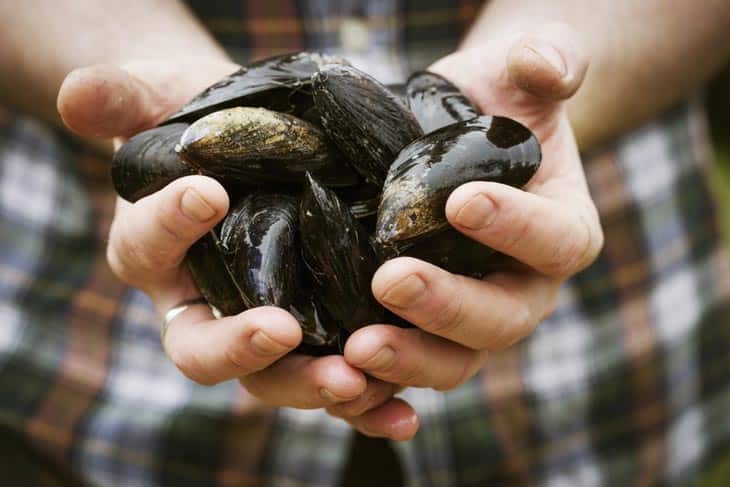 To sum up, it's simple to answer the question of how to tell if mussels are bad.
The above approaches are visible, touchable, and smell-able, so most of us can easily recognize the bad ones.
You should look at them to check the floating status and the shells, then smell and touch for preciseness.Wish you will have yourself and your family fresh and tasty dishes!