It is never a good idea to eat bad pepperoni. But, do you know how to tell if pepperoni is bad? If not, below we have listed out a few easy ways to determine if pepperoni has gone bad.
We will also elaborate on the risks of eating spoiled pepperoni and some ways you can keep your pepperoni from going bad. Let's look at the best ways to determine if your pepperoni is bad.
How To Tell If Pepperoni Is Bad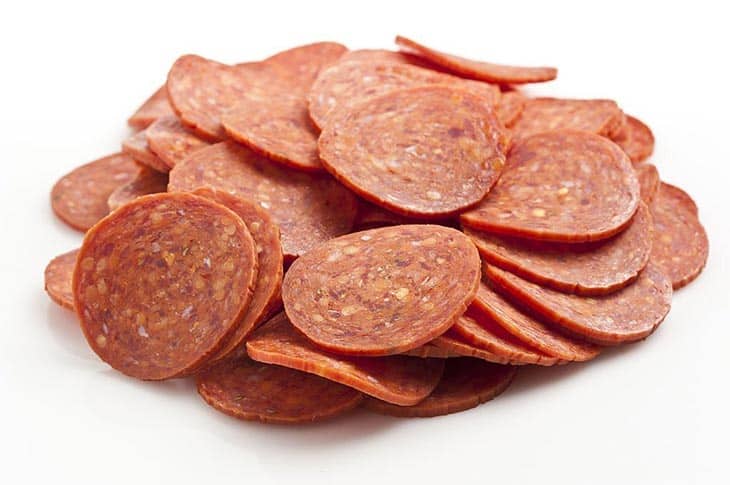 1. Smells Bad
The first sign of spoiled sausage is its scent. If it has turned to sewage or rotten eggs smell, it is time to throw it away.
The rancid smell of the comes from the bacterial contamination and the decomposition of oil and fat inside.
2. Sticky Substance On The Outside Of The Pepperoni
Another noticeable change of pepperoni is the appearance. If the meat feels sticky or slices become slimy, you should be careful.
A slimy substance outside the stick, in most cases, indicates that it is starting to deteriorate, especially if it has been stored for a long time.
If you've noticed that it's getting slimmer and has a bad smell, then you probably have rotten pepperoni.
3. Discolorations
Any signs of discolorations on the surface of the sausage mean it is spoiled. The original color of pepperoni is bright red, mixed with a little pink.
These typical hues come from salt and the sodium nitrate-curing substance, which can prevent the growth of bacteria.
Any sticks that are opened, cut, and not then wrapped properly will be discolored because of rancidification, resulting from oxygen exposure to the pepperoni.
Discolored pepperoni usually has brown, black, or green color outside the stick or slice. Therefore, for example, if you spot any fuzzy brown pepperoni on frozen pizza, get rid of it.
One sign that accompanies color change is the dryness of pepperoni. Normally, the stick begins to dry out when it turns brown. It is not a big deal to eat the dried part.
4. Sour Taste
In some cases, spoiled pepperoni just can be detected through its taste. You can cut a slice to try. If it tastes good, you can use it on your pizza or whatever dish you're preparing.
On the other hand, throw it in the trash can if it has an acidic and sweet-sour funky flavor.
Normally, leaving the sausage open and not tightly wrapped will gradually ruin the stick. Therefore, you should preserve it carefully.
5. White Mold
Commonly, the white slime on the outside of the pepperoni is mold from the fermentation process. So, moldy pepperoni isn't always a bad thing.
This is a natural mold, and the sausage is still edible. If you are still afraid of ingesting this white mold, you can easily brush it off.
However, this isn't always the case. Occasionally, the white slime on the pepperoni might indicate that it has spoiled. Especially if the pepperoni smells funky or vinegar-like with its white mold, it's probably gone bad.
Usually, the most obvious indicator of whether your sausage has gone bad is its smell and appearance. Odors and changes in color, or the sticky substance on the outside, are also noticeable.
However, if the above signs do not appear, the best way is to taste them. If it has a sour tone different from the typical pepperoni flavor, you should discard it.
How To Store Pepperoni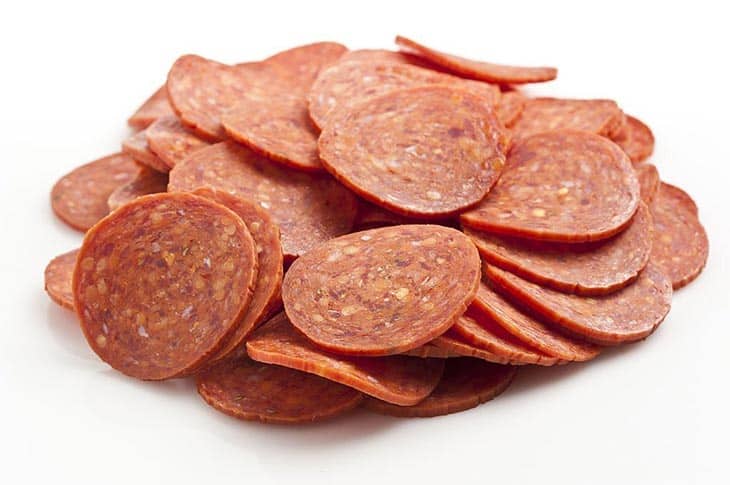 Like every frozen food, your pepperoni can go bad if it's not preserved carefully and correctly. Two best ways to increase the longevity of your sausage are refrigerating and drying it.
Freezing
Why Freezing?
Although pepperoni is used in many popular cuisines, the preservation method is not much different. To prevent bacteria from entering the pepperoni from the outside, you should store it in the freezer.
Most pepperoni may not need to be refrigerated when unopened, but it must constantly be frozen if you want to use it for the next few weeks.
A small tip is cutting a stick into several slices, then putting it in the freezer. In this way, you can defrost them easier and faster.
How To Store?
You can use a plastic bag to keep them in the fridge.
Heavy-duty freezer bags or vacuum-style food sealer bags are even more useful in preserving meat, sausage, and other foods.
They'll remove the majority of the air from the package, but if you're bagging the sausage, wring out as much as you can.
You can also wrap it in aluminum foil or a second layer of plastic wrap to keep them fresh. It will help protect the pepperoni and extend its storage life.
Then you can note the date outside the package to know how long it's going to be used.
The most important thing is to wrap it tightly, or the cold air in the refrigerator will dry it out. Moreover, a well-wrapped one will not leak the smell and contaminate other foods in the fridge.
Besides bags, containers are always useful to preserve frozen food. After cutting the sausage into pieces, you need a plastic container or a box with a suitable size to use.
The best container for food preservation in a fridge is the airtight food storage container.
Drying
Drying pepperoni is another technique to keep it shelf-stable without being in the fridge. The lifespan of the sausage will be extended by adding salt and making it dry to a certain moisture level.
In this way, the bacteria can't grow because salt and a low amount of water will prevent it.
Moreover, most sticks have some preservatives such as salt and nitrates, so you can easily store them with salt and keep them in low moisture.
What Happens If You Eat Bad Pepperoni
Eating spoiled sausage can make you ill. Symptoms of food poisoning can include weakness, nausea, diarrhea, vomiting, and fever.
Furthermore, people who consume tainted food will experience stomach cramps and pain. Symptoms can last for several days later with stomach cramps and stomach discomfort.
Therefore, if you check the pepperoni expiration and notice it is out of date, or suspect a spoiled sausage, remove it.
If you accidentally ingest some rancid pepperoni and your stomach starts to hurt, stay hydrated and consult a doctor.
FAQs About Pepperoni Shelf Life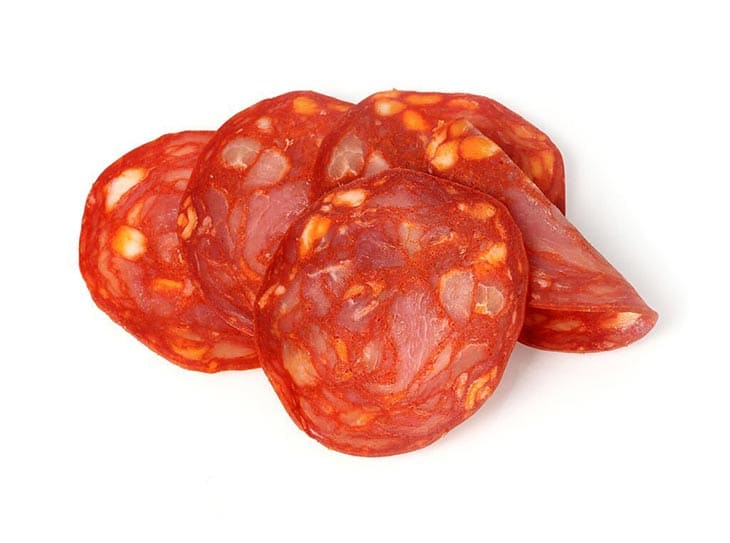 How long is pepperoni good for is a crucial question that needs to be addressed. Let's check for the self-life of each kind of pepperoni below.
How Long Does Uncured Pepperoni Last?
Hard and dry sausage can be stored indefinitely in the fridge and up to 6 weeks in the pantry if they are unopened. If they were packed and used, its lifespan is up to 3 weeks refrigerated.
Uncured sausage has no chemical substance or additives. It totally relies on natural salts, flavorings, and natural curing agents, such as celery powder, so its shelf life is shorter than other types of sausage. Therefore, it may last for three weeks.
After opening your pepperoni, you should refrigerate it for up to 3 weeks. If you notice, the term "Keep refrigerated" will not be printed on the box of hard or dry pepperoni.
How Long Does Sliced Pepperoni Last?
Sliced sausage is similar to salami or longer-lasting deli meat. You should pay attention to the expiration date on the label. You can still eat them a few days after its prime if you haven't unpacked them.
The quality of the unopened pepperoni will last for a few days after the expiration date. Therefore, to get the best quality, you should eat your sausage in 5 to 7 days after opening the container.
How Long Is Hormel Pepperoni Good For?
After opening a package of pepperoni, you can refrigerate it. The basic guideline is to consume the product within three to five days after opening it and keep it refrigerated for one week.