How To Tell If Tuna Steak Is Bad  – Here Is A Complete Guide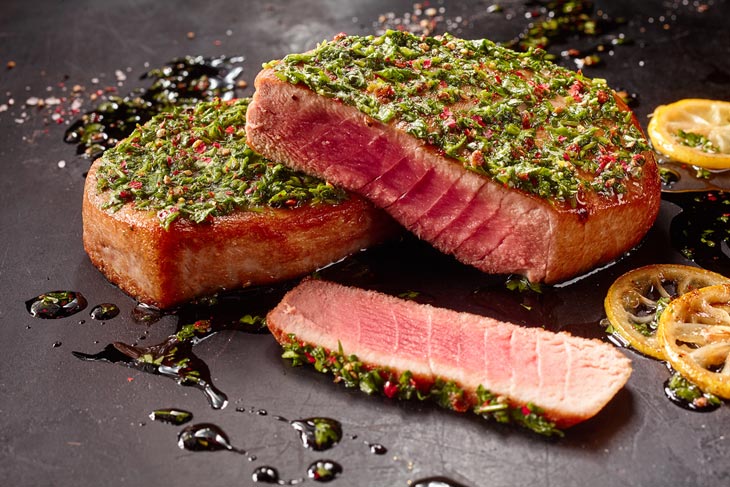 How to tell if tuna steak is bad is the main topic we will discuss in this article. Tuna steak is one of the popular categories of fish that is perishable.
There are common signs that tell you about the spoilage of tuna, such as dull color, taste, appearance, odor, or expiration date.
If the tuna steak smells mushy, oily, sour disintegrates when sliced after cooking, or mold growth appears, it is spoiled.
If you are interested, this article will cover everything you should know about this fish, including the signs determining whether it is bad, its lifespan in different cases, and the proper storage of tuna steak.
Scroll down for details!
What Is Tuna Steak?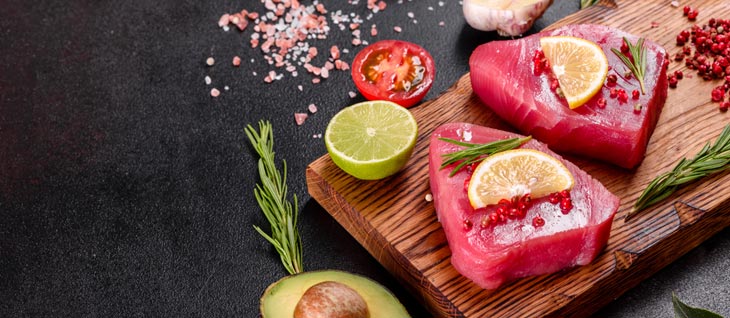 Tuna steak originates from the trawls of fish loins. It comprises a lean part of tuna, which is light red or pink and has a low fat content.
It tends to be dry once cooked, similar to canned tuna in flavor and texture.
You can find several available types of this steak such as chops, steak, ahi, yellowfin tuna, or bluefin.
Tuna offers a great value of nutrition that is low in calories and abundant in minerals and omega-3 fatty acids, beneficial proteins, and fats.
How To Tell If Tuna Steak Is Bad
How do you know if tuna steak is bad? That's when it is over its expiration date and has turned brown with stickiness and sogginess, tastes foul, and has black streaks.
It will break apart with fungal growth or terrible smells when you cut it. Below are typical signs of bad tuna steak.
Expiration Date
The expiration date is the clear sign that tells you whether your tuna steak is bad.
The storage time of canned tuna or the life of tuna steak is about 3-5 years. Thus, you should use the canned tuna steak before the best-by date to enjoy the best quality and taste.
The longer you leave it, the poorer its quality is. If you are concerned about this food becoming bad, check and write down the expiration date.
This trick will help you know how long the tuna steak has lasted on the kitchen cabinet.
When you detect the product has passed the expiry date, don't try to eat it to avoid health risks or bad quality.
Bad Tuna Color & Appearance
How to tell if tuna is fresh when you purchase it? It should have a pinky or deep red color if you buy the whole fish.
When you pick cut pieces of the whole tuna or a prepared tuna steak, its ruby-red color will tell you it is still fresh with great quality.
It becomes worse once you see the spots of discoloration on tuna meat, including the brown or dark streaks.
This is a visible symptom of a wrong tuna steak; you should remember to discard it right away.
Besides, you don't eat this food when it turns the light red or pink color into green color.
This shade indicates the serious spoilage of tuna steak, and you can face health risks if you consume it.
You shouldn't cook this fish carefully because this can spoil its taste and appearance. A perfect cooked tuna steak should have a nice pink interior with a cover like the cooked chicken.
Bad Odors
How do you know if tuna is bad by smelling? One of the fastest and easiest methods is checking the odor of tuna steak.
You will be familiar with its fishy smell whenever you open your cans of tuna.
Making a proper sniff of your tuna is a great way to know whether it's good or bad.
You can smell the terrible sour, harsh and unpleasant odor like the decayed lemon instead of the smell of canned fish.
The aroma of cold-cooked tuna will not be clear, but it still exists when you sniff it.
If the odor is nasty or caustic, put it away and clean your hands to avoid picking up the rotten tuna steak on your hands and prevent the growth of bacteria.
Texture & Taste
Tuna steak is a canned fish product that gives you a great taste with a fresh and fishy flavor. You can enjoy it with carpaccio, sashimi, or ceviche with the tasty smell.
However, a spoiled tuna steak will smell mushy and taste nasty and sour. If you eat it, you can get health risks of serious diseases.
What does bad tuna look like? It can have an abnormal and slimy texture. The fresh fish is firm to the touch, like beefsteak, and you can taste the meaty note.
You can check this sign by placing your finger on the surface of the fish. If the indent disappears, the tuna is still fresh with a good texture. Yet, the indent still exists; it doesn't go nice to eat.
Mold
It is bad when detecting the mold on the cooked, raw, frozen tuna steaks, or canned tuna steak.
The fish is damaged and has become decayed. You should discard it to prevent the dangerous bacteria.
Do not consume or purchase the tuna steak if you find mold growth. It is poisonous to use and causes a bad impact on your meals.
Besides, milky-white liquid leaking from the fish indicates it is ruined.
Can Corrosion
Another sign is the can rust or corrosion that makes the pinprick-sized holes develop on the can's surface.
When the corrosion appears on your canned tuna steak, the moisture and air will penetrate into the can and damage its contents. Thus, you need to throw it away.
You should avoid eating food from a broken can. The damaged canned product gets a low quality or a passed expiration date despite being cheap.
How Long Does Tuna Steak Last
Room Temperature
The tuna can survive at room temperature for about 2 hours.
This is the most suitable time for preventing microbial growth on tuna. If you leave it for more than 2 hours, you need to check whether it goes bad to discard it.
Fridge
How long does tuna steak last in fridge? If you put the cooked tuna steak in an airtight container, you can store it from 3-5 days in the refrigerator for up to 5 days at 40°F or lower.
A fridge is an ideal place that maintains its freshness and quality. Besides, the canned tuna steak can survive about 4-5 days in the fridge.
When you keep the raw tuna in the fridge, it can last for 2 days without spoilage.
The tuna steak is a perishable commodity that can not exist for a long time after you open the can or it passes the expiration date.
Thus, you should keep it in the refrigerator if you have a leftover tuna steak. After four days, you should check for spoiled signs to avoid the wrong consumption.
It has a serious impact on your meal quality and health.
Freeze
Freezing is a simple method that helps you preserve your tuna steak better and longer. Before keeping it in the freezer, your tuna steak should be well-packed and fresh.
You can store this product for about 2-3 months at 0°F. Do not put the tuna fish straight on ice because it will go bad faster.
How To store Tuna Steak
On the Countertop
If you intend to serve tuna steak in carpaccio or sashimi or marinate, you should keep it at 15˚C/59˚F at room temperature.
This storing method will give you a perfect tuna with a delicious flavor.
In The Fridge
The best way is to keep your steaks in the fridge to maintain their freshness and taste. Place your fish in an airtight jar or tight wrapping bags at the bottom or back of your refrigerator.
Choosing the refrigerating method will give your tuna steak a stable temperature and consistent quality with complete nutrition content.
It is critical to keep your steaks away from the air that produces the oxidation and causes the spoilage of tuna steak.
When in need, warm your favorite tuna steak for a tasty recipe such as the fresh and great tuna salad.
In the Freezer
You need to package the tuna steak to store at the proper freezing temperature.
If the storage of cooked fish is improper, freezer burn can happen and spoil the tuna when you keep it in the freezer.
One useful tip is to cover the dish with greaseproof paper about 2-3 times and wrap it in thick plastic or vacuum-sealed bags to restrict the air.
Place your steaks in the deepest area in the freezer to keep them away from the warm air if you open the freezer door.
What Occurs When You Eat Bad Tuna Steak?
Bad tuna steak can cause food poisoning when you eat it due to the spoilage of taste and texture and loss of nutritional value.
When you don't properly preserve and refrigerate the fish, harmful bacteria can release and grow fast.
The rotten fish results in scombroid poisoning that produces symptoms like allergic reactions. The signs of scombroid poisoning include facial swelling, vomiting, or itchiness.
Besides, eating poor tuna steak also causes dangerous symptoms, including diarrhea, headaches, blurred vision, abdominal cramps, flushed skin, or itchiness.
Thus, you should never eat the rotten tuna steak to avoid the serious consequences.
Conclusion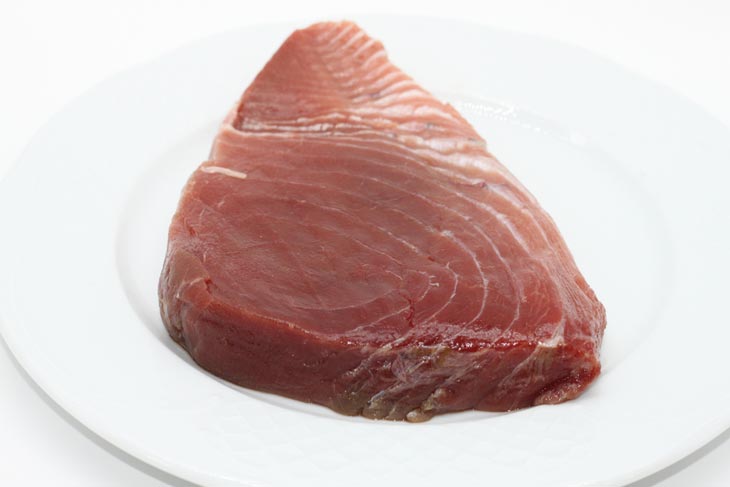 The useful information in this article has helped you figure out how to tell if tuna steak is bad easily.
If you find the brown color or sour smell of tuna or its abnormal texture and taste, it has been spoiled.
Don't try to consume these steaks when it is bad because it can cause dangerous consequences, such as food poisoning and diarrhea.
If you have the leftover steaks, keep them in the fridge or freezer for longer and better storage but use them within three months.
Don't put the steak at room temperature or on the countertop for over 2 hours to avoid spoiling it and reducing its quality or taste.