Zucchini is a delicious vegetable that can be used in a variety of recipes, from sautés and stir-fries to baked goods and casseroles. However, like all fresh produce, zucchini can go bad if it's not stored properly or if it's past its prime.
Below, we'll go over some common signs to look for when determining if your zucchini has gone bad, so you can avoid any unpleasant surprises in your next meal.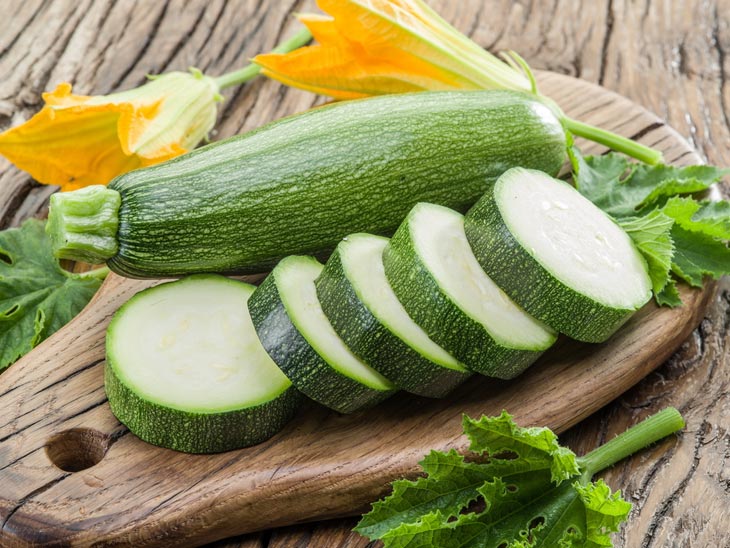 What Does Good Zucchini Taste Like?
Zucchini is a member of the summer squash family – Cucurbitaceae. Its edible skin is thin. The shape of the zucchini is quite similar to a cucumber, but its bottom part looks like a stump.
Belonging to the summer gourd family, the courgette can replace a variety of vegetables in this family in recipes, for instance, mushrooms substitute.
Most people misunderstand that zucchini is a summer vegetable, but it is a fruit. This kind of squash includes seeds and is born from a flowering plant.
The inner flesh of zucchini is a flavor mixture of slightly sweet and a bit bitter. The sweetness becomes stronger in cooked zucchini.
Meanwhile, the cover of this squash provides a "green", earthy flavor. It also creates crunchiness for this fruit.
How Long Does A Zucchini Last?
Almost all summer squashes have a short life, so zucchini does. So, it is important to know how to tell when zucchini is bad and how to store zucchini to use this squash most reasonably.
If you want to store the zucchini for as long as possible, the first step is to choose the fresh zucchini when you buy it from the supermarket or take it from your garden.
You should consider the zucchini's size. Large ones usually have large seeds inside that are watery but don't produce any flavor. Hence, your option is medium to small size, which can give you excellent tastes.
Another indicator for the freshness of the zucchini is that its stem is still attached, and there are tiny hairs on the cover. If you see zucchinis that have rotten spots, nicks, or cuts on its body, they are bad.
So, how long can zucchini sit out? Keeping your zucchini at air temperature can make them last up to 5 days, but the longer it is stored, the more quality reduces.
To avoid this situation, you can put it in your fridge. How long zucchini last in the refrigerator? The zucchini's life can extend to 2 weeks in your fridge and to six months in the freezer.
How To Tell If Zucchini Is Bad?
To answer the question "How to know if zucchini has gone bad?," we can depend on three signs of spoilage: its appearance, texture, and flavor.
Our section below will describe each factor that prevents you from eating the bad zucchini.
Appearance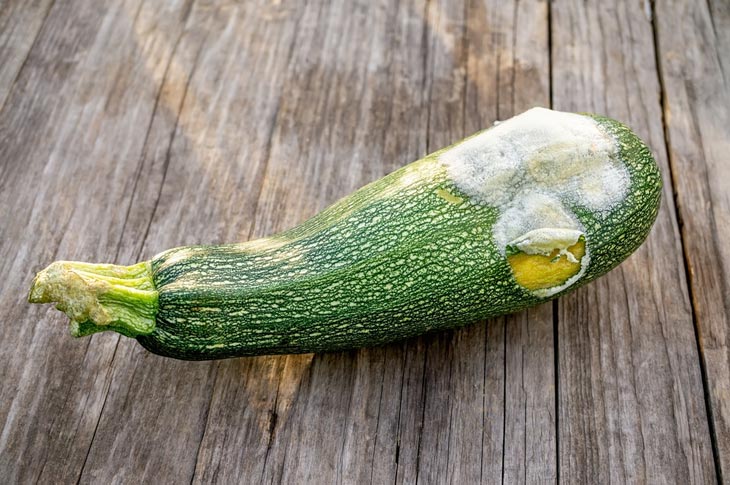 When is zucchini bad? It is easy for you to distinguish between fresh and bad zucchini through its look. The fresh one has shiny skin with deep green, light green, yellow, or orange.
Therefore, if your squash displays some rotten spots, decay, or mold on the skin, cut them out and consume the remaining good part.
However, when these black spots are large and spread almost to the zucchini stem, your only choice is to throw it away.
Not only the outside, but you also can observe its inner flesh to check whether it spoils or not. Slicing it vertically to check whether the spoiled part has invaded deeply into the squash.
If some signs such as discoloration softness happen, you should cut these damaged areas and use the good part.
Texture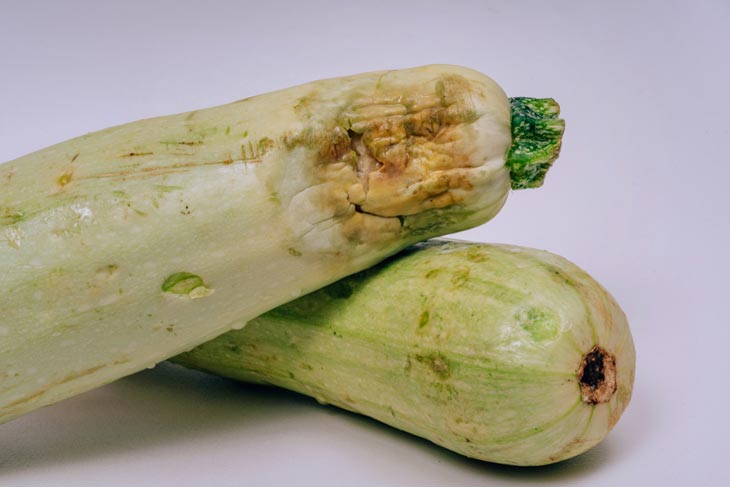 The fresh zucchini has an amazing structure. When cooked, its inner flesh is barely soft, and the outside part is a little crunchy.
Biting one piece, you can feel the juicy but not mushy texture of zucchini. This texture can satisfy the taste of strict people.
However, similar to other fruits, zucchini gets softer than usual, even mushy before starting to become bad zucchini.
It has been kept for a long period, creating a lot of water. If the inside becomes stringy, spongy, and stringy, you should toss them out.
Is it OK if you eat soft zucchini? In case the flesh tastes and looks fine, just the texture is a little soft, your zucchini is still a good ingredient in soup.
Once the texture of this squash becomes mushy or has dark spots in a large area and has wrinkled skin, you must not eat them.
Eating bad parts of a soft zucchini can make you feel uncomfortable. In worsening situations, it can cause food poisoning.
Flavor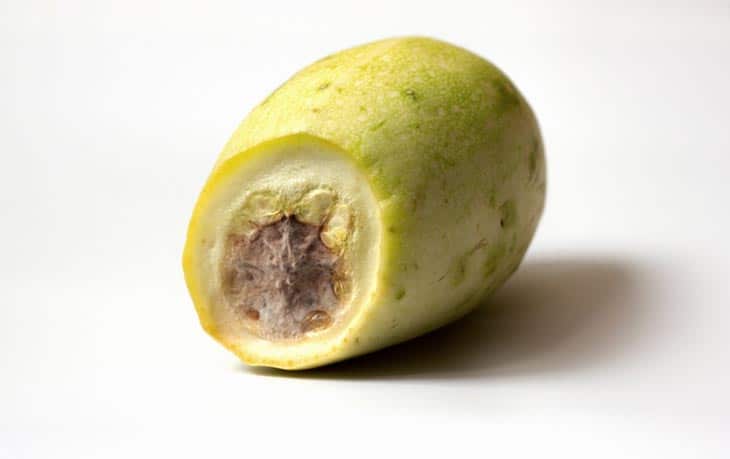 Sometimes, your zucchini is rotten, although its look makes you believe it is still fresh. In this condition, the only way to decide whether it's good to consume is to examine a small piece.
Cut off a small slice of the squash and lick it. The normal zucchini usually has a neutral or earthy taste.
If you feel a flavor similar to vinegar or acidic or smell a bitter taste in your mouth, the summer fruit is already past its prime.
What happens if you eat bad zucchini? It will negatively affect your health. Cucurbitacin is a poison that zucchini and other plants create to protect themselves against insects.
A few bites of bad zucchini may have consequences. Hence, when you test the flavor of your squash and get a bitter taste, spit it out.
Moreover, this poison can be made by cross-pollination with wild vegetables. So, it would be best if you didn't eat any zucchini or squash you didn't grow in your garden.
A high level of toxins can cause some health issues such as abdominal pain, nausea, dizziness, and vomiting.
Read until here, we are sure you know how to tell when zucchini is ripe. Now, let's move to the second part of our article.
How To Store Zucchini?
At The Room Temperature
If you don't own a fridge, you can store your courgette in a pantry at room temperature. First, you need to wash them carefully.
Next, leave them dry and keep them in a perforated plastic bag. Then, put this bag in a cool and airy place.
This method can extend the shelf life of your fruit to about one week. One thing you should avoid is storing your zucchini in a hot place. It will make your fruit rot faster.
In The Freezer
Although you prepare a good storage method at room temperature, it only works well for a few days. But if you have too much zucchini and you cannot eat up all of them before they begin to spoil, what should you do?
Like many other vegetables and fruits, you can put zucchini into the fridge to keep it fresh for a longer time.
But, this period is only a few weeks. Assuming you want to store your summer squash for much longer, the best method is to freeze it.
How To Freeze Zucchini
Here is the step-by-step instruction of the freezing method for your courgette:
Step 1: Wash the zucchini
Step 2: Chop the whole zucchini into ½ – inch slices
Step 3: Blanch these slices for 1 minute. Then transfer all of them to ice water and leave them for 2 minutes.
Step 4: Drain zucchini slices and dry them with a paper towel.
Step 5: Pre-freeze the blanched zucchini by leaving them on a baking sheet and putting them all on a tray. Keep this tray in the freezer for 1 or 2 hours.
Step 6: Place the frozen zucchini in a freezer bag or an airtight container to avoid ice burning in your frozen summer squash.
We can use this guideline for almost all summer squash such as butternut, pattypan squash.
What Kind Of Recipe Is Great With Frozen Zucchini?
We all know that frozen zucchini is not as fresh as the one that has been harvested or you have bought from the supermarket.
So, you cannot expect frozen summer squashes can be a great ingredient of dishes that require crunchiness.
Instead, we can consume the frozen courgette in some recipes like stir fry, soups, muffins, scrambled eggs, or zucchini bread.
Here we will provide you with a zucchini bread recipe, which will surprise you with amazing taste. The ingredients include:
Three eggs
One cup of oil
Two cups of sugar
One tablespoon of vanilla
One cup of zucchini
One cup of canned pumpkin
Three cups of flour
One teaspoon of salt, baking soda
¼ teaspoon of baking powder
One tablespoon of cinnamon
After mixing all together, you add some chopped nuts and then bake at 325 degrees in 1 hour (divide into two loaves).
Conclusion
We have offered some ways to help you know exactly how to tell if zucchini is bad and detailed instructions on storing it properly. You do not have to worry that you eat rotten zucchini by mistake.
If you have any technique to answer today's question or maintain the freshness of this summer squash, we would be glad if you shared it with us.