How To Tell When Brats Are Done With or Without A Thermometer
A quick yet effective way for a gathering fix is grilled bratwurst. It is tasty and simple enough to treat your guests to a feast.
For those who haven't known yet, a bratwurst is a form of sausage from European cuisine, often made from beef or pork.
The most common way of handling this meat is to grill it. It may seem easy grilling something, but is it this time?
How to tell when brats are done is quite a challenge as the ingredients are now inside the casings, making it hard for us to view the color of the meat.
Still, there are solutions to everything, and the article below will help you with that.
How To Tell When Brats Are Done Using The Thermometer?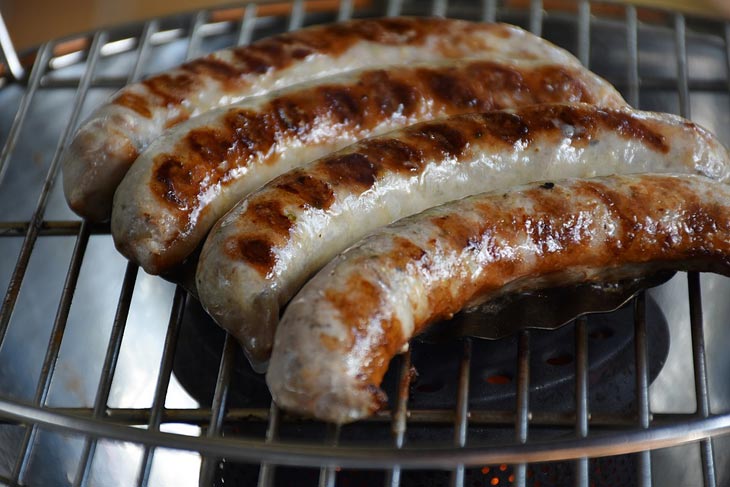 When are brats done?
Nothing is better at getting the right temperature than a thermometer. It is precise yet can save you a huge deal of time if you're in a hurry.
Meat dishes are considered cooked at different temperatures. You can see USDA's recommendations for cooking chicken, lamb, ground beef, etc.
Regarding "at what temperature are brats done", the ideal internal temperature of a fully-cooked brat is 160℉ (or 71℃).
To get that perfect temperature without ruining the casings, you should grill it at medium to low temperatures, which should be around 300℉ (or 150℃).
Nevertheless, experienced chefs would advise you against this method. The reason is that poking and ruining the casings would make the water inside of the sausage dries out, leading to a dry and overcooked sausage.
These are just some comments from experienced chefs. If you're a newbie, how to know if brats are done without a thermometer would be a headache.
The only way around it is to find one with a thin "needle" or follow our following section for an alternative.
If you're going for a thin-needle thermometer, only check the core when you feel like they're cooked. Repeat the action until you get what you want.
How Do You Tell If Brats Are Done Without A Thermometer?
How to tell if brats are done without a thermometer? There is more than one alternative to this problem:
1/ "Touch" Method:
This method is simple yet complicated. Why? The tool required is simple, but you have to remember four different feelings to get exactly what you want.
To start with, you only have to use the fingertip to touch your brats, then press the thumb finger against your other fingers and compare the feelings:
The slightly bouncy and firm feeling, similar to the pinky finger, indicates well-done.
If it's like the touch between the index and thumb finger, it's rare-cooked brats.
The middle finger-like feeling means medium-rare.
And the ring finger feeling resembles medium-cooked.
If you remember all these, the checking will be simple and quick with just your fingertip.
2/ "Wiggle" Method:
We do not recommend you do this in public since it might look odd. You have to pick your brats up with tongs and wiggle them. The bouncy and firm feeling would tell you that they are ready to serve.
3/ Cake Tester:
This is actually quite simple. You just need to replace the thermometer with a cake tester, which meets the mentioned criteria of a thin needle.
After poking it into the bratwurst and feeling it with your wrist, refer to the following ideas: If you're going for well-done brats, the tester should be hot, but if it's warm, the brats are only medium-rare.
How Long Does It Take To Cook Brats On The Grill?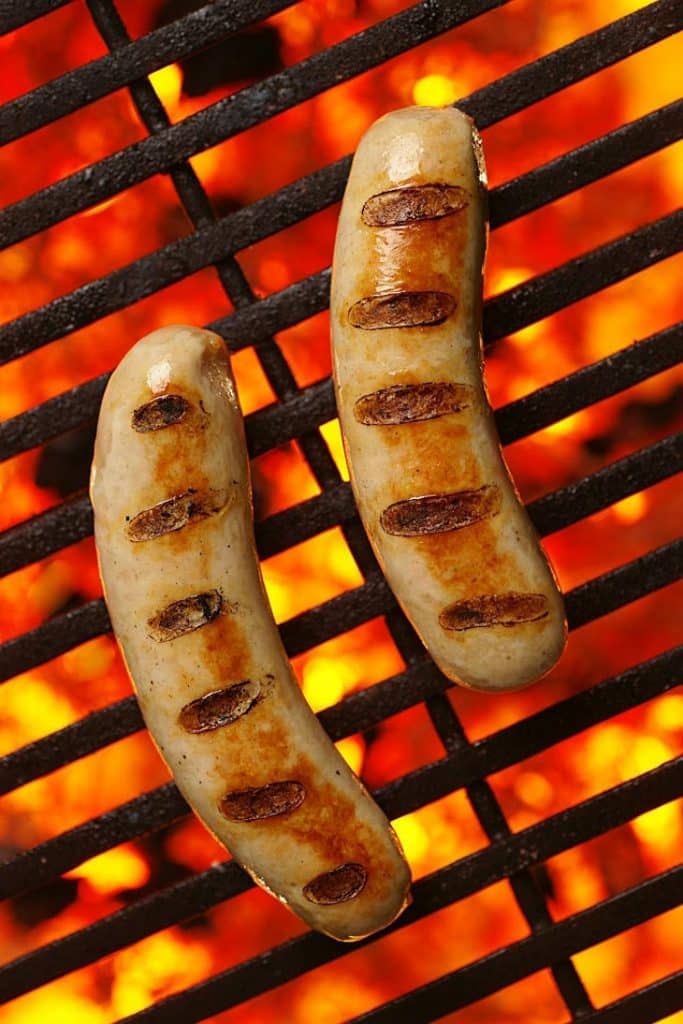 It depends greatly on the size and thickness of your brats. You should spend 15 to 20 minutes cooking it for standard bratwurst if you want to cook the inside fully.
Adjust the timing according to the thickness of your brats, and you will be just fine.
How Should Brats Look When Done?
Many people don't really know: what do cooked brats look like. They often get confused seeing slightly pink in the middle of their brats and wonder if they can eat them without getting sick. Well, that depends.
The pinkish meat in the internal part might indicate preservatives added before they sell the meat to you. The risk of getting sick also depends on the type of meat of your bratwurst.
Some of them are made of minced meat that can still stay pink even after being fully cooked. And the beautifully cooked brats will pair well with delish dishes like macaroni and cheese, instant pot corn, potato salad, you name it.
Can You Eat Undercooked Brats?
We rarely see people getting parasites from eating raw meat nowadays in developed nations. You might have heard people talking about getting Trichinosis from eating the undercooked meat.
But if you're buying from a reputable source, they should have an amount of salt inside to limit the threat.
You will most likely only get food poisoning after eating undercooked brats. And we don't say that it's not a concern at all. By that we mean it can't kill you.
Do a parasitic flush or cleanse if you ever eat some pink bratwurst by mistake and then feel nervous about it. That would ease your mind and ensure nothing bad will happen.
What To Notice For The Best Grilled Brats?
Mastering one or two home economics stuff can only be good for you. "When is a bratwurst done" and issues revolving around this meat might be of great help since it appears in many famous dishes.
These include the bratwurst with beer of the Western cuisine or pasta, soup, curry, etc.
Besides knowing how to tell when bratwurst is done, we have some important criteria for your food and drink preparation here:
The Right Temperature
The ideal scenario is getting the internal reaches 160℉ (or 71℃). While trying to get this figure, remember to turn the meat side to side to get the best-caramelized layer and to cook it from the inside out properly.
Don't Rush The Heat
Cooking takes time, especially meat cooking. Rushing this period is considered a sin for experts. When trying to reduce the cooking time, people often turn on high heat and get charred externals while the inside might not be cooked perfectly.
Furthermore, the casings might split apart, and the juices will spill out, which contains beneficial nutrition facts that you shouldn't miss.
Don't Buy In A Package
It's easy to buy them in large retail stores that are now available worldwide. Yet, there is a community story that buying things made at home can ensure quality.
Those small businesses often offer fresher meat that can change the taste greatly. They also have specialties rather than normal types from big retailers.
It's better to try different variants sometimes. You can even buy raw meat and stuff the bratwurst yourself for a nice experience. That way, you can add in seasonings of your choices!
Never Poke Holes
Among the three mentioned methods of how to know when bratwurst is done, two methods leave you with no holes on the bratwurst. We highly recommend using these methods since poking holes is a bad idea.
Some just follow the recipe and think it is a must to poke holes. Others want to add sauces inside of brats. But the risk is you missing all the precious meaty juices that make the bratwurst famous.
Sometimes, that action might lead to your dish becoming chewy and hard.
Don't Boil Them
It's reasonable that people try to boil the meat before grilling to ensure no raw internal is left. Trust us. It's not as delicious as you expect.
All you have to do is learn the wiggle or the touch method and stay with your barbecue.
Conclusion
Cooking meat is not something to be taken for granted. Meat might bring you great benefits, but it can be a big problem in some cases. Knowing how to tell when brats are done will let you be confident in preparing this dish.
Though the above information covers quite many aspects of it, they are all to help you get the best understanding of what you're doing.