When it comes to snacks, we have a lot to choose from. Among them, we use jerky the most. This type of food is loved and prepared in many families.
Yet, making it at home is not an easy task. It's crucial to know "how to tell when jerky is done" if you want the best result.
If you have the same question, this post is for you. Let's scroll down for more details.
What Is Jerky?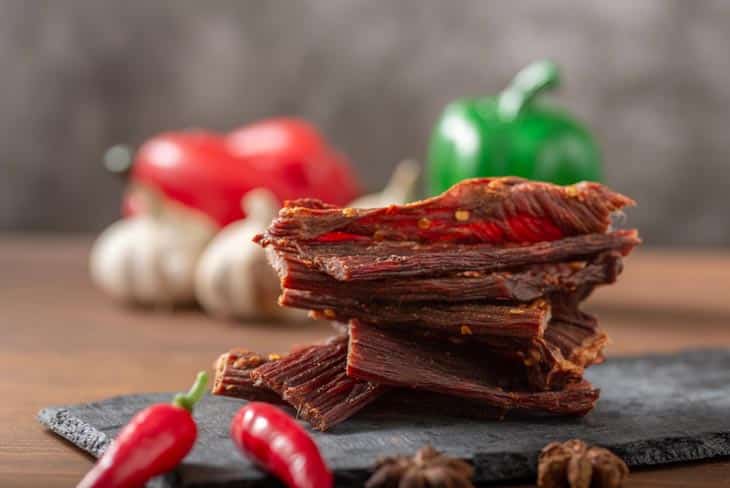 Jerky is a type of snack, quite popular in the world. This is a fairly nutritious food and is dried to use and preserve for a fairly long time.
This food is seasoned with a mixture of spices and liquids. Besides, for longer shelf life, salt is the most important ingredient. It is important to understand that one is not raw. It is cooked and ready to use.
Consumers can find a spicy and sweet taste in every fiber of that fresh one. It's a blend of the best spices you can get when you make it. Enjoy it with friends at a party, with wine and salad.
Moreover, you can find a lot of nutrients in a piece of dried one.
The data show that 1 ounce (approximately 28 grams) contains: 116 Calories, 9.4 grams of protein, 7.3 grams of fat, 3.1 grams of Crabs, 0.5 grams of fiber, 21% zinc, 12% vitamin B12,…
Thus, it is a snack with a healthier nutritional profile than several others. Sixteen ounces of fresh meat will make about 4 ounces of finished jerky.
How To Tell When Jerky Is Done
It is healthier and more economical when you make it at home. Instead of having to spend tons of money to find high-quality products for you, you can now decide for yourself.
Besides, you will also control the amount of seasoning and the dish's quality suitable for your beloved family.
Yet, how do you know when jerky is done? That's the wonder you need to know when making it at home. Here is the guide to help you:
Use A Food Thermometer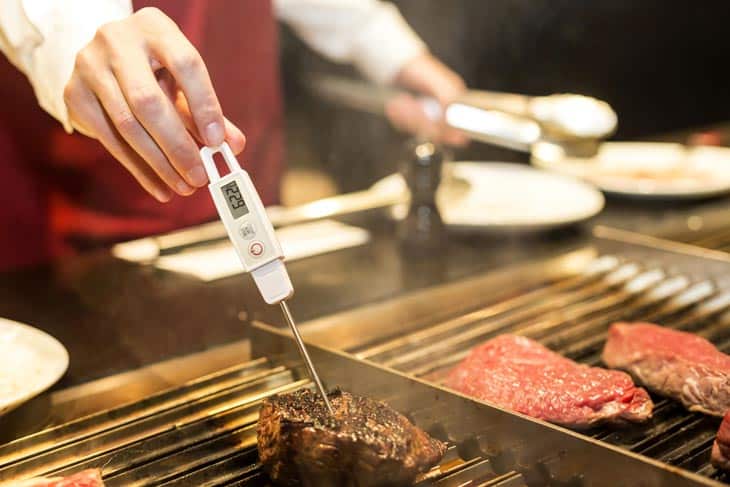 A food thermometer is a useful tool in your kitchen. It would be best to use it as soon as you start cooking. Regardless of the machine, it can give you an exact number of the right temperature.
A food thermometer will help you control the time it takes to cook as you dry. Time is the main key with this type of food.
It would be best if you first preheated your food dehydrator. Heat it to 145 degrees Fahrenheit, then let it hold for 1 hour. When you do so, harmful bacteria will not have a chance to enter the machine.
One thing that you need to pay attention to is that your beef must also be heated. The suitable best temperature for beef jerky is 160 degrees Fahrenheit.
Once you've done the above steps, you're sure to wonder what temperature to cook jerky. 130 -140°F is the ideal temperature for drying.
Time
Depending on the thickness of the flesh, the drying time and the cooking time will be affected. Of course, the time will take longer with large and thick pieces of meat than with smaller ones.
How long does jerky need to dehydrate? According to many culinary experts, the average time usually ranges from 4 to 12 hours. And in real situations, 10 hours is the optimal time to test.
Test The Texture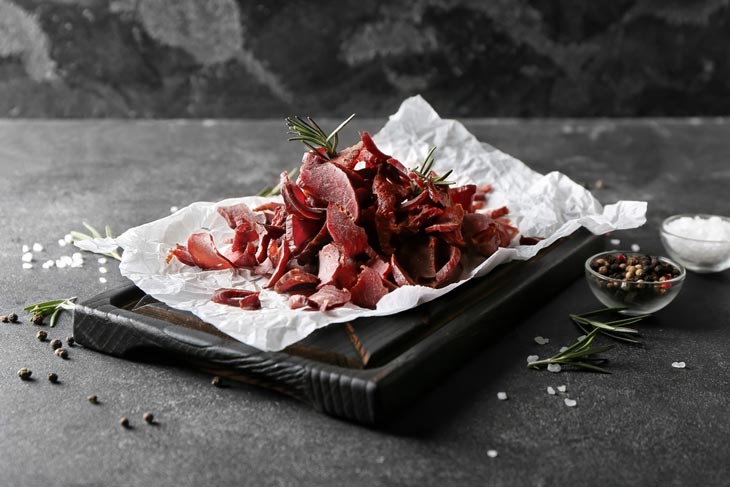 The texture is the most important test you need to master. And it's best to practice and test it yourself over and over again.
Prepare tongs, and a stainless one is best.
You use it and then take each piece of flesh out of the dehydrator, one by one.
After taking it out, dry it on shelves or put it on a layer of paper.
Let cool until it returns to room temperature.
Once it's cooled, try bending it slowly with your hand. The sign of the best texture is the foodstuff should bend easily without any cracks.
If a crack appears in the middle of the meat, it means it hasn't had enough water.
The harder you try, the better the dishes show up. So do not worry about the quality of food the first time you make it.
Surface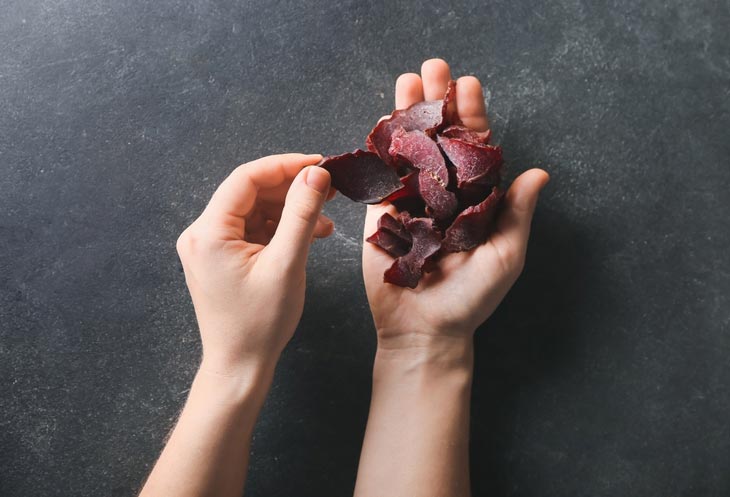 Please focus on the surface of the food once it's cooked. When you try to touch it with your hand, if it is quite soft, you have not done well, take notes and adjust the time to be more reasonable.
Greasy marks are also not a good sign for a perfectly dry product. It should look like leather and be a little dry to the touch.
Taste Test
Besides the spicy and sweetness that we can feel when eating, the gummy-like feeling must accompany it. If you chew it and it crumbles, you have overcooked it.
Whereas it melts, you have been too hasty in the dehydrating time.
If you cook it right, your meat won't give you a hard chew if you cook it right. It may be a little crispy, but it won't matter as long as it's chewy.
How To Know When Other Types of Jerky Is Done
Beef Jerky
The specialized ingredient of jerky always widely known is beef. A smoker or a dehydrator is suitable means of making it at home or in stores.
Depending on the machine, the temperature of the beef will have different drying times.
As mentioned above, the type of food and the thickness of each piece are factors that determine how long it will take to dry it. The fat ridges on the beef also have a slight effect.
In addition, the seasoning you use to marinate the meat in advance will be an important factor in the cooking time. Also, don't forget to drain the sauce from the beef properly.
Use lean cuts of meat with very little connective tissue, such as top or bottom beef round.
How do you know when beef jerky is done? With the influence of the above factors, the time will be different. A properly dried steak will often take about 4-6 hours to get the best texture.
Peppered Beef Jerky is a pretty niche dish, and it's a pressure cooker beef jerky. Some jerky beef recipes call for a curing salt, such as "Prague powder" or Morton's Tender Quick, as part of the marinade or rub.
Deer Jerky
Besides beef, venison is also an interesting ingredient to make dried food. You can take advantage of every part of deer to create a dish that satisfies your taste buds.
It has muscle and fiber, making for a slice of perfect dry meat.Yet, before making jerky, remember to check deer meat to ensure it's still fresh.
You can indeed cut it in pieces according to your taste, but don't cut it too thin or too thick. Ideally, you should cut it into strips of meat about 1/8 inch thick (a little more than 0.3 cm).
To prepare delicious dried deer meat, you should freeze the meat that needs to be dried before cooking.
Then, how to tell when deer jerky is done or when is deer jerky done in dehydrator? Also, with a temperature of 140°F, you will have a delicious meat dish.
Another way to tell if it's good is that you can chew it well rather than gnaw it.
Bacon Jerky
There are quite a few dishes made from dried bacon, such as candied bacon or maple bacon. We can use a smoker, dehydrator, or even oven for cooking.
Unlike beef and venison, bacon requires thick slices; in case you want crispier meat, you can cut it according to the usual standards.
Yet, if you let your bacon sit out at room temperature for a long time, check it before making jerky.
You will have to spend at least 3 to 4 hours to dry it in the oven, similar to using a smoker. As for the dehydrator, the time will be longer. It will take 4 to 6 hours for the meat to dry completely.
Heat the meat strips to an internal temperature of 160 degrees Fahrenheit (165°F for poultry).
Poultry Jerky
For poultry, chicken and turkey are the two best food for drying. Chicken is a favorite dish for many people and takes less effort to prepare.
Because it is poultry, the body will be better than when eating red meat when consumed.
However, you also need to adhere to certain principles for your dish to be perfect.
Choose chicken breast for dry meat because this is the most nutritious part, not to mention it also contains the least fat of the chicken. The meat slices may vary from one another.
At around 160 degrees Fahrenheit, you'll be cooking it in a dehydrator, and in just six hours, the chicken will have the dryness it should be.
One dish that you can make dried poultry at home is smoked duck jerky recipes.
Fish Jerky
Fish is one of the dishes consumed by many people. It might be a bit sticky, but the quality is undeniable. Like bacon, you can use an oven, dehydrator, or smoker to proceed with drying.
How to know when jerky is done? Although fish does not contain much fat, oil is something that you need to avoid when cooking. You will have to cut the fish into small pieces before seasoning the fish.
For the fish to retain its nutrients when dried, we should only cook it at a low temperature, in the range of 110-150°F.
The crispiness and taste of the fish are two things to prove that the cooking process has been successful.
FAQs
Can You Overcook Beef Jerky?
Can you over dehydrate jerky? I regret having to answer "no". It takes a long time to make, usually takes 4 to 12 hours, and the thickness of each fiber to create the best-dried meat.
But if you want to cook longer, what happens? Remember, after 12 hours, the pieces of meat have been overcooked, and of course, the taste and the texture will no longer be good.
Should The Jerky Meat Be Cooked Before Drying?
To get a great experience during the drying process, you need to preheat the meat. Moreover, heating it before drying can help decrease foodborne illness.
If your kitchen is equipped with a dehydrator, you can skip this step. In case your machine cannot provide the above heat level, you should preheat the meat before putting it in the machine.
Usually, the optimal temperature for beef is 160 degrees, and turkey is usually higher, about 165 degrees.
How Long Does Beef Jerky Last?
You will be quite surprised that the shelf life of dried meat depends on the type of manufacturer and the commercial type. The shelf life of a commercial one is usually about one year.
However, we recommend choosing a model with a shelf life of about six months if you buy it outside. It's the one with the higher-end flavors and textures.
And if it is homemade jerky, the shelf life is only for 1-2 months, only if you store it in an airtight container. When you put meat in the fridge, the shelf life is reduced to 1-2 weeks.