4 Ways to Thicken BBQ Sauce
BBQ sauce is a quintessential part of any outdoor cooking experience, adding a burst of flavor to any grilled dish. However, a watery sauce can quickly ruin even the most perfectly cooked meal. Whether you're making your sauce from scratch or using a store-bought variety, thickening it up can make a world of difference.
In this article, we'll take you through the four best ways to thicken your BBQ sauce, from simple kitchen hacks to more involved techniques. We'll also provide tips on how to achieve the perfect texture and flavor for your sauce, and share some mouthwatering recipes to help you put your new skills to the test.
Whether you're a seasoned grill master or a BBQ beginner, this article has something for everyone who wants to take their outdoor cooking game to the next level. So, grab your apron and let's get started!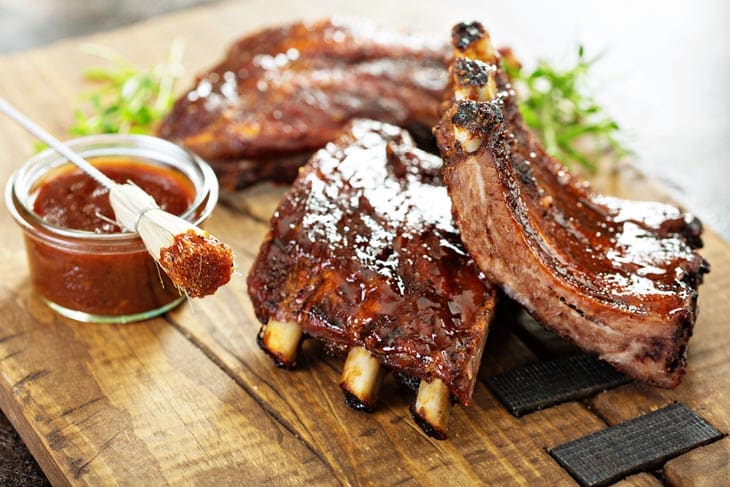 Top 4 Methods to Thicken BBQ Sauce
Here are four of the best methods on to thicken up BBQ sauce. Read through them all and pick which thickening method would work best for you. Enjoy!
There are several ways to thicken BBQ sauce, but here are four of the most effective methods:
Simmering: This involves cooking the sauce over low heat for an extended period to reduce its water content and thicken it. As the sauce simmers, the moisture evaporates, leaving behind a more concentrated, thicker sauce.
Adding a thickening agent: Common thickeners for BBQ sauce include cornstarch, flour, or arrowroot powder. Mix the thickening agent with cold water to create a slurry, then stir it into the sauce and simmer until thickened.
Using tomato paste: Tomato paste is an excellent thickening agent for BBQ sauce, as it's naturally thick and adds a rich flavor to the sauce. Mix a small amount of tomato paste into your sauce and simmer until it thickens.
Using a roux: A roux is a mixture of flour and fat that is cooked together and used as a base for thickening sauces. To make a roux, melt butter in a saucepan, add flour, and cook until it turns a light-brown color. Then, add the roux to your BBQ sauce and whisk until it thickens.
By using these four methods, you can thicken your BBQ sauce to your desired consistency, whether you prefer a thin glaze or a thick, sticky sauce.
How To Make Thick And Delicious BBQ Sauce At Home
Now you know how to make barbecue sauce thicker, why not try to make your own BBQ sauce at home. Follow along with our secret barbecue recipes below.
If you opt for a sweet and gently spicy marinade for chicken, beef, and pork, let's try this easy honey BBQ sauce recipe.
Ingredients (for 2 cups of condiments)
½ cup of honey
¼ cup of molasses
¼ cup of white vinegar
1 cup of ketchup
1 tsp of liquid smoke (optional)
½ tsp of salt
½ tsp of ground black pepper
½ tsp of Hungarian paprika
¼ tsp of chili powder
¼ tsp of cayenne pepper powder
¼ tsp garlic powder
¼ tsp of onion powder
Instructions
Step 1: Combine the wet ingredients.
Mix ketchup, vinegar, honey, and molasses together in a medium saucepan. Then, simmer the mixture over medium heat until smooth.
In case you cannot find honey, honey substitutes can also work well to create a sweet note for the dish.
Step 2: Add the dry ingredients.
Add prepared salt, black pepper, chili powder, cayenne pepper powder, garlic powder, onion powder, and paprika to the mixture.
Stir the seasonings into the above substance.
Step 3: Add liquid smoke and simmer the condiment.
Add liquid smoke to the mixture to boost its smell. Then, simmer the condiment over low heat for about 20 minutes.
When the sauce becomes as thick as you prefer, take it off the heat and leave it cool before using.
Are you a big fan of bold, spicy Texas-style grilled meat? If so, the following thick and spicy BBQ sauce recipe will be the best option for you.
Ingredients (for 3 cups)
1 and ½ cups of ketchup
½ cup of cider vinegar
½ cup of brown sugar
½ cup of water
2 tbsp of Worcestershire sauce
1 tbsp of chili powder
1 tsp of cumin
½ tsp of cayenne pepper powder
Instructions
Let us show you how to make your homemade Texas-style barbecue sauce within 15 minutes.
Step 1: Whisk the prepared ingredients in a saucepan until the mixture is well-combined.
Step 2: Cook the mixture over low-medium heat.
Simmer the substance for around 10 minutes. Turn off the heat when the substance's surface bubbles energetically.
Step 3: Let the substance cool and use it as a basting sauce.
---
There are so many more methods on how to thicken BBQ sauce than what we have listed. However, the above ways are the most common and easiest options.
Regardless of the option you go for, remember to add them little by little and adjust the texture to your preferences.
In addition to the tips, you can use our simple barbecue sauce recipes to make homemade dense and savory barbecue for your grilled foods.
More Tips and Tricks to Use in the Kitchen