As chili is a hearty dish that needs to be served in a thick texture, what should you do if your sauce is too thin?
There are various ways to fix watery sauce. Although it can change the flavor, the difference is not considerable. Keep reading this post to the end to pick up all the simple ways of how to thicken chili.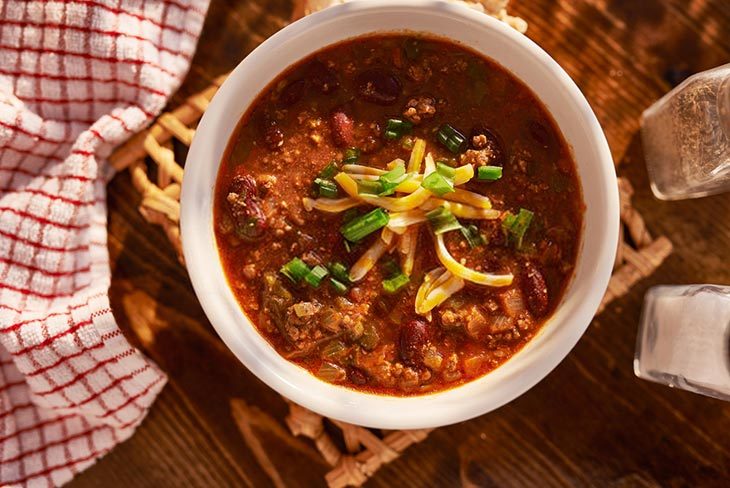 How To Thicken Chili – 8 Easy & Effective Ways
There are 8 ways to turn your sauce into a hearty dish.
Simmering It Longer
Let's start with the most simple way. You do not need any thickening agent, just cook the remaining stock off for longer. In case you wonder whether or not to simmer chili with lid on or of, the answer is to turn the stove to low heat and remove the lid of the pot.
Keep simmering for about 20-30 minutes, maybe longer, depending on the remaining broth in your pot. Also, do not forget to stir it regularly to avoid the dish getting burnt and bitter.
When simmering it, the point here is low temperature and slow cooking. Note that the flavor can be richer with this method since the spices will have more time to marinate.
When the dish reaches your desired thickness, turn off the heat and let it cool. The cooler it gets, the thicker it is. An important reminder is to keep your dip uncovered so that the steam can vent out.
This is a perfect thickening method if your chili is too watery. But remember that this method takes longer than the others.
Adding Vegetable
This technique not only improves the texture but also adds more nutrition. Add in some of your favorite vegetables, such as carrots, potatoes, or onions. Whether they are diced or crushed, they still work well in the process of making your dip thick and enhancing its earthy taste.
Related article: How to Grate an Onion – Best Way To Save Your Time
Using Tomato Paste
Tomato paste can also work well in this list. Besides thickening the texture, it builds up to the flavor of the dish as well.
During the last 30 minutes of the cooking process, add 6 ounces of tomato paste. Gradually add 2 ounces every 10 minutes to mix it in smoothly and make it easy to keep track of the amount.
The dip is already tomato-based, so this will not alter the flavor so much. However, it will add some tangy notes to the final dish. If the paste makes your dip bitter, add a little tablespoon of sugar to balance the flavor.
Adding Corn Starch
To be honest, there's nothing that can beat the classics. The method on how to thicken chili with cornstarch is to use this ingredient as a chili thickener. To start with, make sure that you do not add cornstarch directly to the pot, as it will ruin your dish with clumping.
You need to make a cornstarch slurry. Besides, how much cornstarch to thicken chili? Remember that every cup of stew in the recipe needs about 1 tablespoon of cornstarch. If you add too much, this thickening agent may decrease the meaty flavor of the sauce.
Mix the cornstarch with the same amount of water to create a slurry. You must use cool water in this method.
After finishing the slurry, slowly pour them into the pot and frequently stir under low heat until the cornstarch blends completely and the dip seems thicker.
Adding Flour
The flour used here is all-purpose flour. Every kitchen seems to have this ingredient, and it can be a good thickening agent for chili. If not, you can replace it with rice flour.
In this way, you also need to make a slurry by whisking 1 tablespoon of flour in 2 tablespoons of water. The water used must be at room temperature. Then pour the mixture into the pot and start stirring.
If you are afraid the chili will get too thin if using water, you can try this instead. Take a separated bowl, mix about 1-2 tablespoons of flour with a cup of the sauce you are cooking. Whisk until all the clumps are left, then put it back into the pot.
Using Cornmeal Or Masa
Cornmeal helps absorb the excess water in the sauce and makes it thicker.
Masa Harina is an ingredient widely used in Latin American countries. Although it's also a corn-based flour, do not mistake it for cornmeal. This one has a flour-like texture and a whiter shade.
One thing to pay attention to is that both of these will give a slight graininess and corn-like flavor. So if you are not into corn, choose another tip.
To start, add a tablespoon of it to the pot. Let the dip simmer for about 10 minutes after adding the cornmeal or masa.
Don't put too much right at once, as the sauce will turn into a solid texture. Take it slow; give it a test after every 10 minutes. When checking the chili consistency, you can repeat the process if you don't get the desired thickness yet.
Using Tortilla Chips
Adding tortilla chips or corn chips is also a quick trick if you don't mind the crunchy texture.
Crush the chips, then put them in the pot about 10 minutes before it is done. The chips will help to absorb the excess water. Stir the sauce frequently to make the ingredients mix well together.
Here is one more trick with tortilla chips to thicken after cooking: Before serving the dip in the bowl, you can add a layer of crushed chips into it, then stir to blend.
To finish, top your bowl with some crushed corn for extra crunch.
Another way you can try is to serve crackers on the top of your sauce instead of thickening it when cooking. This technique does help when you have plenty of guests. Each person will decide how thick their own bowl is.
Crumbled crackers work great for this technique, and so does potato flake or cornbread. Top them in the bowl when serving.
If you want something low-carb, use great cheese instead. This one works well too.
Adding Mashed Bean
This is another method on how to thicken chili sauce. Add about a cup of beans and mash them. If you have already cooked the beans, just take about a third of them out.
You can mash them right in the pot using a potato masher and a fork. However, a spoon will be a more useful choice.
Put the mashed beans in the pot again and start stirring until it is mixed well. Let the sauce rest for about 30 minutes to thicken up.
The beans release natural starches that help to thicken the dip. Large beans, such as black beans, kidney beans, work best for this thickening process because they contain more starch.
Tips
Here are some tips that can help your sauce thickening work.
Instead of stirring your condiment to avoid scorching, you can try not to do it somehow. In French cuisine, there is a term called fond, which means people blacken the bottom of the pot to add flavor.
When crushing the tortilla, take it easy by putting it in a plastic bag, then squeeze.
Don't use cornmeal ground in a rough texture; it can not dissolve completely in the condiment.
If you need a gluten-free ingredient, try the arrowroot powder.
FAQs
Should we cook chili covered or uncovered?
Most of the cooking time, the pot should be uncovered.
Which kind of pot is most suitable for thickening chili?
The ideal way to cook it is in a thick bottom pot.
How Thick Should Chili Be?
There are numerous options for a perfect thickness. But if your condiment is supposed to be thick, there should not be any excess liquid left.
What Makes Your Chili Get Too Thin?
All the components of your thin chili are from the lack of water evaporation. This may happen from:
The shortage of cooking time: cook your soup under low heat and for a long time, so that the heat will consume the remaining stock over and over, making your condiment simmer long enough and get the ideal thick consistency.
Adding too much stock: a solution to this situation is putting some more solid ingredients like vegetables, meat, or beans.
Adding too many fresh tomatoes: many recipes include these to add color and flavor. Pay attention to the number of tomatoes because the water released from them can make your chili thin.