If you are fed up with mashed potatoes, mashed cauliflower is definitely a perfect alternative on many diets that can help lower your carbohydrates!
Even though cauliflower can provide a similar flavor and texture to potatoes, it is not the same at all. Since cauliflower absorbs more water than potatoes, many people make the common mistake when cooking mashed cauliflower – letting it be too watery.
Don't worry if you have the same mistake; let's learn how to thicken mashed cauliflower to "revive" your runny sauce with this guideline!
How To Thicken Mashed Cauliflower? 2 Must-Try Ways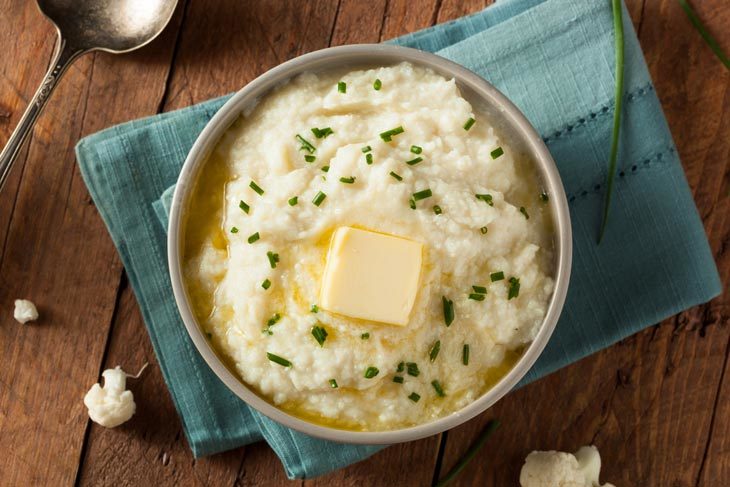 There are two methods on how to thicken cauliflower mash! Continue reading to find out about them!
1. Cook The Slurry Mashed Cauliflower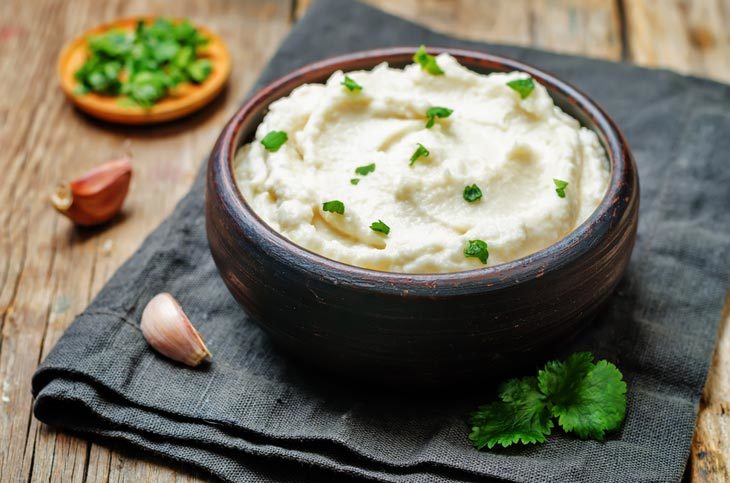 The first answer to the question "How to make mashed cauliflower thicker?" is by utilizing heat to evaporate Cauliflower liquid. This way will take some time and have a small possibility of unintentionally burning the mashed cauliflower. In particular, just boil it down until only the mash remains in your pan.
All you have to do is put your soupy mash into a pan and heat it on the stove, then take it off of the burner or keep stirring once it begins simmering!
This step brings out the best in your cauliflower. It will take some time, but the result is worth your try! Just make sure to keep an eye on this part of the process so that you don't burn any bits while all of that water evaporates off.
2. Add Ingredients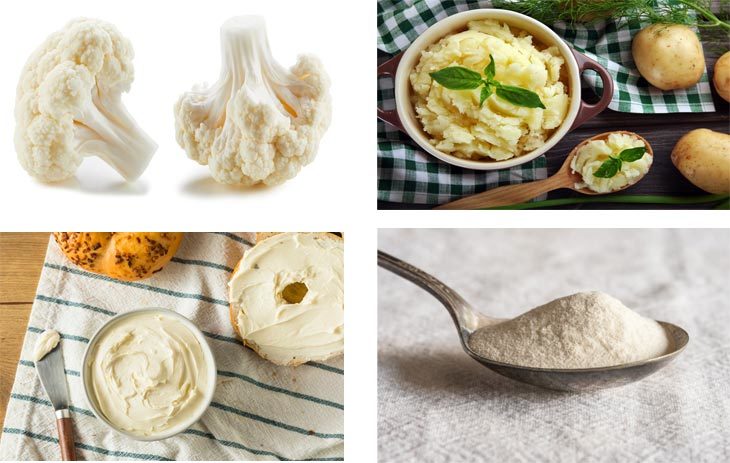 Check out these tricks on how to thicken mashed cauliflower if it's already been prepared!
Cauliflower
If your cauliflower mashed potatoes too watery, you can tackle this issue by adding more solids to the dish. Try grinding down some extra cauliflower and add it, or you could even use something other than cauliflower – whatever works best for you.
Vegetables: Mashed Potatoes/Broccoli
If you are planning to cook a mashed cauliflower and potato dish, here is the method on how to make cauliflower mashed potatoes thicker!
Adding some potatoes will gradually help absorb the excess moisture that comes with cooking either of these dishes. As both of these items have similar flavors, it is hard to distinguish their taste; thus, your final result should come out just fine!
In case you like to make your mashed cauliflower dish green like traditional potatoes, consider adding some broccoli. As broccoli is similar in taste and texture to cauliflower, it can be a great option for those who want their food hidden by greens instead of the usual white color.
Consequently, adding whatever kinds of vegetables to the cauliflower can work well for you as long as that vegetable can mash up and not overpower. Rest assured that there are no problems with excess water as you'll be left with mashed-up vegetables instead of plain old steamed ones.
You can easily apply this mashed potato and cauliflower recipe to any kind of vegetable dish!
Cream Cheese
Another ingredient to thicken your instant pot mashed cauliflower, like how to thicken sour cream, is cream cheese like goat cheese.
When adding the cheese to your cauliflower puree, stir until it melts completely. This will give you a creamy consistency and ensure that all of the ingredients are well-combined. The best part of this ingredient is that it makes mashed cauliflower even tastier and more enjoyable while still staying on your keto diet.
If you're not a fan of cream cheese or any other kind of dairy, feel free to use an alternate fat like butter. As long as it is an additional source of fat that can thicken up your mixture, do whatever works best for you.
Slurry
A slurry is basically a mixture of flour or cornstarch with water. The ratio is normally one part cornstarch to four parts water. A good recipe for mashed cauliflower is to mix the slurry in a separate bowl. Then, slowly pour it into your pot of mashed cauliflower while constantly stirring until smooth and creamy.
Please be mindful of adding a small amount of slurry to ensure it doesn't get out of hand. It is hard to determine how much you need; that's why adding more is always easier than fixing the issue afterward.
Xanthan Gum
Xanthan gum is known as a fermented food adjunct that can be found in gluten-free baking. It can thicken mashed cauliflower for those who cannot eat regular flour or wheat.
Noticeably, you only need to add two teaspoons of xanthan gum to your mashed cauliflower after draining it. As you mash, the mixture will become thicker and more luxurious.
How To Save The Mashed Cauliflower After Failing To Thicken It?
If your cauliflower mash is watery, don't panic! You still have other options to make a delicious dish – adding bone broth and spices to cauliflower mash can turn a soup with a well-seasoned flavor!
Even if the mashed cauliflower does not look appetizing at first, do not give up so quickly. Put enough time and effort into it, and it will surely become something you love to eat!
Whatever happens, you will have a full sense of enjoyment at the end of the day, and you'll have learned from the mistake of working with cauliflower that has too much water in it.
What Are The Common Mistakes That Lead To Unthicken Mashed Cauliflower?
After you've grasped some useful methods to tackle watery cauliflower mash thicker issues, let's examine the reasons behind the issue to avoid it from happening beforehand!
1. Not Roasting The Cauliflower First
One of the common mistakes that leads to watery mashed cauliflower occurs after you finish cleaning and washing cauliflower.
To make sure your mashed roasted cauliflower is creamy and thick, roasting the cauliflower for around 20 minutes. It will take some time, but it's worth every minute. If you would like the mash to be soft, consider covering your baking tray with a lid!
2. Going Straight To A Smooth Consistency
Immersion blenders are perfect for making chunky dishes! Due to their design, they can blend small bits of cauliflower into a smooth consistency while still leaving the dish texture.
If you want your final product creamy and dreamy, keep blending at low speed until it is just slightly lumpier than desired. Add in some liquids, then stir everything together.
3. Not Stirring Enough During Cooking Or Overcooking It
Instead of frequently stirring during cooking, you will end up with lumps leftover from different parts of the cauliflower. In particular, this is because each part absorbs more liquid at different levels and releases it later on in the process.
How To Thicken Cauliflower From The Beginning?
Steaming Instead Of Boiling
In order to get less runny in the final dish, try to switch from boiling to steaming your cauliflower. If you find the mixture is too thick, you can freely add more liquid.
On the other hand, you can consider other ways to reduce the moisture content before cooking, such as roasting, microwaving, baking, and grating utilizing a cheese grater. The ideal outcome from all methods is to create a thick mixture!
Increase Preparation Time
To reduce the liquid in your cauliflower, prolong the preparation time by simply steam or boil without a lid for longer periods. In this way, more water will evaporate, and fewer liquids remain inside the cauliflower after cooking.
Drain Before Mash
When you prepare cauliflower, one important thing is to ensure that you drain it before mashing it. Utilize cheesecloth to squeeze the moisture out if the draining methods still contain running mash.
Want to know how to transform your cauliflower into a creamy, irresistible mash? Make sure you drain it properly first. However, if the previous drain has left some water in there and your final dish is not turning out as expected, here's what you should do: use cheesecloth. Ensure you know how to use a cheesecloth beforehand!
Check The Ratios
If you've avoided all previous methods yet the result remains the same with cauliflower mashed potatoes too watery, the problem possibly lies in the ratios. You must balance your cauliflower and liquid properly to get the best mash products.
Final Thoughts
Through this article, we have provided you with some methods on how to thicken mashed cauliflower. In fact, there are many other recipes to help you revive the runny and watery mashed cauliflower, but our ones are the simplest to follow!To make your best-mashed cauliflower recipe, you should pay more attention to the common mistakes that lead to the watery mashed cauliflower issue. We hope this article can help you the next time you cook. Thanks for reading, and see you in our next post!