How To Thicken Pasta Sauce – The Easiest Way To Thicken Pasta Sauce!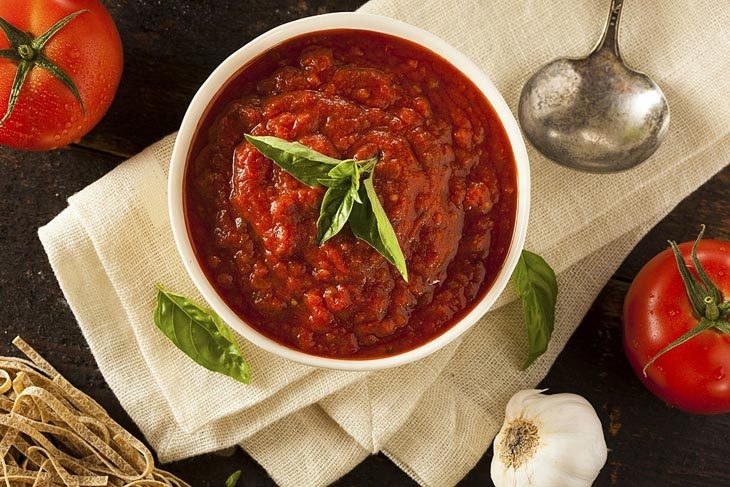 Along with the spectacular Italian cuisine dishes like lasagna, pizza, pasta is nowhere to be forgotten as one of the most popular entrees on Earth. You can enjoy pasta at almost any restaurant and enjoy the wonderful combination between delicate pasta and its dressing.
However, it is never an easy task to execute those ingredients, including the sauce part. So, how to thicken pasta sauce? The answer will be covered in this article!
How To Thicken Pasta Sauce With 2 Insane Methods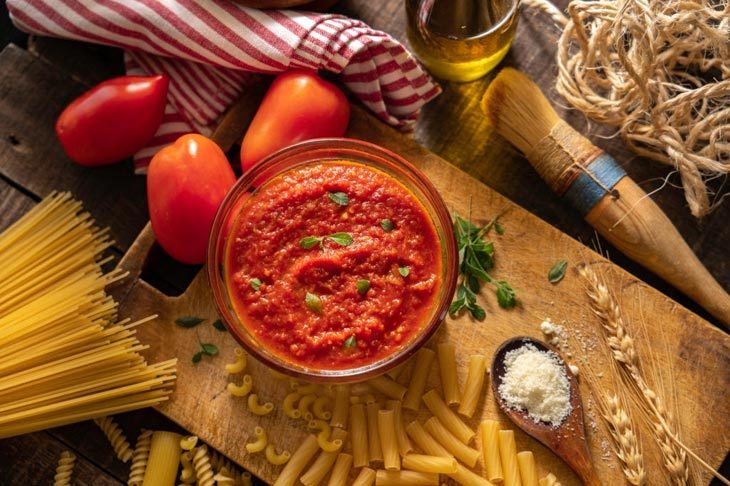 There are two main ways to thicken pasta sauce: use extra ingredients or modify the pasta-cooking method. We will first investigate the first method of thickening pasta sauce.
#1. How To Thicken Pasta Sauce by Using Extra Ingredients
When adding ingredients to the sauce, the flavor can change due to the harmony or conflict between the add-in and the original ingredients.
Depending on how you want to modify the sauce, boost its volume only, or change its flavor and texture, you can choose the appropriate elements.
First, we will look at the ingredients that won't change the existing flavor of the sauce in case when the taste has already mind-blowing:
1. 1 Cornstarch
When it comes to thickening, cornstarch is well-known for being one of the most powerful contestants. Not only does cornstarch provide an extra flavor to your recipe, but it also does a good job in changing the consistency of your sauce.
Giving it a silky sheen, with the right temperature and heat, cornstarch adding can alter the sauce's thickness effectively due to your preference.
So, how to thicken pasta sauce with cornstarch? Here's how you can mix cornstarch into the sauce to boost its density.
Mix the same portion of cornstarch and water into a bowl to create a slurry paste.
Stir the substance thoroughly and pour it into the sauce while it is shimmering.
As you pour in the sauce, continuously stir the sauce to know whether your desired thickness has been achieved yet. Since cornstarch is a powerful thickening agent, overusing it will unconsciously ruin your dish.
Once you have seen the sauce achieve the thickness you want, remove the pan from heat and let the sauce rest for 10-15 minutes.
1.2 Mashed Potato
If cornstarch is not available, how to thicken pasta sauce without cornstarch?
Well, potatoes are wonderful sources of healthy, fresh starch. In case you can't find any cornstarch left in the cabinets, but there are some potatoes instead, they can still be the perfect thickening agent for your pasta sauce. Let us show you how we can use potato to do this trick:
Boil 1-2 potatoes. When they start to become tender, strip them out.
Utilize a spoon or a fork to squash the cooked potatoes in a bowl or pot
Add the mashed potatoes to the sauce continuously.
Mix the sauce incidentally until it is thickened as you wish.
Here are some tips you should bear in mind when executing this thickening mission:
When you boil potatoes, their peels will tend to come off automatically, so you don't have to use a manual peeler in this case.
A little milk or margarine is welcomely added to the pureed potatoes whenever wanted to make the sauce richer.
This technique may insignificantly change your recipe a little bit with a spice of potato, so if potatoes are not your favorite vegetables or you dislike their flavor, let's move on to the other alternatives.
1.3 Breadcrumbs
Breadcrumbs are bread, a fulfilled source of starch. For that reason, they can do an excellent job in thickening the sauce. Breadcrumbs are accessible everywhere, from your local store to supermarkets.
On the other hand, you can utilize your used bread at home to save the budget. So, what are the steps of thickening sauce using breadcrumbs?
While the sauce is stewing, add a spoonful of breadcrumbs.
Continuously stir the substance until you recognize the decent sauce's thickness.
Using all breadcrumbs will add up the abundant volume to your sauce. When you add breadcrumbs in, gradually add them in and check the density altogether.
Moreover, the sauce may not look generally alluring because of the presence of breadcrumbs.
However, the flavor won't change a lot, and all things considered, the significant reason, which is thickening, the sauce is accomplished.
1.4 Roux
Roux is a special substance made from flour and softened margarine or olive oil.
After mixing these ingredients, you will have an efficient thickening agent. Here is the full instruction for adding Roux to thicken pasta sauce:
Cook the Roux thoroughly to create a thickening substance.
Gently pour the Roux into the sauce and cook all together for 30 minutes to let the Roux completely dissolve in the sauce.
Make sure that both Roux and pasta sauce has been cooked properly before removing from the heat.
And that's all the thickening agent you can use that made no change to your sauce's flavor. We will now move on to the ingredients that can add extra flavor and density to your sauce. Let's find out what they are:
1.5 Cheese
Cheese is everybody's favorite, so what's the risk of not adding cheese to this list?
When it comes to becoming a thickening agent for pasta sauce, cheese is favorable because of its capability to boost the density and enhance its flavor with its rich, creamy, salty cheese-flavor.
Any cheese at any state can be used to thicken sauce. From Parmesan or Romano to shredded or grated cheese, feel free to use what you have or what you think is compatible with your dish.
Here's how you can add cheese into the sauce to make it thicker:
Utilize a cheese grater to grate the cheese into the simmering sauce directly
Once you find that the cheese has completely dissolved in the sauce and the sauce has reached a certain thickness, turn off the stove.
A little note to bear in mind is that cheese like Parmesan or Romano has salty characteristics, so adding them to the sauce will cause the sauce to be saltier than it already is. So, you need to adjust the level of salt in the sauce before adding cheese.
1.6 Heavy Cream
Like cheese, heavy cream is also a great pasta sauce thickening agent that can give your dish a slight upgrade in the flavor: becoming richer and creamy.
Same as these above procedures, you can gradually add in heavy cream into a simmering sauce, and then check if the desired density has been reached or not and stop the process.
1.7 Tomato Paste
Does tomato paste thicken sauce? Pasta sauce can be varied in ingredients and flavor, but the most well-known pasta vinaigrette must be tomato sauce.
For that reason, tomato paste can be added to enrich the flavor and the sauce's density.
But for the non-tomato pasta, adding tomato paste can be a risky take in adjusting the flavor, so you must consider it carefully before including this special thickening agent.
However, in any way, tomato paste is still an efficient pasta sauce thickener. So, how to thicken pasta sauce or spaghetti sauce with tomato paste?
Turn the temperature to low and add in one teaspoon of tomato paste.
Mix the sauce incidentally until it is thickened as you anticipate.
Notes
For the best thickening result, tomato paste should be added to the sauce from the beginning to enhance the flavor combination.
If the sauce is too bland, you can add in some salt later without interfering with the cooking process.
1.8 Meat
Believe us! Without tomato paste, you can still thicken your sauce. If you are a meat lover, it must be thrilling to hear that adding more meat can result in thicker pasta sauce. Other than that, extra meat flavor can make your sauce more savory than it is.
You can utilize any meat that is preferable for your dish, including pork, ground beef, turkey, Italian sausage, etc. Chop them out and add them to the sauce while it is shimmering.
The secret to delicious, thickening sauce after putting protein in is to let the meat sit in the sauce as long as possible at low heat or else in high heat. Your sauce will gradually drain.
1.9 Veggies
Contrary to meat, vegetables are generally thought of as giving the sauce no other than greenness. However, vegetables give extra profundity and extravagance to your spaghetti sauce, along with extra thickness.
Here are some vegetables you can add in to boost the volume of your sauce:
Shredded carrots are a thickening agent used by most famous Italian chefs. To maximize carrots' use in pasta, they must be cooked along with the pasta until the carrots are delicate and soft to lessen the causticity and raise the sauce's volume.
You can puree and sauté onions and peppers to thicken the sauce, yet this will slightly change the flavor.
Likewise, attempt shredded different mushrooms into little pieces and add them for additional thickness and a tasty umami flavor.
#2. How To Thicken Pasta Sauce by Changing Cooking Method
2.1 Reduce To A Low Boil Or Simmer
In case you don't have any material or ingredient available to fix the sauce's density, the easiest way to thicken tomato sauce is to drain it on the pan. This method allows the excess water in your sauce to evaporate thanks to lowering the cooking temperature without altering the dish's flavor.
Thus, this is the most straightforward method to bring back your watery tomato sauce's density once it has too much water in it.
Here's how you can reduce your pasta sauce like a pro:
Heat the sauce to the boiling point and then decrease the heat and notice whether the sauce has condensed enough. Mix the sauce frequently to prevent it from being consumed.
Allow it to shimmer in the low heat for a while before taking it out.
While this takes longer than other strategies, a preferred position to this is that it doesn't change the sauce's flavor.
Notes
The more water you put in the sauce, the more time it needs for you to reduce it.
Instead of covering the pan or pot during the process, leave it open so that water evaporates more quickly.
Pay attention to the sauce to prevent it from burning.
2.2 Use Pasta Water
Pasta water is usually dismissed while cooked in the first place. However, you need to stop throwing away pasta water because it is an extraordinary sauce-thickening agent!
If you still think that adding more water will only result in more watery sauce, this method will surprise you! We will give you full instructions to use pasta water as a way on how to thicken pasta sauce.
After you blanch the pasta, remove the pasta using a pasta basket. Place the pasta water separately.
While the cooked sauce is shimmering, add in 2-3 teaspoons of pasta water and stir it continually. You might find the substance to be watery at first. However, keep stirring, and it will eventually collide.
To the point when you see the sauce is dense enough, finish cooking and turn off the stove.
Notes
The sauce might be a bit watery at first when adding pasta water, but keep giving it a good stir, then you will feel it thickens gradually.
Frequently Asked Questions
Why Is My Spaghetti Sauce Watery?
One of the most widely recognized reasons that spaghetti sauce gets watery is the point at which the pasta isn't sufficiently depleted. The key to perfect consistency in pasta sauce is to allow your pasta to deplete until it quits streaming.
The steam from newly cooked pasta causes buildup, and eventually, when you add the sauce in too soon, no matter how thick it is, it starts to become watery due to the humidity.
Another cause for watery pasta sauce can likewise come from flushing your pasta. Inappropriate pasta flushing will flush the starch, making the sauce more difficult to cling to the pasta water.
Does Pasta Water Thicken Sauce?
Contrary to what you might think, pasta water makes up a great addition to the sauce. To use pasta water to thicken the sauce, add 2-3 teaspoons of pasta water when you first cook the pasta.
You can also add a little salty, starchy water to add flavor and even glue the sauce and pasta together; it will also contribute to thickening the sauce.
The Final Words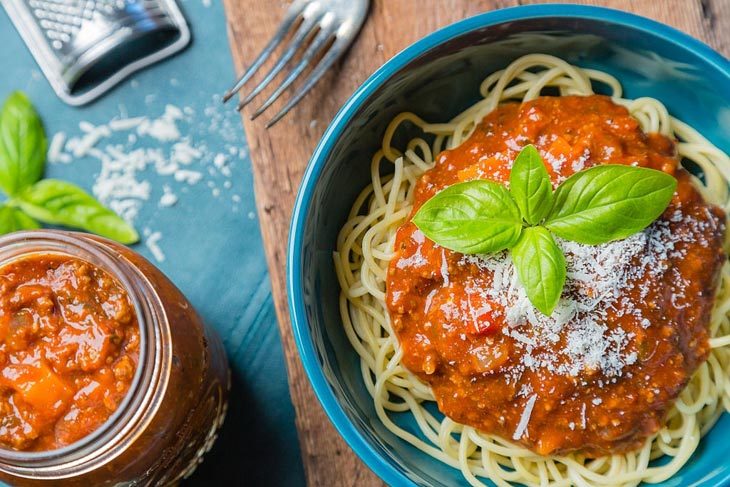 And that's all that we can cover on how to thicken pasta sauce. We hope the tips and tricks we have provided above can help you to fix watery pasta sauce effectively without interfering with the recipe.
It's important to know how to thicken spaghetti sauce to make sure your dish is not a waste. Thank you for reading this article, and we will see you again soon!