How To Thicken Peanut Butter – Useful Tips For Every Kitchen Corner!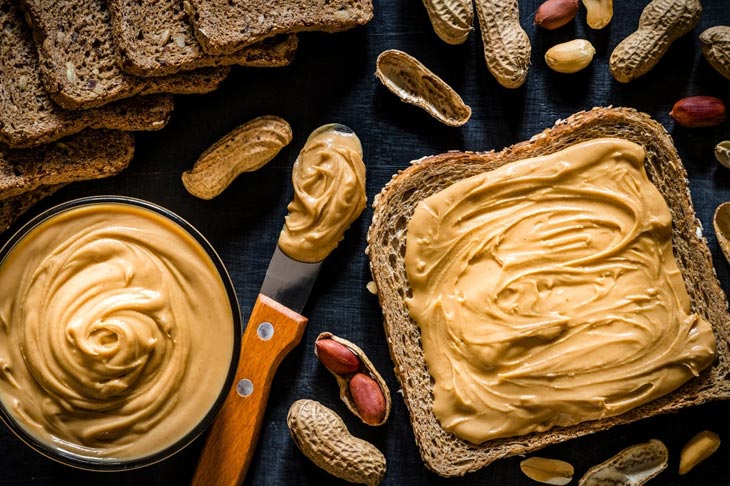 Peanuts prove to be a nutritious and healthy food, providing us with a good vitamin and essential minerals source. More interestingly, you can make more delicious and healthy food with a few basic steps from this type of nuts.
With a food processor, some necessary additives, it is as easy as pie to get thick smooth and creamy peanut butter on your own at home! Slathering a peanut butter layer on bananas, apples, or veggies, you are served with the best dish imagined.
However, not everyone loves a runny texture, so how to thicken peanut butter? Keep reading our article to find out the solution!
Four Detailed Methods On How To Thicken Peanut Butter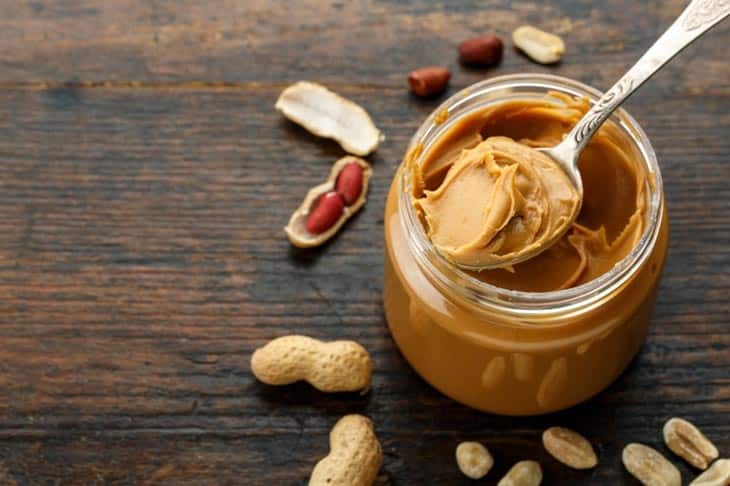 Method 1: Refrigerating
Temperature can directly affect your best creamy peanut butter, and make this special food go bad easily. So how to make peanut butter stiff and last longer? The easiest yet most effective method is storing in the fridge. This method helps you prevent the oil from separating and thicken peanut butter in shape longer.
Finding a suitable container that is big enough to store your peanut butter and putting it in the fridge, you stand a golden chance of having healthy organic peanut butter.
However, we highly advise you to choose an air-tight and clean container, made of glass or hard plastic, as these materials can protect natural peanut butter from harmful bacteria.
Method 2: Stabilizing
This method is mainly applied when you make peanut butter at home or when your dry peanut butter becomes runny. What you need to do is to keep the layers from separating to stiffen the butter.
There are numerous ways to stabilize yours, but the most common one is adding some oil. You can do it during the grinding process or add afterward; both are equally effective.
Nevertheless, this method is not so popular and favorite to thicken your thing, as it may alter the thick peanut butter's natural taste. Therefore, consider carefully before employing this method.
Method 3: Shortening The Grinding Time
Shortening the grinding time proves to be an effective method, preserving thick peanut butter's original taste and keeping it in shape as well. This is suitable for those who desire peanut butter with only peanuts or like making own peanut butter, as it is easy to follow and makes few changes to the peanut butter's taste.
Normally, peanuts only need four minutes running in the food processor to become a creamy butter, so you should stop it there, instead of continuing. This is because the longer the processor works, the runnier and more watery your peanut butter becomes.
How to thin peanut butter? In this way, you are more likely to customize yours in terms of thickness on your preference.
Method 4: Extracting The Oil And Stir
How to separate oil from peanut butter? Two main ways:
Stir fry: the oil layer is so healthy and nutritious that it should not be discarded totally, so after extracting it, do some stir-frying and pour it back.
Keep the jar upside down.
You can use a Costco peanut butter stirrer or follow the stirring peanut butter hack.
Tips And Warnings To Thicken Peanut Butter
Before using thickened peanut butter, don't forget to check the expiration date or see whether it goes bad by looking through the color and the liquid state. In this way, you can eliminate the risk of being food poisoned and spoiling the dish's taste.
So what if you are planning a creamypeanut butter recipe? Don't worry, as making thick peanut butter at home, or like Nutella, melting peanut butter is equally as easy as pie!
You can use the microwave, the stove, or the blender to soften yours and have a runny peanut butter to eat with baking cookies, chocolate, or Oreos. This will be a wonderful combination!
Frequently Asked Questions
1. Why Is My Peanut Butter Watery?
After purchasing a can of peanut butter at the supermarket for the first time, you must wonder why this stuff is a liquid and has an oil layer on the top. However, don't worry, as this indicates that your peanut butter is natural and organic!
This liquidity is put down to the grinding peanuts process when peanuts release a certain amount of oils. This oil makes peanut butter runny, instead of being thick.
And if you want to get rid of the fat, let's store it upside down and wait for some time. After that, the oil will rise to the bottom, and you only have to flip it away!
2. How Can I Thicken Peanut Butter Without Sugar?
Undoubtedly, using sugar is not always a brilliant idea to make peanut butter thick, especially homemade peanut butter, as it can make the peanut thinner and easily go bad. Moreover, we bet that not all users want to consume fatty and sweet peanut butter. If this is your case, there are several alternatives to stiffen peanut butter without sugar.
The most straightforward method is refrigerating. Storing either commercial peanut butter or homemade creamy peanut butter in the fridge can do wonders for your product. Not only does it lengthen the storage time of peanut butter, but it also helps you to thicken your peanut butter.
The Final Thought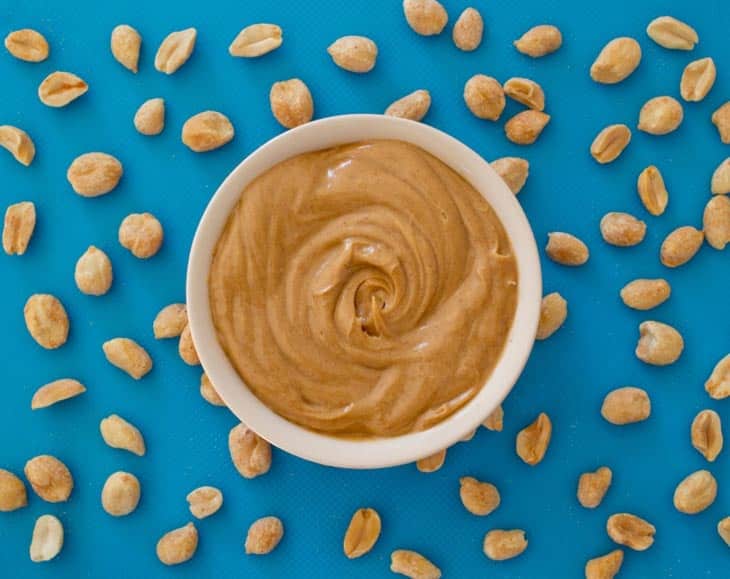 Peanut butter is such an irresistible food, providing you with all the necessary vitamins and nutrients that you cannot ignore! A bowl of veggies and fresh fruits covered with runny and natural creamy peanut butter is so mouth-watering and sure to whet your appetite.
However, if you are into the habit of consuming thick peanut butter, let's check our tips on how to thicken peanut butter mentioned above. Stiffing peanut butter is not such a challenging task as you have imagined! So now, why not get your hands dirty with a natural peanut butter recipe?