Pinto beans are brown, speckled beans that become creamy and very smooth once they are cooked. Pinto beans are a stable in Mexican cuisine, being the main ingredient of refried beans. However, pinto beans work great in all soups, stews, and chilis.
Smoother than other beans, pinto beans are creamy, and have a deep nutty, and earthy flavor to them.
However, if you are simply dumping beans out of a can, you may notice that they aren't thickened at all. The water inside is very thin, and the beans do not have their default creaminess right out of the can.
How Do You Thicken Pinto Beans?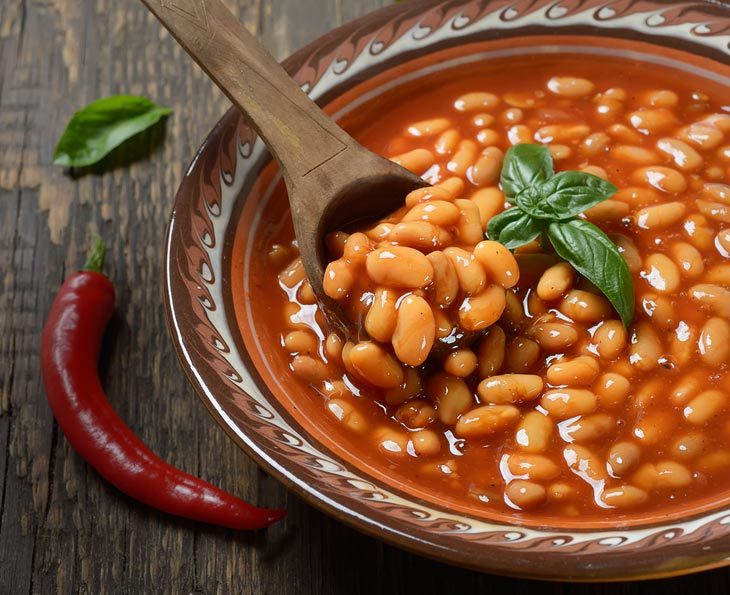 There are six useful methods that work best, but to be honest, I'd stick with the top three unless a recipe doesn't accommodate one of those ways.
These tips work for just about any bean dish. Whether you are trying to thicken black beans, kidney beans, or pinto beans – all the methods below will work regardless of the type of bean!
1. Mash The Beans
The best way to thicken your pinto beans is to mash up a small amount of them. This way, you don't lose any of the bean flavor, and you aren't adding any uncalled-for items into your dish.
If your stew, chili, or soup is almost complete, but is still too watery, try this method:
Take out between 1/2 to 1 cup of beans from the pot, and place them inside a new bowl.
Mash them with either a potato masher, back of a spoon, or an immersion blender. You may need to add some of the pot's liquid to the bowl in order to get the right consistency.
Once the beans are all creamy and mashed, it's time to add them back into your pot. Fold heaping spoonfuls of the bean mixture back into your pot, stirring to help it dissolve.
2. Let The Beans Simmer Longer
Another useful tip is to simply continue simmering the beans. As the beans simmer, some will burst open, as the extra liquid begins to evaporate.
Pinto beans and other beans, in general, share a similar quality: the more you simmer them, the thicker the beans become. If you want to thicken pinto beans, let them simmer for about 5 to 10 minutes more at low temperature. Continue this process until the beans are thick enough for your liking.
This step will reduce the liquid and make the beans thicker as well. As an added benefit, the longer the beans simmer, the more they will soak up the other flavors in the pot!
3. Use Less Liquid
This option doesn't necessarily help you if you've already made the pot of beans, and are looking to thicken it up. However, if you know a particular recipe will be too watery for your liking, then you can simply use less liquid (water, broth, etc) when starting to simmer the beans.
Remember, you can always add more liquid as the beans simmer. There is no need to add it all in at once! Just add a half cup of liquid as the beans begin to dry up.
4. Make A Cornstarch Slurry
You can also always go back to the old tried-and-true way of thickening anything: with cornstarch. By making, then adding a cornstarch slurry to your beans, they will become thicker as they simmer a little longer.
A cornstarch slurry is easy:
Mix 1 tablespoon of cornstarch into 1/4 cup of cold water.
Whisk the cornstarch thoroughly to ensure no lumps exist.
Slowly add the cornstarch slurry to the beans, whisking it into the beans continually.
Continue cooking the mixture for another 5-10 minutes.
5. Use Thick Sauces
If applying the above steps still did not bring you the thickness you were trying to achieve, you can try to add in some thicker sauces. Besides adding additional flavor to your dish, these sauces will incrementally thicken your beans.
Some of the best thick sauces include honey, barbecue sauce, and tomato paste.
6. Add Flour And Butter – A Roux
Similar to the approach to cornstarch above, a roux made of flour and butter will help thicken your beans as well. Adding a roux to the pot of beans will do the same thing as cornstarch – thicken it.
The only difference here is that a roux will likely add a bit of flavor to your beans. While cornstarch is flavorless, butter and flour is not.
A simple white roux is 1 part flour to 1 part salted butter. For a simple pot of beans, I would use about 1/4 cup of each.
The formula is simple: melt butter in a sauce pan, and stir in the all-purpose flour. Mix for about 5 minutes to cook the rawness out of the flour. Then, pour the roux into the bean mixture, and stir to combine.
7. Use Thickening Agents
Xanthan gum, tapioca powder, and cream of tartar are all thickening agents that, when used as directed by their packaging, will help thicken just about any dish.