How To Thicken Salsa? 3 Best Thicken Tips For Your Dishes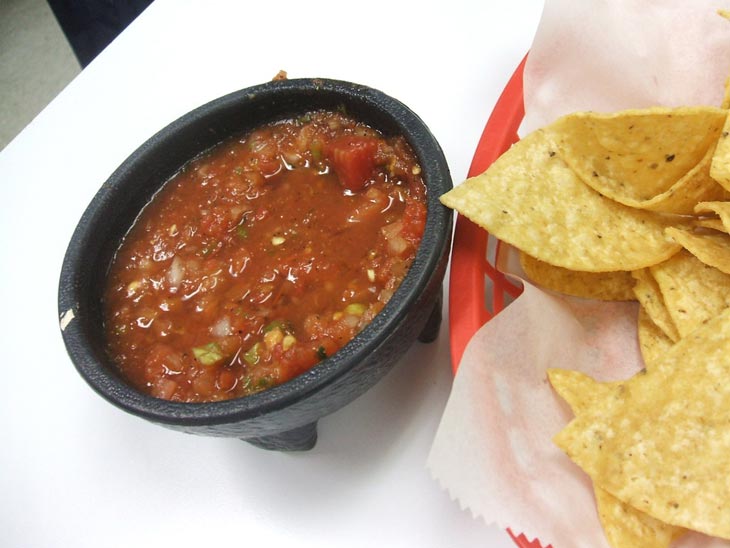 Salsa is one of the wonderful food ingredients which will add more flavor and taste to your food. It's not boasting to state that sometimes you enjoy a dish just because it goes along with salsa.
However, you can see the obvious difference between your watery salsa and the thick one made at restaurants. We will help you to tackle this problem. Let's see how to thicken salsa correctly now!
Why Is Your Salsa Not Thick?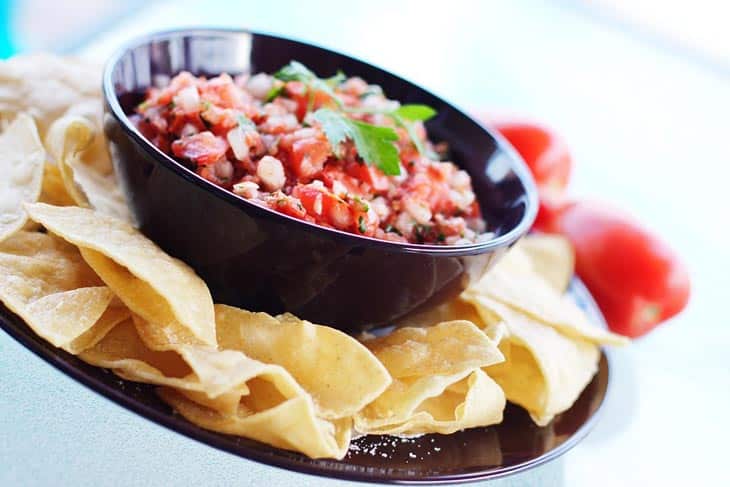 The reason for the uncontrollable liquid texture of salsa lies in the tomatoes you add to the cuisine. This matter is understandable because tomatoes are among the softest vegetables.
Making your salsa too watery will diminish the quality of your meals, especially when the food has to accompany this condiment tightly.
Of course, you won't ever use up salsa immediately, and you will leave it for later use instead. For this reason, many people take advantage of corn starch to achieve the desired thickness.
However, the improper amount of this substance may lead to dangerous health problems. Without cornstarch, the tomatoes in the salsa will dissolve into a liquid substance. This is also the primary cause of your runny salsa.
Every question will have its solutions, so will this situation. Down here, there will be some possible methods showing you how to thicken up salsa.
How To Thicken Salsa?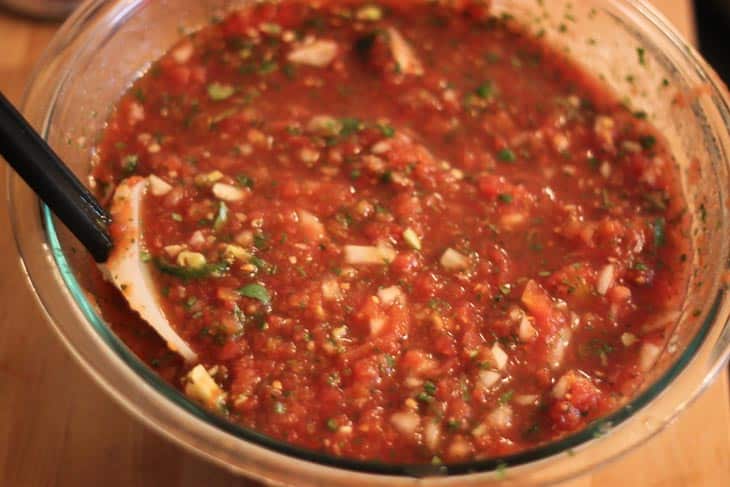 #1 Get Rid Of Your Currently Used Ingredients
In the first place of the "How to thicken homemade salsa" solution list, it must be the method specializing in salsa's main ingredient, tomatoes.
Changing the tomatoes you are currently applying to your salsa recipe will bring a more promising result.
Here, we are mentioning the Roma tomatoes. This type of tomato will assist you in attaining a restaurant-like salsa. Roma tomatoes are much firmer than other tomatoes, so their blended form will be more consistent.
Honestly, it doesn't 100% require Roma tomatoes for a thicker salsa's consistency. You can rely on your currently used tomatoes as long as they are firm and young for your salsa recipe.
The quality of your salsa will significantly depend on the freshness and firmness of the tomatoes. Therefore, your salsa is runny or thick is the product of the tomatoes add-in.
Apart from tomatoes, the condiment consists of other ingredients with distinctive features. By that, we mean some constituents may have a greater impact on the texture of your dish than others.
Don't worry if you are opting for your recipe. You can still keep those ingredients, but you need to slightly alter the portion.
Let's take an example. Bell peppers and chilies are spicy and chunky vegetables. These veggies can contribute to the crispness of your meal. The combination will become crispy when you add bell peppers and chilies into your salsa.
You can rely on other vegetables for your salsa's thickness, like avocado, tomatillos, cucumber, and mango if you don't mind a relatively different taste of salsa.
Some cooks can tolerate this change for the thickness, but some still regard the flavor as more crucial than the texture.
Tomatillos are the perfect substance for making a creamy tomatillo salsa. On the other hand, mango is favorable for the fan of sweet salsa. Although avocado can thicken the salsa, you have to accept that the mixture will be creamy at last.
Cucumber is also famous for delivering fresh and cool senses to your taste, which will do the same to the condiment. For this reason, people who love fiery salsa won't find this ingredient appropriate.
As you can see, the edible thickening agents responsible for changing the condiment's form will lead to both a good and unwanted effect. A highly recommended method for you is always finding how to prep tomatoes for salsa.
#2 Try A New Process To Make Salsa
Overprocessing is a common mistake of many people when making this condiment. Once you overprocess it, you have to face runny and messy salsa, which will ruin your meal.
To save up your time on the preparation stage of making it, you may ask yourself, "Can you make salsa in a blender?" We can't answer this question right now because of several factors.
One thing we do know is that you can decide to cut all the elements or not.
However, most importantly, you need to chop the indispensable ingredients like cilantro, tomatoes, and onions by hand. This is the key to achieving a chunky and thick salsa dish.
By spending time thoroughly cutting these substances, you can retain all the purist flavor and taste of the dish.
When trying the food processed in such a delicate way, you may be surprised that it seems like you have mastered the recipe for restaurant style salsa.
Sometimes, cornstarch is still necessary for the condiment's thickness even though it may result in health risks in case of an excess amount.
So, you need to make sure that the proportion of cornstarch add-in is proper.
#3 Adding Cornstarch In A Decent Way
Ideally, the perfect ratio of the salsa and cornstarch mixture is 1 cup of salsa with 1 tablespoon of cornstarch.
Besides, you should apply a teaspoon of water to create the pasty form of the combination. Try to stir the mixture until it becomes a paste.
Next, put the pasty mixture on the stove and boil it under medium heat. If you find that the dish is slightly boiled, you can transfer it into another bowl and start to thicken it.
Redo this thickening process as many times as you want until you get your desired thickness.
Be aware that cornstarch is not good for your health if you leave it in your food for a long time. The chemical reaction may result in potential health risks.
Hence, you shouldn't save salsa thickened with cornstarch for several uses.
Besides corn starch, some people try arrowroot to thicken their dishes because this ingredient is famous for attaining food's thick texture.
Still, this method is not widely recognized among professional cooks and renowned cooking tutorial sources as a solution to homemade salsa too watery, so we won't mention it here.
You can try arrowroot if you want. It's up to you!
How To Make Thick Salsa – Homemade Recipe
Making thick sauce is effortless. The only factor that may bother you is the complicated preparation stage. You have to gather:
At least 6 well-diced tomatoes
1 chopped onion
Chopped cilantro in the quantity of 2 tablespoons
3 slightly sliced green onions
Ground pepper, if you like spicy taste
8 ounces tomato sauce
Salt
Garlic powder in ¼ teaspoon
2 tablespoons of red wine vinegar
Cumin ground in ¼ teaspoon
Green chilies chopped in 4 ounces
Once you have all of these constituents at hands, you need to:
Put them all in a bowl and mix these ingredients all together.
Store the combination in the fridge. Remember to keep the bow air-tight.
When time's up. Take the mixture out and enjoy.
Tips For Canning Salsa After Thickening
There are three useful tips you can opt for to can your sauce after thickening it.
Apply salt over your tomatoes or other ingredients. Then, leave them on a warm corner for more than 3 hours. This method is also the answer to "How to drain tomatoes?". By that, we mean you can dry the tomatoes to prevent the watery effect of this vegetable on the sauce.
Another way for you to cook your thick sauce is to simmer the cooking dish while getting rid of tomatoes for a few seconds.
You can improve your productivity while canning it by processing several recipes at once. For instance, when you are processing one dish of the sauce, you still have some more tomatoes covered in salt for the second meal. Therefore, you can save up your time spent on waiting for salt to drain tomatoes.
Bottom Lines
As you can see, thickening salsa has never been an easy task for amateur cooks. However, we are confident that our straightforward article has basically shown you how to thicken salsa.
Following these steps, you will acquire a restaurant-like sauce dish.