7 Easy Ways To Use Coffee Creamer In Place Of Milk
If you're a coffee lover, chances are you always have coffee creamer on hand. But did you know that coffee creamer can also be a great substitute for milk in recipes?
Whether you're out of milk or just want to add a little extra flavor to your baked goods, using coffee creamer can be a simple and delicious solution.
In this blog post, we'll explore how to use coffee creamer in place of milk in recipes, as well as some tips and tricks for making the most of this versatile ingredient. So grab your favorite coffee creamer and let's get started!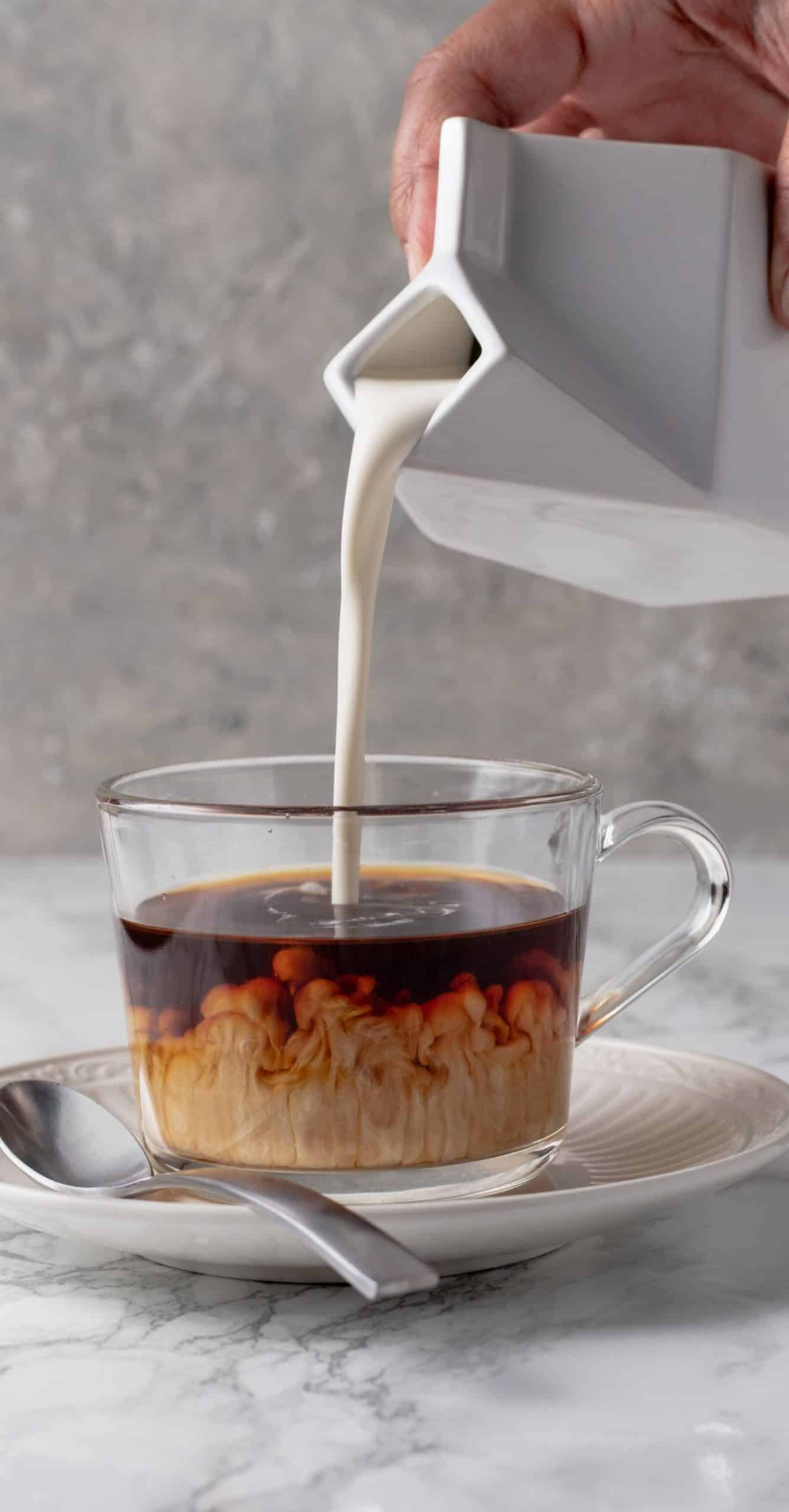 What Is Coffee Creamer?
There is a wide range of coffee creamers in the market; however, they are usually made of the main ingredients, including water, sugar, and vegetable oil (such as coconut oil or palm kernel oil.)
Besides, many manufacturers might combine these ingredients with some additives, such as vanilla extract, carrageenan, or cellulose gum, to diversify the flavors.
For the texture, they usually come as the refrigerated liquids or coffee powders. The main difference between these coffee creamer types is how you store them.
You need to refrigerate the liquid creamer after each use, whereas you can store the powdered coffee creamer inside your cupboard at room temperature.
How Is Coffee Creamer Different From Milk In Cooking?
So, how is coffee creamer different from regular milk?
Generally, the coffee creamer is sweeter than the regular milk since it contains more added sugar. Besides, it also features a higher amount of fat content, and thereby, creamier than milk.
So, you might wonder – "Can I use coffee creamer instead of milk if I'm on a diet?". In that case, you should pick the low-fat and low-calorie coffee creamer versions.
What's about the flavors?
Its flavors are pretty diverse depending on its artificial flavorings. For instance, if you are a big fan of nutty taste, you can go for the hazelnut or macadamia coffee creamer versions.
How To Use Coffee Creamer In Place Of Milk
Now it's time to figure out how to replace coffee creamer for milk in the recipes and bring out the delicious non-dairy dishes.
1. Add The Creamy Texture To Chocolate Or Coffee Drinks
Who can say no to a cup of hot chocolate or coffee milk on a chilly day? So, why don't you add a little of your preferable coffee creamer flavor and bring the fresh air to your favorite drink?
Think of adding the nutty flavor, like mocha, to your peanut butter coffee or the fall flavor with pumpkin spice to your hot cocoa. You will be hooked on these warm and delicious drinks right after the first taste.
2. Create Your Unique Milk Tea
Coffee creamer can also be used as an alternative for milk in many milk tea recipes. A splash of coffee creamer helps to create a thinner version (creamier texture yet less sweet taste) to your dairy free milk beverage.
The nutty flavors, such as pecan or hazelnut, would be ideal for black tea, whereas the lighter taste of caramel is perfect peach tea or orange tea.
3. Create Creamy Soup
Hot vegetable soup is one of the most satisfying dishes that melts anyone's heart on a chilly day. Thus, if winter is coming to your town, let's use the unflavored coffee creamer to add extra flavor to your cream-based soup.
There are many options that you can choose from based on your preferences. For instance, you can replace evaporated milk in the creamy chicken and rice soup with coffee creamer to bring creamy texture and hearty flavor.
4. Mix With Hot Cereals To Create a Healthy Breakfast
If you love healthy breakfast cereals, such as oatmeal or cornflakes, you might wonder – Can you use coffee creamer instead of milk in cereal?
Well, yes. You can substitute milk with regular or flavored coffee creamer and add it to any cereal type you prefer, such as oatmeal, granola, or wheat.
This not only helps to add extra flavor to the mixture but also makes your hot cereals creamier and smoother.
We're pretty sure you will deeply fall in love with these tasty new hot cereal versions.
5. Splash In Pancake Batter Or Waffle
Are there other creamy desserts that you use coffee creamer as a milk substitute yet bring out the similar savory tastes?
Pancakes or waffles are easy-to-make dishes that you can add liquid creamer in place of the milk to enhance their tastes.
If you prefer to keep the typical taste of these desserts, go for the unflavored creamer. But, if you want to bring a different hint of flavor, pick the flavored creamer, for instance, buttercream, mocha, or pumpkin spice.
6. Pour Over Fresh Fruit
Fresh fruit mixed with yogurt or cottage cheese is such a healthy breakfast or snack that you can simply make it within a few minutes.
You love this savory dish, but you want to customize it a little bit so it can give a different touch of satisfaction for your morning. Let's drizzle your cut fruit or even soak it in the refrigerated coffee creamer if you wish to so.
In case you have a sweet tooth, you should pick the sweet cream version for a sweeter and richer taste.
7. Add To The Mashed Potatoes
If you have many potatoes in your refrigerator, why don't you use coffee creamer as a substitute for milk and bring out a more flavorsome version of mashed potatoes?
For this recipe, it's better to use the unflavored refrigerated coffee creamer rather than the powdered one. Moreover, you should warm the cream before cooking so it can quickly blend into the mashed potatoes.
With the cream, your dish will become richer in flavor and creamier in texture. So, try this new version of mashed potatoes right away!
Wrapping Up
Through this article, we hope that you know how to use coffee creamer in place of milk in your cooking and bring out many non-dairy delicious dishes.
Should you have different ideas for using coffee creamer for milk, let's share with us through the comment box below.