Immersion Blender Substitutes
An immersion blender is a useful kitchen utensil to process puréed food, sauces, or soups. Yet, what should you do if you don't have one or your blender stops working?
An immersion blender substitute is a perfect band-aid for such cases. You can continue making your nice recipes with ease regardless of having this tool.
This article will introduce six simple ways to complete your cooking process, so scroll down for details!
What Is An Immersion Blender?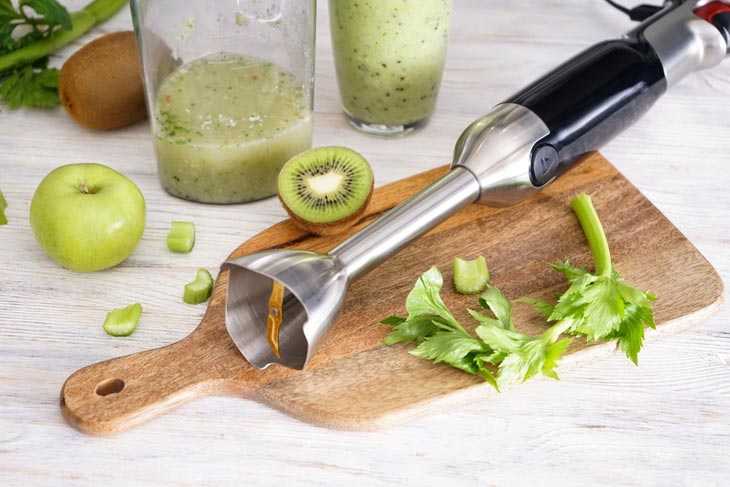 It is a stick-shaped kitchen utensil that includes detachable blades and a container. This tool is small but convenient to puree the soup, sauce and blend other foods.
The main function of this hand puree tool is mixing the ingredients by pushing downward to its blades. What can you make with an immersion blender?
You can turn it on and put it in your favorite foods such as hot soups, vegetables, fruits, or other ingredients. It will mix and blend them until your food reaches the desired texture and smoothness.
Immersion Blender Substitute
1. Use Food Processor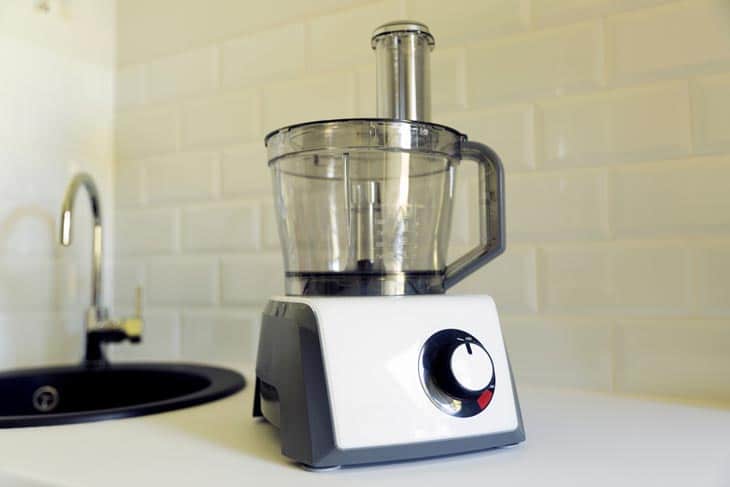 Can I use a food processor instead of an immersion blender?
Yes, a food processor is a great option to perform multi-tasks in your kitchen instead of an immersion blender. You can use it to make recipes with ease.
What Is A Food Processor?
A food processor is an indispensable kitchen appliance that gets electric power and runs as a multitasker. It comprises a lid with a feed tube and base supporting a removable bowl.
This machine features various blades that help you chop, slice, grate, puree, mince, or blend the different food ingredients.
Thus, you can prepare your favorite soups, healthy vegetables, or tasty cheese with a food processor, known as one of the traditional blenders.
Using this utensil is also a brilliant way to save your time for delicious desserts or pastry. Several food processors come with extra blender-like functions, including dough-kneading or smoothie-blending.
That is why it becomes a superior immersion blender substitute to perfect your meals.
How To Use A Food Processor As A Sub
Before using it, you need to attach the blades and additional accessories and secure them to the machine's spinning driveshaft.
Place the prepared food ingredients inside the bowl and secure the lid to the top of the bowl. Firmly attach the processor bowl to the base.
Power on the machine and choose the proper speed setting after finishing the preparation. You can use the feed tube to push the food to the blade for easier blending or shredding while the motor is running.
For a classic hummus recipe, bread, pizza dough, sliced veggies, or pie crust, you can switch to a food processor instead of an immersion blender.
2. Hand Mixer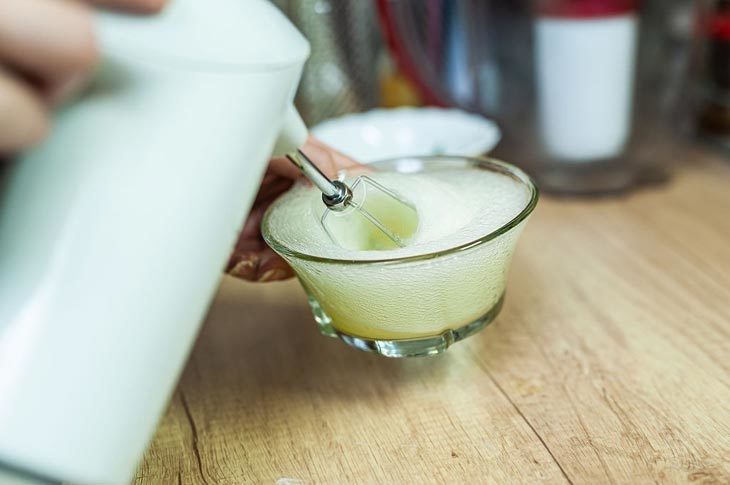 Another way is using a hand mixer alternative to process the ingredients because its functions are similar to the immersion blender. This gadget is simple and clean with a handy design and versatile features.
What Is A Hand Mixer?
A portable handheld kitchen utensil that works on electricity is what you can imagine from a hand mixer.
This tool consists of two removable metal beaters that can emulsify, mix, or beat different food ingredients. Some items also include additional attachments such as a whisk.
With variable speed and multi-purposed function, the mixer is useful for whipping eggs or cream, making salad dressings, mixing cookie dough, and blending various foods.
Can you use a hand mixer to puree soup? Yes, you can use it to puree soup like an immersion blender effectively.
However, you shouldn't put this gadget in hot soup or hot liquids. If it works at high speed with a fast beater, there is a good chance of overheating.
Use Hand Mixer For Immersion Blender
To properly use a hand mixer, you should read the manual instructions and follow the right steps. Insert the metal beaters into the mixer and push them until they match the mixer.
Place the foods in the bowl and spread a cloth under it for good stability.
Connect the machine to the electric outlet and power it on. You should adjust from low to high speed to keep the mixer working well.
Hold the beaters with a consistent motion to circle the bowl's perimeter and the ingredients' surface for whipping and stirring.
After completing the process, power the mixer off to stop its rotation and pull it out.
3. Electric Mixer Alternative
Using an electric mixer is one of the great options to make your meals without an immersion blender.
About Electric Mixer
This is a kitchen handheld utensil using an electric motor to rotate the beaters in a bowl. This is an essential addition to household appliances to process the food.
Its operating principles are the same as the hand mixer with the attached whisk. Thus, you can mix or blend the ingredients with an electric mixer substitute for an immersion blender.
It is an ultimate utensil for smooth food such as soup, sauces, cake batter, or cookie dough. The flexible whisk is the main accessory of this gadget.
Use Electric Mixer To Substitute
Using the right whisk is the first important thing to make your different recipes easier and more effective. A good whisk helps mix the eggs, sugar, buttercream, or soft ingredients.
After choosing the proper beater, submerge it into the bowl's mixture or the food ingredients. Make sure that you start with the lowest speed before increasing to a higher pace to get a well-blended mixture.
When finishing mixing the ingredients, you have to clean the whisk's head to keep the tool in good condition.
With this proper use of an electric mixer, you can know how to blend soup without a blender or mix soft food items.
4. Stand Mixer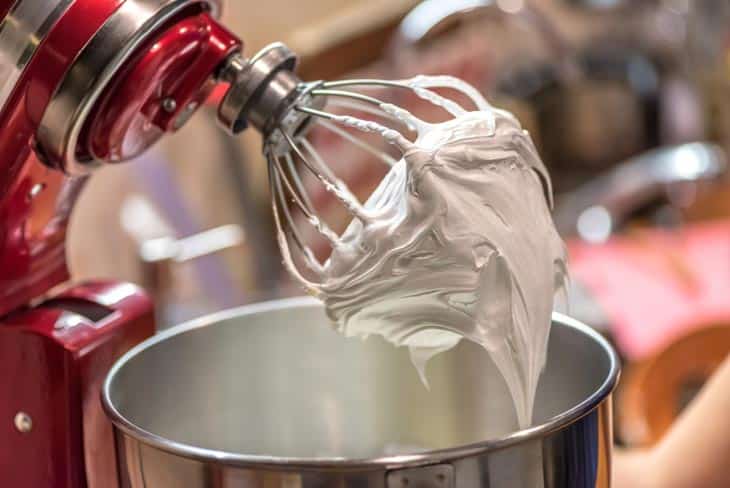 If you have an available stand mixer in the kitchen, you also use it as an immersion blender alternative.
Despite its harder cleaning requirement, it's a heavy-duty gadget to complete your meals without a blender.
What Is A Stand Mixer?
Unlike a hand mixer, a stand mixer is heavier with complicated accessories such as a beater. Its big size can take up a large area in your home kitchen.
However, this utensil is powerful in tackling heavy tasks, including baking, bread dough, or batter making.
Most stand mixers include multiple attachments such as whisk attachments, paddles, dough hooks. A paddle is a multi-purposed flat beater working with meatloaf, mashed potatoes, cookies, frozen fruit, or frostings.
The whisk incorporates the air into mayonnaise, egg whites, and whipping cream. A dough hook is a spiral tool kneading the dough for bread, pizza dough, coffee cakes, or pasta.
Replace Immersion Blender With Stand Mixer
To use a stand mixer as an alternative, place it on a flat surface to stabilize the blending process and get the well-blended ingredients.
Choose the proper accessories depending on your recipes and secure the top of the machine for kneading, stirring, mixing, whipping, or beating.
Every so often, a stand mixer, water, and flour are the only ingredients you need for a bread recipe.
Select and align the appropriate mixing bowl before attaching it to the mixer. Push it down and twist clockwise until it is stable.
Turn the machine on, adjust the right speed to complete your tasks, and get the best recipe result.
5. Use Chopper Bowl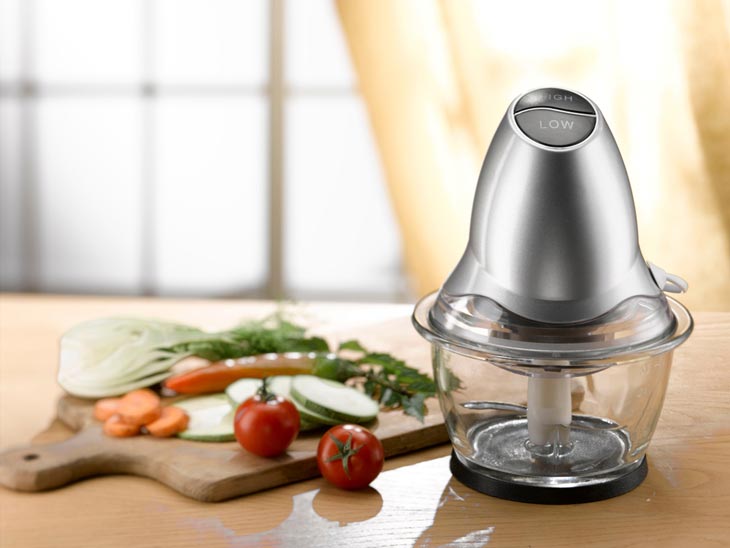 A chopper bowl includes a large cup and versatile blades to chop the dry ingredients or cut vegetables. This manual kitchen gadget runs when you push down on its top.
Because it doesn't have enough power, it is not suitable for making soups, sauces, or blending hot liquids. As its name suggests, this tool can get the job done right when it comes to chopping (veggies, nuts).
But if you try to substitute, it will take you quite some time to get the desired consistency.
This appliance can also blend well in the limited area in your kitchen or room due to its handy design. Chopper bowls come in different colors and sizes with additional features, such as bottles to keep the chopped foods.
If you only need to do simple tasks, this tool is a great choice for you.
6. Replace With Potato Masher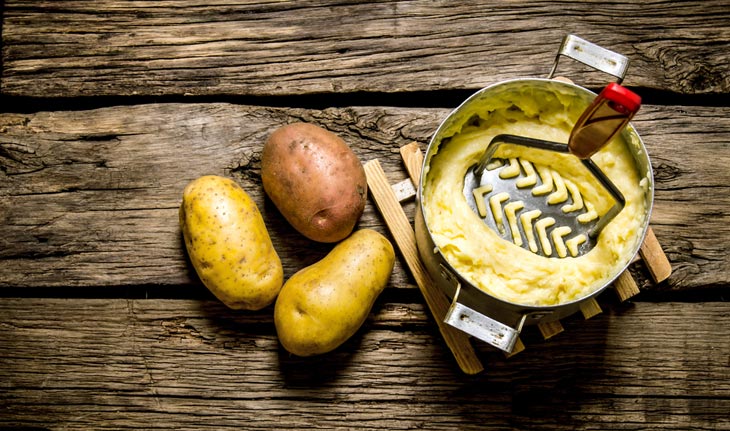 Another substitute for an immersion blender is using a potato masher. It is not a modern machine like the above utensils, so you only operate it by hand.
However, this tool can mash some potatoes like a mixer or a blender.
You can place your jams, carrots, or potatoes on the flat surface of this portable immersion blender substitute before using your hands to push it down. It is effective to make your food as consistent as you expected.
You have storage of this tool in drawers or cupboards in your kitchen due to its small size. Being a manual tool, it doesn't waste electric power. Besides, it is also easy to clean and affordable to be present in your home kitchen.
Conclusion
This article provided six great ways to make an immersion blender substitute. You can look for the popular kitchen appliances that can help you prepare your recipes without a blender in the above list.
If you are a beginner cook, you can use a hand mixer as a handheld blender that is affordable and easy to use.
Meanwhile, a food processor is the most effective alternative to get well-blended dishes.