​Is Ciabatta Vegan? What's In Ciabatta Bread Recipe?
Is Ciabatta vegan? It has been such a controversial issue for years. Many individuals choose YES for their answer, while others find this food below the veganism standards.
So, in the case of Ciabatta, is bread vegan friendly? For better understanding, it would help us dig deeper into the ingredients.
Is Ciabatta Vegan?
It should be a neutral answer to this question. Sometimes, this food belongs to the list of vegan breads. But sometimes, it does not. The key element depends on the ingredients that bakeries choose to make the bread.
For better understanding, let us explain. We divide the ingredients into two categories, namely, vegan and non-vegan.
Vegan: This group includes plant-based products. If the bread contains yeast, flour, water, salt, plant milk, or vegetable oil only, it is vegan food.
Non-vegan: The "vegan" changes when you use milk in place of water. The case hits the same if you replace vegetable oil with some lard.
Thus, it is important to ask questions like "Does ciabatta bread have dairy?", "Does ciabatta bread have egg?", etc. They will help you determine whether the bread is vegan or not.
What's Ciabatta?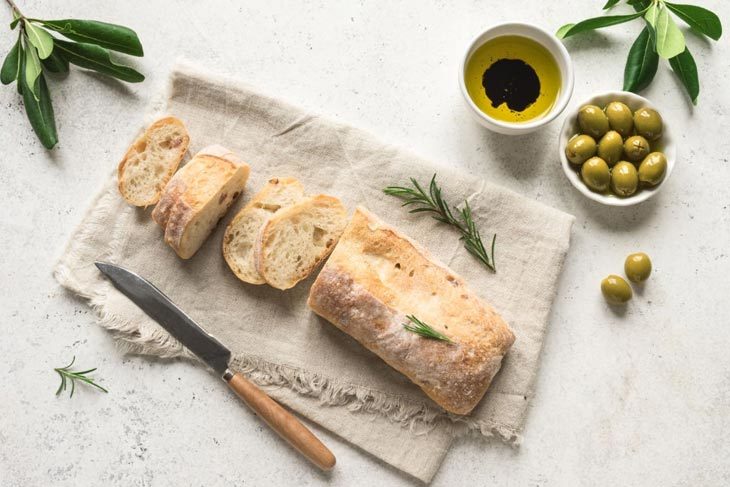 Ciabatta is a type of bread commonly enjoyed in Italian cuisine. For years, it has gained popularity with a distinct flavor worldwide. And in different regions, the food ingredients could show several slight changes.
However, this recipe is not so simple that anyone should attempt. Even some experienced bakers can make the loaf only with reliable books. That said, it is unnecessarily impossible to give it a try.
Texture & Flavor
In Italy, many people call Ciabatta the slipper bread. The special name comes from the Italian meaning of "ciabatta". Not only that, this loaf looks relatively like a slipper which is a bit wide and short in size.
By using the wet dough, bakers often make the loaf with a nice soft texture. In particular, you can find a lot of airy holes inside it with an aromatic flavor of fermentation.
Usage
There are numerous ways to eat this rustic-looking loaf based on the Italianate style. It can also become one of the staple foods in your daily vegan plant based diet.
For instance, adding olive oils onto a slice of bread and toast is not a bad idea. The crispy bread absorbing the oil will satisfy your mouth then. Another idea is to turn it into croutons sprinkled on pasta, soups, or salad sauces.
Besides, many Italian "home" chefs love to have the softened ciabatta with reheated leftover polenta for breakfast.
Nutritional Value
In terms of nutrition, each serving of ciabatta (1 slice) normally contains about 131 calories. For more details, the nutritional value consists of 0.4g fat, 26.7g carbs, 2.6g fiber, and 4.8g protein.
So, is ciabatta healthy?
The answer is a big YES. But it would help if you combine this one with other types of food for your meals.
What's In Vegan Ciabatta Recipes?
As mentioned earlier, the Ciabatta generally comes as a pure loaf for vegans. In other words, it can reach veganism standards with the core of four main ingredients. They include flour, water, salt, and yeast. This plant-based character is also true for any other baked products, not only for the slipper bread.
Of these four, yeast tends to be the most controversial one. , this ingredient constitutes an ingredient with the living organism.
But it is not the case. You can still use yeasts to make bread that is vegan.
In general, yeast is like a mushroom which plays a key in stimulating the bread rise. And it does not relate to any animal exploitation for sure.
What's In Non-vegan Ciabatta Recipes?
According to the explanation above, are all breads vegan? It's 100% NOT. Various additional ingredients could make the loaves different from the plant-based version.
Bakeries typically add some dairy products like milk to enrich both flavor and texture. Plus, the ones including whey, dough conditioner, and lecithin are not out of the trend, too.
Whey: Bakers use it as a practical substitute for milk or water to have the bigger loaf at the end. Unfortunately, whey production needs cheese and animal-based milk.
Dough conditioner: It comprises numerous chemicals and ingredients to strengthen the texture of doughs. And most of those ingredients are eggs, honey, etc., which come as animal products.
Lecithin: This product is useful for smoothing the bread texture. While the original ingredient is soybean, some variations use the yolks instead. When it comes to eggs, bread is no longer suitable for vegetarians.
How To Replace Non-vegan Ingredients In Ciabatta?
Thousands of ingredients can serve as substitutes for some animal-based products on the current market. The following list will bring you references.
Eggs
You can use chia seeds or flax in place of eggs for the plant-based bread. The ideal mixing ratio is 1 tsp of flax or chia seeds for three tablespoons of warm water.
Next, it is time to let the mixture sit for minutes. After that, the outcome will be a liquid with an egg-like texture.
Additionally, aquafaba is also an optimal pick for this replacement. And the liquid made of chickpea appears to be the most common choice. Three tablespoons of aquafaba can replace a whole egg.
Milk
All plant-based milk is available for the baking recipes' animal milk alternatives. Our recommendation includes oat milk, almond milk, cashew milk, etc.
Butter
It hits the same as the case of milk. We suggest choosing plant-based products such as avocado oil and olive oil. Also, coconut butter and nut butter like almond butter excel in replacing.
Is There Any Ciabatta Substitute For Vegans?
If there are non-vegan loaves only, what bread can vegans eat instead? Here is our suggestion.
Sourdough
One of the most favorite vegan bread alternatives is sourdough. Bakers combine water, flour, and lactobacillus, which fermentation.
However, milk is also an ingredient in this recipe. So, do not forget to check it before enjoying it.
Pita Bread
Another option must be the pita bread made from flour, yeast, water, and salt only. In particular, it requires a smaller amount of yeast compared with other loaves.
Ezekiel Bread
Why don't you try the Ezekiel bread if you wonder how to make vegan sandwiches? Generally speaking, the food consists of beans, wheat, millet, lentils, etc.
Naan
Like ciabatta, Naan is also a type of common Indian flatbread. While the traditional recipe includes non-vegan things like eggs, the modern variations have differences.
Rye
Compared with other bread, Rye has a stronger flavor enjoyed in Germanic and Scandinavian cuisines.
Sometimes, there are eggs or milk added to lighten up the texture. Hence, it would help to check the ingredients first.
Focaccia
Another Italianate pick is the Focaccia. Besides the plant-based ingredients, the loaf comes with herbs and olive oil.
Conclusion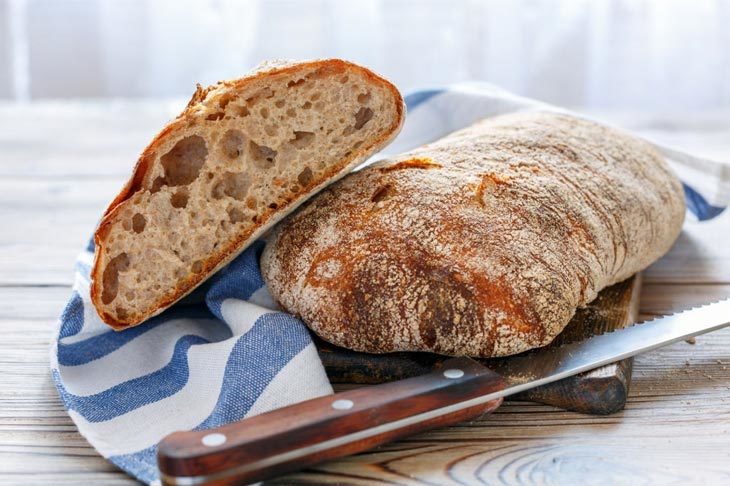 To sum up, with questions such as "Can vegans eat bread?" or "Is Ciabatta vegan?", the answer is YES. But it will not always be like that. A loaf will be no longer for vegetarians if it contains any non-vegan ingredients (eggs, etc.).
Hence, do not forget to check the information before choosing.