If you are like my family and me, we love naan bread! We use it for a variety of different dishes like naan bread pizza or as a side with a curry chicken.
But is naan bread healthy enough to eat it a lot like we do?
Scroll down and let's find out!
What Is Naan Bread?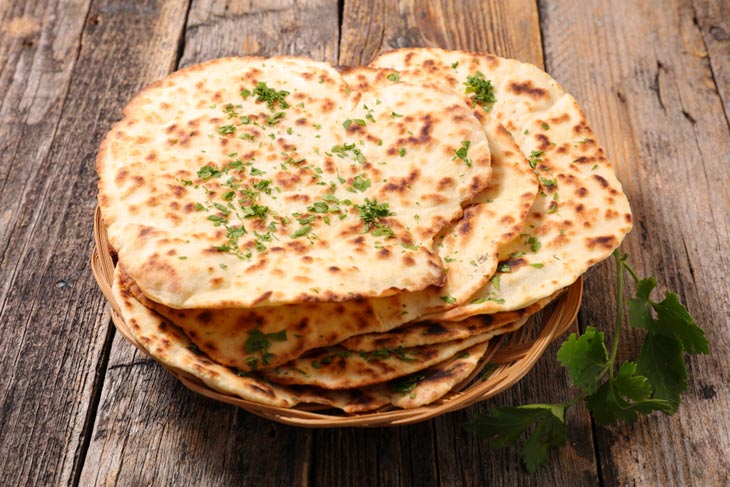 Definition
Among the traditional Indian dishes, naan stands out as delicious bread that has a simple-to-make recipe. The main ingredient to make this dish is maida – a very popular white flour in India.
Naan bread is similar to other types of white bread. However, the difference in ingredients makes this one unique.
People use nigella seeds with warm water, fat, white flour, and a teaspoon of salt mixed, press the dough with their hands to flatten it, then bake it in a tandoor until the hot naan is ready for serving.
Making naan at home is a great way to save money as well as try out a few different healthy naan recipes.
Varieties
Let's learn about the five most popular naan bread varieties:
Butter garlic naan: People will spread butter on the flat surface of white bread and bake it with garlic. It has a sweet aroma when it comes out of the oven, but is not overpowering.
Peshwari naan: Raisins, almonds, and coconut are the special ingredients that make this Pakistani naan so delicious.
Naan-e barbari: The outstanding feature of this dish is the outer shell covered with sesame seeds and the delicate filling.
Hello naan: Bread with boiled, mashed potatoes-why not?
Whole wheat naan: Its main ingredients include whole-wheat flour, helping add more fiber content to the user's body.
Is Naan Bread Healthy?
Is Naan bread good for you? The answer is a big "Yes"! Besides the delicious taste, it also brings dozens of benefits to those who use it in their daily meals.
But why is naan so good?
Scroll down, and you'll understand why people (especially dieters) take this white bread so seriously.
Fiber Rich Alternatives
Fiber can significantly improve problems related to colon and heart problems. In addition, it also reduces the risk of heart disease at any age.
Many people find it difficult to understand because common naan (made from wheat flour) contains little fiber. But you can opt for other types of naan to get a good source of fiber.
Let's talk about whole-wheat flour, chickpeas, and other whole-grain alternatives. If you use the one made from these ingredients, you'll get more fiber than you might expect.
Great Source Of Vitamins
It contains a lot of niacin (vitamin B3) which aids in cell energy production, genetic stability, anti-aging, and metabolism booster.
Once the body lacks B3, you will face memory loss, mental illness, and dozens of other neurological-related problems.
Thiamin (vitamin B1) in this food will reduce the risk to the heart, intestinal and nervous systems. If there is a lack of this vitamin, you will lose weight, confusion, and countless other neurological problems.
In addition, naan also provides a rich source of iron that helps create red blood cells and carry oxygen throughout the body.
Manage Diabetes And Blood Sugar
Is naan bread good for diabetics and related problems?
"Glycemic Index" (GI) is a term to describe how much blood sugar spikes come from carb-containing foods.
Experts estimate that the GI of naan is hovering around 71 – quite low compared to the usual favorite foods you usually use.
Turning 55 years old, users need to pay attention to their low-carb diet and not eat favorite foods with high GI.
Following a diet with low GI foods is a great way to manage blood sugar, blood pressure and reduce related illnesses that may arise in the future.
Keep Eaters Full Longer
Whole refined grains give you more benefits than you think! Besides providing a rich source of fiber and promoting digestion, it also creates a feeling of fullness faster and longer for anyone who uses it.
Manage Body Weight
Real research by experts has shown that naan helps manage users' weight.
Specifically, the energy level loaded into the body after each meal of traditional naan is much lower than other products, but causes a feeling of fullness for longer.
Besides, it also provides a rich source of essential vitamins and minerals for the body, making managing weight no longer a problem!
What Is Naan Bread's Nutritional Profile?
According to the United States Department of Agriculture (USDA), one piece of traditional naan (90g) will include substances with the same corresponding concentrations as follows:
| | |
| --- | --- |
| Calories | 262 |
| Fats | 5,1 (g) |
| Sodium | 418 (g) |
| Carbohydrates | 45.4 (g) |
| Sugars | 3.2 (g) |
| Fiber | 2 (g) |
| Protein | 8.7 (g) |
Nutritional Value of Naan Bread
Scroll down if you want a more comprehensive look at these nutrients.
Carbohydrates
The main calorie component in this food is carbohydrates. Specifically, in one piece of naan (90g), you can find about 45.4 grams of carbohydrate.
Besides, it also includes 3.2 grams of sugar, 2 grams of fiber, and an estimated glycemic index of 71.3.
Fats
You'll find 5.1 grams of fat in a single piece of homemade naan bread. This fat includes saturated fat (1.3 grams), monounsaturated fat (1.6 grams), and polyunsaturated fat (1.9 grams).
Protein
Protein helps in the formation of structure, improvement of function, and regulation of organs and tissues. Each piece of naan contains about 8.7 grams of protein – a relatively abundant source of substances for the body.
Vitamins & Minerals
Use it with peace of mind because naan gives you a rich source of vitamins and minerals.
These include niacin (~5.3 mg / 58% Daily Value (DV)) and thiamine (2.9 mg / 16% DV), the perfect source of iron for the human body.
In addition, each piece of naan also provides a good source of sodium – ranging from about 418 mg.
Calories
The calories in naan flatbread (one piece) will range from 260 to 265 calories. We assess that the calories of this bread are small compared to the amount of fiber, vitamins, and protein it can bring to your body.
FAQs About Naan Bread
How To Store Naan Bread Properly?
Proper packaging is key to keeping any food from spoiling quickly, and so is naan!
It would help put this healthy bread inside a plastic bag or an airtight container. Make sure your container is undamaged and dry at all times.
Otherwise, the naan is susceptible to spoil and mold on the parts exposed to moisture. Eating stale bread with mold signs will harm your health.
The ingredients and processing of naan are quite similar to ordinary bread. Therefore, it is not surprising that its longevity is similar to that of bread foods.
Usually, you will find the manufacture and expiry date printed on the packaging of naan bags sold in stores (or supermarkets, etc.).
For homemade naan, you can record the date of making it to keep track of its expiration date easily. It can last 3 to 4 days in normal storage, more than one week in the refrigerator, and three months in the freezer.
Is Naan Bread Good For Weight Loss?
If you want to follow a balanced diet, choosing this food for meals will be extremely appropriate.
So, why is naan bread good for you to lose weight?
Let's talk about the ingredients of naan, and you will understand why it works so well for weight loss.
The main ingredient that makes up this type of bread is whole grains – the ideal ingredient for reducing weight in the user's body. This cereal creates a satiety effect (although the energy level is less than other foods).
In addition, naan does not contain too much fat, which is not good for the body. The sweetness in naan you usually find outside the store is only present in the butter spread on its shell.
And the amount is so safe that you don't need to worry about the risk of gaining weight back.
If you follow a diet with naan, you will find this dish very tasty and easy to fill. That is why more and more people choose this type of bread to build a menu during their weight loss program.
Is There A Difference Between Naan And Pita Bread?
Are pita and naan the same? Many people think that pita and naan are two types of completely similar bread. However, they have conflicting mineral levels worth considering if you want to take a balanced diet.
Then, what is the difference between pita bread and naan?
Despite having the same amount of sugar, a naan (about 90 grams) will contain far more carbs, fiber, and protein than pita bread flatbread.
Specifically, naan has 80% more carbs than pita, 200% more protein, and 60% more sugar.