Is Pita Bread Gluten-Free? How To Wheat-Free Pita At Home?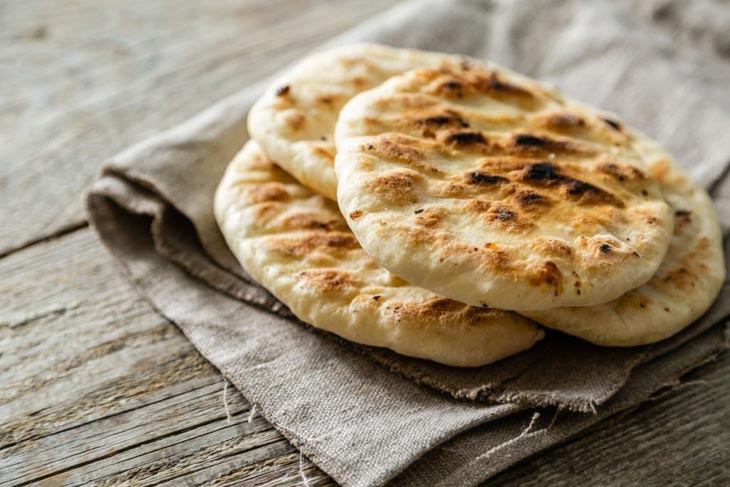 Gluten offers various functional culinary benefits in cake making, for example, giving the bread its soft and chewy texture.
This substance can cause adverse reactions in people with celiac disease who follow a gluten-free diet.
Thus, "Is pita bread gluten-free?" is a frequent question for those who have celiac disease yet want to try the well-known pita.
Is Pita Bread Gluten-Free?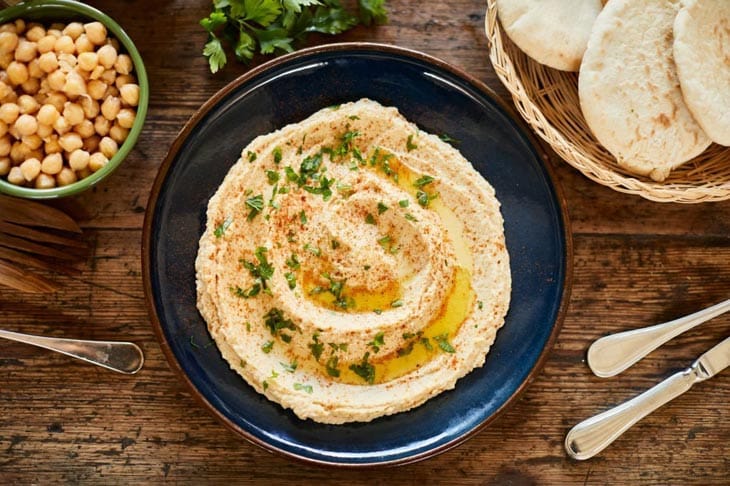 You might wonder, "Is pita bread gluten-free?" multiple times. Unfortunately, same as almost all other bread, traditional pita bread have gluten because it includes wheat flour as one of the main ingredients.
Below are more details about this food and the reasons why it is not free of gluten.
What Is Pita Bread?
It is a flatbread that originated from the Middle East around 4,000 years ago. It has been known as one of the oldest bread types.
Its shape and texture might vary by region. For example, the thin Middle-Eastern type contains a pocket, whereas the denser Mediterranean version does not.
What about the taste? It features a mild and slightly sweet flavor like the other wheat-based bread.
Nowadays, it is widespread globally because of its versatility. It can go well with many foods, such as steak or lamb sausage.
Why Is Pita Bread Not Gluten-Free?
So, are pitas gluten-free?
To determine "Does pita bread contain gluten?" we have to examine its ingredients closely. While the cake recipes vary from region to region, they usually start with four main ingredients as follows:
Flour: Bakers regularly use all-purpose flour or whole-wheat flour to base cakes. Both of the above flours are not gluten-free flour. All-purpose flour contains 8% – 11% gluten, while whole-wheat flour is 10%.
Yeast: Yeast helps to puff up the bread and keeps it dense yet soft. However, the proofing process only lasts 15 minutes, resulting in its flat shape.
Water: Freshwater builds the mixture into a wet dough, which helps steam the dry ingredients during the baking time.
Salt: Salt tightens gluten strands, making the cake structure more solid. It also boosts the flavor.
Other ingredients for flavor and texture enhancement:
Bakers typically add olive oil to add a richer and smoother texture. Additionally, they might add honey or sugar to bring gentle sweetness to the cake.
Wheat is a major source of gluten, and pita contains wheat flour as its main ingredient. Thus, the wheat amount in this cake might be pretty high, which is unsafe for those with celiac disease to eat.
How To Make Gluten-Free Pita Bread?
You like the bread but on a gluten-free diet, the best option is to make your own gluten-free bread.
However, Is it simple to make homemade gluten-free pita bread? If this is the first time that you make gluten-free foods, you come to the right place.
You can easily make your wheat-free version of this cake by following the best gluten-free pita bread recipes in the part below.
1. Quick And Easy Wheat-Free Pita Recipe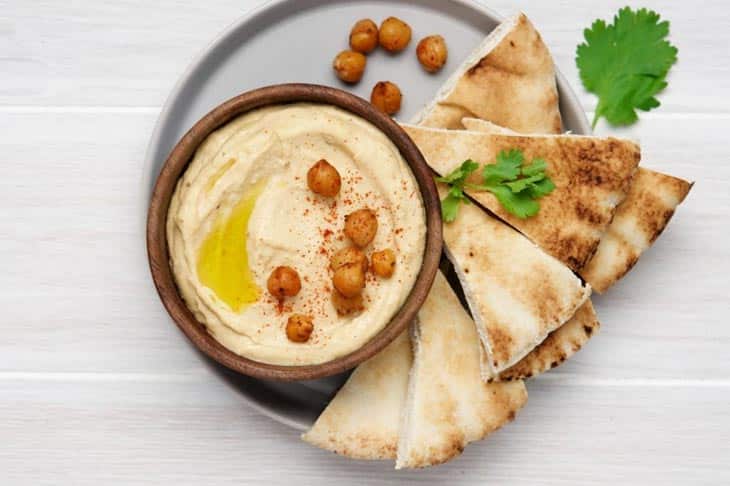 First, let's start with an easy gluten-free pita recipe that lets you create yummy cakes in less than half an hour. The most important is choosing the right gluten-free ingredients while making bread. So, what are they?
Ingredients
¾ cup of buckwheat flour blend. Follow this recipe if you want to make your homemade wheat-free flour mix. You only need some ingredients, including superfine brown rice flour, white rice flour, tapioca flour, potato flour, potato starch, xanthan gum, and pure powdered pectin).
¼ cup of Expandex (starch made from modified tapioca starch). You can use corn starch as a substitution if you prefer corn starch to Topica starch flour.
One and ½ teaspoons of baking powder.
One teaspoon of salt (we recommend using Kosher salt).
One tablespoon of cooking oil (for instance: olive oil or canola oil).
¾ cup of your preferred milk.
One (50g) egg and one egg white (25g) at room temperature.
Instructions
Step 1: Preheat the oven to 400°F.
Place a baking stone or an overturned rimmed baking sheet in the oven during the preheating period.
Step 2: Make the flour mixture.
Mix (or pulse) the flour, Expandex, baking powder, and salt using a stand mixer.
Step 3: Add the oil, eggs, and milk to the above mixture.
First, add the oil, eggs, and milk to the flour mixture. After that, beat it (about 2 minutes) until it becomes a well-combined dough.
You shall feel its thick and gently sticky texture when touching.
Step 4: Make the bread cubes.
Set the dough onto a floured surface, and sprinkle more flour on it. Then, divide into eight equal chunks using a sharp knife.
Step 5: Roll and turn the chunks into flat pieces.
Rotate each part in a circular motion and roll it into a ball. Then, use a rolling pin to pat each ball into a round with less than ¼ inch thickness.
Note: always flour the chunks before rolling and patting to avoid sticking.
Step 6: Bake the round pieces.
Set the unbleached parchment paper on the baking disks and the baking stone.
Then, add the pieces of dough to the disks and place them on top of the baking stone in the preheated oven and bake for around two minutes.
Thereafter, invert the cakes and bake for another one minute. You can turn the cakes one more time and cook for another minute, so they are pale golden on top.
Step 7: Take the wheat-free pita bread out of the oven and serve.
Allow the freshly baked cakes to cool down for a little, so you can open their centers and add the fillings to the gluten-free pita pockets. Or you can serve the warm pita bread with your preferred foods on the top.
2. A Savory Vegan, Gluten-Free Pita Bread Recipe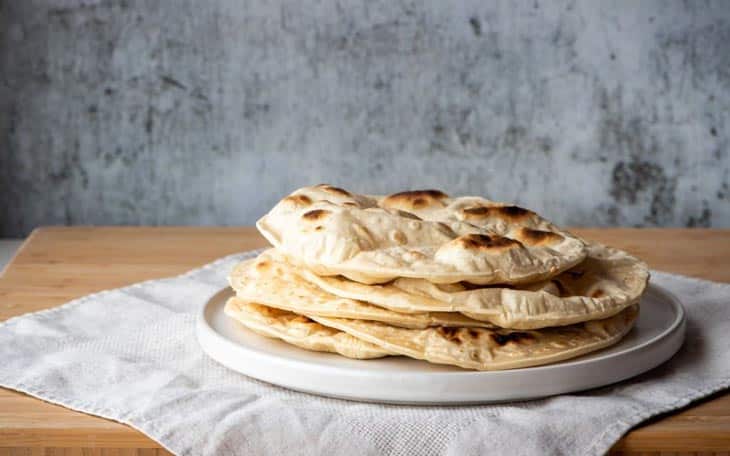 What if you are a vegan, and cannot eat eggs? Or if you want to save your time and skip the proofing process. Here is your suggestion.
Ingredients
One cup of gluten-free bread flour
One teaspoon of salt
One teaspoon of baking powder ( we suggest using psyllium husk powder). If you do not have baking powder, you can make it at home by mixing half baking soda and half tartaric acid (you can use citric acid instead).
Two tablespoons of olive oil
½ cup of freshwater
Instructions
Here are the simple steps to make your delicious yeast-free pita bread without eggs.
Step 1: Make the dough.
Mix the flour, baking powder, and salt in a large bowl. Then, add water and olive oil. Use a spatula to combine all the ingredients until you get a well-formed ball.
Step 2: Turn the dough into round pieces.
Divide the ball into four even doughs, and pat them until they become flat round chunks.
Step 3: Cook the dough.
Add a little olive oil in a skillet over medium heat, and fry the dough one by one. Flip to the dough on the other side once it starts toasting. This process is the same as baking regular bread.
Continuing frying until it turns gently golden and features a crispy outer.
Step 4: Serve the vegan gluten-free pita bread warm with your preferred dip.
Note: you can add more pea protein to add protein content in the recipe based on your favorite eating program.