Is Stale Bread Safe To Eat? A Guide To Proper Storage
There is nothing worse than finding that your bread loaves have gone bad with and stale.
Is stale bread safe to eat? What happens if you eat old bread? Should you keep enjoying the food or throw it away as food waste?
Staleness, in many dishes, constitutes to their special highlight. That said, it is still inedible for some others. For better understanding, we bring here common knowledge.
What's About Bread In Your Daily Diet?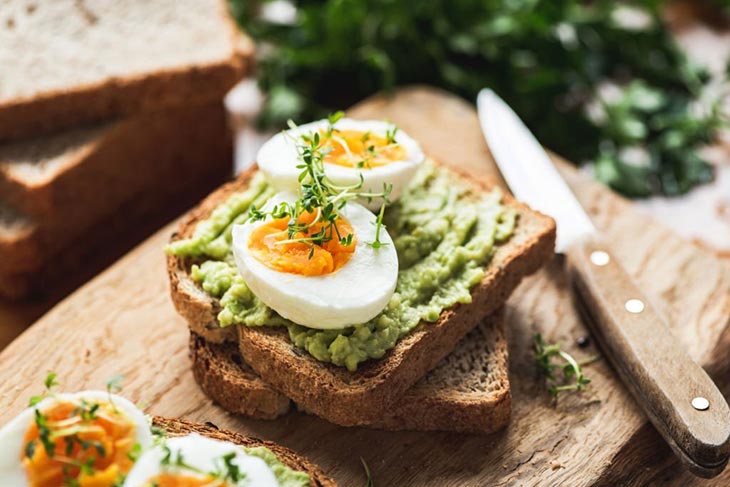 Due to convenience, taste, and nutrition, the loaf has been one of the most staple choices for meals worldwide. This food comes in numerous types made of various ingredients.
For example, there are white bread, whole-grain loaf of bread, sourdough, simple bread recipes with just flour and water, etc.
In particular, this food is often rich in minerals and vitamins, including riboflavin, iron, niacin, and thiamine.
Besides, the whole-grain types bring a wide range of health benefits. In other words, they help weaken heart disease, obesity, and diabetes risks.
However, it is still controversial whether the bread is bad to consume. In comparison with other foods, the loaf tends to be low in essential nutrients such as protein and fat for the varied diet. By contrast, it contains more carbs and calories.
Regardless of ingredients, every loaf can get mold. So, is stale bread bad for you? Is it safe to eat stale bread?
Is Stale Bread Safe To Eat?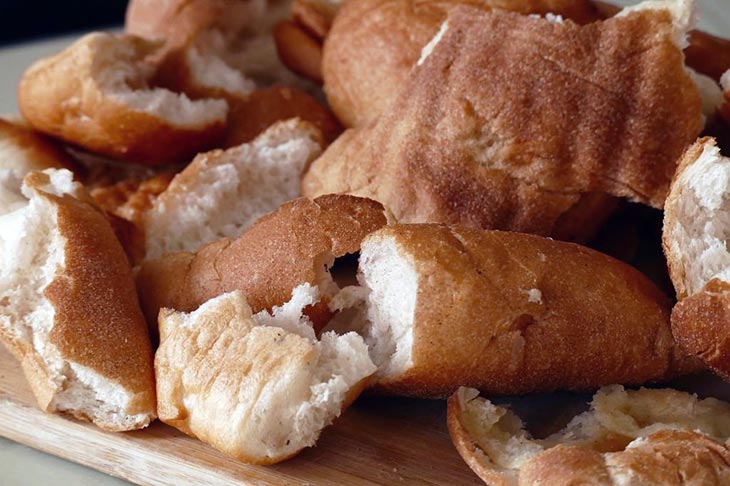 With improper storage (like without an airtight cover), the entire loaf starts drying or stale. But many people still enjoy it instead of worrying too much.
So exactly, can you eat stale bread? Or can you eat bread past the best by date?
The answer is NO with signs of mold and YES for the opposite case. It is still edible as long as you find no moldy bread or strange smell on the bread slices.
However, eating old bread or eating stale bread could not bring a good taste as enjoying the fresh one. So you'd be better off switching to other healthier alternatives.
How Long Does Bread Last?
How long does a loaf of bread last? It mostly depends on the types. In general, the fresh bread often lasts around one week if you keep them at room temperature.
On the other hand, how long is bread good for in the fridge? Refrigeration does not help extend the shelf life of bread as many people have believed.
The fact shows that frozen bread shelf life lasts 3-5 days only. Moisture in the fridge can cause the loaf to get moldy much quickly.
How To Use The Leftover Stale Bread?
You know about how to tell if bread is bad. And if it is still edible, we have some ideas to use the leftover bread.
Breadcrumbs
With a food processor, you can turn a stale loaf into bread crumbs. After grinding the loaf finely, you add the crumbs to a tray and dry them. Then, store them in an airtight container.
Super Crusty
Instead of using too much flour, Italian bakers sometimes use stale breadcrumbs for a crunchy base. You only need to add crumbs to the bottom of the baking tray before placing the dough.
Croutons
It takes only minutes to make ugly stale loaves tasty croutons. You can add them to soups and salads.
After tearing the bread into cubes, mix these bread cubes with some garlic, herbs, etc., for better flavors. Then, toast them.
How To Store Bread Without Staleness?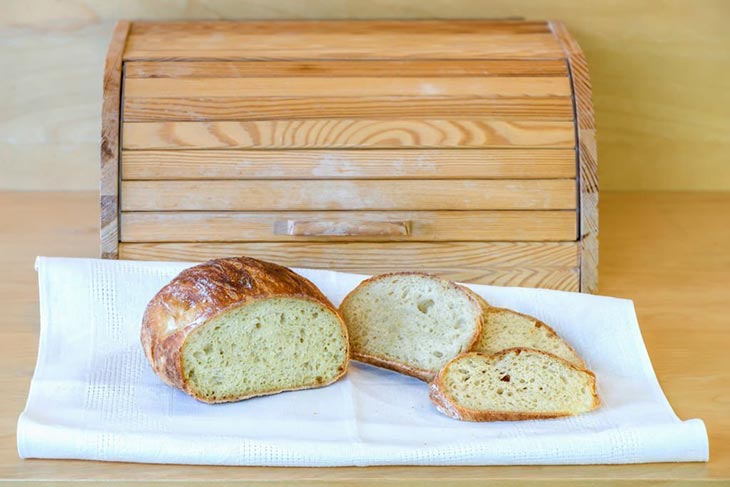 Many people are wondering "Why does some bread not mold?" It is because of proper storage. When it comes to this process, there are three methods, including at room temperature, in the fridge, and the freezer.
At Room Temperature
It seems to be one of the best methods to store the loaves of bread for days. So, when does bread go bad at room temperature? As mentioned above, it can be up to one week.
Keeping the package unopened is the most important step. Besides the packaging, this method does not require any additional layer of coverage.
Then, you store the product on the kitchen counter or in the pantry. Once the package gets opened, you need to seal the slice of bread tightly after use.
We suggest using bread box to keep the naked bread, this medthod is best way to keep for a bread good for a few day without changing taste or texture.
On the other hands, you can use brown bags for storage for the freshly baked loaves without packaging. Next, fold the bag top and seal it with a paperclip.
In The Fridge
Another option is to keep the food in the fridge. How long before bread goes bad depends on the way you seal the package.
The cold temperature tends to dry out the loaves and make them stale quickly. It is true only when you forget to seal the package tightly. Plus, you should place this food isolated from others in the fridge.
In The Freezer
Some of you might be surprised to learn that we can keep the loaves well in a freezer.
With this method, there is almost no different answer for questions like "how long is wheat bread good for", "how long will homemade bread last," etc. It hits the same effectiveness for various types.
So, how long can you freeze bread before it goes bad? It could be similar to the two mentioned above.
When freezing loaves, you should cut them into slices for an easier defrosting process. Next, store them in a package or safe plastic containers placed in the freezer.
You can defrost the frozen slices of bread on the countertop or the sandwich toaster. Then, it is time to enjoy them in the French toast way with prune juice or add some grated cheese.
Conclusion
To sum up, is stale bread safe to eat? It is now not a hard question to answer at all. A loaf is still edible if there is no mold on it. That said, it would be better to use the food as soon as possible.
Storage for days is never a good idea to keep fresh.Hopefully, our guide of how to tell when bread is bad, how long for bread to mold, etc., can help.
Have a happy time in the kitchen with interesting stale bread recipes!