The Best Jarlsberg Cheese Substitute: Let's Find Out!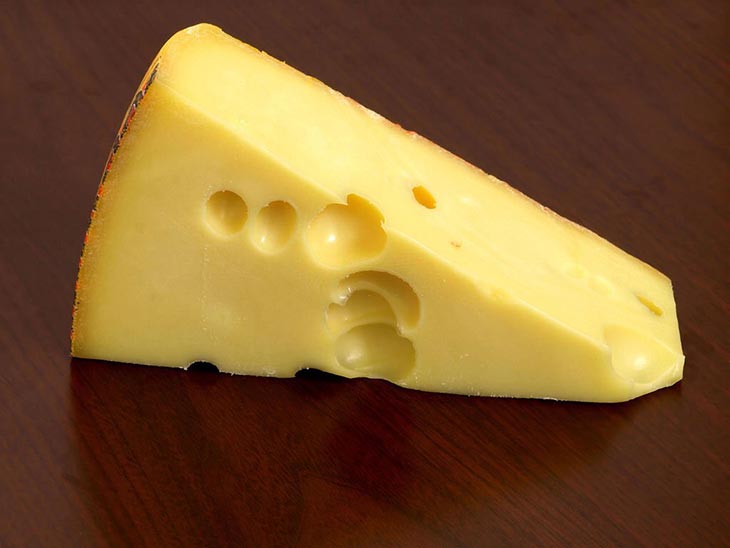 Do you use Jarlsberg in your cooking? And you're looking for a Jarlsberg cheese substitute because there isn't one near you?
Or do you want to put yourself to the test by trying a different dairy product to discover whether it tastes better than the original recipe?
Don't worry; we're always by your side to help you. We will provide you with a few tried-and-true and best-suited alternatives to your requirements.
Continue reading this post for more helpful information!
What Is Jarlsberg Cheese?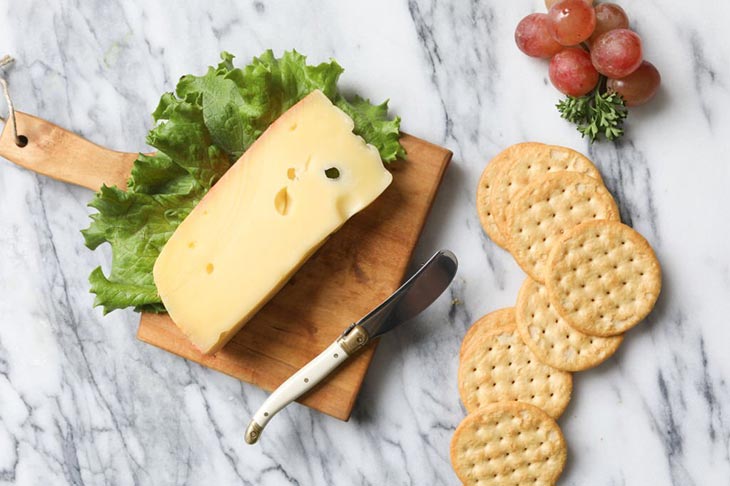 Jarlsberg is a mildly aged cheese with a pliable texture. This Norwegian cheese is popular among British, Americans, Australians, Canadians, and Scandinavians.
People find it a particularly appealing milk product, both flavor and appearance. It features the distinctive holes of Swiss cheese but with a softer, less dry texture and a sweeter, less harsh flavor.
So, what does Jarlsberg cheese taste like? Jarlsberg is a light Swiss dairy product with huge irregular holes and a nutty taste.
The semi-hard golden interior has a creamy profile and a mild, buttery, and somewhat sweet note.
You might be surprised to learn that turophiles commonly refer to those holes as the "eyes". So cheesy!
This dairy product is now one of the most widely sold cheeses in stores, with pre-cut packages and spices readily available.
Jarlsberg can be purchased as seasonings, slices, or chopped and is typically used on cheese boards, deli trays, and sandwiches. Of course, eating alone or with a drink used for Jarlsberg cheese is also great.
The Best Substitute For Jarlsberg Cheese
Looking for a Jarlsberg substitute that will hit the spot? Or because it's so pricey and difficult to get that you'd like to discover a comparable product?
Don't worry; we've got you covered. We understand how difficult it is to develop a high-quality product selection. So, just for you, we've prepared a cheese substitute list.
Gruyere
Gruyère is a pale yellow cheese with a rich, creamy, somewhat greasy flavor. It displays a few little eyes, which are characteristic of Swiss cheese. However, it has fewer eyes and is smaller in size than other Swiss ones.
Like Jarlsberg, Gruyere cheese is a great semi-soft cheese to utilize in a variety of dishes. These two kinds of cheese are also equivalent in quantification.
A superb melty cheese is what you can describe this ingredient, so it is one of the two major slices of cheese used in classic fondue cheese recipes.
So, can you guess what cheese can substitute for gruyere? Depending on the recipe, you can replace Emmental, comté, Jarlsberg, Beaufort, or raclette for gruyere cheese alternatives.
Emmentaler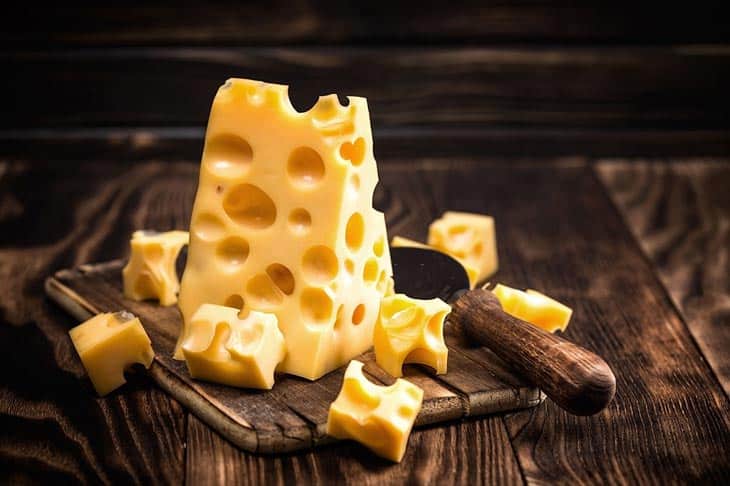 Emmental, semi-hard cheese with smells, sweetness, and a pleasantly nuanced flavor, is easily recognizable by its alternating cherry-sized eyes.
It is a dairy product made from cow's milk that has been matured for at least two months. The longer it is left, the greater the flavor. However, this is a quite expensive ingredient.
You can also use it in place of Jarlsberg due to its sweet flavor and the base of cow's milk. For a proper ratio, 1 cup of Jarlsberg equals 1 cup of Emmentaler.
It is the principal one used in classic cheese sauce recipes, just like gruyere. As a result, it doubles as a Jarlsberg cheese substitute and the alternative for gruyere cheese.
Emmental cheese, an important element of Swiss tradition, is extremely adaptable and ideal for various culinary styles. You may use this dairy result in hot and cold foods such as sandwiches, etc.
Swiss Cheese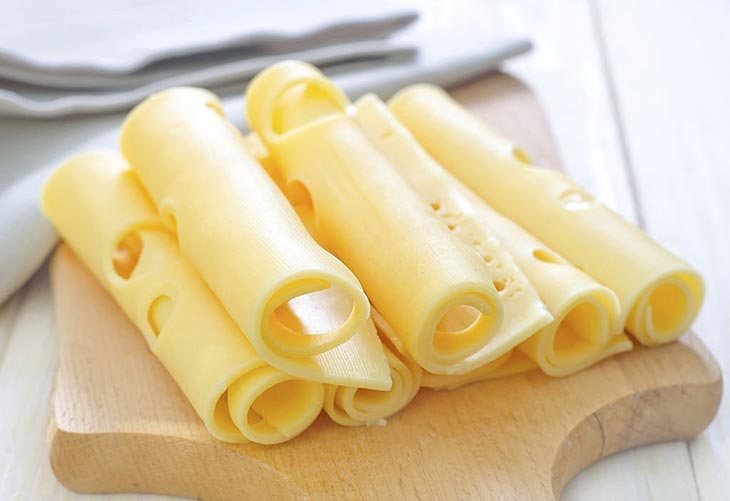 Swiss cheese has long been tasty and common in the culinary world. Many people enjoy its gentle, sweet, and fragrant flavor. Three Swiss cheese varieties are widely available:
To begin, Baby Swiss is a semi-soft one with small distinctive holes with a light, creamy texture and a sweet, buttery tone. It is created from whole cow's milk.
Second, Lacy Swiss is similar to Baby Swiss but produced from low-fat cow's milk. Finally, Aged Swiss is a tougher one with bigger holes. It has a stronger flavor and a distinct grain.
Swiss dairy products pops up in various recipes, including sauces, fast cakes, salads, Cordon Bleu chicken, Cuban bread, Reuben sandwiches, and many more.
Because the properties of Baby Swiss and Jarlsberg are similar, you can use the two milk products interchangeably.
Raclette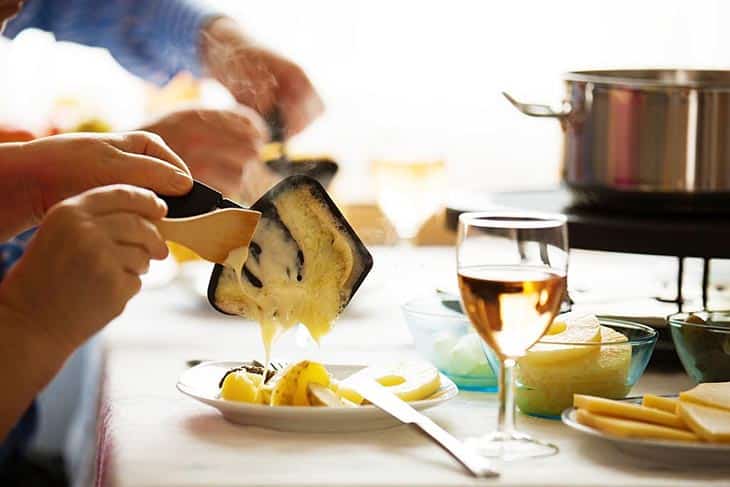 You've probably seen or eaten dishes with melted cheeses over hot food, so you're familiar with this.
Raclette is also known as Swiss melted one, and it may refer to entire types of cheese used as a topping on a variety of wonderful meals.
Raclette, like Gruyere, has a creamy texture and a salty, slightly sweet flavor profile with a fatty touch. It has a pleasant aroma that grows stronger the longer it is brewed.
It also has a nutty note and melty texture similar to Jarlsberg.
Even better, raclette is a Comté is a semi-hard cheese, and features holes caused by microorganisms put into the milk mixture during the manufacturing process.
That's why I could say raclette is a perfect cheese substitution for Jarlsberg, frequently melted on sandwiches and used as a marinade.
Comté Cheese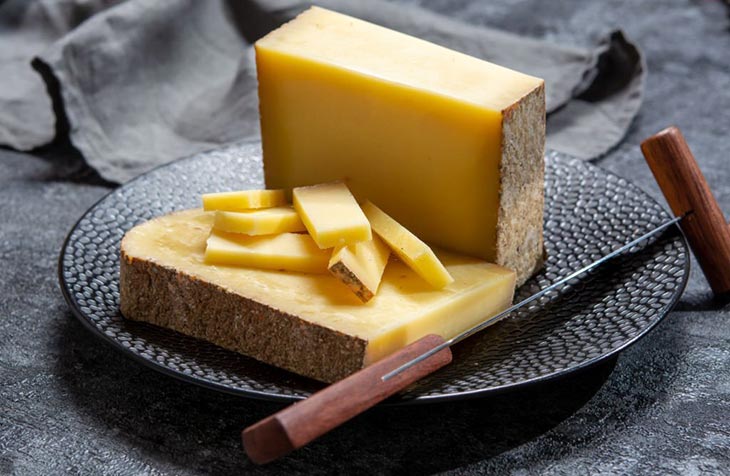 Comté cheese is part of French cheese types prepared from unpasteurized milk widely consumed in France. Since it originated in the highlands near the Swiss border, it is known as "mountain cheese."
It is a light yellow semi-hard cheese with a texture that varies from open, flexible, and gritty for younger cheeses to thick, hard, and crystallized for older cheeses.
The tastes of aged one are rich, smokey, fruity, and sweet, whereas younger milk products are creamy and fresher. Although it is comparable to Jarlsberg, it is heavier and less oily.
Comté cheese is an excellent snack cheese and hence an excellent choice for a cheese plate. It's also delicious in omelets, grilled cheese sandwiches, and mac and cheese.
Younger Comté, for example, melts well and is sometimes blended with Gruyere and Emmenthal to produce marinades. Therefore, it can also do substitution for gruyere cheese.
How To Choose A Good Jarlsberg Cheese Substitute
Choosing a nice cheese might be tough, and you are still wondering if you made the right choice. So, this section is a must-read.
Tip 1: Always try before buying
Go to specialist cheese shops or fast-food restaurants and select the types of cheese you want to buy, then taste it to determine whether it is what you are searching for.
Tip 2: First, use your nose, then your lips to taste
It would be best to start by looking for the scent and imagining what it would taste like. Then you begin to taste it to answer a few questions: Does the flavor linger? How does it function over time? Is it retained in the mouth, or does it just dissolve?
Tip 3: Look into the cheesemaker
Another important thing to consider is where the cheese is created; some cheeses, for example, can only be made in specific geographical places for your peace of mind.
Tip 4: Be wary of raw milk cheese
Perhaps you've never heard of cottage one before. However, it will be really intriguing, so don't miss this section!
Raw milk cheese is simply a dairy product made with unpasteurized milk to preserve its original flavor, and a variety of cheesemongers utilizes it.
FAQs
Jarlsberg Cheese Vs Swiss Cheese: What Is The Difference?
Many people wonder, "Is Jarlsberg Swiss cheese?" Yes, it is classified as a Swiss-type of cheese, and they share several characteristics. They do, however, differ in a few ways.
Jarlsberg is an all-purpose cheese with a mild, sweet flavor. On the other hand, Swiss cheese has a somewhat sweet and buttery tone, as well as a tinge of grain, and it has a soft and silky mouthfeel.
Can You Freeze Jarlsberg Cheese?
The answer is yes. Although it is frequently dependent on storage circumstances, always keep shredded Jarlsberg in the refrigerator.
Jarlsberg will last in your refrigerator for up to three weeks if unopened. However, once opened, store milk products in cling film or a plastic bag or another sealed container in the refrigerator for ten days.
Before eating, make sure that any moldy bits are removed by cutting them off.
The freezer will keep for up to six months if kept in its original packing or firmly wrapped in foil or plastic wrap.
Why Are There Holes In Jarlsberg Cheese?
One of the reasons for round holes in Jarlsberg is the bacteria Propionibacterium shermanii.
To begin, lactic acid bacteria are introduced, which eat the lactic acid and produce carbon dioxide gas bubbles. These air bubbles become trapped in the cheese's rind and gradually produce holes.
The larger the eyes, the longer the Jarlsberg ripens under extreme heat. However, regulating the temperature is critical for producing a high-quality product.
Therefore, you will never find classic holes bigger than 15 to 20 mm in diameter.
End Note!
That's all there is about Jarlsberg cheese substitute; there are many various pieces of cheese that you can replace it, so don't be concerned.
Well, have you picked an appropriate product for yourself? Take the time to read it again if you haven't made up your mind yet! And if you've already made your decision, pick another one for you!