Best Kraft Chili Mac Recipe Ever To Try At Home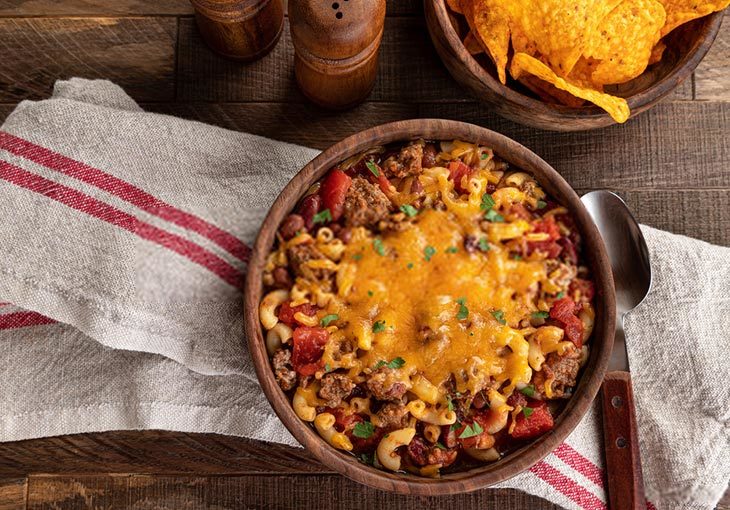 Cooking is my favorite time of the day. As my work requires high tension, cooking is my way to relax and bring happiness to my family.
That's why I always try to cook every day, but sometimes I'm too busy for a proper dinner. Instead, I would cook some warm soup recipes or a kraft chili mac homemade style for everybody. And my family always loves it.
I know there are also people like me who are too busy to cook but don't want to go to a restaurant. That's why I will share with you my best kraft chili mac recipe in this post today.
How To Cook Kraft Chili Mac?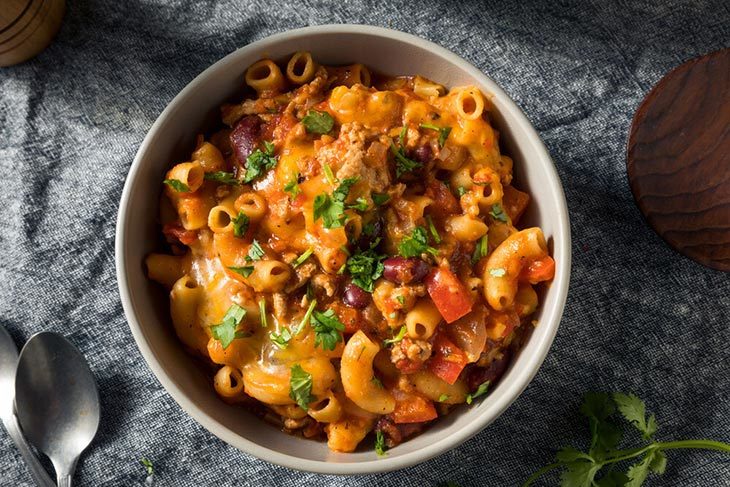 Chili mac was probably my all-time favorite meal when I was a student. A young student with not much cash to spend, I used to stuff loads of Kraft chili mac in my cabinet for dinner.
My first experience is solely easy chili mac and cheese with black beans, as I learned from my roommate. At that time, I thought to myself, "This Kraft macaroni and cheese seems to be missing some spices."
Then, I started to mix and taste other ingredients and hone my skills in mastering chili mac.
In this post, I would give you all the tricks and tips I use when choosing ingredients and cooking this quickie recipe with Kraft Velveeta mac and cheese.
You need to prepare Kraft chili mac, ground beef, spices, onion, garlic, tomato paste, green chilies, beef broth or chicken broth, and chipotle pepper.
If you don't have chipotle, you can use chipotle substitutes and still maintain the flavor.
The longest part, for me, is the preparation of all the ingredients. If you do it properly, the cooking part is super-fast and easy.
Ingredients
900 grams (or 2lbs) ground beef 85/15
Ground beef is an important component in this chili mac dish. Good ground beef would have bright red color and mixed fat marbling wrapped in closed, clear cellophane.
If the outside meat color is browner or grayer, the meat has been spoiled, and it won't deliver the juicy taste.
Besides, one thing you need to notice is the lean/fat ratio of the ground beef. The regular ground beef would have a 70 thin and 30 fat ratio, which is the juiciest and most flavor one to cook.
However, it will shrink immensely due to the rich in fat.
That's why I choose ground chuck, which is 85 lean and 15 fat. This meat will still have the juicy part but not as fatty as the regular one.
One teaspoon of chili powder
Half teaspoon of Cumin
Half teaspoon of black pepper
4 ounce can green chilies
Two white onions
Six garlic cloves
4 cups of diced tomatoes
1 cup of tomatoes sauce
1 cup of chipotle pepper in adobo sauce
2 ½ cup of beef broth or chicken broth
When it comes to beef broth, I usually choose the Brodo broth as it's an authentic taste of ginger, tomato, and black pepper. However, if your store doesn't have any other broth can still do the job well.
1 Kraft Velveeta mac and cheese
Step by Step To Cook Kraft Chili Mac
Step 1: Slice onions, tomatoes, green chilies into small dice to blend the taste evenly. Chop chipotle to enhance the spice.
Step 2: Boil water in a saucepan or an instant pot and add macaroni inside. Cook for 7-8 minutes
Step 3: While waiting for the cooked mac, add onion, spices, garlic inside a pot with ground beef. Break the meat into crumbles using a spatula, so the meat is evenly cooked. Put on medium heat and cook for 6-7 minutes until the beef color turns from red to brown.
Step 4: Once the beef is cooked, put tomatoes, green chilies, chipotle peppers, chili powder, tomato sauce, and beef broth in the pot while keeping it on the same heat. Stir them evenly to avoid overcooked food.
Step 5: Add the macaroni to the pot and stir it again. Cover and let it steep for 8-10 minutes until the whole mixture blended and cooked nicely.
Step 6: Enjoy your quickie chili mac!
Tips to perfect your kraft chili mac
This quickie recipe using boxed mac and cheese can already give you a delicious, spicy, and meaty flavor.
However, if you want to go further with your quickie chili mac recipe, I recommend adding some parmesan cheese or cheddar cheese on top of the chili mac for a creamy, extra moist, and melting effect.
The combination of soft and elastic macaroni with the salty taste, sweet broth, spicy chipotle flavor, and shredded cheese will make you fall in love with this chili mac.
If you want to improve your cooked mac, try putting milk in the cooking water for an extra simmer look.
Be careful when cooking in milk because it might dry faster than normal water. While cooking in an instant pot, you can add more milk if it looks too dry.
Lastly, if you have leftover chili mac, you need to put them altogether in a closed instant pot and in the fridge after 2 hours of sitting outside.
The chili mac can last for 4-5 days in the fridge, and you can always reheat it on low heat.
FAQs
Is Kraft Chili Mac Addictive?
If you perfect this kraft chili mac recipe, then it is likely that you will get addictive-like me.
As chili mac is easy to cook and rich in flavor and nutrition, especially in calories, it is recommended that you eat chili mac once per day as a healthy amount.
What is the difference between Kraft Dinner and Original Kraft Mac and Extra-Creamy Kraft Mac?
As in the name, "Extra-Creamy," Kraft Mac and Cheese promise to deliver a goosey and cheesy experience for the user.
However, when comparing the Kraft mac and cheese nutrition facts, both of these Kraft dinners have approximately the same data. The only thing difference may be the addition of cornstarch and cellulose.
Conclusion
I love making these quickie recipes such as quick lasagna and kraft chili mac as it is easy and convenient for our busy work life.
Making this recipe also reminds me of how creative cooking style can be if you know how to combine all the taste from a boxed Kraft mac and cheese.
I hope with this easy and quick recipe; you can follow the steps to make yourself a nice quickie dish after a long tiring day at work.