Lamb Substitutes – Which Is The Right Choice For Your Recipe?
Lamb is such a fantastic ingredient that brings a distinctive taste to many regional dishes. Its one downside, at least here in the US, is that it is on the pricey side. It is not a surprise for me to find lamb selling for double what a similar cut of beef is going for. Because of this, I'm continually looking for budget-friendly lamb substitutes for the dishes that I want to make.
The problem with most lamb substitutes is that it will be very hard to replicate that "lamb" flavor.
What Does Lamb Taste Like?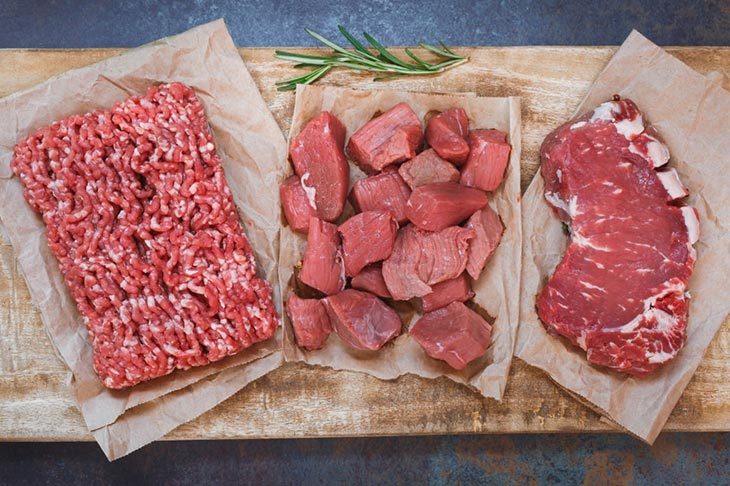 Lamb – which is simply a young sheep – has a distinctive gamey, grassy taste that is almost instantly recognizable.
This flavor and aroma that we associate with lamb is actually due to specific fatty acids that are only found in the lamb's fat. These caprylic or short branched-chain acids are present in the animal's meat and milk.
The younger the lambs are, the fewer of these acids will be present in their meat, giving their meat a milder smell and flavor than an adult lamb.
Lamb Cuts of Meat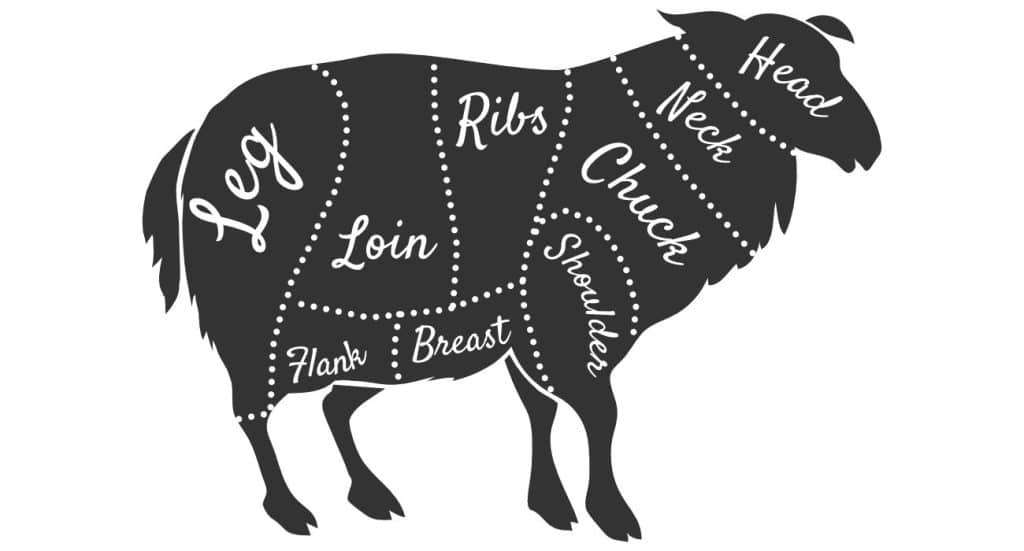 The lamb's shoulder and legs are the parts of the animal that work hard. This causes the meat in these cuts to be tougher than others, requiring long, slow cooking to adequately tenderize it. The shoulder and legs however, have wonderful strong flavors, and are some of the more flavorful cuts of the lamb, if cooked correctly. They are ideal choices for slow-roasting, barbecuing, or stewing.
Lamb chops, or cutlets, are the most expensive lamb cuts as they are incredibly flavorful, but also very tender. They are best when pan roasted and are commonly served with mashed potatoes or salads.
Like chops, lamb loin chops also come with rich flavors that develop the taste of heaven when grilling or barbecuing.
There are no longer secret cuts of meat that are cheap and great. However, to get the most bang for your buck, you can choose the neck or ground lamb meat. They are both pretty affordable, yet still go a long way if you cook them the right way.
Lamb Substitutes
There are three main substitutes for lamb meat. However, since lamb has such a distinctive flavor, there really isn't a perfect substitute anywhere.
1. Goat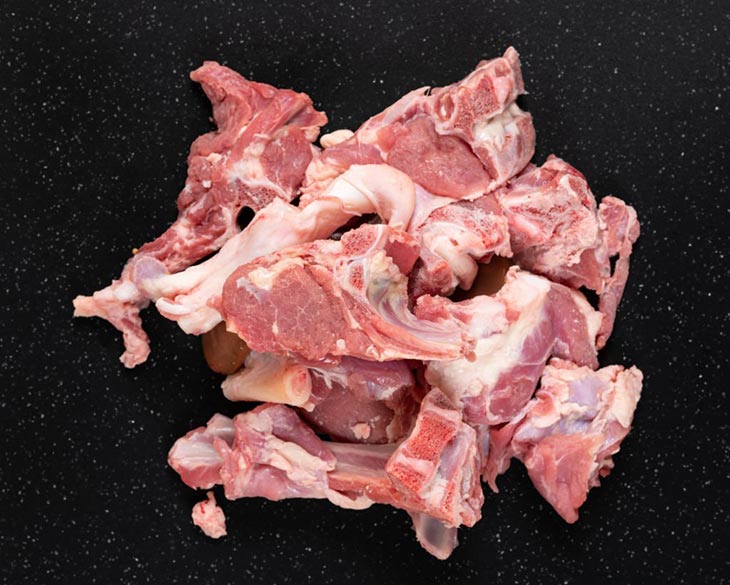 Goat is the first, and best substitution for lamb. Its meat resembles the strong and gamey flavor that lamb is known for. This is because it is the only other meat that contains the same fatty acids that lamb has.
In fact, you may actually want to choose goat instead of lamb, regardless of how available lamb is for you. Goat meat is widely considered a healthier option to lamb because of its higher protein amount, and lower cholesterol, fat and calories, per 100 grams.
| per 100g | Goat | Lamb |
| --- | --- | --- |
| Total Fat | 3 g | 21 g |
| Protein | 27 g | 25 g |
| Calories | 143 | 294 |
| Cholesterol | 75 mg | 97 mg |
There is obviously one downside here: most butchers (at least around me in the Eastern US) don't have goat meat available. Even if they did, I'm sure it would be just as expensive, if not more so, than lamb.
2. Beef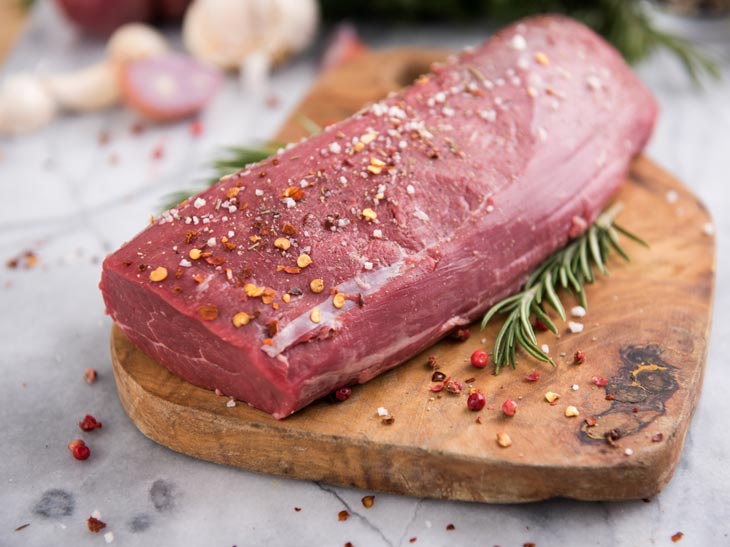 Beef is probably the most commonly used lamb substitute. The texture and how you cook both red meats are similar. Beef is also widely available. The unfortunate part here is that while you can just about find beef in every supermarket, its flavor is so far off that you'll likely be disappointed if your trying to hit a specific flavor profile.
Cows do not have the same amino acids in their fat, so the flavor is not the same. You can try to find grass-fed beef instead, as that will give you a slightly more gamey, grassy taste that may remind you of lamb.
3. Pork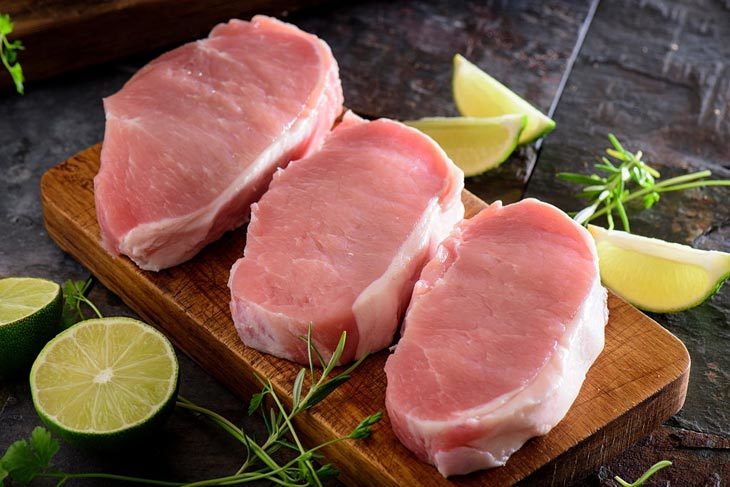 Pork is a much more budget-friendly and more popular choice to replace lamb.
However, pork is white meat, and lamb is red. The differences don't stop there either, since the flavors aren't exactly close either. The one similarity between the two animals is that the pork cuts of meat are named similar to the lambs'. They both have loins, chops, and shoulders.
If you have a recipe that has plenty of spices in it, you can likely use pork as a substitute for lamb. The highly spiced dish would have ended up masking some of the lamb flavor anyway, so in this case, going with the much cheaper pork might be a good idea.