Leek Substitutes and Alternatives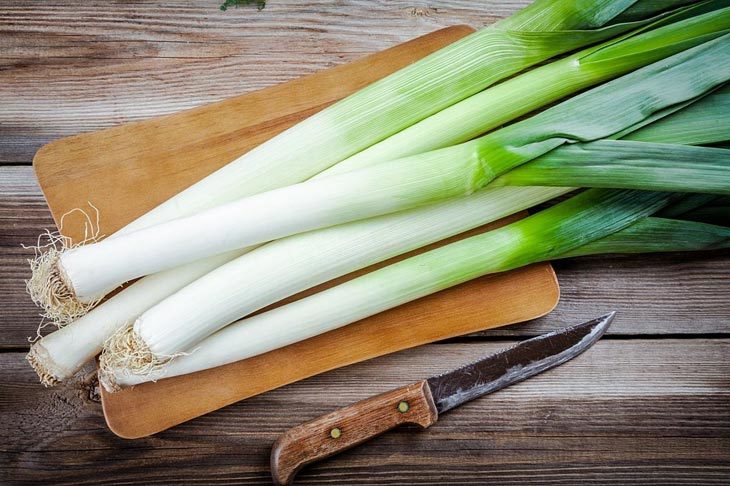 The world of green vegetables is so diverse, with so many types and flavors for you to add to your dishes. One of the most-used ingredients in American kitchens is leeks. You can use them in so many recipes that it can be confusing to find a substitute for them.
However, no ingredient is irreplaceable, and neither are leeks. If you're looking for a leek substitute, find out in my post below!
What is a Leek?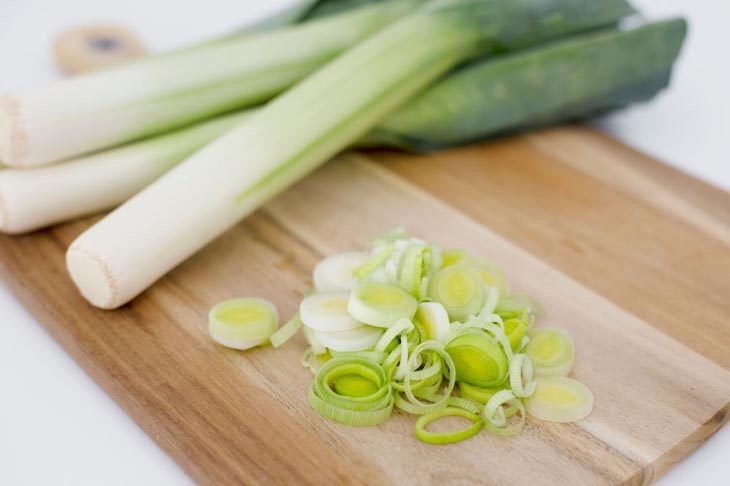 A leek is a type of green vegetable that is in the same family as garlic, chives, scallions, shallots, and onions. Leek has green leaves attached to the top of a cylindrical white stalk. Moreover, it has a high content of vitamin B6, fiber, iron, and magnesium that you can add to your nutritious daily meals.
Both stalks and leaves are edible and can be used for many dishes. However, the stalk has a firm texture that you should use for a long cooking time. This means that leeks are perfect for dishes like soups, stews, and stocks.
While using leeks, you will find a pungent, fresh, sweet, and mild-onion flavor that is softer than a regular onion. When they are cooked, leeks become soft with a much milder taste, perfect for many boiled, sauteed, and braised recipes.
Are Leeks the Same as Green Onions?
Some people might find leeks similar to green onions. So, is a leek a green onion?
When comparing leeks vs green onion, there are certain differences between them. You can easily see the noticeable difference in terms of their look. Even medium leeks have a much larger size than their green onion cousins. Regular sized leeks reach anywhere between 12-15 inches long.
When comparing leek vs green onion in cooking, green onions have a stronger taste and aroma than leeks. Leeks are much milder than any onion.
What is the Best Leek Substitute?
Leeks are a great ingredient to add some flavor depth and green color to your pasta, stews, and soups. However, sometimes you might not have them in your kitchen, so what are substitutes for leeks? Let's check out my leek replacement list below!
1. Shallot
Shallots are the closest and best leek substitute.
First on the list is our popular ingredient: shallot. As shallots are also a part of the Allium family, so it is easy to understand why shallot is a perfect substitution for leeks. Shallots are smaller, with a flavor very similar to a raw leek. When you slice them thinly, the texture is virtually indistinguishable.
Shallots are known for their small size, slightly smaller than a small onion. It is wrapped in a paper husk, or skin, that you normally would remove before using. Once you have discarded the husk, shallots reveal a purple and smooth skin inside with a distinctive onion-y aroma.
The flavor of shallots is a combination of mild, spicy, and delicate that you can use to influence many dishes' flavors. When they are cut into small slices, you can find a juicy and firm texture in shallots like leeks. This will help to keep the crunchy texture of leeks in many recipes using shallots.
As the size of leeks is significantly bigger than shallots, so how many shallots do you need to replace leeks in a recipe?
Typically, you would swap 4 shallots for one fresh leek in any recipe.
2. Frozen leeks
You can also use a bag of frozen leeks to substitute for fresh leeks in soups, stocks, and stews. You may wonder why it is not the first on the list… However, it should only be an alternative for leeks that are used in cooked dishes, not recipes calling for fresh leeks.
When thawing frozen leeks, the firm texture changes and becomes slimy, so it is not the best to use in any dishes that call for raw or slightly sautéd leeks. On the other hand, if you are working on soups, stews, or stocks, frozen leeks are your best choice as a substitute for fresh leeks.
Frozen leeks can be sautéed or boiled straight away without a complicated defrosting method. Simply frozen leeks with the same ratio you need for fresh leeks, but remember they need to be cooked thoroughly first.

3. Sweet/White Onion
Sweet (Vidalia is the brand name) onions are generally stronger than leeks in terms of flavor. However, the taste of white or sweet onions is pretty mild compared to other onion types (like yellow), making them a great leek alternative for many of your favorite leek recipes.
Onions and leeks are both members of the Allium family, which allows them to have similar features in flavor and texture. However, onions have a round-shaped bulb, while leeks have a thin cylindrical body, so when slicing onion bulbs, it might be difficult to get the same slices as leeks.
Regardless, onions have a juicy and firm texture with a sweet, mild, and spicy flavor like leeks. When using white onions in a leek recipe, you should sauté them first to reduce their strong taste. You should substitute sweet or white onions for leeks in a 1:1 ratio. For example, substitute one cup of chopped leeks with one cup of chopped sweet or white onion.
4. Spring Onion
One of the relatives of onions is the spring onion. They have a similar shape to leeks which is a thin and cylindrical body. Spring onions also have green color at the top, then slowly whiter toward the bottom.
Spring onions are similar to scallions, but have a more bulbous onion part. Think of spring onions as a sort of "mini onion".
The body of spring onions is much thinner with a softer texture than leeks. So texture aside, you can replace leeks in your recipe with spring onions with a 1:1 ratio.
5. Green Onions or Scallions
Scallions or green onions are another great leek substitute that you should check out.
While scallions look quite similar to leeks and spring onions, they aren't exactly the same. Both have a white bulb and green stalk, and can be hard for people to distinguish at first.
Scallions have a flavor that is pungent and peppery, and a strong taste of onion – which can be much stronger than regular leeks. However, as they are pretty small compared to leeks, I tend to use several scallions in place of one fresh leak.
6. Red onion
Like white onions, red onions are also known for their mild flavor, which can be a great substitute for leeks in soups. Although it is not as popular as sweet or white onions, red onions are a oft-used ingredient for many Mexican dishes.
With a high sugar content and less sulfur concentration, red onions have a sweet undertone with a mild and pungent flavor, similar to that which you find in leeks. Because of their mild onion flavor, people tend to cook them lightly or grill them to keep the flavor for fried rice, tacos, and pizzas.
Using red onions in soups and stews is also possible, but the flavor of red onions decreases the longer you cook. The red will eventually boil away, leaving them looking like regular white onions as well.
Replace fresh leeks with chopped red onion in a 1:1 ratio.
7. Garlic
Maybe you don't have enough time to grab a good leek substitute in the market? You can always use garlic to compensate for the mild taste of your leek recipes. Garlic comes with a small bulb of 4-5 garlic.
This fresh ingredient has a distinctively pungent smell that you can tell from afar. When using them, the flavor of garlic is spicy and warm with a firm and hard texture. However, after they are cooked, garlic becomes sweetened with a soft yellow skin that can be similar to leeks in some ways.
Fresh garlic can be quite strong, so you should start with 1-2 garlic cloves in place of one leek, then adjust after tasting. If you are using minced garlic from a jar, then you can probably double that amount, as it has much less flavor when compared to fresh garlic.
8. Onion powder
If you have no fresh option, you can fall back to use onion powder as a replacement for leeks. Onion powder is just dry onions ground to a fine powder, so it can help you achieve a similar taste to leeks.
A teaspoon of onion powder will provide a similar taste as one leek, but it obviously won't have the texture or volume that a fresh leek has. This substitution won't be perfect, but it'll work in a pinch.
9. Wild Ramps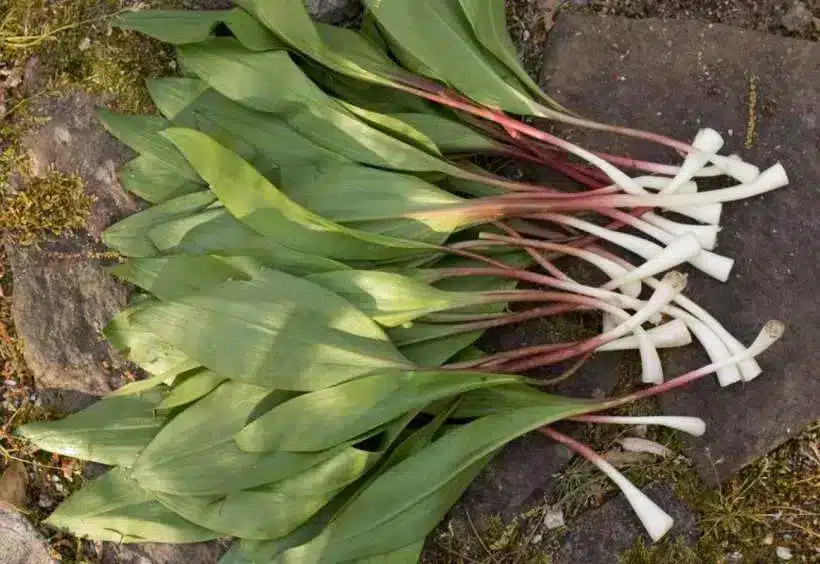 If you are lucky enough to have access to wild ramps, they can be used as a leek replacement as well. Both wild ramps and leeks have similar flavors and textures. In fact, they are also called wild leeks!
Wild ramps come out in the spring, and are common in the Appalachian Mountains in the eastern US. Their season is short: they are out just a few weeks from late April to early June.
Ramps have a garlicky taste, and are extremely similar to leeks. While they are often used as a garlic substitute, they are actually much closer to a leek.
Wild ramps can be substituted for fresh leeks with a 1:1 ratio.
10. Celery
Celery is commonly used in the same recipes that leeks would be used in. Part of the "holy trinity" of vegetables (onion, carrots and celery), it is often used side-by-side with onions.
Celery does not have a similar flavor of leeks, but it does have a similar texture. The only reason it would be used in place of a leek, is if you were maybe replacing leeks with a powder, and needed to also replace the texture.
How to Use Leek Substitutes?
Many leek substitutes are used in a 1:1 ratio. This means that you should use the same volume of an onion in place of a leek.
Garlic is the one that bucks that trend. It has a much stronger taste than leeks, so you'd use much less of it volume-wise in your recipe.
Leeks impart a very necessary flavor to your dish, so we wouldn't skip the use of leeks in your recipe. While they aren't the most popular vegetable, they provide such a great, mild flavor, that you should really try to find fresh leeks whenever possible.