9 Best Mace Substitute For Your Baked Goods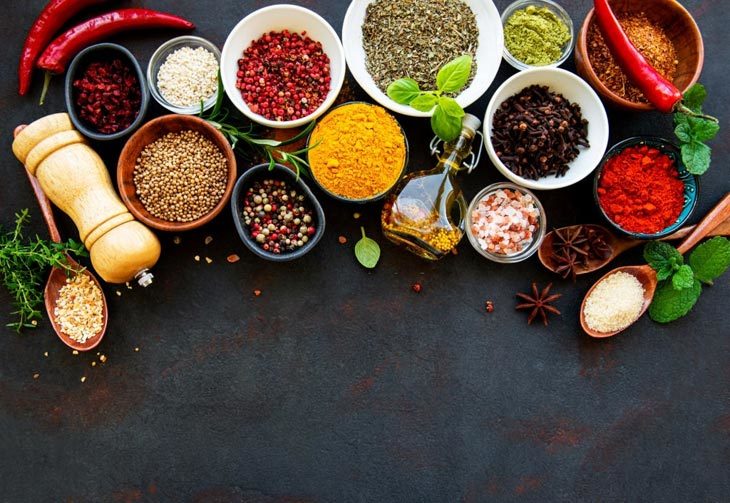 The world is full of spices that can elevate our dishes in various ways. Mace is an exotic spice that can be seen in many Asian recipes, especially in Indian cuisine.
As it is not native in America, mace can be quite expensive and hard to find in local stores.
If this is the first time you've heard of this ingredient, let me share with you this wonderful spice and the best mace substitute for your baked goods!
What Is Ground Mace?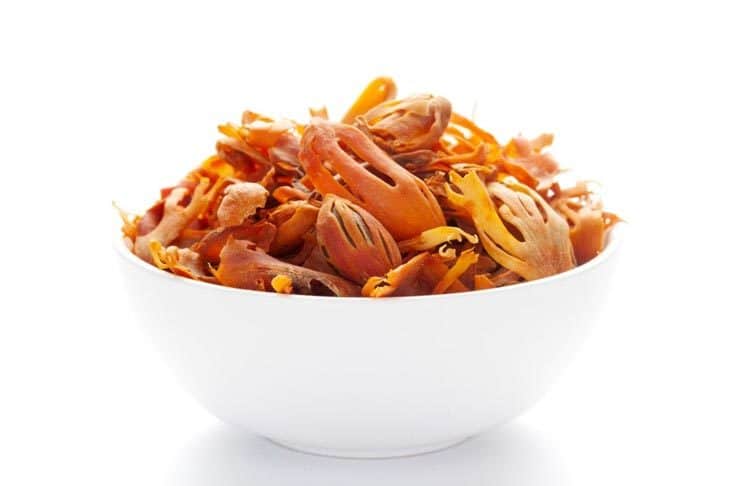 If you have never heard of blade mace or mace strand before, I promise you it is not as strange as you thought it would be. Mace is an exotic spice coming from the land of spice which is Moluccas, Indonesian. So what are mace strands? or what is blade mace?
Mace comes from the nutmeg trees, which are also the family of our famous spice, nutmeg. When people harvest nutmeg fruits, they will take the hard seed inside and sell it as nutmeg.
The red covering will be separated and used as a strand of mace or mace blade. So, mace and nutmeg are close cousins, if not practically twins!
The mace covering will be dried up and grounded to be ground mace used often in baked goods and sweet recipes because of its delicate, sweet, and pungent flavor.
9 Best Ingredients Used As Mace Substitute In Cooking
If you wonder: "What spice can i substitute for mace?", you can find these common ingredients as mace spice substitutes below!
1. Mace Blades
Mace blades are an underrated ingredient because they can't be blended as ground mace. Besides that, mace blades are an amazing ground mace substitute.
Furthermore, you can have mace blades at a much cheaper price compared to ground mace, and you can also make ground mace out of dried mace blades.
You can use mace blades to substitute for ground mace with the same amount that the recipes ask for. As the mace blades cannot dissolve in water, it is best to use them in steamed recipes like stocks or rice, where you can cook it for a long time to juice out all the flavors.
You can also use mace blades to create ground mace for your dessert recipes. You can put it in a mortar and pestle or a spice grinder to grind the mace until you achieve a smooth consistency.
2. Nutmeg
As nutmeg and mace are basically from the same fruit, there is no reason why nutmeg is not the perfect mace seasoning substitute. As they are extracted from the same source, nutmeg seeds retain most of the signature flavor of the nutmeg tree. However, when comparing nutmeg vs mace, there is some slight difference in flavor.
As nutmegs are the seeds of the fruit, you will find an intense and stronger flavor and aroma than mace. It is known for its sweet taste, which can be used to substitute for mace flavor to season meat, sausages, puddings, and baked goods.
3. Cinnamon
Cinnamon is a common spice for working on desserts and one of the great mace alternatives. A great plus point for this ingredient: you can always find it in many American kitchens. Cinnamon is available in two versions: stick cinnamon and ground cinnamon.
Cinnamon has a complex flavor profile, a combination of sweet, citrusy, and pungent with woody notes. You can use ground cinnamon as a mace substitute in recipes like puddings, cakes, and pies.
You must note that cinnamon can be strong in flavor and aroma, so you should use less than the mace recipes ask for. Normally, I tend to use half a teaspoon of cinnamon powder to substitute for 1 teaspoon of mace.
4. Allspice
Another popular spice in our household is Allspice. This spice is perfect in many dessert dishes that you can even use as a nutmeg substitute. And if it can substitute nutmeg, it can be used to substitute for mace in baking.
All spices are dried berries of the Pimenta Dioica tree. This interesting Jamaican spice is a flavor buffet of nutmeg, cinnamon, and pepper, making it an interesting ground mace replacement.
I usually substitute mace with Allspice with the 1:1 ratio as it can elevate and emphasize more of the flavor of other ingredients.
5. Ginger
Ginger can be used as a mace alternative in seasoning meat and savory dishes because of its distinctive flavor impression. It is native in Southeast Asia; you can find ginger as a must-have ingredient in many Asia dishes. Ginger has a bright yellow color covered with an earth-gray cover.
Ginger gives a sweet yet peppery and intense flavor with an intense fragrance that will give you a warm feeling in your stomach. Because of its taste, people tend to use ginger to rub on meat, season rice, and soups. Sometimes, they can also be used as herbal sweets like ginger candy, a famous treat in China.
6. Pumpkin Pie Spice
Pumpkin pie spice is known as a great spice for pumpkin pies. But they can do even more than just pumpkin pies, like a mace replacement, for example.
Pumpkin pie spice sounds like it oozes pumpkin flavor and aroma; however, this spice doesn't taste like fresh pumpkin. In fact, some people find that it is a mix of ginger, nutmeg, cinnamon, and Allspice, making it a great mace substitution. As the flavor is delicate, you would want to use the same ratio as mace required in a recipe.
7. Garam Masala
Garam Masala is no stranger to Indian and Pakistani cuisine. You will find them a great mace spice alternative in Indian dishes because of their complex flavor.
Garam Masala is not a standalone ingredient, but it is a combination of various spices. Depending on which regions, you can find various spice versions of garam masala.
Overall, the spice combination is cloves, cardamon, black pepper, nutmeg, mace, and cinnamon. Some versions also add cumin, star anise, turmeric, or saffron for a flavorful experience. With such a complex flavor, garam masala is used to substitute for mace spice in various dishes like masala, curries, Moroccan roast, and seasoning on meats.
8. Apple Pie Spice
If you're out of mace for your apple tart or pudding, you can always use apple pie spice to substitute for mace. Similar to pumpkin pie spice, apple pie spice is a combination of nutmeg, Allspice, cardamom, and cinnamon. However, the apple taste is strong and intense, which is perfect in any apple-based dessert.
For other recipes, it might be impractical as the apple aroma is easily spotted in the dishes. That's why when I use substitution for mace spice; I tend to use a ratio of ½ teaspoon of apple pie spice for one teaspoon of mace.
9. Cloves
Another great mace spice substitute is cloves. Cloves and mace both come from Indonesia, but they are not from the same family. Despite that, cloves have some interesting flavor traits that make them a potential mace replacement.
Cloves have a peppery, smoky, pungent aroma to the nose. When used in dishes, they give a warm and sweet flavor similar to mace. You can find whole cloves in many stores and grind them to make ground cloves. Once it is set, you can substitute it the same way you use ground mace in meat and dessert recipes.
Cardamom
Cardamom is a fantastic mace spice replacement because of its flavor profile. However, it is quite an expensive spice that you might not find in allspice stores. Currently, there are three types of cardamom in the market: black, white, and green cardamom. Each type is used flexibly in both savory and sweet dishes.
You can find cardamoms in the ground or seed pod version. When using this spice, you will find an herbal, minty, spicy, citrusy flavor that is perfect for seasoning meats, soups, and stews.
If you want to use it for mace-based desserts, you can use green cardamoms, which have a sweet note to the taste. People tend to use green cardamoms for tea, desserts, and baked goods.
How To Use A Mace Substitute?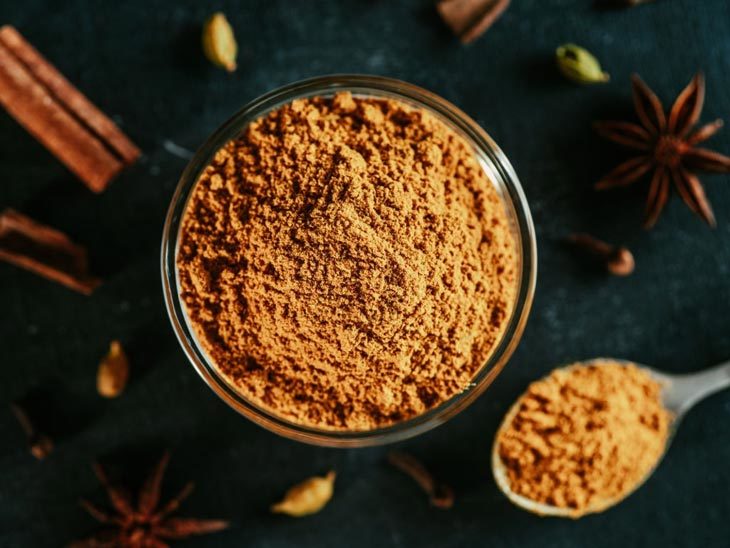 Mace is an exceptional spice in puddings and sweets that can leverage the taste of all ingredients in your recipes. Knowing the substitute ingredient is not enough; you need to know how to use them well in any recipe. So, let's find out how to substitute for mace in cooking!
If you're looking for a substitute for mace seasoning in meats and savory dishes, the cardamom, garam masala, and ginger are amazing ingredients to spice up your chicken, pork chops, and steaks. Their citrusy, peppery, and spicy notes are made for these dishes.
Mace brings a delicate, sweet, and aromatic note to your puddings and baked goods. Cinnamon, nutmeg, and Allspice are amazing ingredients with beautiful sweetness. Just substituting one teaspoon of nutmeg or Allspice or half teaspoon of cinnamon for one teaspoon of mace will deliver the taste of mace.
Conclusion
Mace is used widely in many cuisines in the world. However, it is not a popular ingredient in American's local spice shops. You can find them in Asian spice shops or Indian stores, or you can find a good mace substitute for your dishes.
Cooking is an experiment of different flavor combinations to find a concrete mix for our dish. Therefore, you should always find a way to work on your dish without the same ingredient.