5 Madras Curry Powder Substitute For Pretty Hot Taste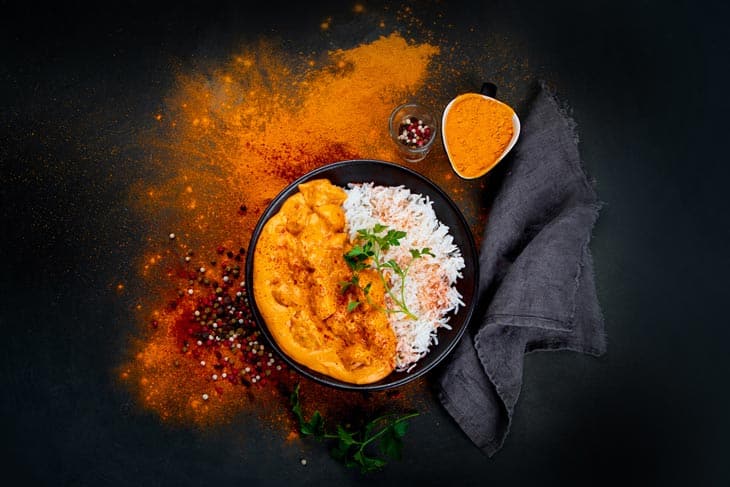 What is the best Madras curry powder substitute? The alternative should be the one bringing a game of spices. Plus, a hot spiciness makes your mouth watery.
Also, a vibrant red-brown color adds a "sexy" look to your dish. Not only that, the herb is for a charming fragrance.
Generally speaking, the replacement could be Tandoori Masala, Sambar, and Garam Masala. Additionally, you can try the combination of chili pepper and curry powder.
Or it is also not bad to make the homemade paste yourself.
But first, let's get started by learning about the Madras curry powder. And then, we will consider the best madras curry powder substitute.
About Madras Curry Powder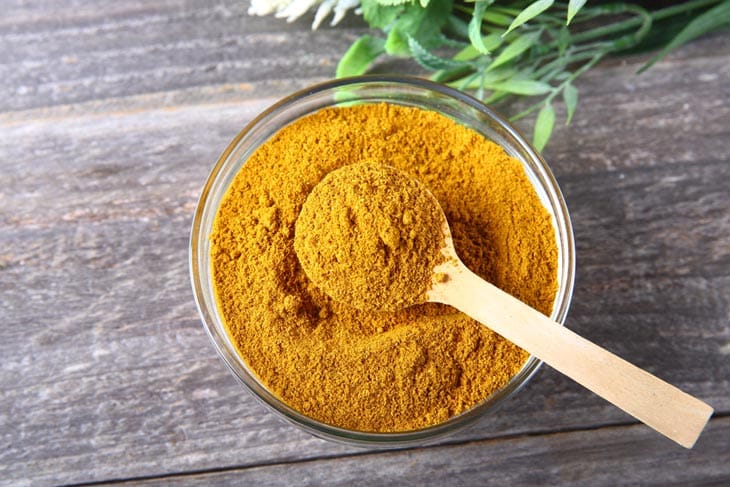 It is an interesting blend of herbs, spices, and seeds (about 20 food ingredients in total). Some typical parts of the combination include cinnamon, cumin, saffron, turmeric, chiles, etc.
Origin
It is still controversial about the original place of Madras curry powder now. Many people claim this ingredient originates from Southern Indian cuisine, while others consider it British.
Even today, you can find it in various food cultures worldwide, like Asian cuisine.
Regardless of origin, the name "Madras" gets inspired by Chenni – a city with another name, "Madras". In other words, the hot and dry weather here is such an exact illustration of this spice's style.
Flavor
With numerous ingredients, madras bears an amazing taste and aroma. In particular, a hot piquant flavor holds the key.
For a distinct fragrance, the makers combine fresh tamarinds and fennel seeds. Both of them blend and create a slight tanginess. Plus, the aroma cannot be complete without ground chili and turmeric.
As for spiciness, it is a use of ground red pepper. So, what is ground red pepper? Is ground red pepper the same as cayenne?
They are interchangeable in the Madras recipe. Simply put, manufacturers can make the ground chili pepper from various types of chilis. And cayenne also belongs to this variation.
Madras Curry Powder Substitute: 5 Closest Options
1. Sambar Masala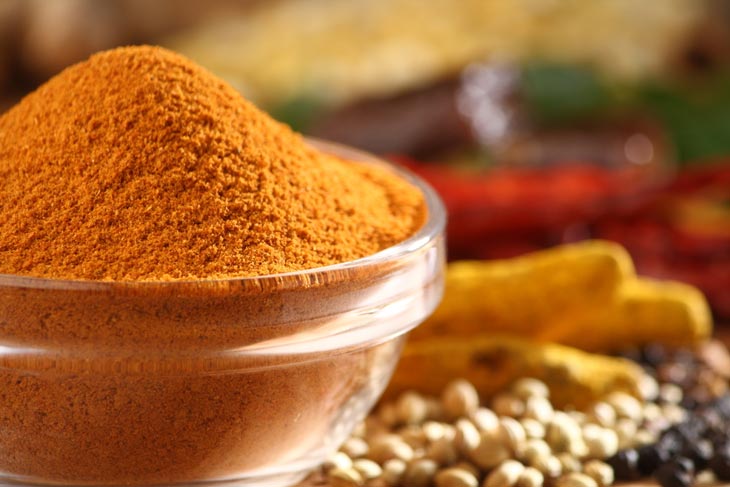 The first substitute for madras curry powder is samba masala. This Indian traditional spice is commonly used in coarse texture. In particular, its ingredients are considerably similar to madras curry powder.
In samba masala, there are cinnamon, black peppercorns, and dry red chilies.
Besides, the product includes various seed types such as coriander seeds, mustard seeds, fenugreek seeds, and cumin seeds. All of them are the most basic spices in Indian cuisine.
Since making sambar masala is quite easy, Indian people often prepare for long-term use. In the fridge, the product can be good for around six months. At room temperature, the storage should last three months only.
The process takes minutes only. After roasting red chilies, coriander seeds, curry leaves, etc., you grind them all.
2. Tandoori Masala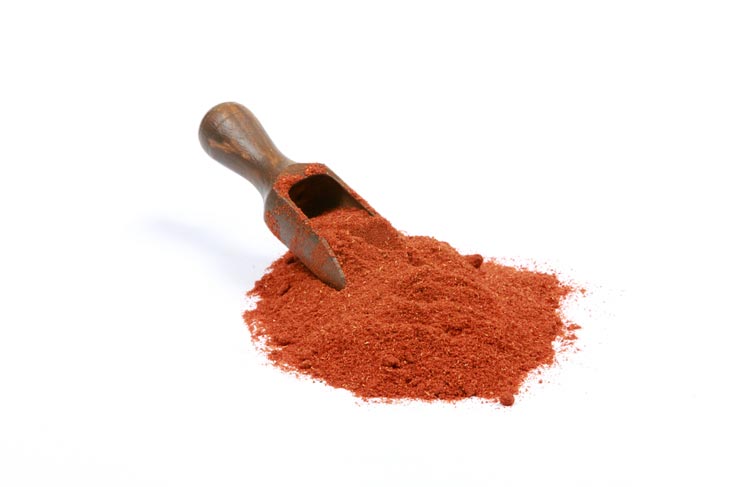 If you do not like sambar masala, we suggest using tandoori masala. Indian chefs use it mainly for tandoori chicken cooked in a clay oven called tandoor. The spices offer a great hot and aromatic flavor without a bad chicken taste.
This blend has nearly the same ingredients as the madras curry powder. For the madras curry powder substitution, the ratio will be 1:1.
Like many other curry powder types, spices in the tandoori masala can vary from one place to another.
But the typical ones must include garam masala, ginger, garlic, and onion. With that mix, cayenne pepper is always an indispensable part.
So, what is the difference between red pepper and cayenne pepper?
It is an important note to bear in mind. About cayenne vs. red pepper, the former constitutes a type of super-hot chili. For those with unhealthy digestion, spicy ingredients probably cause problems.
3. Garam Masala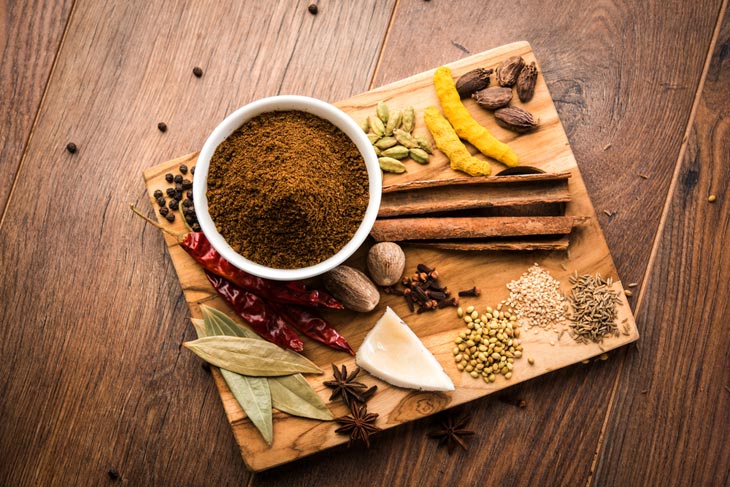 Another Indian traditional spice recommended is garam masala. The blend adds an amazing flavor to numerous Indian dishes like Korma.
Over the years, the garam masala recipes are likely to vary. But most ingredients in madras are also in use for this blend without turmeric.
They are coriander, cardamom, cinnamon, cumin, black pepper, chili, etc. Garam masala is usually a combination of ground spices. Before grinding for the finished result, all ingredients need to go through roasting.
A typical dish with garam masala will have a bit of sweetness and some spicy heat. This mix of flavors replicates the ones you can taste with a madras-seasoned dish.
4. Chili Pepper & Curry Powder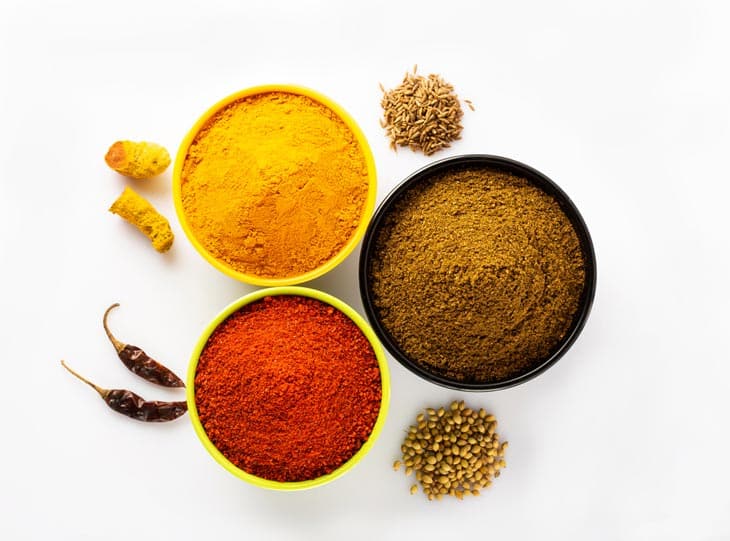 There is no doubt that the typical curry and madras spices share some similarities. Simply put, they bear many similar spices. Not only that, these two have such a yellow look by the turmeric addition.
That said, we still found a bit of a difference. The curry becomes an ideal choice to create the Indian flavor for Western dishes. By contrast, the madras one holds a key for the hotter serves.
A solution to remove the disparity is some red pepper flakes. This ingredient can make the normal curry spice a perfect alternative for the madras curry powder.
Besides, what can you use instead of red pepper flakes?
With a lack of red pepper flakes, it is still good to pick some cayenne pepper. However, the spiciness could decrease.
5. Homemade Madras Curry Paste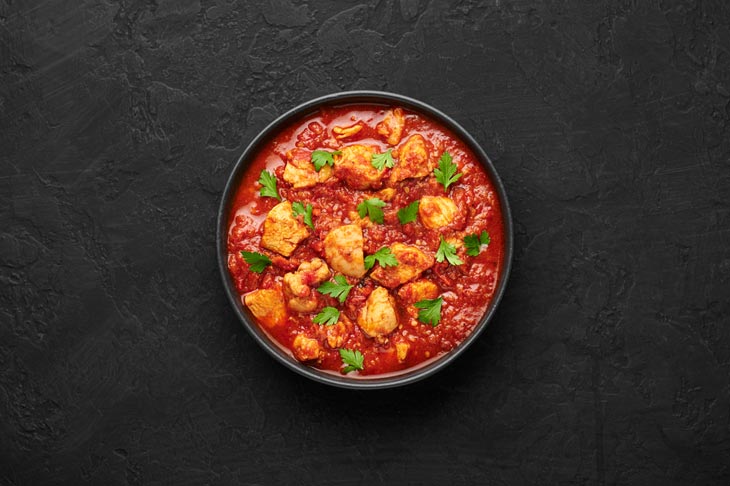 Going to supermarkets, groceries, or convenience stores may waste lots of your time. With some ingredients ready in the kitchen, you can also prepare a new paste version of your own.
It is even possible to tone down or add more taste and aroma into the mixture.
Preparation
Black pepper (2 tsp), chili (1 tsp), cinnamon (1/2 tsp), turmeric (2 tsp), coriander (8 tsp), black mustard seeds (2 tsp), cumin (1/4 cup) (all of them are ground spices)
Garam masala (2 tsp)
Crushed garlic (3 gloves)
Grated fresh ginger root (1 inch)
Brown vinegar (1/2 cup) (cut the vinegar taste if you want)
Vegetable oil (5 tsp)
How To Do
Mix all ingredients (except for oil and vinegar).
Add the vinegar and stir for the smooth paste.
Heat the oil in a medium on the pan.
Put the mixture into the pan and stir at low heat until it starts boiling.
Allow the paste to cool down and store it in an airtight container.
Conclusion
To sum up, there are some ideas to use as the madras curry powder alternative. How many of them have you tried? The suitable option could be different based on your dish. And it is up to the "home chefs" to have creative recipes.
We are always willing to hear from you for any suggestion of Madras curry powder substitute. Thanks for your interest!