Mahlab Substitute: Reach The Detail Of 5 Best Alternatives
Mahlab has lain at the heart of most dishes in many households recently. Yet it may not always be available in your kitchen when you need it.
Drop by our list of mahlab substitutes to avoid rushing out to get some or choose other seasonings that still don't spoil the flavor of food. Dive into now to get the thoughtful content.
What Is Mahlab In English?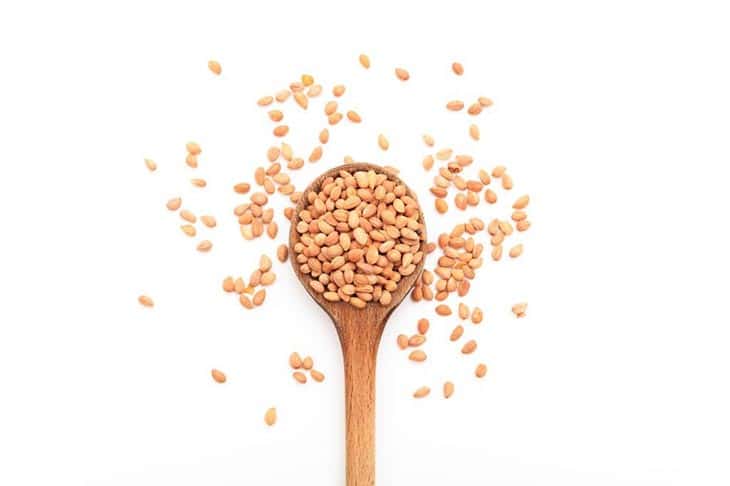 Mahlab is a fairly common ingredient in Greek and Middle Eastern cooking and is made from crushed cherry pits.
Mahlab spice has an exquisite anise flavor with some bitter cherry-almond undertone, which shows a texture like a superior meal.
The ground mahlab is primarily used in desserts, baking, and even for meat marinades and rubs. Particularly, Middle Eastern cuisine adds this spice to mamool, biscuits, bread, and cookies.
The Greeks use this ingredient in Christmas and Easter tsoureki.
Yet, finding mahlab powder in stores or groceries might be a hard challenge elsewhere in the world, especially in the United States.
If you get nothing from the condiment in your kitchen, then a list of mahlab spice substitutes will be necessary.
The Thoughtful Mahlab Substitute List
1. Star Anise and Almond Extract
Star anise and almond extract are potent tastes that you may mix together with proper moderation to imitate Mahlab.
Their flavor combination brings an undertone that is similar to the flavor of the ground cherry pits spice.
In fact, the key aroma of Mahlab is somehow virtually the same as almonds. The almond extract delivers its exact taste to your cooking recipe.
And the other note is eminently useful in enhancing the licorice for the spice. Star anise conveys the mysterious, deep licorice that real Mahlab offers baked goods.
Both ingredients have quite strong flavor profiles. Thus the mixture will bring a burst of flavor or over-spicing if you don't put more carefulness in the ratio of mixing.
In order to reach the ideal flavor, you should use less star anise than almond extract.
This allows almonds to become the dominant tone over the other. By using star anise as a subtle and background note, you successfully resemble the original undertone of Mahlab.
Star anise is a spice made from a fruit belonging to the Illicium Verum family normally discovered in most groceries.
Also, almonds are not hard to encounter in any supermarket. Thus, this match of these components will not be a challenge to look at them as a "Mahlepi substitute".
2. Cardamom And Ground Fennel Seed
Fennel seed and cardamom are popular ingredients that might be encountered a lot in the condiment aisle of most local supermarkets.
You will reach fragrant notes and sweetness from the cardamon. Meanwhile, the ground fennel seeds add the anise note and warm aroma to dishes.
The combination of ground fennel and cardamom will not perfectly mimic the taste profile of real Mahlab, yet it will work in a pinch in savory or sweet dishes.
If you are planning to bake some traditional tsourekis, then we completely suggest using other alternatives since these tastes stray pretty far from the true element.
Both of these two spices are mainly used in most Middle Eastern recipes.
So it is never excessive to save some of these ingredients in your kitchen even when you deliberately want them to become the Mahlab alternative.
3. Cinnamon, Bay Leaf, And Cloves
Here comes a seasoning to replace Mahlab that will work well in a wide range of savory applications like sauces, marinades, and slow-cooked dishes.
The bay leaf, cloves, and cinnamon blend will deliver an earthy, warming, and sweet mixture of condiments that tastes very delicious, meeting your earlier demands.
Cinnamon's a popular spice for a lot of desserts and dishes. Also, the others can be found in many local markets.
So you will not run into any snags in getting them to make your mahlab substitution. To get a perfect aroma, use one bay leaf combined with two-inch of cinnamon sticks and three cloves.
Like most other alternatives, this mixture isn't as versatile as Mahlab itself yet still excellent for adding to marinades or making meat rubs.
4. Bitter Almonds And Tonka Beans
Crushed tonka beans are one of the most excellent ingredients to convey cherry undertones. And the latter will deliver its exact almond taste to cooking.
We use 1 1/2 tablespoon of bitter almonds with 1 1/2 tablespoon freshly ground and roasted tonka beans to replace 1 tsp of Mahlab.
Note: We suggest taking a look at if tonka beans are right for your diet or not before using them. Besides, some nations do not permit the consumption of this ingredient.
5. Cherry Liqueur And Almond Liqueur
If you are into wine and stock some liqueur, good news is you can make your own spice as a perfect replacement to Mahlab.
A mixture of kirsch (or another cherry liqueur) and almonds liqueur will work almost effectively as an original ground cherry pit spice.
A wise ratio to replace a teaspoon of Mahlab from these key ingredients is to use one teaspoon of kirsch and one teaspoon of almond liqueur.
Note: Bear in mind that you are planning to substitute liquid for powder, which might affect the recipe or ratios if you are baking.
So you could consider adding a certain similar dry ingredient or a bit of additional flour to compensate.
The Wrap Up
From now on, you have not felt confused anymore when you need to use some mahaleb powder but don't get any in your kitchen.
Our list of mahlab substitutes offers beautiful combinations to replace the ingredient, which is the hardest one to encounter in local supermarkets and groceries.
Don't miss saving this content for a rainy day or sharing it with someone who has the same curiosity as you. Lastly, we expressed heartfelt thanks and see you soon in the next articles.