Manchego Cheese Substitute – 20 Best Replacements Ever
Manchego/Manchago cheese is an indispensable ingredient in many delicious dishes of western cuisine. In addition to the fact that it contains a lot of protein, fat, and other nutrients, people love it because of its delicious taste and convenience.
What should you use instead if there is a recipe calling for this food, but you have none in the kitchen? What are some great substitutes for manchego cheese available on the market? Read on to find out your best manchego cheese substitute from our list now!
What Is Manchego Cheese?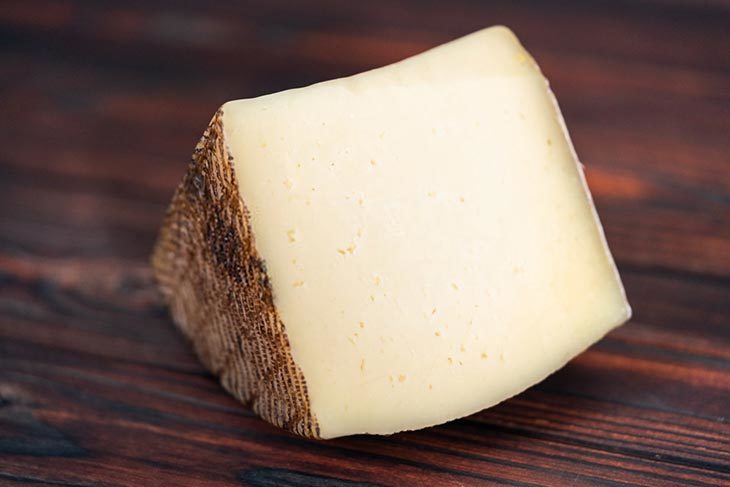 Origin And Taste
So, what is manchego cheese made of and looks like? – It is a type of sheep's milk cheese originating from Spain. Queso-manchego is light yellow and has a round shape. Whether its texture is firm or soft depends entirely on the aging time.
What does Manchego cheese taste like? – The Queso-Manchego is famous for its pleasant grassy aroma and fruity flavor.
Benefit
As a product with high nutritional value that includes lots of proteins, calcium, and significant vitamins, it has become one of the most famous cheeses in Spain.
Still, it is not suitable for vegetarians because it includes animal yeast.
How To Make Manchego Cheese
People use the milk of the manchego sheep breed to make it. First of all, they pour the milk into heated containers and curdle sheep's milk with calf rennet. Then, gently cut the curds.
Once drained, cheesemakers press the curds by hand into a cylindrical mold. Traditional queso makers often compress them into molds woven with grass. This creates a very typical rind of traditional Queso-manchego.
After the cheesecakes are formed, cheesemakers soak them in brine and take them to natural aging caves, where they persist for a period of two weeks to two years.
Recommended Manchego Cheese Substitutes
There are 20 alternatives below. Let's learn more about each of them together!
Provolone
The first Manchego alternative on our list is Provolone. It is a plastic curd queso originating from Italy. Cheesemakers mix curd with whey and knead until they get a smooth mixture. Then, people use cords to wrap their brown oily grind and hang to ripen.
It is smooth and supple. Especially, Provolone has a distinctive flavor because of the use of local ingredients.
Taleggio
Unlike Queso-manchego, Taleggio is made from cow milk. It has a thin crust that is edible and a strong aroma.
This product is suitable for those who love a mellow taste, which is most suitable in cake or crepe making.
Gruyere
Gruyere comes from Switzerland. Its texture will be hard or soft depending on the aging time. What makes it different from Queso-manchego is the salty taste, which is also why people normally use gruyere in grilling recipes.
Havarti
Rooted in Denmark, Havarti is a semi-soft cow milk queso. In contrast with the Queso-manchego one, Havarti has no rind.
It appeals to many people due to its supple texture and mild sour taste. You can wholly enjoy its rich aroma when combining it in sandwiches and salads.
Edam
Edam is a semi-hard queso with a red waxy coating. The longer the aging time, the drier and harder the texture it gets. Hence, Edam will be your best bet if you enjoy a creamy and mildly salty taste.
Gouda
Gouda is yellow and is made from cow milk. You will be impressed by its sweet and creamy taste (except aged Gouda), which is quite similar to Manchego cheese.
With the aged one, you can expect salty flavor and hard texture that is most suitable to be served with wine and bread.
Fontina
As a semi-hard daily product, fontina not only impresses us with its rich taste, but it also attracts us with its sweet and pungent taste. In general, people will use Fontina for sandwiches, pizzas, sauces, or frittatas. The most remarkable plus point about Fontina is it can melt easily.
Emmentaler
Emmentaler is famous for its firm and dense texture. Compared to Queso-manchego, Emmentaler's taste is less greasy. However, it is still favored by many people because of the excellent aroma and variety of flavors.
Comte
Comte is made from unpasteurized cow milk in France. More specifically, it has a brown rind and a daffodil interior.
If you take a bite of it, you will feel the flawless blend of salty and sweet flavors that it brings.
Cheddar
Cheddar is a hard queso. Its color will change depending on the colorant used by the cheesemaker. Like Fontina, it also has a pungent taste. The most remarkable feature when mentioning Cheddar is its earthy smell and bitter taste, which is mostly favored by British people.
Asiago
Fresh Asiago is smooth and soft, whereas older Asiago will be drier and harder. The fresh version has a mild taste and a tremendously strong smell, which is quite similar to what Manchego cheese taste like.
We suggest you use Asiago in bread, pizza, pasta; or use a bit of it to enhance the taste of your salad or soups – The same as how you use grated Manchego cheese in your recipe.
Chihuahua
Like many other kinds of cheeses, Chihuahua is pale yellow. Although Chihuahua comes from Mexico, it has a very similar taste to the cheddar one. It is slightly salty, sour, and greasy in terms of flavor.
Monterey Jack
Those who are cheese-lovers surely know about Monterey Jack. Cheesemakers produce Monterey Jack in solid form for sale. If you've ever eaten it before, you will hardly forget its creamy and mild flavor. It will give your dish of pasta, scone, biscuit, or tart a buttery flavor.
Mozzarella
Indeed, Mozzarella is very popular. The reason people use Mozzarella in many dishes is its main ingredient is buffalo milk, which has very few other flavors. When you eat this type of queso, you will feel a characteristic milky taste – making it a good option to substitute the Manchago cheese.
Muenster
Originating from France, people use pasteurized pure cow milk to produce Muenster. It has a light yellow crust and comes in a variety of flavors.
Muenster has a soft and smooth texture, which can melt well. Furthermore, its main buttery taste is quite similar to the Monterey Jack.
Pecorino Romano
The next Manchego cheese replacement is Pecorino Romano. When young, Pecorino Romano is very supple and soft – It is also the best time to enjoy it. However, not everyone likes this type of queso because of its unique taste – earthy and somehow quite strong.
Zamorano
Unlike many other kinds of cheeses, the texture of Zamorano is very crumbly. The taste of Zamorano is quite similar to that of Queso-manchego – It is creamy and sweet. Still, it is mostly consumed as a snack or accompanied with ham and sausage.
Almond
As the name implies, people use almonds to produce Almond queso. Thus, it is a good option for all vegetarians. This alternative to Manchego cheese also helps reduce the feeling of bloating and discomfort in the stomach.
Cashew
Similar to the almond one, cashew queso is suitable for vegetarians. For this reason, its fat content is less than those made from animal milk.
This product has a slightly fatty and salty taste. You can make your meal of salad or pasta healthier with it, as the food contains lots of vitamins, protein, and fiber.
Tomme de Brebis
It is made from the milk of cows or sheep with a beige outer layer. With a distinctive aroma of lactic fermentation, Tomme de Brebis brings your dish to a whole new level. Similar to the Zamorano one, it is only served as a snack that is accompanied by sausage, bread, wine, or fruit.
FAQs
Does Manchego Melt Well?
Queso-Manchego melts well. It is one of the best cheeses to use for grilling. When cooked, it turns into a slab that has a greasy and fragrant taste.
However, if you buy an industrial one, it will melt even better than traditional products. This difference comes from the fact that the sheep milk composition in industrial queso is less than in traditional one.
Which Cheese Has The Most Similar Taste To Manchego Cheese?
We cannot deny that there are many subs for Manchago cheese. However, the cheese similar to Manchego most in terms of taste is Tomme de Brebis. Both cheeses give your dish a distinctive buttery taste and aroma.
In addition, the taste of sheep milk doesn't stand out much in Tomme de Brebis. Instead, it has a very mild flavor. Another thing in common is that its flavors will become stronger over time.
Final Thoughts
In short, our blog has listed down some highly-recommended cheeses that can be used in your recipe to replace the La Mancha one. Although they all belong to the daily product category, each of them might bring a distinctive flavor to your dish.
We hope that through the above information, you can now select your best Manchego cheese substitute.