Maraschino liqueur is an old ingredient for many classic cocktails, such as the Martinez, which is considered the 'father' of the martini.
The interesting flavor helps elevate the cocktail flavor so much that it can seem to be irreplaceable.
However, this liqueur is not available in all countries, so if you need this specific liquor for your recipe, you can count on this list of Maraschino liqueur substitutes to do the job!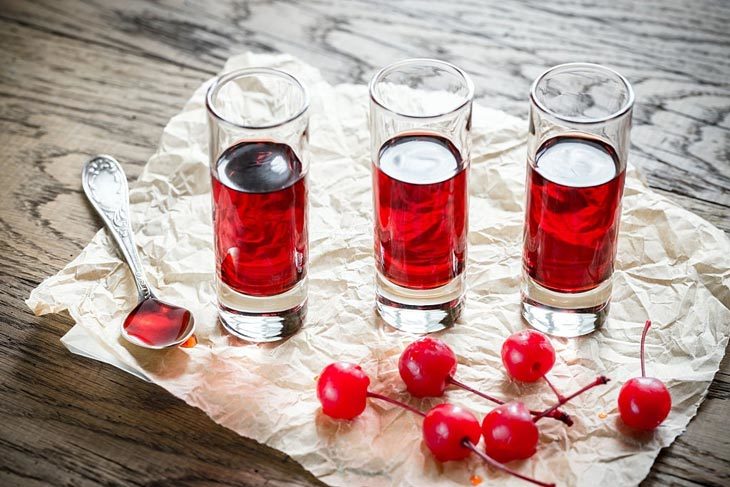 What Is Maraschino Liqueur?
So, what is Maraschino Liqueur?
Maraschino liqueur is made of Marasca cherries originating from the coast of Croatia. The Maraschino liqueur has a clear color from the outside.
There is a bitter and dry flavor of liqueur, a slightly sweet note of cherry, and an almond undertone when tasting it.
How to Serve Maraschino Liquer
Because of its special flavor, it is used greatly in many bars and drinks in classic cocktails recipes like Avion, Martinez, Club, Creole, and Hemingway.
You can also serve the Maraschino straight or on the rocks, depending on your taste.
If you like a flavorful impression, the Maraschino liqueur can also pair with other types of liquors like whiskey, rum, gin brandy, or fruit and herbs like anise and thyme.
As it is cherry flavored, you can also find this amazing ingredient in many dessert recipes such as cakes, tarts, parfaits, and candies recipes.
8 Best Maraschino Liqueur Substitute You Can Try At Home
Maraschino Liqueur is a tasty ingredient in many cocktails. If you don't have it for your recipe, you can always replace it with these Luxardo maraschino liqueur substitutes:
1. Kirsch
Kirsch is a famous drink in German that is also a perfect substitute for Maraschino Cherries Liqueur. The name "Kirsch" in German means cherry, which is similar to our favorite liqueur.
At first glance, Kirsch has a similar look to Maraschino, a clear color liquid. The flavor of Kirsch is made by distilling morello cherries which have a natural tangy note due to the process of whole cherry fermentation.
Still, Kirsch has a fair almond taste that can be used for several Maraschino cocktail and dessert recipes.
2. Cherry Heering
Another amazing Luxardo maraschino liqueur substitute is Cherry Heering. Originated in Denmark, Cherry Heering is a popular liqueur with a distinctive cherry taste.
To make Cherry Heering, people will mix Stevens cherries, spices, and neutral grain alcohol to create a sweet, bitter, and fresh flavor that can be a cherry liqueur substitute.
However, the Cherry Heering color shows a slight red color of cherry, which might not be a good substitute for Maraschino cocktails.
Because of its sweet flavor, Cherry Heering is used in many famous cocktails like blood and sand or Singapore sling. If you prefer a less sweet version, you should look for a Cherry Heering bottle with a "true brandy" line.
3. Sweetened, Cherry-flavored Brandy
Cherry flavored Brandy is another cherry brandy substitute for Maraschino Liqueur in cocktails and desserts.
As the name implies, it is Brandy with cherry notes that can work well as a base spirit. One of the famous brands for this type of drink is Bols Cherry Brandy.
Besides the noticeable cherry note, the flavor of Brandy is subtly sweet, mellow with an oaky undertone which reminds of the Maraschino in cocktails.
You can use this cherry-flavored Brandy for cocktails with light alcohol ingredients. You can also add some sweetener or sugar to make a cherry syrup for your desserts.
4. Port Wine
Port wine can be a great Maraschino cherry substitute because of its aroma. Many people also find port wine similar to Cherry Heering, which is a bonus point to this wine.
Port wine is a type of red wine from Portugal. The use of Port wine is known as a dessert ingredient because of its sweetness.
Port wine has a woody and spicy aroma that is similar to Cherry Heering. The flavor can be described as a sweet, bitter, rich character with a cherry note that you can use for Maraschino.
There are two common types of Port wine in the market: tawny-colored and red. If you want to substitute Maraschino in cooking recipes, you should choose the Ruby, a red Port wine, which has a less sweet taste.
5. Cherry-flavored Vodka
If you're a vodka lover, you would definitely love this Maraschino substitute. This type of vodka is available in many local liquor stores.
My suggestion is the Absolut with a berry and cherries flavor note that is similar to Maraschino.
The vodka has a natural unsweetened taste with the note of cherry. You can use its bland taste to be the substitute for kirsch or base of Maraschino cocktail recipes like Avion and Martinez.
If you prefer a sweet version for enhancing your desserts, you can choose the Pinnacle cherry, which has a sweet and mild tart of cherry.
6. Amaretto
Amaretto is an underrated Maraschino alternative because of its unpopularity. However, in terms of flavor, Amaretto bears a resemblance to our favorite drink.
Amaretto is a sweet Italian liqueur that is mixed with sour cherries. The dry and bitter taste of liqueur combined with sweet and nutty notes makes Amaretto a great ingredient in many cocktails' recipes.
7. Cherry Extract
If you are not a heavy drinker, but you love the taste of the cherry of Maraschino, you can use the Cherry extract to substitute the drink in dessert recipes.
The cherry extract has a strong sweet taste of cherry with a thick consistency.
As it doesn't have certain liqueur characteristics, such as bitterness and dryness, I recommend you test it with a moderate amount for Maraschino recipes.
You can put in a few drops first to check if the taste is overwhelming or not. You can also dissolve it into the water to loosen the intense flavor.
8. Cherry Syrup
If you want to make Maraschino desserts for your family and children, you can choose a non-alcoholic choice, cherry syrup.
The cherry syrup is also easy for you to find because it is available in most local stores. This tasty ingredient is common to use in many desserts for a hint of fruit.
The cherry syrup has a condensed consistency and dark red color of cherry. When tasting it, it has a strong taste of sweetness and sharp sourness.
When looking for the cherry syrup bottle in the store, you should look for those natural, organic, and without added sugar or preservatives.
You can also use the liquid inside canned cherries for Maraschino in cakes, tarts, and parfaits.
Homemade Cherry Liqueur
If you can't find a good cherry liqueur, you can also make your own from scratch. You can follow my homemade cherry liqueur here:
Ingredients
24 ounces of cherries
750 ml of vodka 80 proof
10 ounces of sugar
How to do it?
First, you need to prepare the cherries. Use a pitter to remove the cherry pit. Then take out a glass jar to contain the Cherry liqueur.
Put all the cherries inside, then the vodka and sugar. Then you need to shake the jar to dissolve the sugar well.
Once you're finished, you can tighten the lid and leave the mixture in a dark and cool place in 8 weeks.
After eight weeks, take out the solid parts and put in half a cup of sugar syrup or cane syrup. Then you can let it age for 2-3 months.