Whether you're a seasoned cook or just starting out, mastering the art of cooking fish will impress everyone. But what are the best pans for cooking, and which frying pan is the best for the job?
Today, I'm going to be sharing with you my top 3 pans for cooking fish, from budget-friendly options to high-end favorites.
Tips to Choose a Pan to Cook Fish In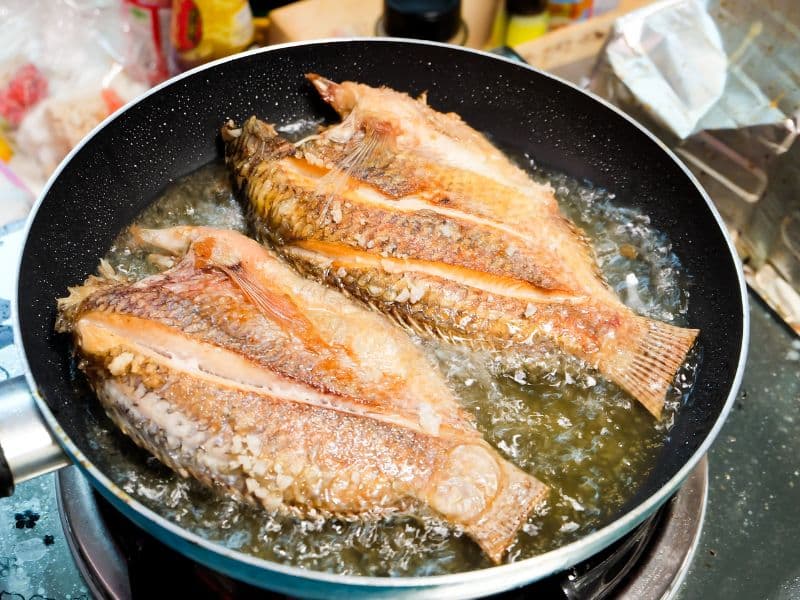 When choosing a pan to cook fish, there are a few things to consider, such as… the price, size and the nonstick ability of the pan.
Pan Size
You will need to consider what pan size works best for you. For example, if you are only cooking for one person, a 9″ pan or below would be a great pan for cooking fish. However, if you are pan searing fish for a bigger family, then a 13″ pan (or bigger) is definitely recommended.
We suggest sticking with a pan that his between 9″ to 13″ pan to cook fish. In fact, I have a 13″ high-sided pan (on the list below), and it is by far the most-used pan in my kitchen.
Non Stick Ability
After understanding the correct size pan to cook fish in, the next step is to find one that is non-stick. Fish has a notoriously delicate texture that can really fall apart on you if it sticks to your pan. We suggest any pan with a non-stick coating. We would not recommend a stainless-steel pan.
BUDGET
There are a variety of price ranges that pans can come in. You can find affordable pans that are decent, and you can also find high-priced pans that are even better. Pick the pan for fish that is suitable for you and fits into your budget.
Best Ways to Cook Fish in a Pan
How to Sauté Fish
A type of cooking we all know and love is called sautéing. It means frying food in a hot pan with a little oil or butter. It's also a great cooking technique for seafood. Here are some of our favorite tips to help you start preparing fish like a pro.
Tips to Sauté Fish
Here are our top tips for achieving a crispy exterior and tender interior when cooking fish.
Ensure that your fish has reached room temperature before cooking.
To prevent it from steaming, pat it dry.
Next, make sure your pan is hot. Then, add some oil and your fish.
Don't use a pan that is too small.
How to Pan Sear Fish
Even though frying isn't the healthiest way to cook, the taste of pan-fried fish is just too good to give up. Pan fry fish like a pro with some of our favorite tips.
Tips to Pan Sear Fish
Here are some simple tips that will help you pan sear a fish.
Let your fish reach room temperature.
Make sure your pan is thoroughly heated.
Dab your fish with a paper towel to remove excess water.
Put your fish on the hot pan skin-side-down if it has skin (not all will)
When the fish appears to be cooked approximately three quarters of the way up from the bottom of the pan, turn it.
What is The Best Pan for Cooking Fish?
The best pan for cooking fish is one that is heats evenly, is large enough to not crowd your fish, and one that can easily be cleaned up.
If you are trying to sear more than one fish at a time, you'll need a pan that is at least 10 inches (25 centimeters) wide. If you only have a smaller pan, you could cut the fish into pieces before frying.
Top 3 Pans for Cooking Fish
Cuisinart Classic Round Nonstick Pan
This 12″ pan is a classic which is a great option if you're searching for a budget-friendly pan, plus it's made with quality materials that will last. It's affordable and easy to use, making it a great option for beginners or those on a budget.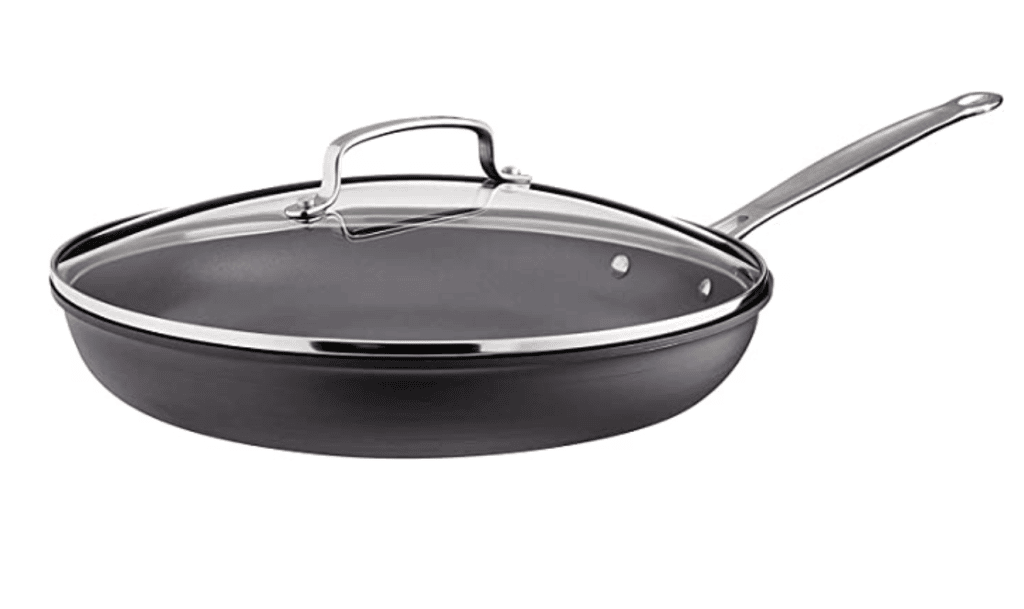 Calphalon Contemporary Hard Anodized 13″ Skillet
This skillet is a bit more expensive, but is definitely worth the investment. It's durable and heats evenly, making it perfect for cooking delicate fish or vegetables.
This is my absolute favorite pan, but second on the list because it is so expensive. This hard-anodized aluminum pan has extra tall sides that are perfect for simmering and braising. I use this pan to cook everything from fish, to chicken, to sauces. And at 13″ wide, I can easily cook for my whole family using only this one pan.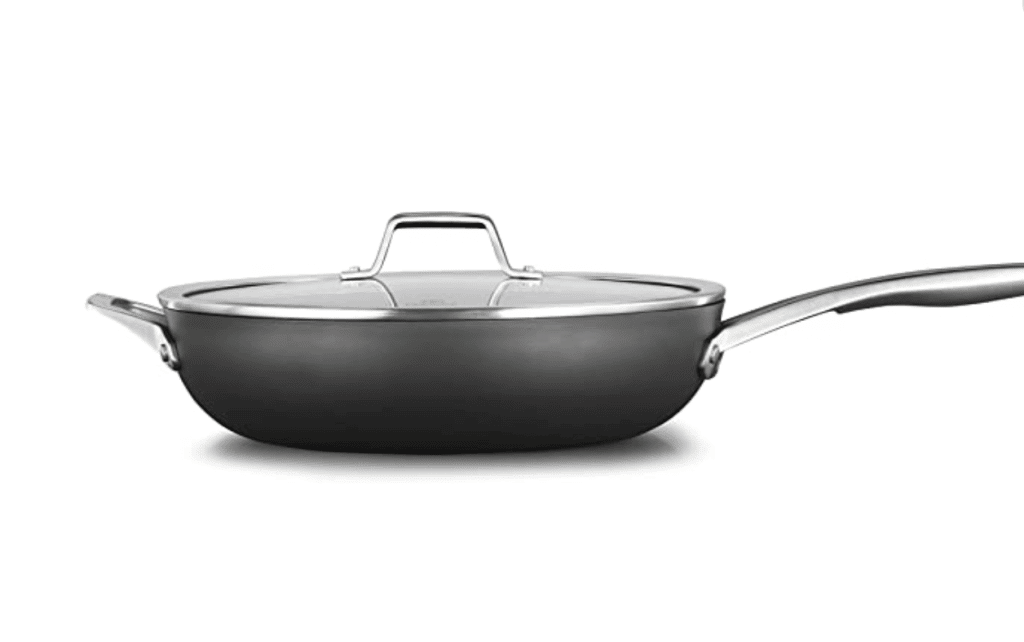 Lodge 12-inch Cast Iron Skillet
You probably need to be an experienced cook to use a cast iron skillet for sautéing fish. If your pan is not seasoned enough, you'll run into some major problems with the fish sticking. Stuck fish will turn into just getting bits and pieces of it out of the pan.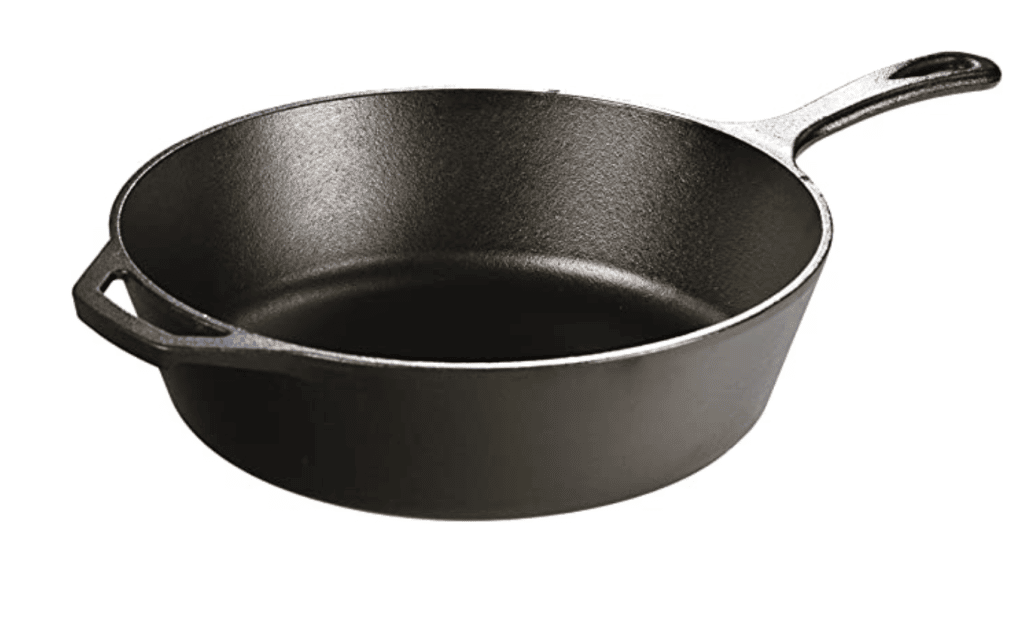 Common Questions About Cooking Fish in Pans
How Long Should i Cook Fish For in a Pan?
Adjust the heat as necessary to make sure the fish doesn't start burning, and cook for approximately 30 seconds to 3 minutes for a thin piece of fish, depending on the thickness of the fillet.
The rule is to cook your fish 10 minutes for every inch of thickness.
How do you keep fish from sticking when Pan frying?
The best way to keep fish from sticking in a pain is to use oil and a non-stick pan.
How do you know when fish is done cooking?
For fish to be safe to eat, it should be cooked to an internal temperature of at least 145 degrees Fahrenheit. You could also check if the fish flakes easily and is opaque using a fork.