5 Best Alternatives For Peanut Flour
Peanut flour, which is well-known for its distinct peanut flavor, is a great aromatic booster in many recipes. Suppose you intend to make some yummy cookies or cakes using this flour type. But you cannot find it on any grocery store shelves.
What should you do in these situations? Which ingredient will be the best peanut flour substitute?
Let's dive into the following article, as we will reveal the top alternatives for this flavorful nut flour.
About Peanut Flour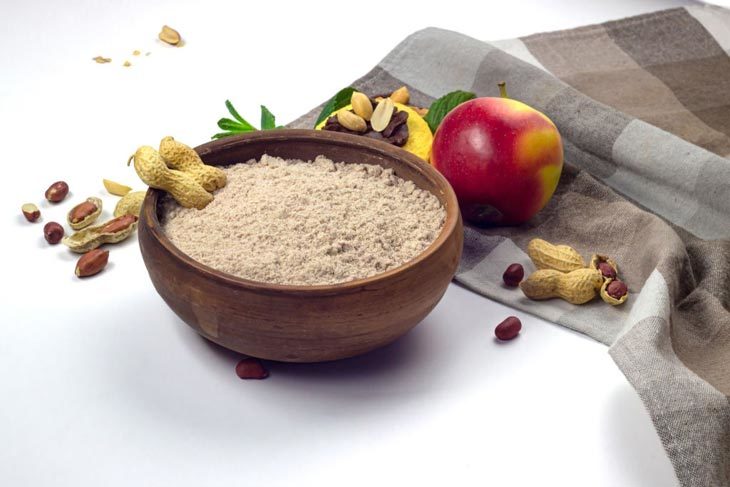 Before getting into details about peanut flour substitutes, let's discover some brief information about this flour type. So, what is peanut flour?
Peanut flour is made from peanuts roasted to a light, medium, or dark degree. Through the pressing process, part of the peanut oil will be removed from the ground peanuts, leading to less fat and more protein flour.
Depending on each manufacturer's process, peanut flour nutrition may vary. However, 100 grams of peanut flour generally provides around 52.2 grams of protein, 34.7 grams of carbs, and only 0.5 grams of fat.
Besides, peanut flour is a good source of vitamins and minerals, such as dietary fiber, potassium, niacin, magnesium, and phosphorus.
The Best Peanut Flour Substitutes
Below, you can go through the top common alternatives for peanut flour.
1. Powdered Peanut Butter
The first name on the list is powdered peanut butter. Among the peanut butter powder brands, PB2 might be the most well-known.
So, peanut flour vs. powdered peanut butter – how are they alike and different from each other?
Similar to peanut flour, traditional peanut butter powder is made from roasted peanuts. However, when grinding the nuts into a fine powder and removing part of the oil, the manufacturers will add sweeteners or salt to enhance the distinct peanut taste.
For these reasons, powdered peanut butter is a perfect flour to boost the creamy taste of your low-carb meals or smoothies.
2. All-Purpose Flour Or White Flour
If you are looking for a more cost-effective and easy-to-find substitute for peanut flour, go for all-purpose flour.
However, this substitution might come with some downsides. The main ingredient of white flour is wheat grains, so it will not have a wonderful nutty flavor. You might also need to put the white flour through a sifter to break up any lumps in the flour before cooking.
3. Coconut Flour
Next is coconut flour – a natural byproduct of coconut milk production. Coconut flour works well as an aromatic enhancer in diverse desserts, especially pastries.
The only minor downside with this substitution is that coconut flour is quite dry. Hence, you might need to add more wet ingredients to achieve a similar peanut product.
4. Almond Flour
What else can you use to replace peanut flour? Well, you can go for almond flour – a naturally gluten-free substitute.
Almond flour is made by grinding and sifting blanched almonds into fine flour. Almond flour can be used in place of peanut butter in most recipes to give them a nutty flavor.
5. Pecan Flour
Another gluten-free alternative to peanut flour is pecan flour, which is made from finely ground pecan nuts.
Pecan flour not only adds a warm, nutty taste to your recipes, but also provides many health benefits. It is a rich source of protein, fiber, and vitamin E.