So, you need to use Pecorino Romano in your recipes, but it's expensive and difficult to find? In such cases, you may want to consider another option for Pecorino Romano instead of doing without it.
Below, we'll discuss replacements for pecorino, so let's get started!
What Is Pecorino Romano?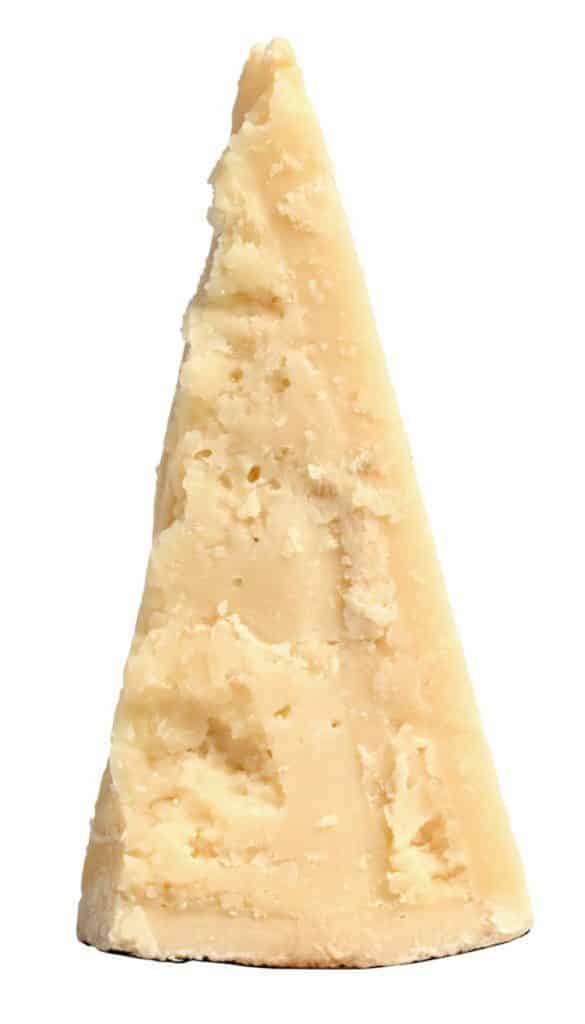 About Pecorino Romano
Did you know that grated cheese is never missing in the list of typical dishes of Mediterranean cuisine? And Pecorino Romano is, of course, not an exception.
Named for its origins in ancient Rome, this ancient cheese is rich in nutrition as it is made from 100% sheep's milk.
It is white to pale straw in color. The texture is grainy, hard but brittle, crumbly, and flaky.
Because of being pressed, rubbed repeatedly with salt in the productive process, it has a salty, funky taste and strong smell. And the special thing about pecorino is that its intense salty flavor increases with age.
When you sprinkle it over or mix it into various dishes such as pizza, pasta (when it's still warm), salads, meatballs and patties, soups, stews, bread, potatoes, roasted vegetables, breadcrumbs, dressings, and sauces, its salty milkiness adds umami note. So it gives you an appetite.
Why Do You Need A Substitute?
It's wonderful to have a piece of Pecorino Romano – one of the popular cheeses in Western cuisine – for your food preparation. But you know what? It's expensive, and sometimes not available.
Compared to cows, a sheep produces just about one-tenth the volume of milk. Furthermore, American sheep breeds produce even less milk than European sheep breeds do.
And as said above, pecorino is made from 100% sheep's milk pure; clearly, it's not enough milk source to produce a large amount of cheese. Its rare nature makes it pricier.
That is also why you need a cheese similar to pecorino Romano to replace. Because of its special taste, maybe it's a bit hard to stand in, but it is not irreplaceable.
Below is the list of 6 great options that you can use to sub for pecorino cheese. And the best thing is that we also include a non-dairy option if you are watching your weight. Scroll down!
Best Pecorino Romano Substitutes
Parmesan (or Parmigiano-Reggiano)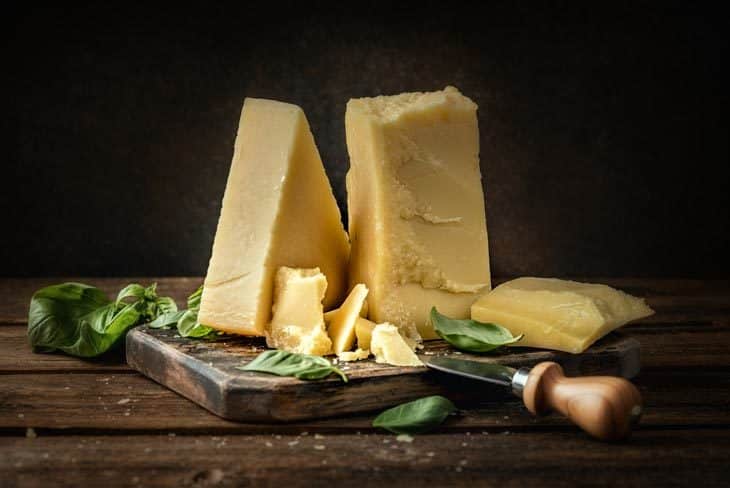 If someone asks what cheese is similar to pecorino, Parmesan springs to our mind first.
It has a hard, dried, crumbly texture and a nutty, sharp flavor like pecorino. Besides, they are both aged, salty and have compounds boosting umami tones.
Parmesan is made from cow's milk, so its flavor is less sharp and pungent than sheep's milk-based cheeses. And the main difference is the amount of salt. Pecorino is considerably more salty and tangy.
Hence, if you want to use Parmesan to substitute for pecorino cheese and get the best outcome, don't forget to add salt to the recipe calls. The perfect ratio is 3 ounces of Parmesan for 2 ounces of Pecorino Romano.
When you already have Parmesan on hand, whether you grate it over dishes or toss it into baked pasta dishes or savory pastries, it will give you a wonderful flavor boost.
Asiago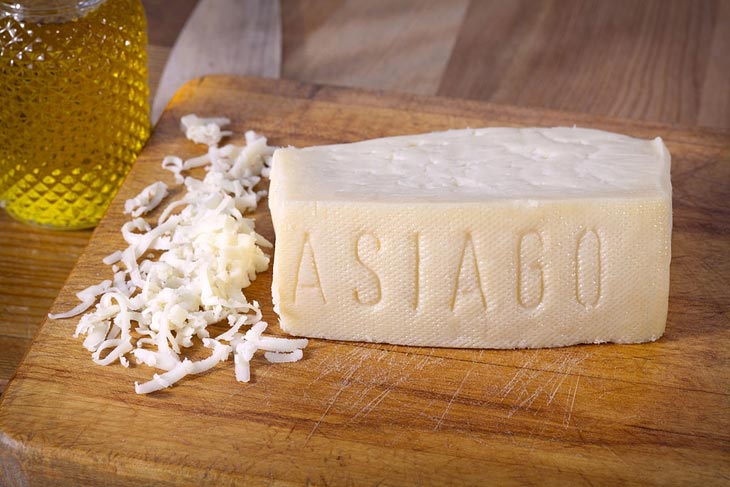 Another pecorino Romano cheese substitute is Asiago, made from unpasteurized cow's milk. It boasts a hard, crystallized texture and sharp profile.
It is still softer, moister in texture, and sharper but less tangy in flavor in comparison with pecorino.
The more this cheese ages, the harder its texture becomes. That is the key to making it an amazing pecorino cheese alternative at a 1:1 ratio. Surprisingly, it offers a nutty undertone like that of Pecorino Romano.
When you throw Asiago on top of hot dishes or in cooked recipes, you can see that it will melt faster. So the best way to enjoy it is eating it by itself or as a side dish, or as part of a cheeseboard. The taste is yummy.
Grana Padano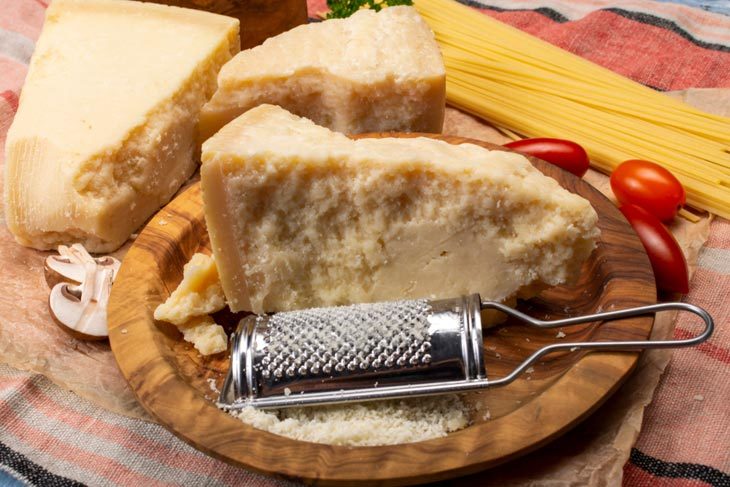 With a hard and crystalline texture akin to pecorino, this is another wonderful choice for answering what is similar to pecorino cheese.
Apart from a slightly less crumbly texture than pecorino, the key difference is their flavor. Grana Padano is less salty, slightly sweeter, and more subtle than pecorino.
However, it's okay; it will still do the trick with most of your recipes.
So what is the ratio for that replacement? The answer is a 1:1 ratio. But, if the dishes with Grana Padano are not salty enough, you may need to add more salt depending on your taste.
Spanish Manchego Viejo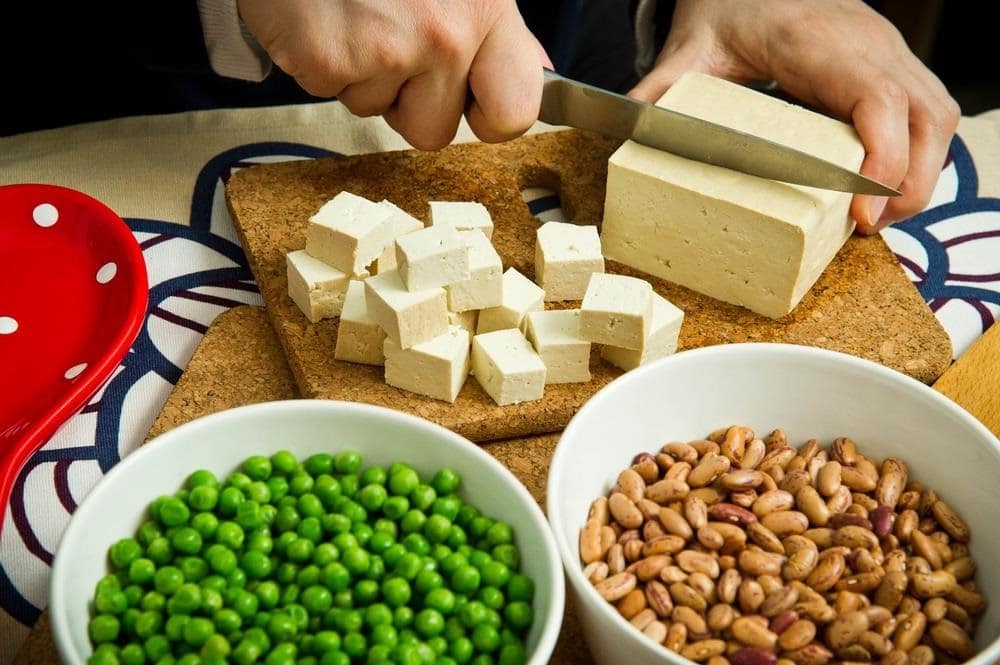 Outside of the three kinds of cheese above, what is pecorino cheese similar to? You can try Manchego Viejo.
There are many kinds of Spanish Manchego cheese, so keep in mind that you should look for exactly the one named Manchego Viejo. It is over one year old.
Why is this aged cheese ideal for pecorino replacement rather than other Spanish Manchego? It's also made of sheep's milk, so there will be many similarities in terms of flavor.
The tangy kick is most clear. One more thing, its texture is also flaky.
About the differences? It is less salty and slightly sweeter than pecorino. But it still works well on pasta and pastries. Remember to add more salt if you sub at a 1:1 ratio.
Piave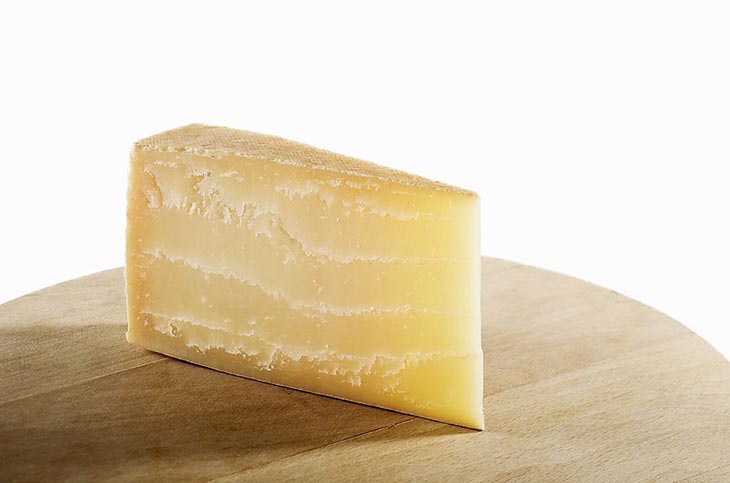 It is a miss not to mention Piave as a pecorino cheese substitute. It has up to five different aging stages, so choose the aged Piave if you want to use it as the best alternative.
The reason is that the older it is, the harder its texture gets. So it will be more comparable to pecorino romano. Whether you use it for any dishes, it won't disappoint you.
The aged Piave is straw-colored. It has a hard, dried, crumbly texture, whereas the flavor is nutty and sharp.
Quite similar to pecorino, right? However, don't forget that Piave is less salty. Thus, you can substitute for pecorino at a 1:1 ratio, but adding salt to your recipe is necessary to get the perfect taste.
Nutritional yeast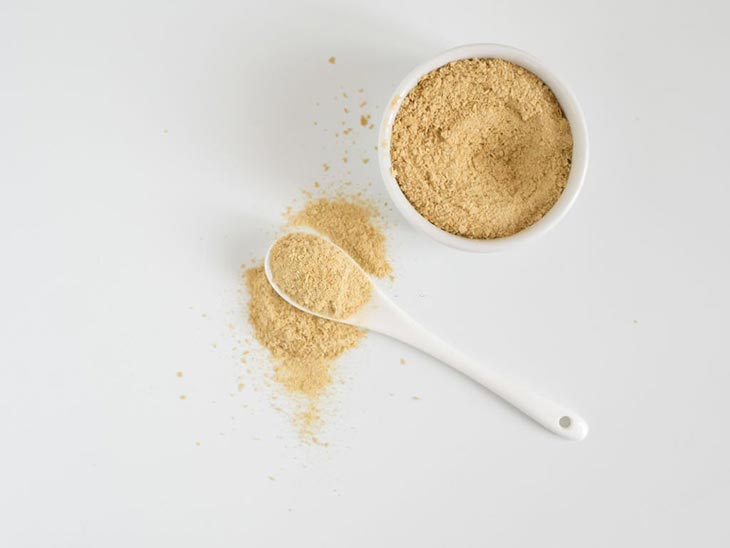 You have enjoyed pecorino cheese before. You love it so much, but now you are a vegetarian or are allergic to dairy?
Why don't you try nutritional yeast? It is the best choice for a non-dairy pecorino romano substitute.
We found that it replicates the palate of pecorino cheese well because it also owns a cheesy, nutty, and umami note.
So what is nutritional yeast? It is known as a species of yeast grown specifically to be a food product.
Containing no milk or milk products, but it holds all nine essential amino acids. Thus, nutritional yeast is good for your health.
Do you know that vegan diets often lack B-vitamins, including B-12? Luckily, nutritional yeast is rich in those vitamins when fortified as flakes, powder, or granules.
Best way to enjoy it is sprinkling over dishes. Yet, the savor of nutritional yeast can be strong.
You should add only half the amount of nutritional yeast as you would pecorino; otherwise, it's not sure how the taste of your food will be.
If you love making a healthy homemade vegan alternative, it's a good idea to combine it with cashews or other substitutes for the more nutty, buttery flavor of pecorino. Take a look at the following basic recipe:
Ingredients include:
4 tbsp (20 grams) of nutritional yeast
3/4 cup (115 grams) of raw cashews
3/4 tbsp of sea salt
1/2 tbsp of garlic powder
1/4 tbsp of onion powder
Follow the instructions below:
You put all ingredients in a food processor to pulse until the mixture begins forming a fine crumb.
But don't mix for very long, or that blend will have more moisture and form clumps due to the oils from the cashews.
After finishing, you can enjoy it immediately. Or, if you want to use it gradually, preserve it in your fridge for up to two months. Try making it at home and tell us what you think.