Pesto is a popular sauce that originated in Genoa, Italy, and is traditionally made with fresh basil leaves, garlic, pine nuts, Parmesan cheese, and olive oil. If you have ever wondered about the pesto taste, then you are not alone!
This delicious sauce has become a staple in Italian cuisine and is widely used in a variety of dishes, including pasta, sandwiches, salads, and pizzas.
Below we'll go over what pesto is made of, how to make pesto and exactly how pesto sauce tastes, so you'll be ready the next time you'd like to give this sauce a try.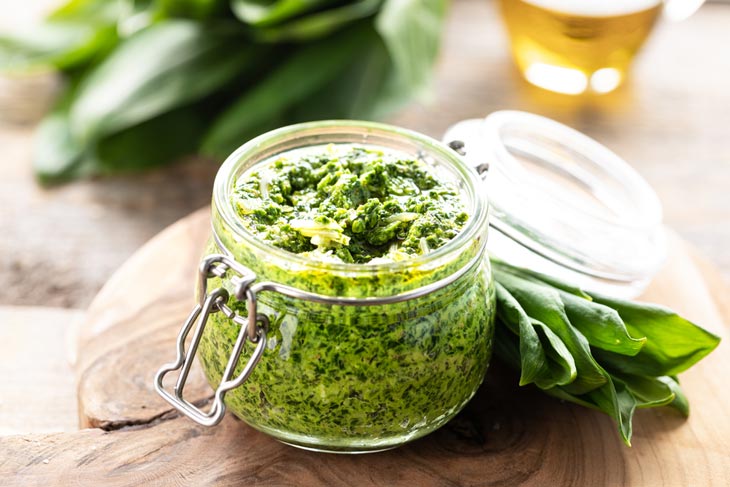 What is Basic Pesto Made Of?
To truly find out the true pesto taste, we will have to take a look at the ingredients that make it. Traditionally, it is made with the following ingredients:
Fresh Basil Leaves: Basil is the main ingredient in pesto, and it gives the sauce its signature fresh and herbaceous flavor.
Garlic: Garlic adds a pungent and sharp taste to the pesto, enhancing the overall flavor.
Pine Nuts: Pine nuts are used to add a creamy and nutty texture to the sauce.
Parmesan Cheese: Parmesan cheese is grated and added to the pesto to give it a tangy and salty flavor.
Olive Oil: Olive oil is used to blend all the ingredients together and provide a smooth consistency to the sauce.
You'll find that some recipes may also include other ingredients, such as lemon juice, salt, or pepper, depending on personal taste preferences.
How to Make Pesto
It is easy to make homemade pesto! Take a look at the steps below.
To make pesto, the basil leaves, garlic, and pine nuts are first ground together in a food processor (or mortar and pestle).
Then, the grated Parmesan cheese and olive oil are added gradually while continuing to blend the ingredients until the desired consistency is achieved. The resulting sauce is typically bright green in color and has a smooth and creamy texture.
Make sure to store pesto properly after opening or making, so it will last until the next time you want to use it in a recipe.
What Does Pesto Sauce Taste Like?
So, what does pesto taste like? Well, the taste of pesto can be described as rich, herbaceous, and slightly nutty. The fresh basil leaves give it a bright and aromatic flavor, while the garlic adds a sharp and pungent taste. The pine nuts add a nutty and creamy texture, and the Parmesan cheese gives it a salty and tangy flavor. The olive oil provides a smooth and buttery finish, tying all the flavors together in a harmonious blend.
When you take a spoonful of pesto, the first thing you will notice is the strong aroma of fresh basil and garlic. As you take a bite, you will taste the tangy and salty notes from the Parmesan cheese, followed by the nutty and creamy texture of the pine nuts. The smooth and buttery finish from the olive oil will linger in your mouth, leaving a pleasant aftertaste.
Pesto taste can vary, as well as the texture, depending on the ingredients used and how it is prepared. Some variations may include different herbs like cilantro or parsley, or different types of nuts like almonds or walnuts. Some people may also choose to add lemon juice or chili flakes for an extra kick.
Overall, pesto is a flavorful and versatile sauce that can elevate any dish it is added to. Whether you prefer it on your pasta, sandwich, or pizza, pesto is sure to satisfy your taste buds with its rich and delicious flavors.
Common Questions About Pesto Taste
Is pesto spicy?
Traditional pesto does not contain any spicy ingredients, so it is not typically considered to be spicy. However, some variations of pesto may include spicy ingredients such as chili flakes or jalapeños which in this case would mean the pesto taste would be spicy.
Is pesto sweet or sour?
Pesto is not typically sweet, but it does have a slightly tangy and sour taste. This is due to the acidity of the lemon juice and the nuttiness of the pine nuts.
Does pesto taste like basil?
Basil is the primary ingredient in pesto, so the flavor of pesto is heavily influenced by basil. However, pesto also contains other ingredients such as garlic, pine nuts, and Parmesan cheese, which contribute to its unique flavor.
What is the difference between store-bought and homemade pesto?
Homemade pesto often has a pesto taste that is a fresher and brighter flavor compared to store-bought pesto, which may have preservatives and additives that affect its taste. Additionally, homemade pesto can be customized to personal taste preferences by adjusting the ingredients and ratios.
What Can I Use as a Substitute for Pesto?
While pesto is a delicious sauce that is hard to beat, there are several alternatives that you can use as a substitute in your cooking. Here are some good substitutes for pesto:
Sun-Dried Tomato Pesto: This is a tomato-based version of pesto that is made with sun-dried tomatoes, garlic, Parmesan cheese, and olive oil. It has a similar flavor to traditional pesto, but with a sweet and tangy twist.
Chimichurri: This is a sauce that originated in Argentina and is made with parsley, garlic, vinegar, and olive oil. It has a bold and tangy flavor that works well as a marinade or a dipping sauce.
Tip: These substitutes can be used in pasta dishes, on sandwiches, or as a dip.
How Long Does Pesto Stay Fresh?
The shelf life of pesto depends on how it is stored, and the ingredients used in the recipe. Homemade pesto typically has a shorter shelf life than store-bought pesto because it does not contain any preservatives.
If stored properly in an airtight container in the refrigerator, homemade pesto can stay fresh for up to 5–7 days. It is important to cover the surface of the pesto with a thin layer of olive oil to prevent it from oxidizing and turning brown.