Take a look at these four easy to make Pollo Tropical recipes that you can make at home!
Favorite Pollo Tropical Recipes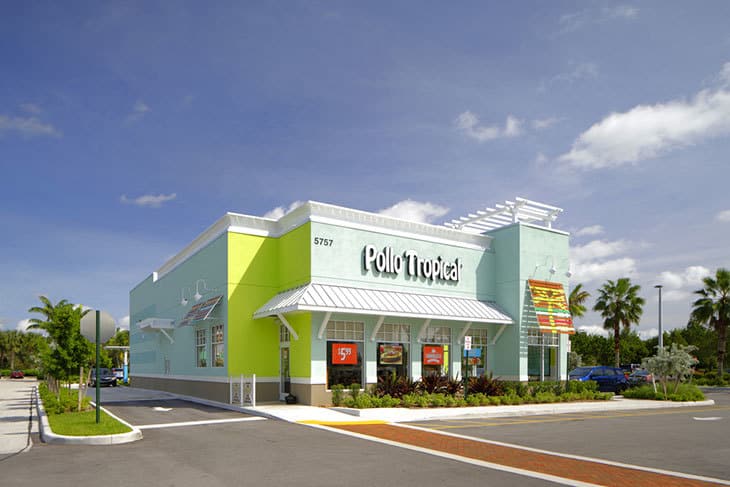 1. Original Pollo Tropical Chicken Grill (Copycat)
Inspired by the cuisine of the Caribbean, the first Pollo Tropical recipe is citrus-marinated and fire-grilled, served with yuca.
You can expect the dish to be a world of tropical flavors with the marinade and additional ingredients such as pineapple and orange juices
No need to drive hard to Pollo Tropical restaurant to enjoy the dish, you can make it at home. You can choose either Pollo Tropical grilled chicken breast or thighs – it depends on your favorite.
Personally, I like the chicken breast, which is low in fat and high in protein – ideal for eating healthy. The thigh is more flavorful and is tender. However, it contains ahigher fat content.
Ingredients
Here I introduce how to make Pollo Tropical boneless chicken breast.
What you need:
2 pounds of of chicken breast
1 tablespoon of fresh garlic. Remember to mash it into a paste
4 cups of sour or bitter orange juice & 1 cup of pineapple juice
1 teaspoon of jalapeño pepper. You should mince the pepper in order not to bite into large chunks
1/4 teaspoon of black pepper & 1/4 teaspoon white pepper, or to taste
1 tablespoon of fresh cilantro leaves & 1 tablespoon of cumin (if you don't like the cilantro taste, you can try list of cilantro substitutes)
1/2 teaspoon of salt, or to taste
1 teaspoon of dried oregano leave
Directions
Step 1: Rub the breast with garlic and spices before marinating it with pineapple and orange juice.
If the sour/bitter oranges are not available, equal parts of orange with lime juice is a possible alternative.
You should pour the juice into a resealable bag so that the chicken is fully coated with the marinade.
Step 2: Marinate the chicken in the fridge from 1 hour to 8 hours.
Step 3: Remove the chicken from marinade, shake off the excess, set aside for grill. (Remember to reserve the marinade. )
Step 4: Cook the chicken on the grill. Please preheat the grill over medium-high heat so that the chicken will not be over fried
You should lightly oil the grate and cook the breast to the extent that the juices run clear and there is no pink color in the center of the chicken piece. At about 165 degrees F, it takes 6 to 8 minute per side.
Baste the chicken with leftover marinade until done.
Step 5: Serve Pollo Tropical with black beans, sides, rice, or yuca con mojo, if any.
Small tips: If you do not have an outdoor grill, you can improvise and cook the breast in an oven using the grilling rack coated with butter.
Cook the chicken for 1 hour at 375 degrees F. The butter might add a bit more flavor to the dish.
Anyway, I love the Pollo Tropical fire-grilled flavor. Nothing can beat its taste!
2. Polly Tropical Seasoning Recipe
Ingredients for Pollo Tropical Chicken Seasoning
1 and ¾ Ibs chicken: breast, wings, or thighs are possible
4 tablespoons of olive oil and 1 tablespoon of minced garlic
4 teaspoons of Sazon tropical seasoning
¼ cup of diced onion; 1 cup of diced jalapeño pepper; ¼ cup of diced bell pepper
¼ cup of pitted green olives; ¼ cup of chopped cilantro
1 cup of crushed tomatoes
1 cup of peas
1 cup of rice
1 and ¼ cups of water
Directions
Step 1: Prepare a sauté pan and mix the chicken with 2 tablespoons of olive oil and 4 tablespoons of Sazon Tropical.
Step 2: Sauté until the liquid disappears.
It means the Sazon Tropical already blends well with the chicken. It not only adds more flavor, but also an attractive yellow color to the chicken.
Set chicken aside for later cook.
Step 3: Add 2 tablespoons of oil and diced onion into the pan and saute for 1 minute.
Step 4: Add jalapeno and bell pepper and saute for another minute.
Step 5: Then, add garlic, cilantro, and tomato respectively. Saute each of these ingredients for 1 minute.
Step 6: Add more Sazon tropical, water, peas, and rice into the pan with the chicken on top. Cover the pan and simmers on low fire within 30 minutes.
Step 7: Let the cover sit for 15 minutes after turning off the heat so that the rice is well cooked.
Step 8: Serve the Pollo Tropical in the plate and enjoy.
3. Pollo Tropical Black Beans Recipe (Copycat)
Normally, restaurants often serve the Pollo Tropical grilled tropical wings or breast with rice or vegetable, sometimes both.
Here I would like to share the next Pollo Tropical Recipe for Pollo Tropical White Rice and Black Bean.
In terms of chicken, just follow the tropical chicken grill recipe as I already introduced above. The next part is for the nutritional side of rice, bean, and vegetable.
What To Prepare for Pollo Tropical Black Bean
First off, I do not own the recipe. I scoured it on the Internet, yet come up with several changes: a little here and a little there.
1 bowl of diced fire-grilled Pollo Tropical chicken
1 generous drizzle of oil: olive or coconut is recommended
Some chopped onion and minced garlic
1 tablespoon of cumin, ¾ cup of roasted pepper
2 teaspoons of chipotle powder, or to taste
⅓ cup of fresh orange juice and 1 tablespoon of lime juice
1 cup of broth and 1 tablespoon of agave syrup
4 cups of cooked black beans and 3 cups of cooked rice
1 diced mango; 1 diced avocado; 2 chopped scallions; and some chopped cilantro (for garnishes)
How To Make:
Back then, I often cooked rice and black bean with some smoked turkey drumstick. Now that I have tried it myself, I find the grilled chicken is an excellent alternative.
Step 1: Cook the dried black bean and the white rice.
No need to pre-soak the dried beans.
If you have a pressure cooker, then add 1 lb bag of dried bean to the cooker with 1 cup of water.
Follow the guidelines of your cooker for the dried bean. In my case, 25 minutes are enough to cook the black bean.
Use another cooker for rice. I have a Japanese rice cooker and it cooks the rice tenderly.
Step 2: Add oil to the pan at over medium-high heat. Add the onion and garlic. Saute until the onion and garlic are translucent and soft.
Step 3: Add some chipotle powder and cumin. Saute the mixture for an extra minute.
Step 4: Add other ingredients: broth; orange and lime juices; agave syrup; and grilled diced chicken; roasted pepper; and 4 cups of cooked black bean. Stir before simmering the mixture for 10 to 15 minutes.
Step 5: Turn off the heat and wait for the black bean to cool down a bit.
Step 6: Serve the Pollo Tropical black bean with cooked rice and the garnishes to balance the taste.
4. Pollo Tropical Yellow Rice With Vegetable
My favorite Pollo Tropical Tropichop combo is Grilled chicken with black beans & yellow rice.
Pollo Tropical Yellow Rice
1 teaspoon of vegetable oil
Some chopped onion and 1 clove of garlic (mince in advance)
1 diced carrot and ½ cup of chopped broccoli florets
¼ cup of diced bell pepper
4 cups of vegetable broth
2 cups of rice
1 package of Sazon seasoning which contains achiote and coriander
1 dash of adobo seasoning with some pepper
It's Time To Cook Now!
Step 1: Spread oil over a saucepan at medium-high heat. Add the onion and garlic, then saute for 15 seconds.
Step 2: Add broccoli, red pepper, and carrot and stir until the garlic begins to be brown. It takes around 5 to 8 minutes.
Step 3: Pour the broth into the pan. Add the rice with some seasoning and stir the liquid so that the rice and vegetable are well distributed.
Reduce the heat and bring the mixture to a boil. After 25 to 30 minutes, the rice is tender and the broth is absorbed. It is time to turn off the heat.
Step 4: Serve the rice with diced grilled chicken and some cooked black bean. If you do not eat the rice up, you can store it in the fridge and reheat the rice later. Honestly, this is my favorite Pollo Tropical Recipe ever :).
Pollo Tropical Sauces Recipes
Occasionally, I would rather not have chicken with sides such as rice or black bean. Alternatively, a small bowl of sauce will do.
1. Cilantro Garlic Sauce
What You Need:
A handful fresh cilantro cut into small pieces
3 cloves of garlic. Remember to peel and chop them in advance
Some pepper and salt, to taste
½ cup of mayonnaise
Other spices to taste.
How To Make:
Step 1: Mix the mayonnaise with garlic and cilantro. Add salt, pepper, and other spices if any.
Step 2: Stir to mix the sauce thoroughly.
2. Curry Mustard Sauce
The curry mustard dipping sauce is ideal for fired yuca often served with Pollo Tropical grilled chicken.
The recipe includes:
1 cup of mayonnaise ( I recommend Duke's mayonnaise)
¼ cup of yellow mustard
1 tablespoon of curry powder
How To Make:
Step 1: Add all ingredients to the bowl
Step 2: Use a whisk to mix the sauce perfectly and smoothly
Step 3: Bring the mixture to the refrigerator overnight for better result
3. Guava BBQ sauce (Copycat)
This traditional sauce makes Pollo Tropical chicken grill really sing. Make and try it now!
What You Need:
8 ounces canned guava paste
⅓ cup of cider vinegar, along with ⅓ cup of dark rum
3 tablespoons of tomato paste
1 tablespoon of soy sauce
3 tablespoons of fresh lime juice
1 tablespoon of Worcestershire sauce
2 teaspoons of fresh ginger, minced
1 white part of the scallion, minced
2 garlic cloves, minced
¼ cup of water
Some salt, ground pepper, and other spices to taste
How To Make:
Combine the guava paste, tomato paste, vinegar, rum, soy, and Worcestershire sauces; lime juice, ginger, garlic, scallion, and water into a small saucepan.
Bring the mixture to a boil and simmer at low heat for 15 minutes. Season the guava sauce with pepper, salt, and other spices to your taste