5 Tasty Pork Chop Recipes For Dinner
Pork is loved all around the world, but in the U.S., chicken and steak are more common choices. Still, pork can be delicious if cooked right.
You can make many different dishes from pork, like pulled pork, ribs, loin, and more. But for most people, the best part is the pork chop. It's soft, juicy, and good for you.
If you want some great pork chop recipes, keep on reading. Below, I'll share five yummy recipes you can try at home.
How To Choose Good Pork Chops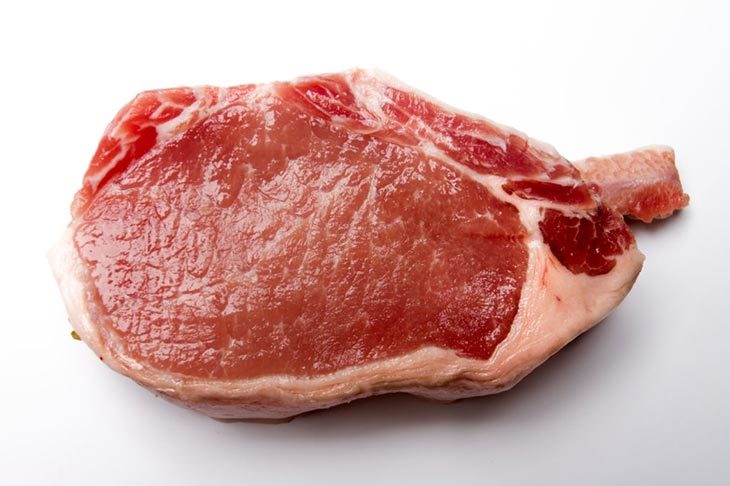 Pork chops is a general term for any part that cut from the loin of a pig. As the loin covers the hip to the shoulder area, there are different kinds of chops for you to choose such as rib chop, sirloin chop, loin chop, etc.
Depending on the meat areas, the pork chops can be lean or fat-combined. Generally, this is a lean and tender cut with mild flavor. Unlike pork cushions requiring a long cooking time, pork chops are quick to cook, which is so perfect for a late dinner.
A good dish depends not only on a detailed recipe, but also fresh and good ingredients. When looking for pork chop cuts, there are certain factors you need to consider buying the best cut for your recipe.
When looking at the pork chops, make sure you pick the best piece of pork. A good pork chop would have a pinkish to red color with a certain amount of marbling. If a chop cut is pale and dark or slimy, it might have started to spoil already.
5 Tasty Pork Chop Recipes For Dinner
Now that we got a delicious pork chop cut, let's turn on the kitchen oven with our five tasty pork chop recipes that are perfect for a family dinner.
1. No Peek Pork Chops And Rice Recipe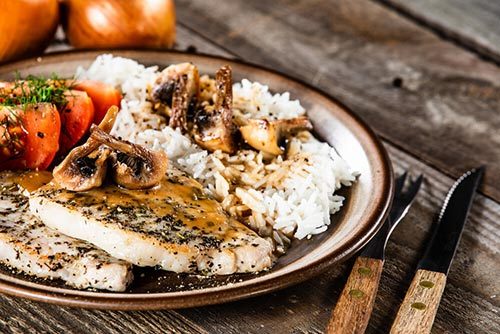 Ingredients
4 deboned pork chops
8 ounces of chicken soup
1 ½ cup of rice
1 can cream celery soup
1 can cream mushroom soup
Salt and pepper
1 pack of dry onion mix
Instructions
Take pork chops out of the fridge 15 minutes before cooking.
Preheat the oven to 300 degrees Fahrenheit and use a nonstick spray on the baking dish or tray.
Then add the chicken broth, celery and mushroom soup, dry onion mix, and rice to the baking tray. Use a spatula to mix them all until they have a sticky, creamy texture.
Season your pork chops evenly on both sides with pepper, salt, and some creamy texture in the baking tray. Let your pork chops sit for at least 30 minutes to absorb the flavors.
After 30 minutes, place the pork chops on top of the baking tray. Use a foil to cover the tray tightly. And bake the pork chops in around 1 hour and 15 minutes to 1 hour and 30 minutes.
2. Pork Chop Alfredo Casserole Recipe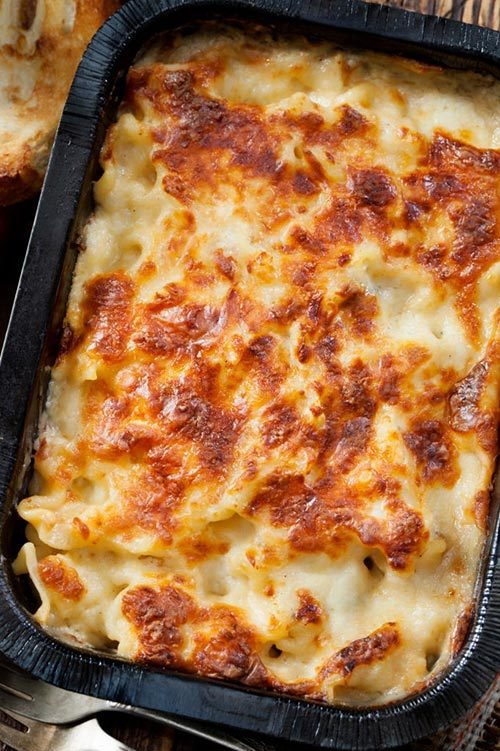 Ingredients
4 deboned pork chops
6 ounces of mushrooms
1 ½ ounces of Parmesan cheese
2 cups of Alfredo sauce
1 teaspoon of garlic powder
9 teaspoons of butter
Salt and pepper
Thyme
How To Cook
1. Let the pork chops sit at room temperature 15 minutes before cooking. Slice the mushrooms into small parts.
2. Season the pork chops evenly on both sides with salt, pepper, and garlic powder. Leave the pork chops to absorb the flavor for at least 30 minutes.
3. Now, place a skillet at medium-high heat and place a teaspoon of butter on to grease the skillet. Then, drop the pork chops on a skillet until they are brown on both sides.
4. During that time, put on a saute pan and saute the butter and mushroom until they are soft and tender.
5. Transfer the pork chops to a baking tray and pour the mushroom mixture on top of the cut.
6. With the used skillet, pour in the Alfredo sauce and blend it well. Grate the parmesan cheese on to give a creamy taste.
7. Pour them over the pork chops. Decorate some thyme on top and cover the whole baking tray with a foil. Insert the baking tray in the oven at the heat of 300 degrees Fahrenheit for 1 hour.
3. Spinach And Feta Stuffed Pork Chops Recipe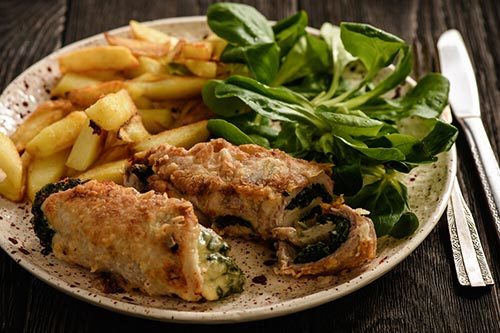 Ingredient
4 pork chops
4 sun-dried tomatoes without oil
10 ounces of frozen chopped spinach
1 ounce of feta cheese
1 ½ ounce of cream cheese
¼ teaspoon of dried oregano
½ teaspoon of Lemon rind
1 ½ teaspoons of Dijon mustard
1 tablespoon of fresh lemon juice
Salt and ground black pepper
Step By Step Guide
1. Take the pork chop out of the fridge 15 minutes before cooking.
2. Preheat the broiler. During that time, you can start to mince the garlic cloves, dice the tomatoes, crumble the feta cheese, thaw the frozen chopped spinach and grate the lemon rind.
3. Then, heat a skillet on medium-high heat. To coat it, you can use cooking spray or oil. After that, add 2 minced garlic for a minute, then salt, pepper, spinach, and tomatoes. You will saute them for a few minutes, then remove them from the heat. Add the cheese and rind to make a creamy mixture.
4. Cut the pork chops horizontal to make some room for the mixture. Stuff the mixture moderately in each cut.
5. Prepare the broiler with cooking spray. As you prepare the broiler, it is necessary to add a rack in the pan.
6. Take a bowl and input garlic cloves, lemon juice, oregano, and mustard to create a sauce. You should spread the sauce onto the pork chops to create a rich flavor.
7. Put the pork chops in the broiler rack and allow it to cook for 6 minutes. Then change the sides of the chops and put on the sauce on the pork. The broiling process will take 2 more minutes.
4. Pork Chop Parmigiana Recipe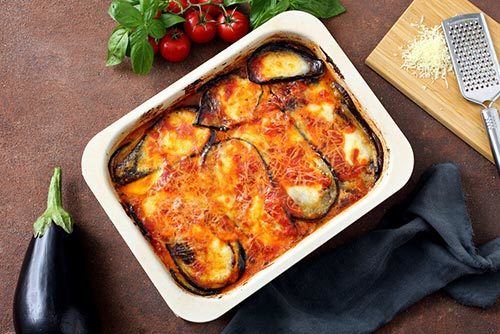 Ingredients
4 pork chops
2 cups of plain dry bread crumbs
3 tablespoons of Parmesan cheese
1 egg
1 can of Tomato & Basil Sauce
8 ounces of penne pasta
Detail Instructions
1. Take the pork chops out of the fridge 15 minutes before cooking
2. Preheat the oven to 425 degrees Fahrenheit.
3. Use a large bowl and input one tablespoon of parmesan cheese and bread crumbs in a large bowl. You can beat the egg in another bowl.
4. Put the pork in the egg mixture, then you can coat it with the breadcrumb mixture.
5. Use a greased baking tray and place the pork chops in. The chops need to be baked for 10 minutes, and then you should turn to the other side, bake for 8 more minutes.
6. Heat a saucepan with the tomato sauce.
7. Serve the pork chops with the tomato sauce on cooked pasta. You can sprinkle with the parmesan cheese for a creamy flavor.
5. Roasted Rotisserie Pork Chops Recipe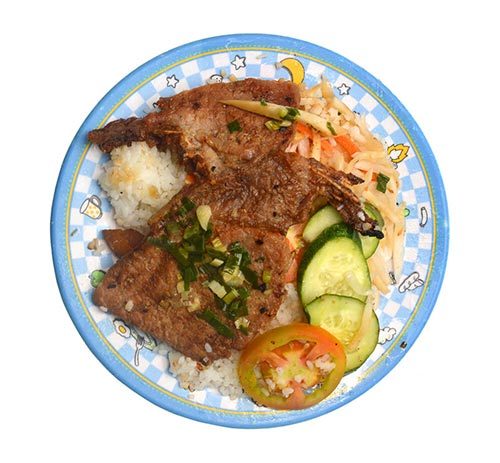 Ingredients
4 pork chops
Salt, cayenne pepper, divided
2 ounces of paprika
2 ounces of brown sugar
1 tablespoon of garlic powder
2 ounces of fresh lime juice
4 ounces of honey
2 teaspoons of dried thyme
1/8 teaspoon of ground cumin
Directions
1. Preheat the grill to medium-high.
2. Pour oil into a bowl and put in salt, 1⁄2 teaspoon cayenne, paprika, brown sugar, and garlic powder. This mixture is for coating the pork chops.
3. Use a nonstick cooking spray to coat the rotisserie basket. Then, place the pork chops in the basket.
4. Lay the basket onto the spit rod and leave it for 10 minutes.
5. During that time, mix lime juice, thyme, honey, cumin, and cayenne to glaze. After chops have cooked, baste the pork chops with glaze. Then, you need to restart the rotisserie for another 25 minutes and repeat basting three more times.
6. Remove chops from the basket and serve this pork chop recipes grill style.
6. Sweet A.1. Pork Chops Recipe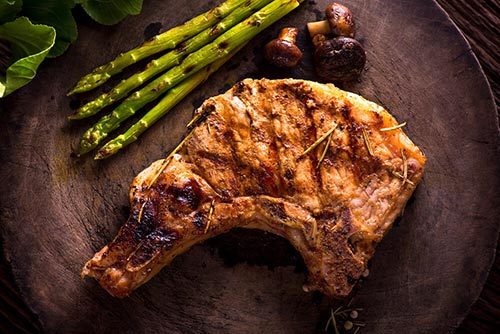 Ingredients
2 bone-in pork chops
2 ounces of A.1. Original Sauce
2 tablespoons of brown sugar
1 teaspoon of chile pepper powder
3 teaspoons of oil
½ teaspoon of garlic powder
Guides:
1. Take out the bone-in pork chops from the fridge for 15 minutes.
2. Combine oil, pepper powder and garlic powder to a bowl. Once the pork chops are soft, you can rub the mixture onto them.
3. Then place them in a shallow pan and put in the fridge for 30 minutes. During that time, you will make the sweet A.1. sauce by adding A.1. and sugar in a mixing bowl.
4. Put the grill on medium-high heat. Take out the blended pork chops and place them on the grill. It will take 4-5 minutes for each side.
5. Before turning the pork to the other side, brush a mixture of A.1. on them.
6. Once the pork chops are grilled, you can take them out and serve!
7. Cheez It Pork Chops Baked With Thyme Recipe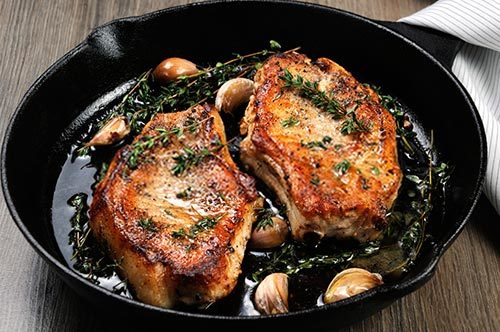 Ingredients
2 deboned pork chops
1 cup of cheez-it crackers
1 teaspoon of thyme
¼ teaspoons of ground red pepper
2 ounces of sesame seeds
2 eggs
Salt and pepper
How To Do It:
1. Preheat the oven to 400 degrees Fahrenheit.
2. In a bowl, crush the cheez-it crackers until they are crumbs. Then, combine them with sesame seeds, salt and black pepper. Take another bowl and crack 2 eggs and thyme inside. Mix them well.
3. Put the pork chops in the egg mix bowl first and then the crumbs. Make sure that they are coated well in the mixture.
4. Coat the baking sheet with some cooking spray and place the pork chops on top.
5. Put them inside the oven and bake for 40 to 45 minutes. When baking halfway, turn their side for an evenly baked.
Tips To Cook Pork Chop
Cooking pork chops can be tricky if you don't know these simple tips.
Understand Your Pork Chop
As there are different pork chops, the meat thickness will be slightly different, which leads to different cooking times. You should ask the butcher first about the cuts to understand whether it is a tender or a thick one.
From then, you can decide how long you can cook it to the desired taste.
Season The Meat
People tend to miss this part as it can take a long time to wait for the pork to sip in the flavor. However, it can be the determinator of the meat flavor. When you season the pork chops, try to brine the chops for at least 30 minutes, so the meat will be most delicious.
Let The Pork Chops Sit At Room Temperature Before Cooking
When your pork chops are still cold, it is hard to cook them evenly. This is one of the main reasons that lead to overcooked or undercooked meat. Therefore, what you can do is to allow the chops to rest for 15 minutes before putting them on a pan. This helps the meat to be cooked faster and more evenly.
FAQ
How Much Potassium In Pork Chops?
In one serving, a pork chop contains 360 – 380 milligrams of potassium, which is a high amount compared to chicken or beef.
Our Freeze-Dried Steaks And Pork Chops Are Edible?
Freeze-dried meat sounds like a hideous thing to eat, but it is used in the military for soldiers on the battlefield. To rehydrate them, you need to let them sit in warm water for a certain time. Then you can cook them as normal meat.