Many dishes are made with pork tenderloin. This is a very common ingredient that you can find at farmer's markets or supermarkets. But, in some cases, though, some people may want to choose a pork tenderloin substitute for their recipe.
If you have ever wondered: what can I use instead of pork tenderloin, don't miss out on this post.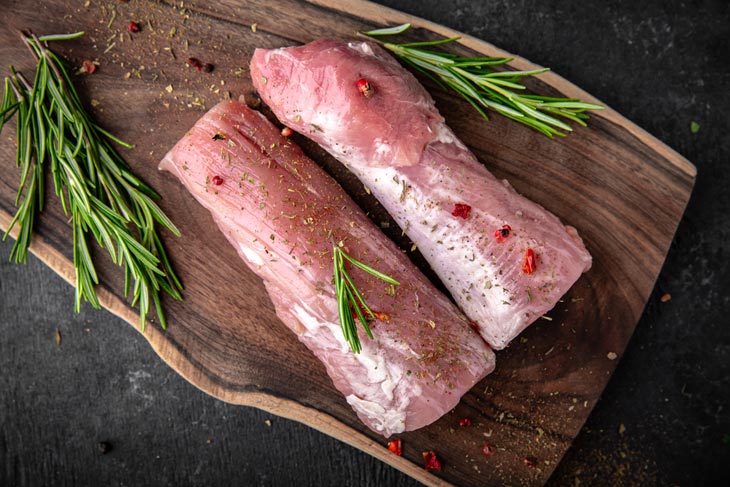 What Is Pork Tenderloin?
It is a cut of pork taken from between the shoulders and the hips, below the backbone. This meat comes with a lean and tender profile with no bones.
It is a long, thin, and small part of the meat. Usually, people chop it into 5-pound pieces to sell out.
Color is a factor people use to choose a fresh and delicious cut of meat. Raw meat will have a pinkish-red color. Once cooked, it turns into a dark red or light-brown shade.
Because this is the best tender part of the meat, it is suitable for quick cooking at high temperatures. It takes you less than 30 minutes to make a delicious dish from this ingredient.
Flavor aside, you can also benefit from its chock-full nutrients. It brings your dish the real sweetness of the meat and contains very little fat. For those on a low-fat diet, this will be a great choice.
Common Cooking Methods
There are many recipes to make delicious dishes from this cut meat. The most common ways of cooking are roasting, baking in the oven, pan-frying, or BBQ grilling.
You can combine it with vegetables like garlic, potatoes, Brussel sprouts, onions, or green beans. Besides, you can serve them with many kinds of common sauces like honey garlic, creamy mustard, cheddar cheese, or peanut sauce.
We love the stir-fried pork tenderloin with tofu and cashews. This Asian-inspired dish will surely be a star at dinner.
Pork Tenderloin Substitute
1. Pork Loin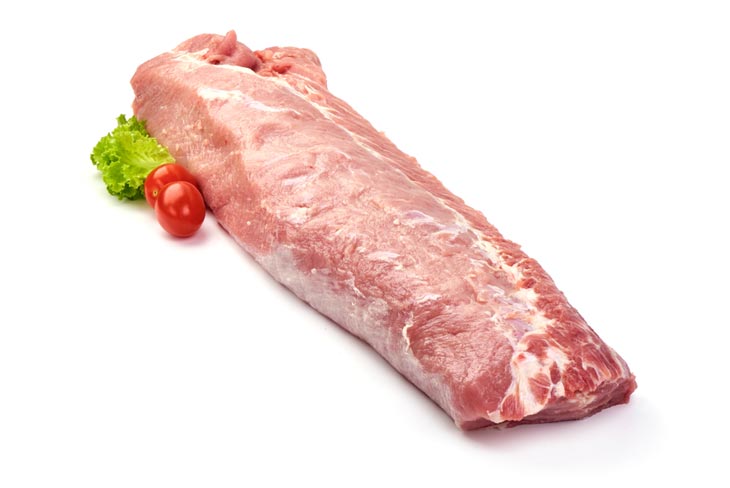 They can be the best substitute for pork tenderloin. A lot of people think these two cuts are the same. But the truth is not.
In the pork loin diagram, both of them are between the shoulder and the hip. The tenderloin is below the backbone, while the loin is above. A pork loin steak can sometimes have bones.
It is usually wider and flatter than the other. These delicious cuts of meat have a bright pink color when raw. They change to pale pink or white after being well cooked.
If you like a dish with a little bit of fat, pork loin and pork belly can please you. Belly meat will have a higher level of fat. Pork loin is a better choice if you want a healthier alternative.
It is a good substitute for grilled or roasted dishes. The quantity is not too much different. You should cook it with medium heat; 145 °F is enough. You need to check the temperature so that it doesn't dry out.
2. Pork Chop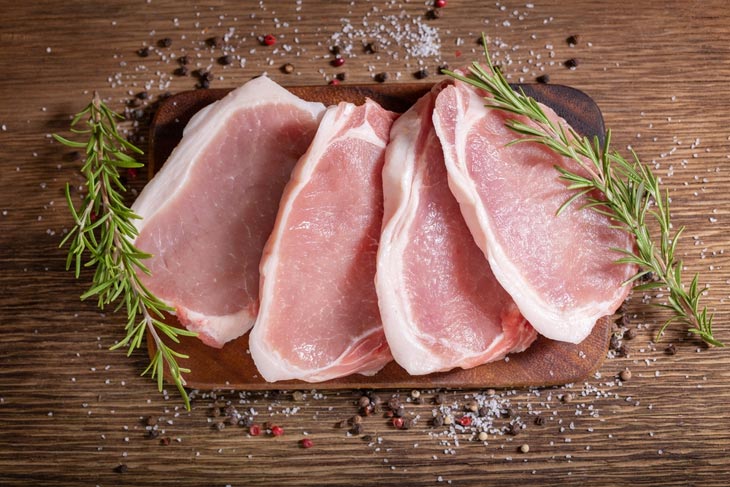 It is another type of pork tenderloin substitution. This cut is on the shoulder, parallel to the spine. It is usually round-shaped or T-shaped with bones.
Pork chop may or may not have a layer of fat around the cut meat. But, it is harder because of more connective tissue.
A cut of pork chop comes with a tough texture. It has high nutritional value thanks to many kinds of vitamins, proteins, and low-fat content.
Besides, it does not dry out easily. You will find it stiff but still very chewable when cooked to the right temperature (about 145°F).
It can be the substitution in most grilled and pan-seared dishes. Your dish still has a delicious taste and specific aroma. This cut is an ideal ingredient for broiled dishes owing to the firmer texture.
This meat is quite versatile and can be used as a substitute for many other ingredients. You can even choose it in your recipes instead of lamb and mutton.
3. Chicken Breast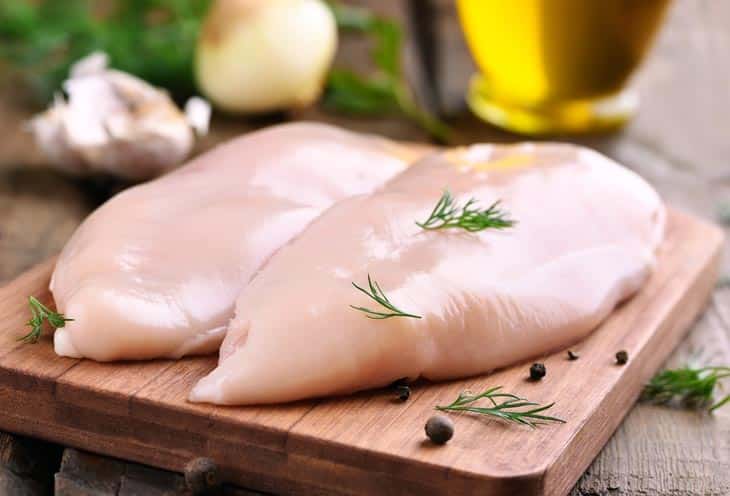 Chicken breast is the ideal choice for people who want a healthy diet with low protein. Besides making fried chicken, you can use it to replace pork tenderloin whether in Asian or Western cuisine.
Both are lean cuts of meat, tender in texture, contain many nutrients, and are low in fat.
However, the fat in chicken breast is still lower. It is why people who play sports or train muscles usually have it in their diets.
Although it has a flexible use, chicken breast is not always a great replacement. Baked and pan-fried dishes are examples. Meanwhile, it is a wise choice for stir-fries, pasta, sandwiches, or salads.
Chicken breast cut is usually short and flat, but it takes a long time to cook. The quantity of the two cuts of meat will not differ in the recipe.
But in some places, the price of chicken breast is more expensive. So, budget is also a factor in deciding what kind of meat you should choose.
4. Beef Tenderloin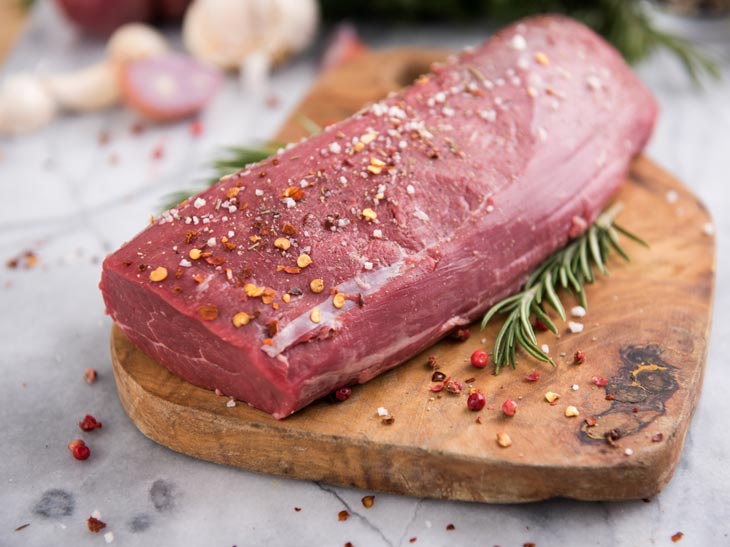 Pork tenderloin can become a beef tenderloin alternative and vice versa. It is a suitable selection as both come from the same cut meat of the livestock body.
They all have a soft, boneless texture. Cooked meat is delicious, sweet, and has a flexible flavor depending on the way you prepare it.
However, you need to note that beef tenderloin will be fatter and have a stronger aroma.
With fried or pan-fried dishes, beef tenderloin will be a great substitute. The certain fat content will help it be tender, delicious but not dry. If you love sauces, pairing them with beef may be a great experience.
Besides, the heat degrees for beef tenderloin cooking are also very diverse. Thanks to beef tenderloin replacement at different temperatures, the flavors of dishes are various. That is why people love beef steak more than pork steak.
Conclusion
Repeated recipes will lead to boredom for the taste of the dish and the cook himself. The pork tenderloin substitute mentioned above will give you a versatile replacement for your dish.
These substitutions are easy to find. You don't have to invest in much effort to prepare. These ingredients are necessary for making the meals of your family more flavorful.
Each cut of meat will have some unique characteristics, so select carefully before deciding. Besides, the taste will determine if your alternative is worth a try.
It is better to test the water and go for the best-suited one.