Port wine is not only for drinking, but it also becomes an indispensable ingredient in many recipes. It can bring a whole new flavor and texture to dishes.
So, what if you don't have access to port wine? Is there any port wine substitute to add to your food that brings a similar taste? Let's find out below!
What Is Port Wine?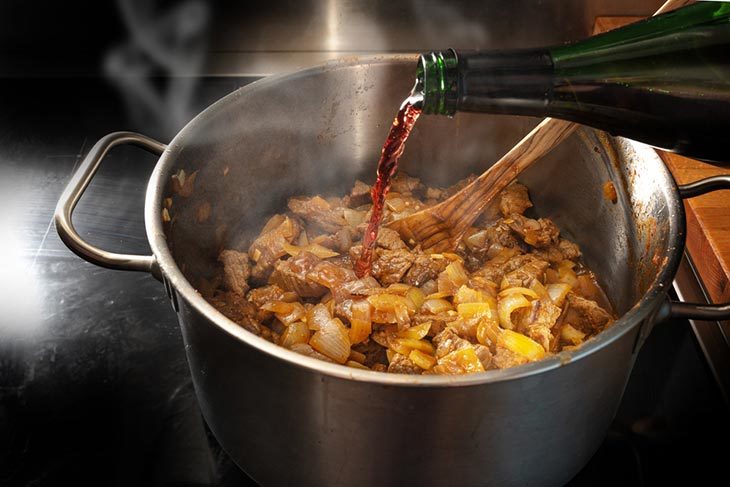 Port wine is one of the fortified wines that arose from Portugal. Its main ingredients are numerous grape varieties from many regions, such as Touriga Nacional, Touriga Franca, Tinto Cão, and Tinta Roriz.
The feature that makes it outstanding from other types of wine is that it undergoes a distillation process with distilled grape spirit.
The word "port" comes from Porto, a coastal town along the Douro River. That's why an authentic port wine must originate from Portugal Douro Valley.
The type of wine has gained its reputation and spread out in many countries globally, so its recipe is also customized to become diverse. Besides grapes, it has other flavors like blackberry, raspberry, or caramel.
It is a dessert wine served at the end of the meal, as it has a sweet flavor. Because of experiencing the distillation process, it contains more alcohol content than an average glass of wine.
It's nearly 17 to 20% alcohol by volume (ABV) vs. 12 to 14% % alcohol. For this reason, it should be drank in small servings.
When it comes to variants, port wine has types, up to 52 varieties. Among them, there are two sorts more popular than others, including Tawny and Ruby.
While Tawny brings the flavors of caramel and nuts, Ruby is less sweet with chocolate and berry notes.
How To Choose A Port Wine Substitute?
As shared earlier, port wine is a dessert wine, so it's ideal to serve with various desserts and other sweet dishes. You can try using it with smoked cheeses, chocolate truffles, or strawberry angel food cake.
Apart from sweet food, you can add it to savory dishes like braised short ribs or lamb roast as a sauce. Its presence gives a fruity aroma and natural sweetness.
Remember that the essence of port wine is still wine, so you need to keep these considerations in mind when choosing a port wine substitute.
Like other wines, port wine comprises a wide range of varietals. Thus, you should know the type used in your recipe before selecting one other substitute for port wine in recipes.
You need to pay attention to the quality of the alternative you tend to use. It's not necessary to pick an expensive substitute, but the same quality one as this type.
Furthermore, pay attention to the alcohol content. Port wine usually has higher alcohol than the others, as mentioned above. Therefore, you must select one that has almost the same alcohol content.
The sweetness also determines how successful the substitutes are in your dishes. Note that port wine always has a natural sweetness with typical fruit flavors.
Recommended Port Wine Substitute
If you are looking for the best substitutes for port wine, the list below is for you.
1. Marsala
If you use ruby or tawny port in your dish, Marsala should be the best substitution for port wine type. It is so versatile with the different sweetness levels, including sweet, semisweet, and dry.
Like ruby port, the Italian wine has a fruity and sweet flavor and ruby color because it is also made from red grapes.
Notwithstanding, it doesn't combine as many complex flavors or depth notes as you find in tawny or ruby port. So, you can add it to sweet courses like desserts.
2. Sherry
Another best option for a substitute for port wine in cooking is Sherry. It is well known as the port wine cousin because the flavor and the taste are considerably similar, sweet, and fruity.
However, you should note that Sherry is a little sharper and dryer in taste than sweet port wine. That's because the berry content in this alternative is relatively higher, but the sugar content is quite lower.
So, it will leave an extremely impressive fruity aftertaste.
3. Madeira
One of the most common substitutes in recipes of a professional chef. This is also a type of fortified wine-like port. It comes with different levels of sweetness, which enables you to add to various dishes.
Hence, this best port wine for cooking brings several hints of flavoring to your food.
It has a wide range of varietals, but most are high-priced. The advice is you should choose the cheaper versions for cooking, such as Sercial, Boal, or Verdelho. They still work well as others but are more cost-saving.
It is the best replacement for a ruby port for cooking. Nevertheless, it works much better in acidic recipes and savory dishes like sauces or poultry rather than sweet desserts.
4. Merlot
There is nothing better to replace ruby port than Merlot. The substitute for port wine for cooking is a super sweet, rich, and smooth wine with plum notes. You can easily find it in any supermarket at a reasonable price.
If you are looking for a great port alternative to use in red meat recipes, then Merlot will surely meet all your demand in terms of flavor, taste, and appearance.
In particular, it will be the ideal condiment in dishes such as lamb, beef, tomato sauce, slow-cooking, or stews.
5. Chianti
Do you need another port wine for cooking for ruby port? Then go for Chianti. It is medium-bodied with a concentrated fruity and sweet due to cherry flavor.
It is lighter and dryer because of its acid content, which makes some cooks unsatisfied to use it in some courses.
That said, high acidity in berry content makes it perfect for reducing the fat in light or high-fat poultry dishes rather than for making textured sauces.
6. Sugar-Free Fruit Juice
If you require a non-alcoholic substitute for port wine, sugar-free fruit juice is the best choice. Depending on your recipe, you should choose suitable fruits to create the right sweetness and savor.
It works better in desserts, marinades, and also meat dishes. However, this option is not a great idea for soups. When using it, you need to apply equal parts for the wine port.
7. Zinfandel
You can also list Zinfandel into the list of substitutes because it brings fruity flavor like other ports. Its alcohol content is the lowest, nearly non-alcoholic.
Hence, it's better to mix it with 1/4 part sugar and 1 part brandy if using it.
Some chefs don't recommend it as a cooking port because it may change the flavor and texture of the dishes after you finish cooking them. Still, it is suitable for dessert recipes because of its fruity notes.
8. Riesling
When it comes to port substitutes for desserts, nothing can work better than Riesling. It is a white wine with sweet and fruity flavors from late-season grapes in Rhine, Germany.
It is a great combination of tart and sweet notes, perfect for drinking or adding to numerous dishes. Professional chefs often choose this port wine cooking substitute because of its high alcoholic content.
Apart from adding to desserts, it is extremely versatile in savory cooking like poultry dishes to substitute tawny port.
9. Vermouth
Like port, this port substitute is also a fortified wine, which means its alcohol content is higher than usual. So, it can affect the taste of your food or even swamp it if you add too much.
That said, Vermouth is still the best replacement for any port because it works great in cooking. As long as you know how to adjust sweetness, it can be versatile for different recipes.
10. Chardonnay
Chardonnay perhaps isn't the best substitute for port, but it still helps you achieve good results in certain dishes. It also has an apple or lemon fruity flavor, but it is relatively dry and sour.
To tone down the fatty taste, you can add this port wine substitution to some rich-fat dishes, such as poultry cooking, gravies, or creamy sauces.
Remember to use the proper amount to get the best achievement.
11. Syrah
Besides the above port wine substitutes, Syrad is not a bad idea because its texture is pretty close to the port. Moreover, it shares nearly the same alcohol content, about 14 to 20%.
The flavor is subtle and sweet, thanks to the combination of blackberries and blueberries.
This port wine alternative is ideal for hearty meals, such as braising dark meats, stews, or casseroles. Due to higher alcohol content, it's a great ingredient for sauces and textures.