11 Best Ingredients for Potato Starch Substitute (Easy To Find)
Have you ever been halfway through a recipe but running out of potato starch? Worry not. We are here to help you looking for a potato starch substitute.
By reading our article, you will also learn the benefits of potato starch and its use in your cooking.
What Is Potato Starch?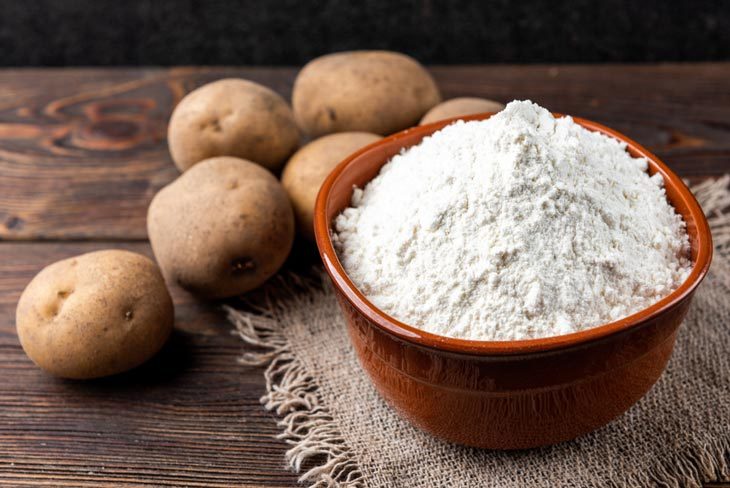 Potato starch is extracted from crushed potatoes. The potatoes are crushed to extract the starch grains from the root tubers' destroyed cells. Then the starch is washed out and dried to powder. After processing, it turns into a powder-like and dry substance.
The powder possesses a strong white color because of its minimal fat and protein. Additionally, the cooked starch has typical traits like the bland taste, good texture, and minimal yellowing or bloating.
Health Benefits
Many starches are classified as resistant starch. Since potato starch also falls in this category, it helps normalize blood sugar.
Eating a meal with this ingredient can make people fuller than normal, making it the better choice for diet and working out.
Starch is also good for those trying to reduce gluten when cooking since it is gluten-free.
What is Potato Starch Used For?
It is mostly used for baking and cooking. You can use potato starch as thickener or a thickening agent. Since the powder is flavorless, it doesn't change the taste of your food ingredients. It also won't make your broth look blurry when added to your cooking.
Additionally, it is a gluten-free alternative for flour in bread and doughnut recipes. Starch acts as an additive to preserve fried food like meat, vegetables, and fish.
It applies a crunchy and rich layer to those foods, gives them a nice texture, and keeps them from clumping.
Potato Starch vs. Potato Flour
Potato flour is made from actual potato pieces. Manufacturers will peel, chop, dehydrate, and grind them to powder. This powder tastes like a potato and resembles wheat flour both in texture and color.
Unlike potato powder, potato starch actually doesn't use potato pieces. Only the starch is extracted and processed. It also has a neutral taste and traits similar to other starch: clear white, powdery, and gluten-free.
11 Substitutes for Potato Starch
1. Cornstarch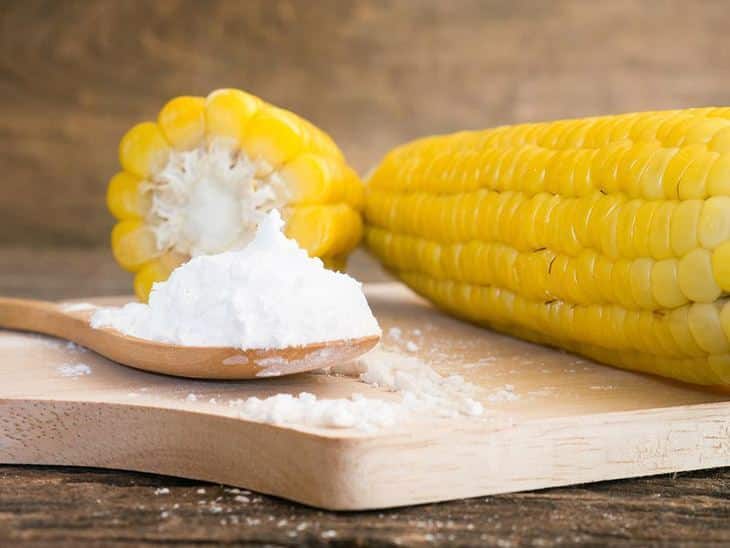 Cornstarch is a popular food ingredient, often used to thicken soups, broth, sauces, or even instant pudding and make corn syrup.
This powder is flexible, easy to modify, and has many uses in other industries like paper, medic supply, etc.
Cornstarch is just like potato starch, except it is made from corn, of course. It has a neutral taste and lacks color. It is a great substitute for potato starch for frying.
You can utilize it to make the coating crispier and absorb moisture, creating a crunchy and shiny texture in your dish.
Like any starch, cornstarch is gluten-free. Are potato starch and cornstarch interchangeable? The answer is yes.
You can use a 1:1 ratio in cornstarch to potato starch conversion. It also tastes like potato starch, so don't worry much about the flavor. It's flavorless, you know?
2. Arrowroot Powder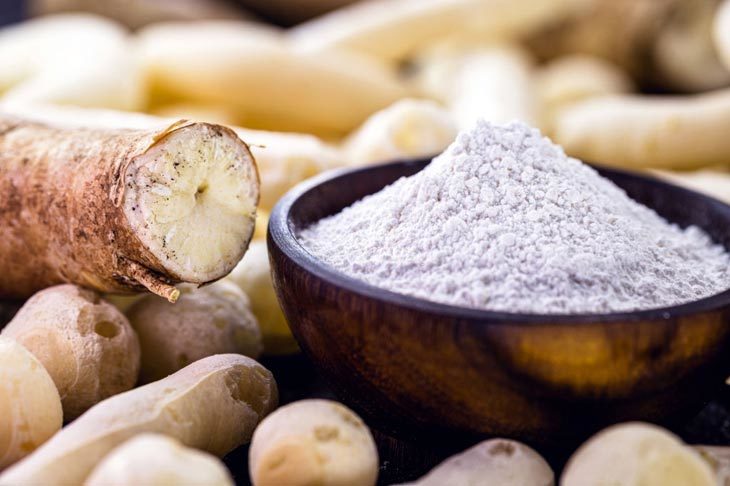 Arrowroot is a starch from the rootstocks of several tropical plants. Polynesian and Japanese arrowroots are also the same type as the mentioned arrowroot.
This ingredient was very popular in the 19th century. It can be turned into jellies, cakes, puddings, or used with milk or broth.
You can effectively substitute arrowroot for potato starch. It's a perfect choice for a gluten-free dish.
Since it's an efficient thickening agent, arrowroot powder is useful in almost any recipes that other starch can be good for, such as bread or sauces.
Like cornstarch, arrowroot powder is a great choice to use in place of potato starch without much calculation.
But if you want to be exact, one and a half or two teaspoons of arrowroot starch is equivalent to 1 teaspoon of potato starch powder.
3. Tapioca Starch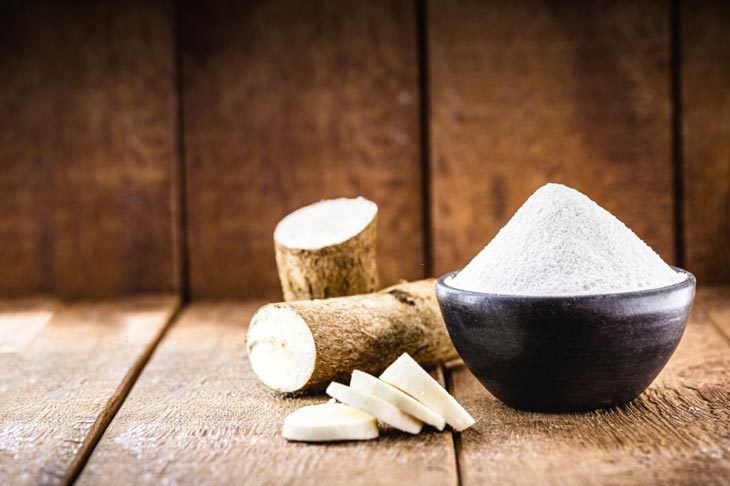 Tapioca originated from the roots of tropical plants in South America and South-East Asia.
Meals with tapioca have been staple foods for many people in tropical countries. It contains carbohydrates but is low in minerals and vitamins. People on gluten-free diets can eat bread with tapioca starch in it.
Tapioca starch, also called tapioca powder, has features similar to the arrowroot one. The only difference is their origin.
Arrowroot and tapioca are made from very different tropical plants despite being both in South America and Asia. Arrowroot leans toward a herb.
Tapioca powder is a fine choice to use instead of potato starch. Since they share the same attributes, you can refer to a 1:1 ratio.
However, just add a reasonable amount of tapioca starch to your bread, don't be too excessive.
4. Mashed Potatoes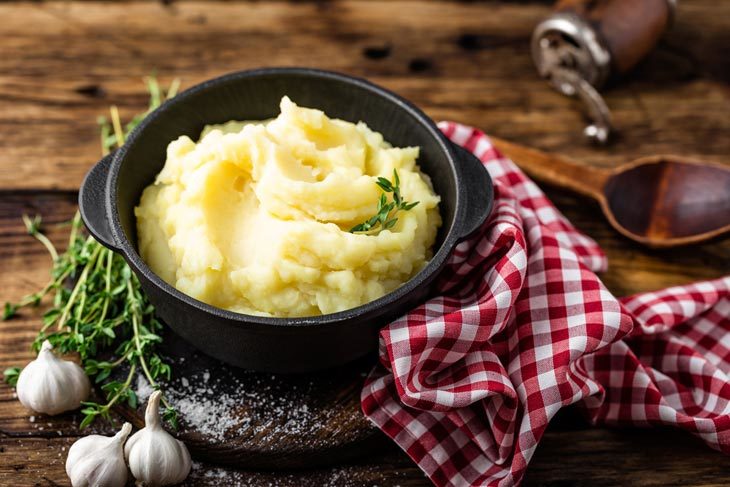 Mashed potatoes might look like an unusual choice, but it is still a good thickener for broth and sauce. It can also serve as a coating for fried food or bread.
Its features are surprisingly similar to potato flour since mashed potatoes are just potato powder without much processing.
To use mashed potatoes, you need to grind them or put them in a food processor, blender to refine them into powder.
Apply a 1:1 ratio, but keep in mind that mashed potatoes are seriously high in sodium. Overall, it is a wild card.
5. Rice Flour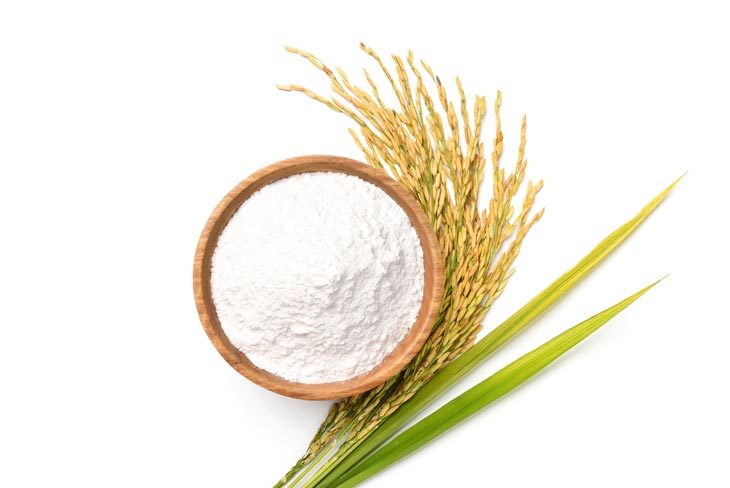 Rice flour is made from carefully pounded rice. Its characteristics are quite distinct from starch. It is a common alternative to wheat flour, but you can use it as a potato starch substitute, too.
This ingredient is a little granular, but you can still use it as a thickening agent. Furthermore, it is tasteless and gluten-free. Since it is heavier than starch, it will work well for soups and stews.
Rice flour also serves as a thickener in cool or cold food recipes as it has the ability to separate liquid.
To use rice powder in your dish, mix 2-3 tablespoons with a cup of liquid at the beginning of your cooking process since the ingredients are still cold.
6. Sweet Rice Flour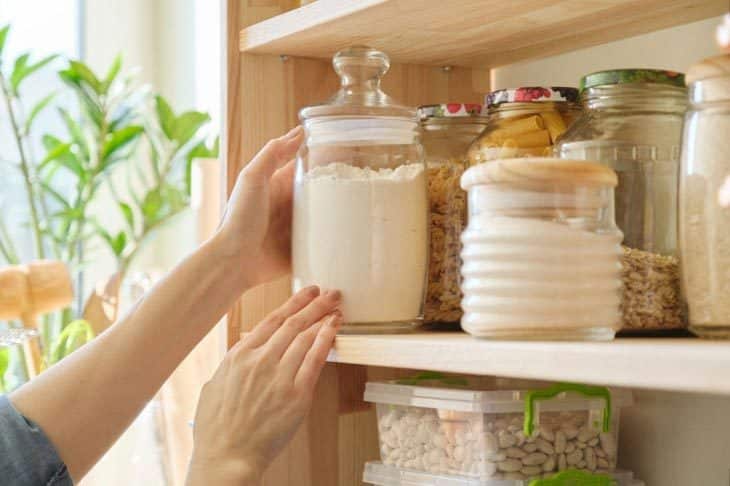 Sweet rice, also known as glutinous rice or sticky rice, is a kind of rice that is mostly grown in East, Southeast Asia, and India.
It is called glutinous rice because it becomes very sticky when heated. You can notice it usually popping up in Asian cuisine.
Sweet rice flour is a decent sub for potato starch, most notably in baking since it adds a sweet scent to your dish. Be careful that it also makes your dish chewier and less gritty than using rice flour.
Like rice flour, use 2-3 tablespoons with a cup of liquid in the early stages of your recipe for the best result.
7. Mochi Flour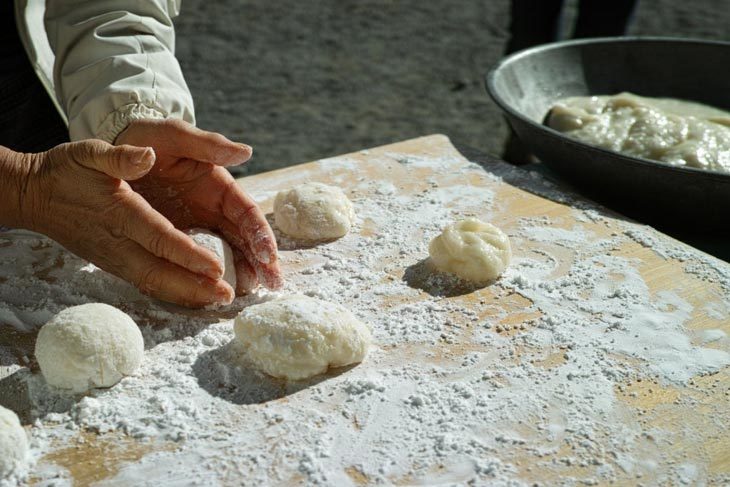 Mochi flour is basically sweet rice flour, made from Japanese glutinous rice (used to make the traditional mochi cake), but it is short-grain instead of long-grain.
Similar to sweet rice powder, its texture becomes sticky and chewy when cooked. To make mochi flour, people wash the rice in water, then dehydrate it and pound it into fine powder.
If you are using this sub as a thickener for your food, you might be able to use it as a sweet rice flour or potato starch substitute. For a cup of liquid, use 2-3 tablespoons of mochi powder, just like sweet rice and rice flour.
8. Wheat Flour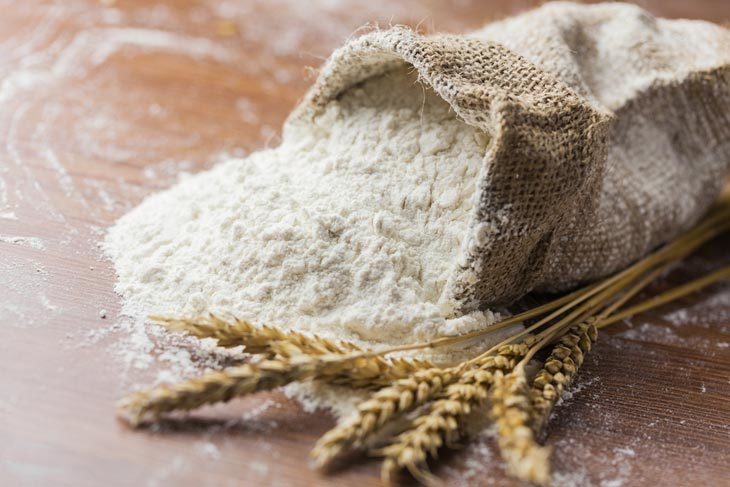 Wheat flour, also known as the all-purpose flour, is usually used for baking cakes, making bread, etc. It can be a flour substitute for potato starch as a thickener in most situations.
However, it doesn't have the benefits of starch that are gluten-free and easy to absorb liquid. After baking, your bread won't have much moisture and has a bit of wheat flour's flavor and color.
Wheat powder may not be the best substitute for potato starch, but it will work. A 1:1 ratio will do the trick. Slowly handle the dough at first and keep the heat low.
9. Almond Flour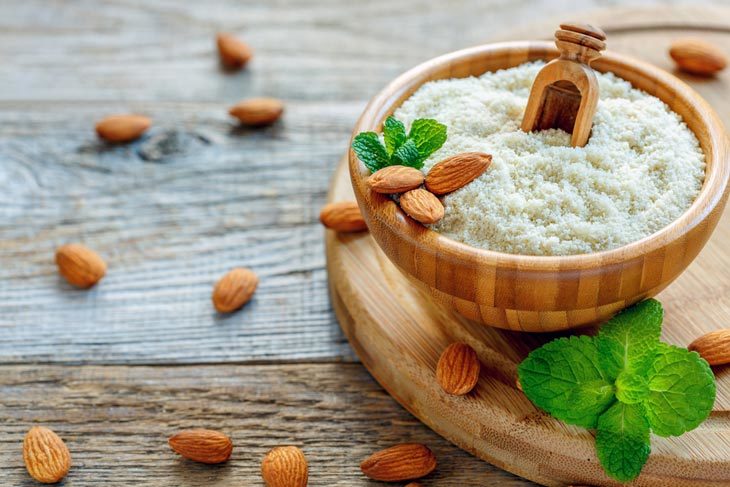 Almond flour is derived from ground almonds. The nuts are boiled and ground into a fine powder. Keep in mind that almond flour is quite different from the almond meal in many ways.
This flour is especially nutritious and gluten-free. It also helps lower blood sugar and blood pressure. Overall, it is a great choice for a healthy lifestyle.
You can use it as a substitute for potato starch in baking and cooking. It adds a nutty and sweet flavor to it. Additionally, it can be used to coat fish, chicken, or meat. However, keep in mind that it contains more calories than starch.
10. Water Chestnut Flour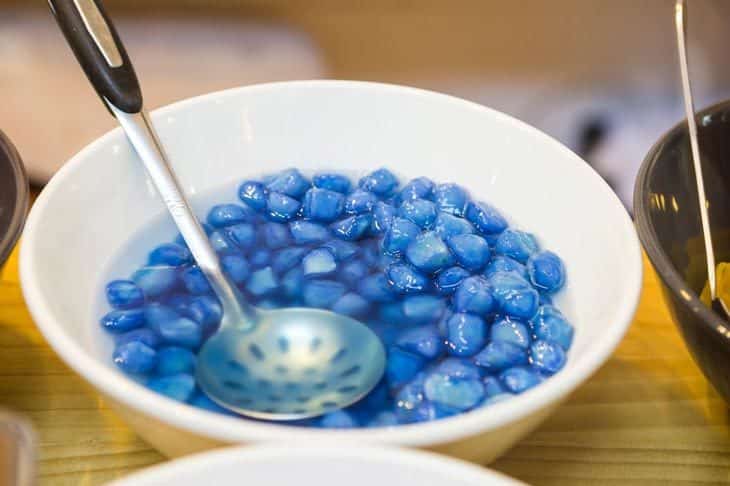 As it might be seen, water chestnut flour originates from groundwater chestnuts. People boil and peel the nuts, then process them into powder.
Surprisingly, this water chestnut powder is actually more of a starch than flour, so it is a great choice as a replacement for potato starch.
Water chestnut flour has a thickening nature. Therefore it has a use for fried food and baked goods. Like starch, it is also gluten-free.
11. Ground Matzo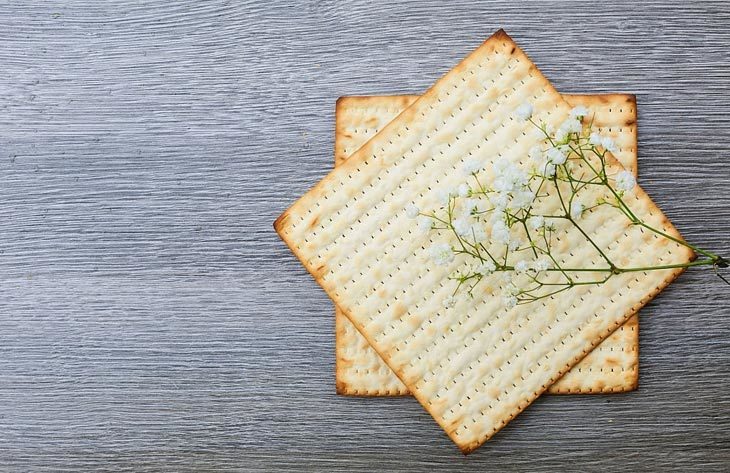 Matzo is a flatbread in Jewish cuisine. It tastes and feels similar to crackers. Flour and water are mandatory ingredients for matzo.
You should only use it as a potato starch alternative when you have no other choices left. Matzo actually has a flavor and is easier to absorb liquid, making it heavier to cook. Therefore, ground matzo is an unpopular substitute.
To work with matzo, you have to grind it into powder first, then pour that powder into your dough in a suitable way.
Conclusion
With 11 potato starch substitutes, they will help you make fries, stews, sauces, cakes, noodles in instant soup, and many more delicious dishes without further ado.
We hope our article was helpful to your cooking or baking practice. Please remember that there's always a potato starch substitute depending on what you want to make.