10 Best Poultry Seasoning Substitutes Should Not Be Ignored

Poultry seasoning is one of those familiar condiments that you can easily find in those cooking guidelines. To be more specific, this seasoning blend can be used for different types of dishes, from meat to vegan.
However, what if it is not available in the area you are living in? What can you use instead?
Lucky for you, as we have compiled a detailed list of substitutes here in this blog! Scroll down to find out your best poultry seasoning substitute now!
What Is Poultry Seasoning?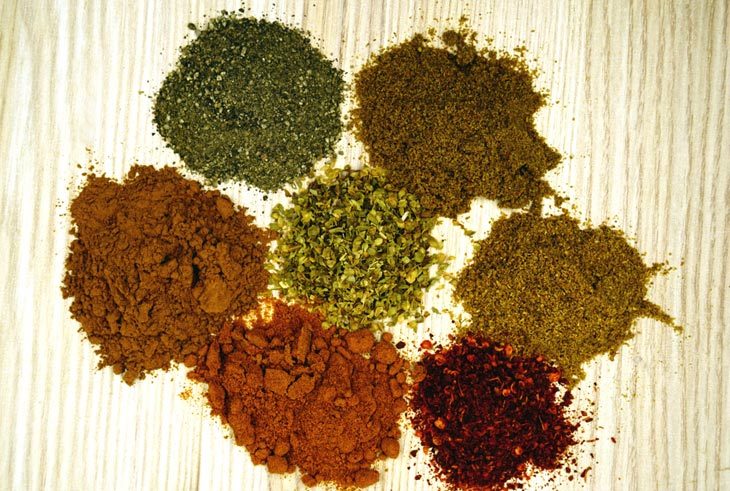 It is a seasoning combination of herbs like thyme, rosemary, sage, and marjoram. The blend is used to enhance the taste of poultry, meat, or even veggie dishes.
Although you can use it in many different dishes, the blend is highly-recommended for already salted and cooked food because it does not contain any salt ingredients. Thus, you can freely improve your salted/cooked meal with it without being afraid of saltiness.
As the main ingredient of poultry seasoning is herbs, it is indeed very beneficial for our health. The data show that there are 13.5 calories, 2.9 carbs, 0.3 fat, and 0.4 protein in every 4,4 grams (a serving) of poultry seasoning. Besides, it also supplies many vitamins and minerals for the body.
What does poultry seasoning taste like? The mix of herbs and spices in poultry seasoning adds earthiness and astringency, making your dish even more unique, especially with grilling chicken. Yet, the poultry might bring distinctive tastes depending on the included herbs.
Why Should You Replace Poultry Seasoning?
There are three main reasons why you want to opt for its alternative:
The seasoning blend is not available in your living area. In detail, its included ingredients might not be (or unable to) grown or traded in some countries. You probably need to purchase it from an overseas store, which might cost you quite a bit.
As the taste of the seasoning is relatively strong, it possibly is too much for people who try it for the first time.
You want to try a new taste in your familiar poultry seasoning recipe with this blend.
Continue reading to discover some best substitutes for this herbal mixture in the below section!
Best Poultry Seasoning Substitute
Oregano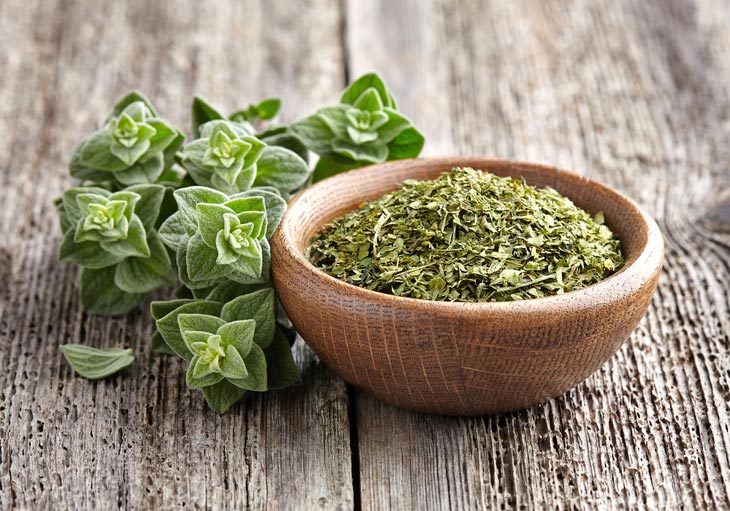 Although it is not a common ingredient, oregano is still a great poultry seasoning alternative for traditional recipes, including turkey or chicken.
We can see that Oregano contains various ingredients, including garlic, basil, black pepper, rosemary, salt, and marjoram. Because of that, it is an easy and convenient condiment to use. The taste that Oregano gives the dishes is truly impressive.
Herbs De Province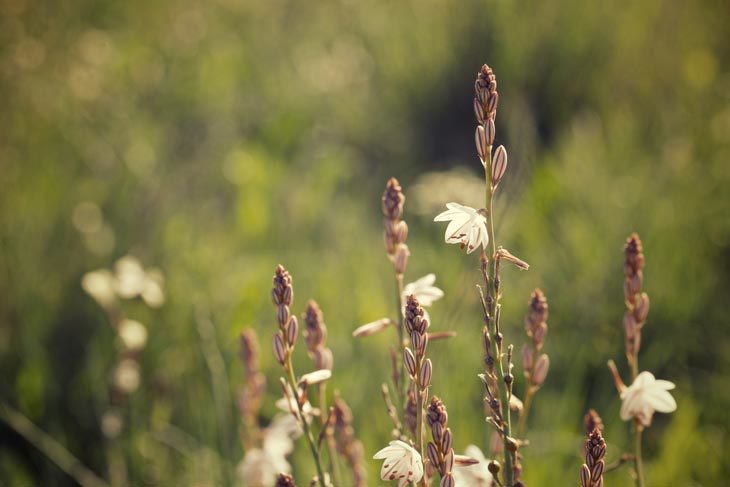 Another flawless replacement for poultry seasoning is Herbs De Province. It originates from France, and similar to Oregano, it also contains quite a few ingredients.
The ingredients are the same as the traditional poultry seasoning, with Thyme, Rosemary, and Parsley being the main ingredients. We suggest you opt for Herbs De Province if you are planning to cook chicken or fish dishes.
Italian Seasoning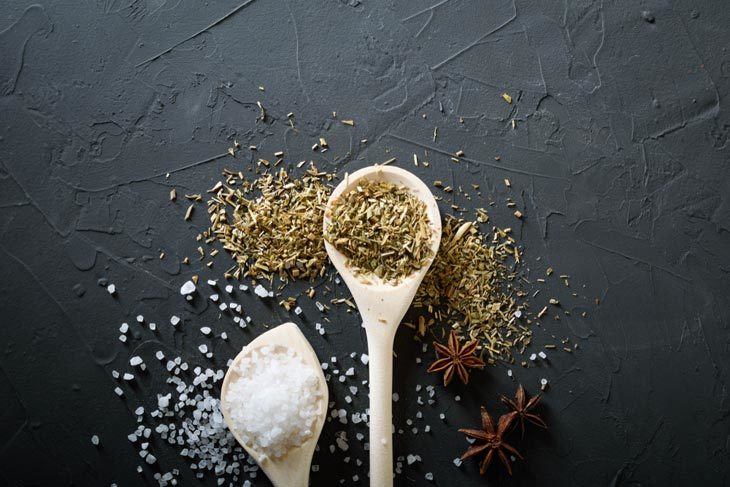 As its name suggests, this spice is often used in Italian recipes. The composition of it is also rich in Rosemary, Thyme, Oregano, and Marjoram – which is the same as the poultry blend.
When using this spice, you may notice a few slight differences from the other. Although it cannot produce the same taste, Italian seasoning is still an optimal substitute with its earthy and slightly sweet flavor. It would be best to use it for your chicken, salad, sauce, or seafood meals.
Za'atar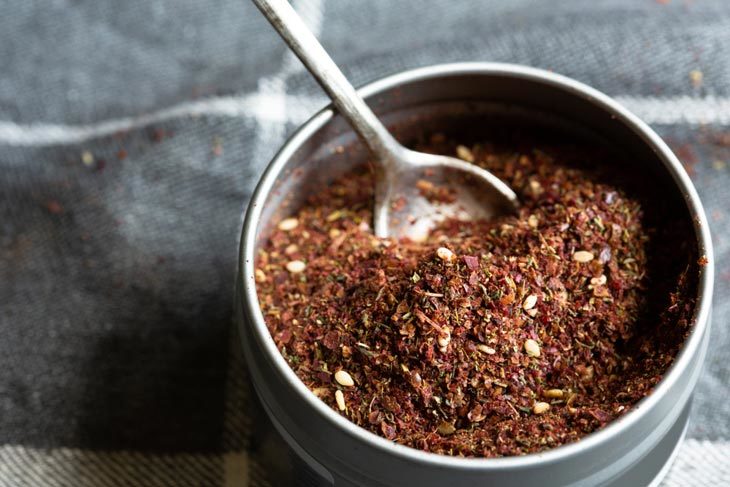 Zaatar is considered an exceptional substitution for poultry seasoning. In particular, it obtains various tastes because Zaatar is made from a combination of several herbs.
It often appears in Middle Eastern cuisine, with the main ingredients being Oregano, Thyme, and Marjoram. Zaatar normally has a toasty, nutty, and herbal taste, which is excellently suitable for those roasted and grilled veggie dishes!
Check it out the list of Za'atar Substitute.
Salt & Pepper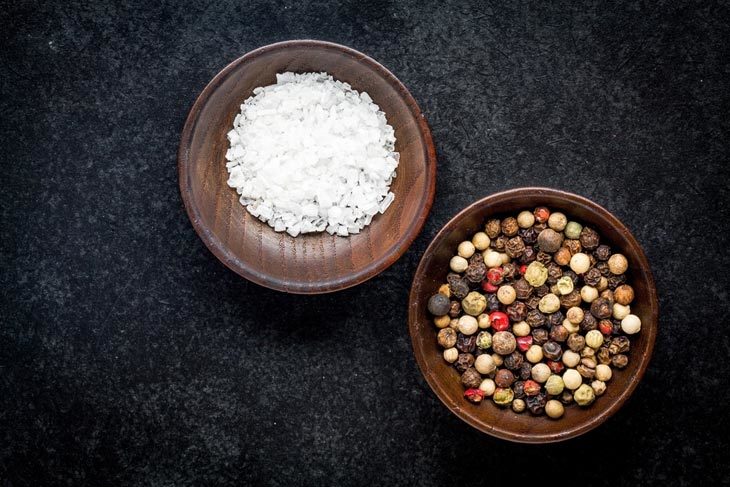 Pepper & salt are two popular spices that you can find in any cuisine. Due to this reason, this combination is the safest choice for any food!
Make sure that you choose the type of salt and pepper combination based on your recipe, as different types of salt and pepper bring a distinctive flavor! Powdered or black pepper? Table or sea salt? It is all based on your desired aroma!
If the flavor that this mixture gives out is too trivial, maybe try to add some rosemary and garlic?
Rosemary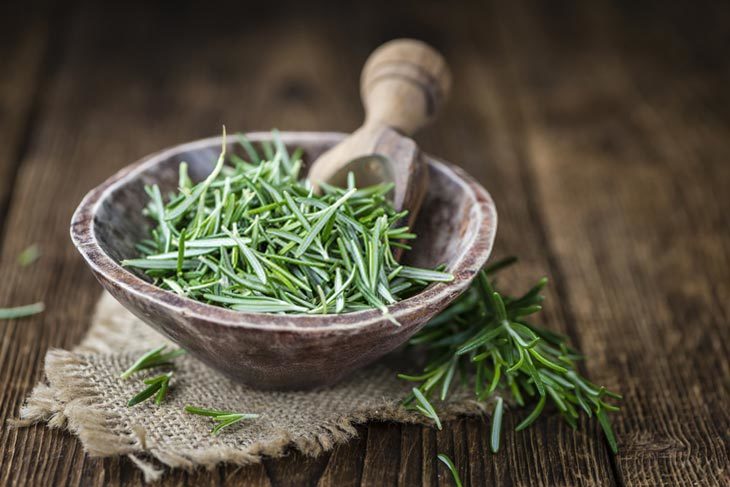 It is regarded as one of the indispensable ingredients of any poultry-seasoning dish. Still, be mindful that it does not taste as poultry-seasoning completely without the other included ingredients.
In general, rosemary tastes quite different if you add it solely to your food. This ingredient performs much better when it is combined and supported by other ingredients. Hence, we advise you not to use it alone.
As mentioned above, it is a great idea to combine rosemary with a mixture of salt & pepper. Sprinkle a small amount of it on the surface of the food will result in a tastier aroma!
Related article: 7 Excellent Rosemary Substitute Will Make You Satisfied
Sage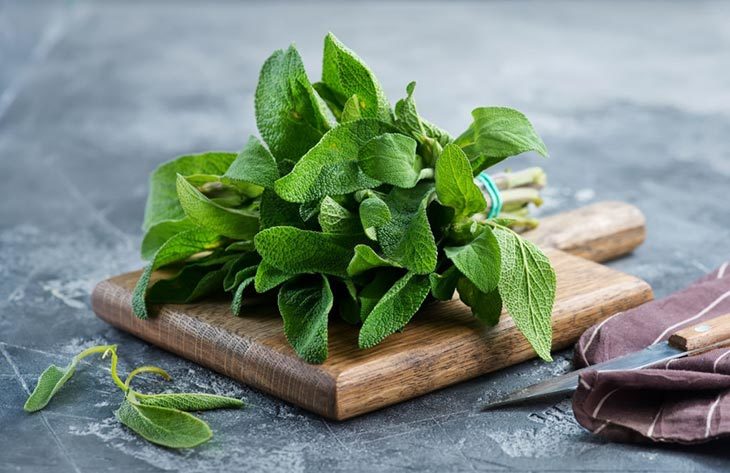 Sage is indeed not an unfamiliar name anymore, as most Western dishes include it. Moreover, it is rich in flavor and mixtures perfectly with all types of chicken or turkey meals.
Unlike previous flavors, sage has lemon, eucalyptus, and mint aromas. In addition, it has a slightly spicy taste with an earthy taste.
We highly recommend you to opt for it because the ingredient is easy to use and brings a pretty similar flavor to the blend you are looking for.
If you already have it in your kitchen, make use of it and mix it with the spices we have listed above for a more amazing savor.
All of these ingredients can work well on their own while they blend, which will make the taste enhanced and sublimated when dining.
Garlic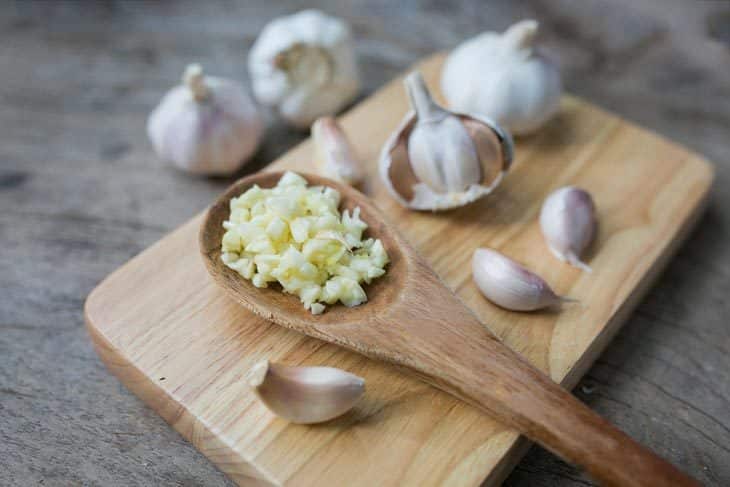 Garlic is an excellent alternative because it can create a unique and distinct flavor. Similarly, using it alone will not make a perfect substitute for your turkey or chicken dish – It can only slightly improve the taste of the food.
Make sure that you take advantage of the taste of garlic and mix it with other ingredients.
Here is a note for you: Mix garlic with Rosemary or Thyme, or combine it with salt and pepper to have a great dinner!
Citrus Blend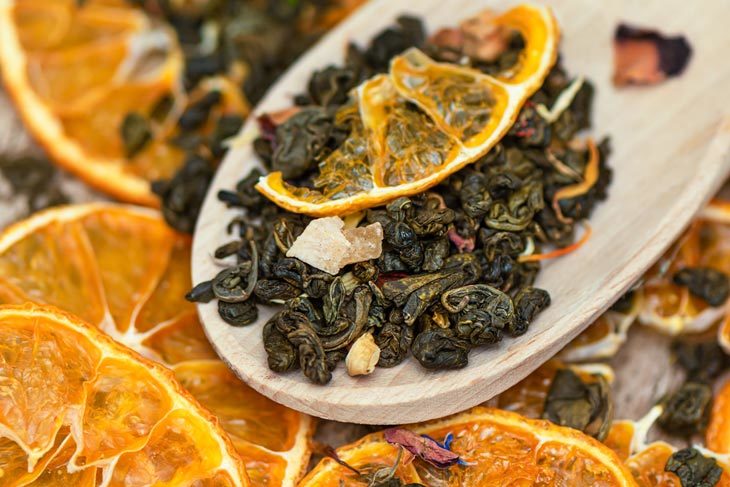 It is also called the kid-friendly blend. The sour and sweet taste of mixed citrus is one of the spices that create big surprises for dishes, including meat.
We can easily find out that mild citrus flavors in cuisines worldwide. Overall, this spice will add savor and piquancy to your food without extra saltiness – making it a suitable ingredient for your salted dishes.
Turkey Rub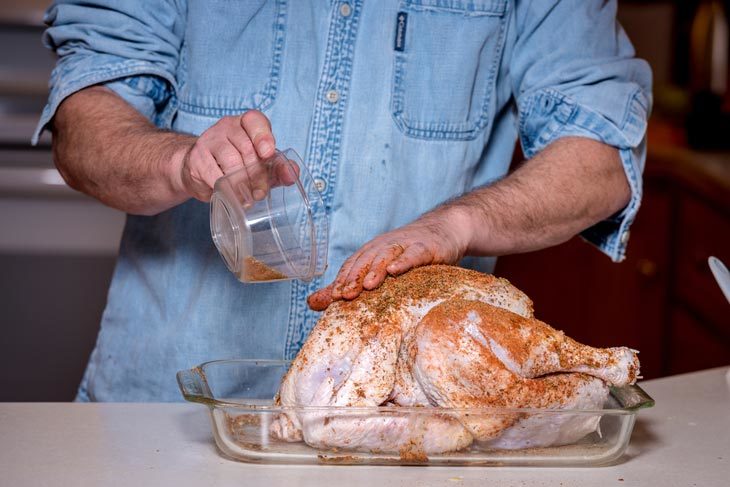 Although turkey rub can act as a seasoning substitute, be mindful that it is not always a good choice for your food. It is only recommended in turkey, duck, and goose ones. More specifically, it has a strong flavor of ginger, coriander, and red pepper on its own.
Combine it with some garlic butter sauce, and you'll have the most delectable and fleshiest meal ever!
How To Make Poultry Seasoning Homemade?
If you still insist on using the first choice for the recipe, here is easy to read and understand guideline for making poultry seasoning homemade. Come on, let's get started!
This process takes us around ten minutes, including five minutes to prepare and five minutes to cook.
Here are the required ingredients:
2 1/2 teaspoon ground dried sage
1 1/2 teaspoon dried thyme.
Oneintenseon dried marjoram.
3/4 teaspoon dried Rosemary.
3/4 teaspoon ground nutmeg.
1/2 teaspoon coarse ground black pepper or peppercorns.
After you have got all the ingredients above, let's kick right into the main section!
Step 1: Measure and Blend
You have to check that all of the basic ingredients above are available. Please make sure that you follow the correct measurement!
Place them all out on a plate, then mix them, using a fork to make the job easier.
Step 2: Grind them into chalky form in a mortar.
Pour the above mixture into a mortar, then use a pestle to grind it for 1-2 minutes until it is smooth into the powder form.
You can also use a spice grinder to make it, but we recommend pounding it with a pestle to make it easier for the mixture to turn into powder.
Step 3: Sealed and preserved
Pour the mixture into sealed jars or bottles.
Store in a dry, clean, and cool place. Avoid direct sunlight.
The final product is ready after six months!
Note that your food possibly slowly loses its taste if you leave it there for more than six months!
Conclusion
After reading this blog, you can now pick the perfect poultry seasoning substitute for the recipe! Each of the ingredients above will suit different types of food and personal preference.
Thus, make sure that you consider their flavor carefully before using one of them!