Prosciutto Substitute: 13 Best Alternatives For Your Recipes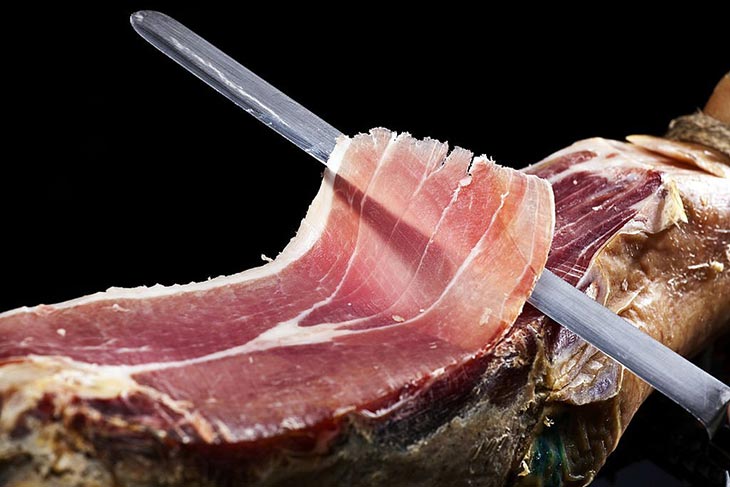 Prosciutto is a famous and delicious sort of meat found in various cuisines and cultures worldwide.
It's a salty Italian delicacy commonly used as an appetizer and a key element in various recipes.
What can you use instead of this ingredient if it is not available in your kitchen basket or if you can't buy it from the supermarket?
Don't get stressed out! This article will recommend the best and easy to find Prosciutto substitute list.
Let's click on it and find out the best-suited alternative used for your cooking!
What Is Prosciutto?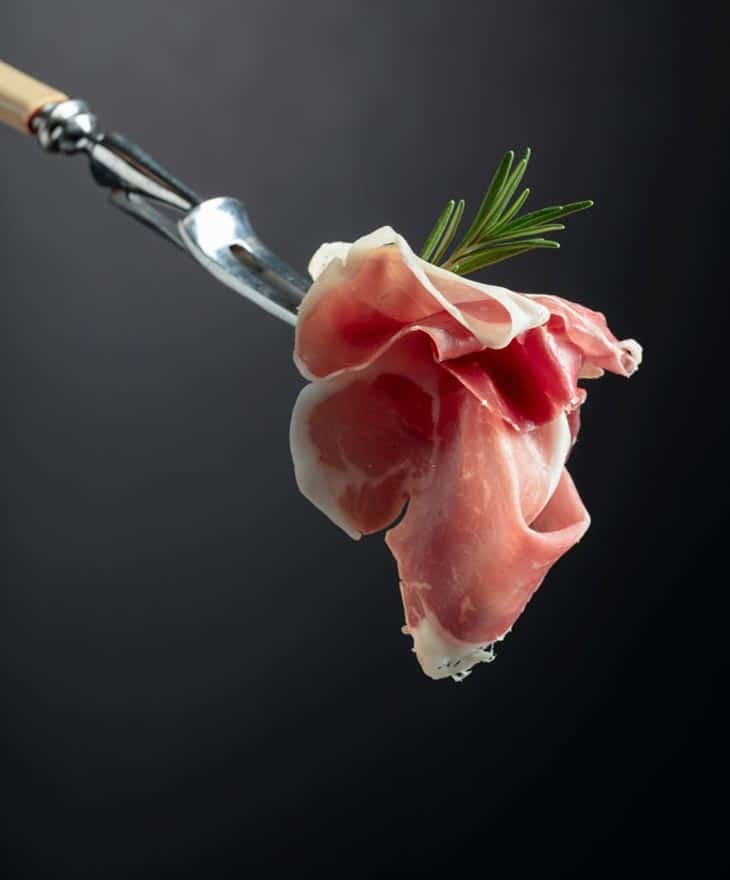 Before discovering the best substitute for Prosciutto, it's best to peek at some basic concepts of this meat.
So, what is Prosciutto? It is a salty, dry-cured, and sweet ham from Italy. People often slice it thinly and eat it raw instead of cooking it.
Prosciutto is often utilized in diverse recipes and cuisines thanks to its versatility.
It's important to note that this ham is rich in fat content. An oz of Prosciutto has roughly 3.5 grams of fat, with 1 gram of dietary cholesterol.
Unfortunately, dietary cholesterol is detrimental to your heart and leads to a higher unhealthy cholesterol level.
That is why so many people continuously look for the ideal prosciutto alternatives.
Crudo and Cotto's prosciutto are the two main types available. The first is eaten raw, whereas the second is cooked.
Both offer the refinement of salty food that pairs nicely with different flavors.
If thinly sliced, the flesh is bright pink to red-brown with stripes. Other types of Prosciutto include those marinated with spices and herbs.
Many Italian regions manufacture several varieties of Prosciutto, each with its distinct unique flavor.
Prosciutto Crudo di Parma, for instance, comes with a earthy taste, whilst prosciutto di San Daniele tastes sweeter.
You can use it with bread or wrap around melon pieces or sprinkle it on your salad or pizza when it comes to the serving.
You can add it to the recipes that require sweetness to balance the intensely savory flavor.
Highly Recommended Prosciutto Substitute List
When looking for a prosciutto replacement, go for anything similar to flavor, taste, and texture.
Let's look at the following alternatives and pick your go-to one.
#1. Jamon Serrano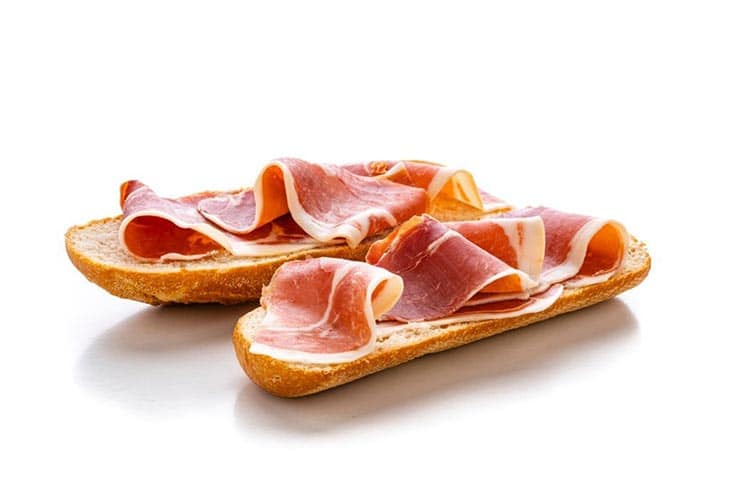 It's a lump of dry-cured meat from Spain identical to Prosciutto from Italy.
As a result, Jamón Serrano will be an excellent prosciutto alternative since you may utilize it in different meals in which you use Prosciutto.
Serrano ham, unlike Italian Prosciutto, is manufactured from a particular type of pig called the Landrace white pig.
This Spanish meat has a dark, richly cured ham with a strong nutty taste and aroma like toasted almonds.
Because the curing procedure for Jamón Serrano Does not require much salt, it's an excellent prosciutto replacement with a slightly saline taste.
It has a unique savory flavor due to an extended curing procedure and the addition of spices.
Jamon serrano boasts a robust, potent flavor that enhances the flavors of your food.
You can substitute Jamon serrano for Prosciutto in every dish.
This ham may perfectly replace Prosciutto when eaten or combined with vegetables, fruits, bread, cheese, almonds, and fish.
#2. Bacon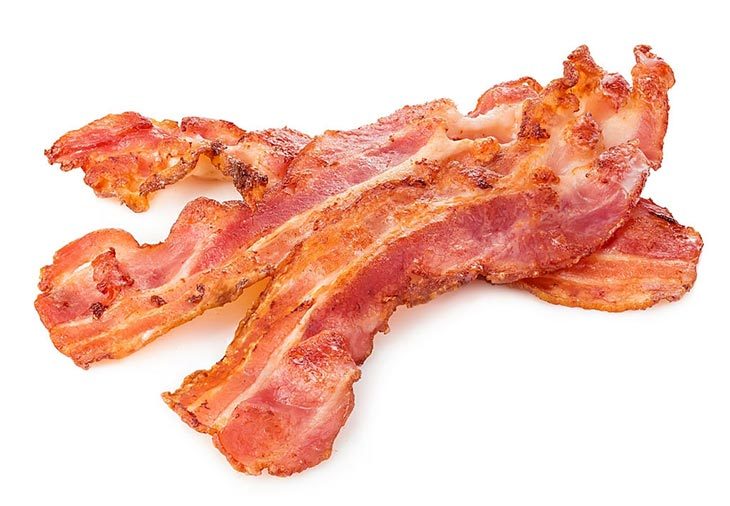 Bacon is a favorite salt-cured meat product prepared from various pieces of pork, usually the less fatty sections or the belly of the back.
You can eat it as a side food or consume it as the main course for breakfast.
Bacon is similar to Prosciutto in that it can be eaten uncooked. It possesses a salty, somewhat smoky flavor that goes well with savory dishes. That's why you can substitute bacon for Prosciutto.
If you need to replace smoky bacon for Prosciutto, ensure to utilize thinly sliced pieces and use them in various meals.
Besides, you can use it to wrap fruit or make a dessert. You can also use it as a garnish on baked goods.
Because bacon is versatile and boasts a flavor quite close to Prosciutto, it is among the most fantastic prosciutto replacements.
#3. Ham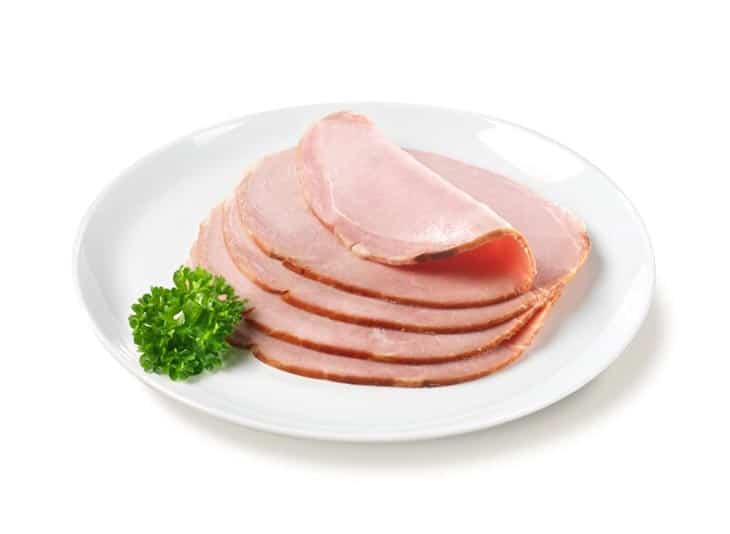 Ham is unquestionably one of the best alternatives to Prosciutto. It is the most similar to Prosciutto in terms of texture and flavor.
Prosciutto is a common name for ham in Italy, although it might mean a different foodstuff in other countries.
The cured ham's acidic, deep savory taste can be enhanced when paired with additional items like honey-glazed vegetables and mozzarella.
Ham comes in various flavors, including black forest ham, honey ham, and smoked ham.
You can use black forest ham to season with garlic and blueberries. You can use honey ham to offer it a sweet, rich flavor that can stand in for the Prosciutto.
You can add cooked ham in sandwiches, salads, and a cheese board because it has a richer taste than Prosciutto.
#4. Salami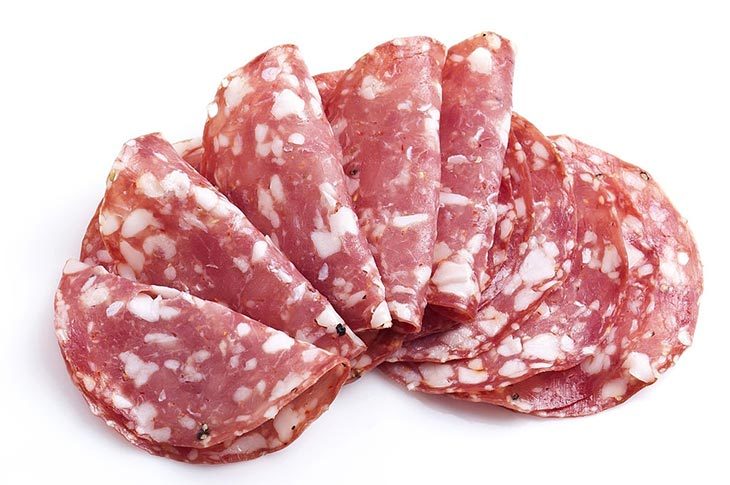 Salami is generally made of pork. However, you can now get chicken or beef salami served as a prosciutto substitute non-pork.
Salami is an air-dried smoked meat from Italy, similar to Prosciutto but produced from fermented sausages. It boasts a robust and savory flavor.
Salami is a terrific complement to any food because of the taste of the fermented meats and the seasonings added in the curing process.
Salami comes in a range of flavors, including sweet, spicy, and savory. As a result, when substituting salami for Prosciutto, make sure you choose the right one to complement the tastes in your recipe.
#5. Capicola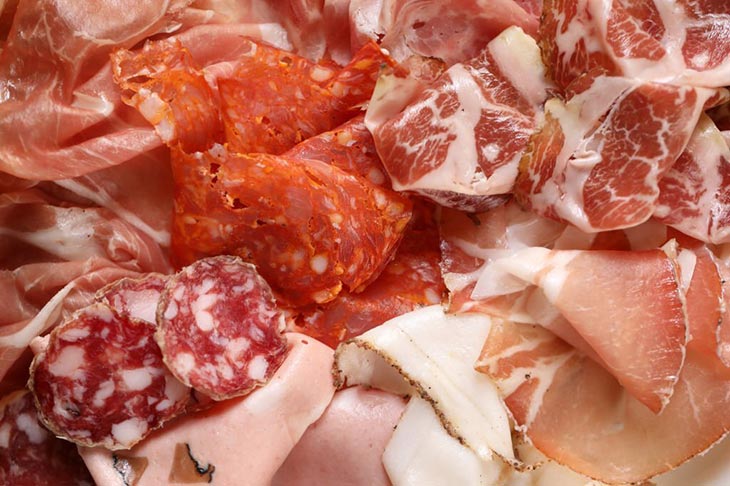 Capicola is an Italian delicacy that is quite close to Prosciutto. A dry-cured hog shoulder or neck yields this meat product.
It's also simple to come by, and you may use it in various dishes as a substitute.
Capicola is equivalent to Prosciutto, and you can slice it to a similar thin thickness.
Furthermore, sweet-cured capicola will not deliver a similar flavor. So be careful before adding to your dish.
Replace the capicola with equal quantities or adjust to your liking. You will not be disappointed if you choose this option. Your dish will be delectable.
#6. Guanciale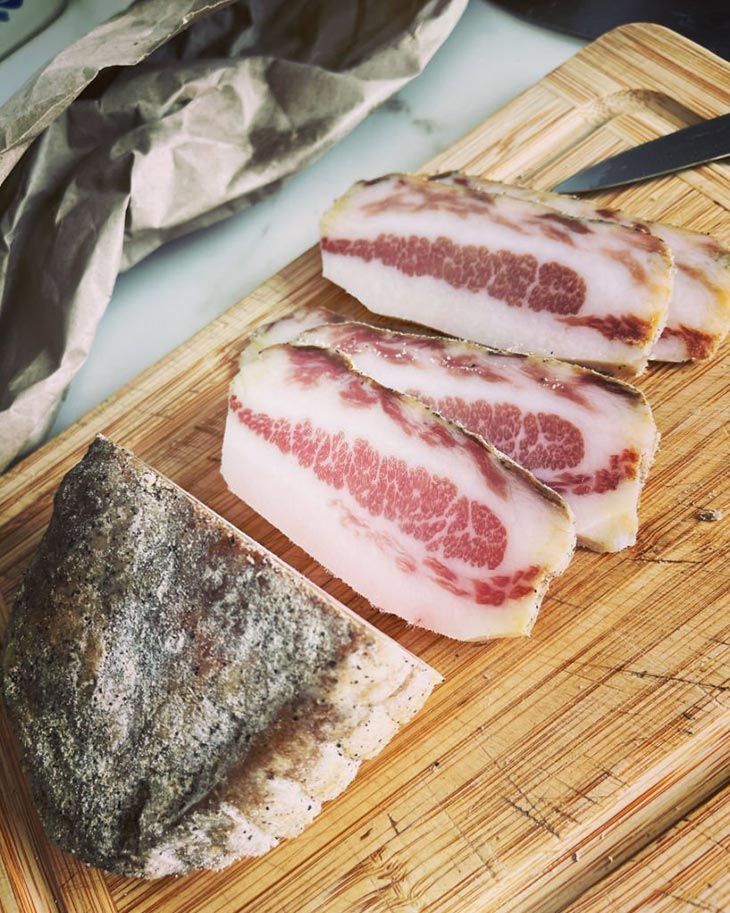 Guanciale is a famous cured pig that you might serve in place of Prosciutto.
People use pork cheeks to make this meat. In terms of preparation and flavor, it is identical to Prosciutto.
Moreover, you can eat guanciale raw, making it ideal for salads and other cold dishes.
It is worth noting that this meat is high in fat, so you shouldn't overuse it when swapping.
#7. Culatello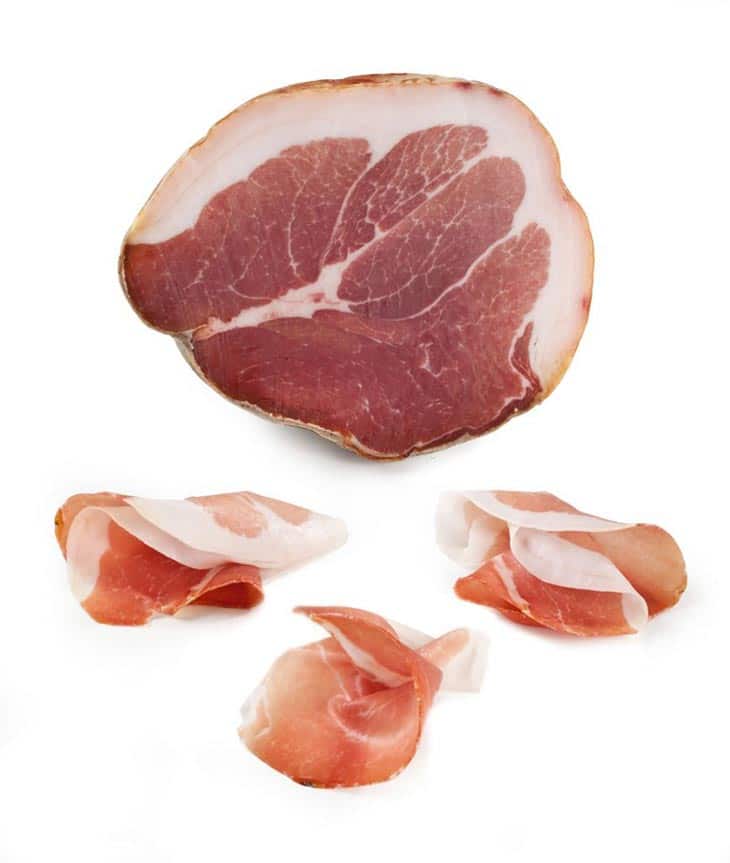 Culatello is a cured meat from Parma, Italy, prepared by curing only the back muscle of the hip.
People make it from the most muscular section of a hog hindlimb stripped of its rind.
It is a suitable replacement for Prosciutto because its processing is similar. It has a strong flavor and can make a great recipe even if you use a tiny amount.
Culatello has minimal body fat because people make it from a slim slice of thigh muscles.
The curing procedure, which includes salt, dry white wine, pepper, and garlic, gives culatello its peculiar wine-like flavor.
#8. Pancetta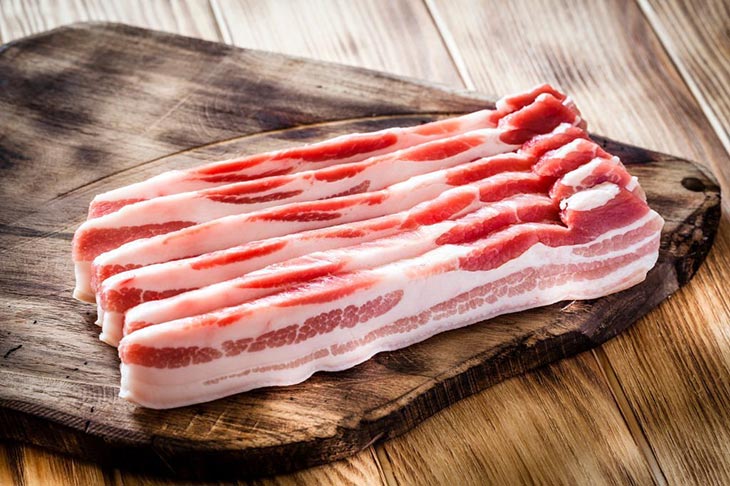 Pancetta or Italian bacon is Italian salt-cured pork often made of belly meat. It has a similar flavor to bacon but isn't as smokey.
Can you substitute pancetta for prosciutto? It boasts a salty flavor close to Prosciutto, which makes it an ideal option for dishes that call for acidic, robust taste.
To boost the flavor of a pizza, filling, or salad, thinly slice pancetta and add it to these dishes.
Pancetta is merely cured. Thus it cannot be eaten raw. Unlike Prosciutto, you must cook it before consumption.
If you need to use pancetta in your dishes like a cold sandwich or a salad, remember to cook it before eating and let it rest before mixing it with the other components.
#9. Beef Bresaola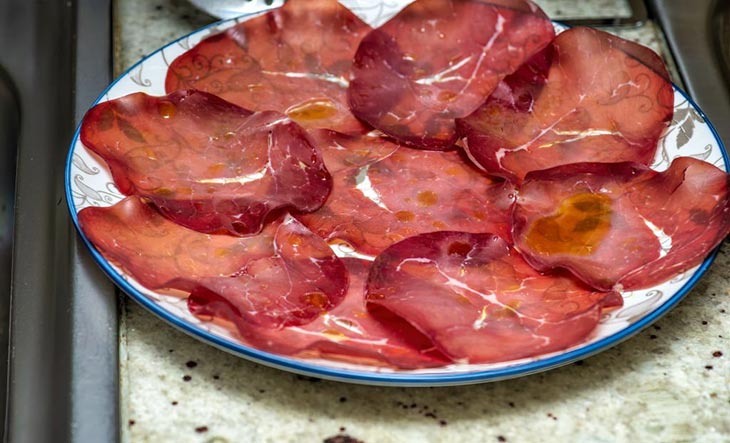 Beef bresaola is an Italian two-month-aged air-dried meat. It is a delicious beef substitute for Prosciutto used in all dishes that require Prosciutto.
The meat turns a dark red color and develops a musty, sweet, and somewhat earthy taste as it ages. Compared to Prosciutto, bresaola boasts a milder flavor and is a more delicate cut.
You can serve it cold with oil poured on top, crackers, cheese, arugula, or other vegetables. You can use it as a pizza garnish or add it to a marinara.
#10. Duck Prosciutto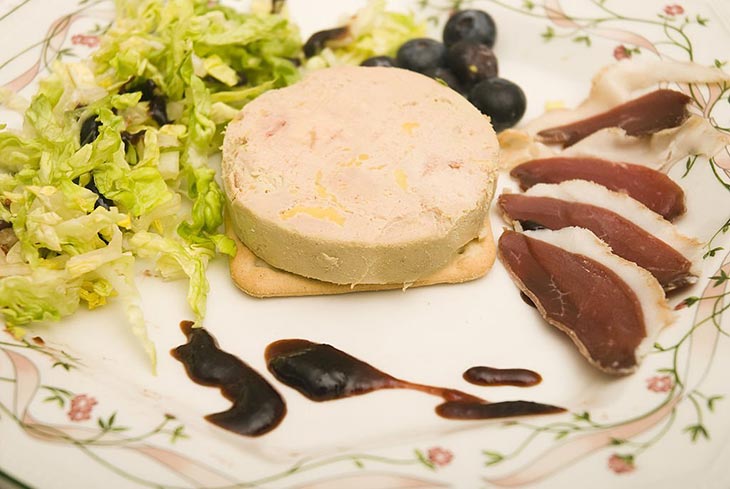 Duck prosciutto is salt-cured duck meat. Although no pork is involved in the manufacture of duck prosciutto, it has a full flavor and sometimes tastes a bit porky.
You can slice it thinly to serve with crackers or sandwiches. Besides, it boasts a rich taste that goes well with pickled raisins, fig chutney, or cherry preserves.
If you want to enhance the flavor of your recipes, you need to use this meat in small amounts.
#11. Toasted Nuts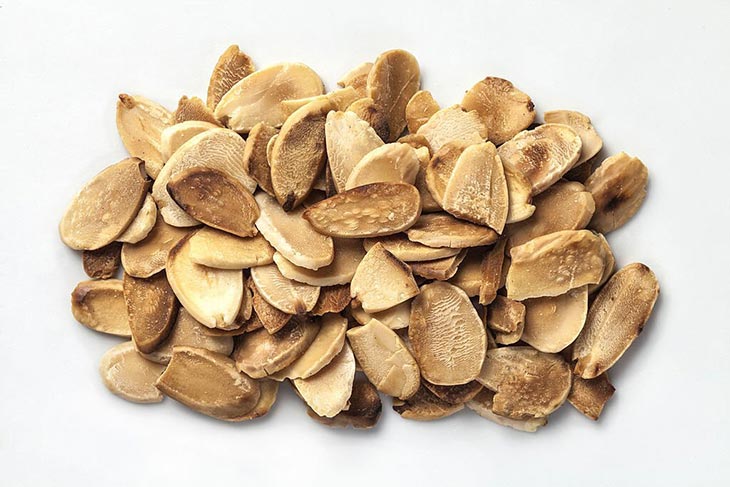 If you are a vegan, you can use toasted nuts to replace Prosciutto. When roasted and salted, these nuts give risotto, salads, and pasta a distinct flavor.
You can also add paprika to the toasted nuts for extra richness. Plus, you may utilize them as toppings for your pizzas or serve with cheese.
If you are unsure how to toast nuts, you can watch this video:
#12. Mushrooms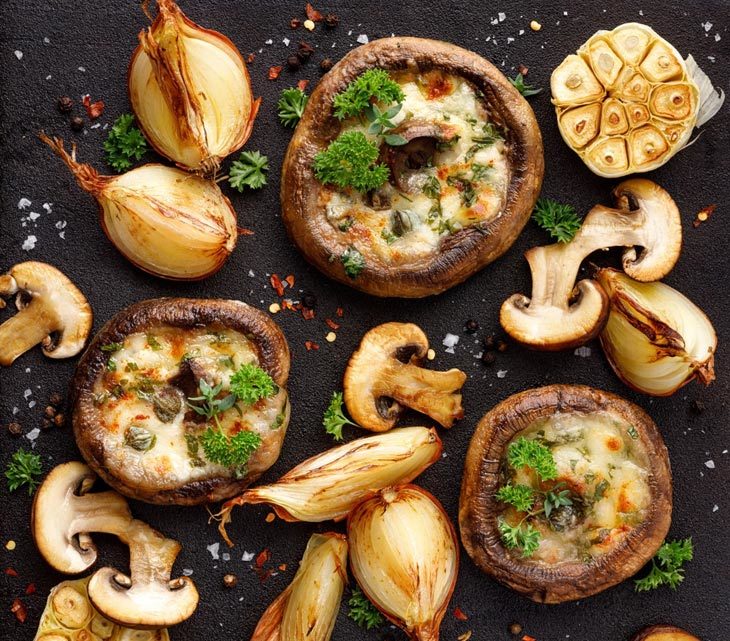 Because mushrooms offer a strong umami flavor, you can use them as a vegetarian alternative to Prosciutto.
To replace Prosciutto, sauté mushrooms until they get caramelized and serve with any baked recipe that calls for it. They will provide a unique taste and richness.
If you are looking for vegan Prosciutto to use in baked dishes, you can't go wrong with portobello and shiitake mushrooms, as they offer rich and meaty textures.
#13. Cheese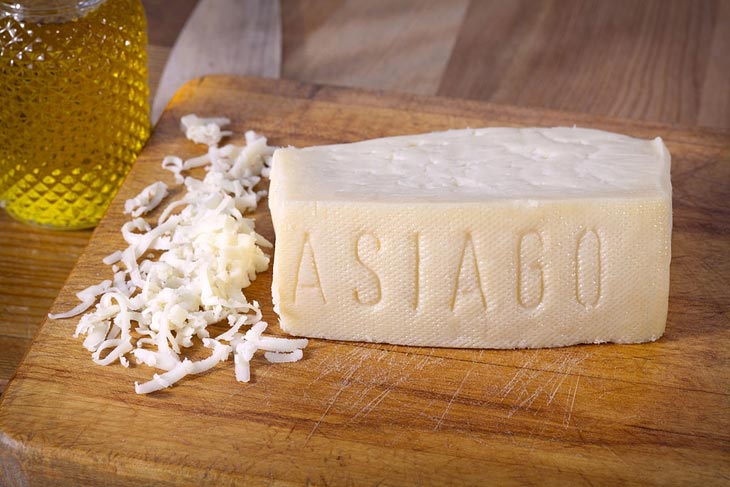 Cheese is a tasty prosciutto substitute that goes well with toast and crackers.
To substitute Prosciutto, use hard-aged cheeses such as swiss, asiago, or Romano, which have a strong flavor that pairs well with most ingredients in the dish.
Cheese works well as a replacement for prosciutto appetizers. You can mix it with a slice of melon and serve on crackers.
How Should You Choose The Best Prosciutto Substitute For Your Recipes?
If you're looking for a prosciutto alternative, various options have a similar flavor or a little different taste while maintaining the equivalent texture.
Jamon Serrano is perhaps the most similar replacement for Prosciutto and maybe versatile in practically any recipe.
Because of its rich, savory flavor, you may use culatello in place of Prosciutto.
Another readily available choice with a milder flavor is ham.
If you prefer a more delicate smoky flavor, bacon might be perfect when you can't purchase Prosciutto.
If you need an alternative to add to your cold dishes, look no further than pancetta as it isn't smoky.
Capicola offers a smoky flavor, but it is more fattening.
If you can't eat pig or beef prosciutto, duck prosciutto will be a perfect solution. It will offer a delicious salty flavor to a variety of recipes.
If you don't want to consume meat, you can substitute toasted nuts, cheese, and mushrooms.
In A Nutshell
After reading this post, have you picked your go-to prosciutto substitute for your recipes? We hope your answer will be yes!
There is a wide range of alternatives to replace Prosciutto. So, even if you can't eat pork or beef meat or are a vegan, there will be a substitute for your needs.
Hopefully, this article will be helpful for you! Thanks for reading!