Prosecco Substitute – Top 6 Worth-Considered Options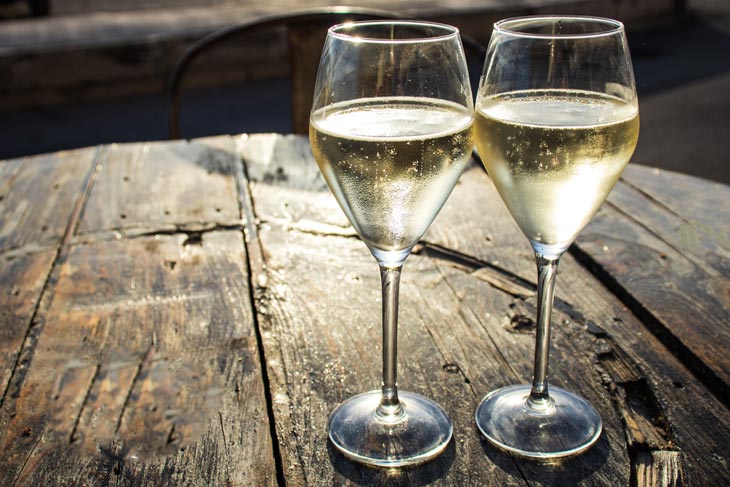 As soon as it appeared, Prosecco received positive feedback from wine lovers because of its unique taste produced from a special grape variety. Thus, finding a perfect Prosecco substitute is not an easy task.
What will you find to replace that intoxicating taste? Can we choose the natural wines to replace? No worries. Continue reading our articles to explore some suggestions for a replacement.
What Is Prosecco?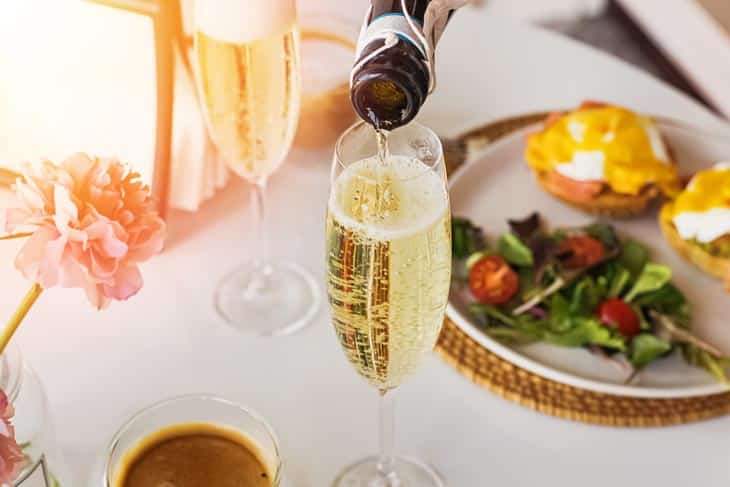 It originates from the Northeastern region of Italy, extracted from the Glera grape – the unique grape variety that can only be grown in Italy.
Currently, the production has been expanded throughout Italy. With peach, lemon, honeydew, and grapefruit, Prosecco is purified.
However, if you prefer the dryness of Champagne, I would advise that you try a Brut Prosecco.
Brut means the sparkling one is dry. A glass of bubbles will leave your mouth puckering.
What is Prosecco wine like? It is a sparkling wine that tends to be dry. Besides, when enjoying drinks, you will feel the typical aroma of Glera grape and green apple, pear, and citrus flavors.
It is very refreshing and pairs well with fruit, dried meats, cheese, and fruit.
Prosecco can be sweeter than Champagne, with bubbles and flavors of pear, apple, light flowers, lemon, and even tropical fruit like passion fruit.
You can pour five glasses with a net volume of one liter. In terms of nutritional composition, the data show that there are 123 Calories, 7mg Sodium, 147g Potassium, 4g Carbohydrate in every five fl oz (a serving).
It is served cold at about 3 – 7°C. It is often used as an aperitif before evening meals. With Prosecco, you can enjoy it alone or combine it with other ingredients to make cocktails.
The Bellini cocktail and the Pomegranate punch are two types of common recipes. A recipe that does exactly what it says on the tin.
6 Suggestions For A Prosecco Substitute
Vilarnau Cava
The first wine similar to Prosecco is Cava. This comes from the D.O Cava region of Spain, produced by Vilarnau, one of the famous winemakers. It is a great Cava with lemon zest, toast, and ripe pineapple.
This wine bottle has the composition of three different grapes: Macabeo (50%), Parellada (30%), Subirat Parent (20%), and the wine is aged using the traditional method combined with fermentation techniques.
Because it is made from three different grape varieties, Cava is a non-vintage one. Its taste has roasted-nut notes combined with earthiness.
Cava's ABV is around 11.5%. The amount of residual sugar reached the mark of 15g/l (rated as Extra Dry). The price is also quite reasonable.
Crémant Du Jura
Another substitute for Prosecco is Crémant du Jura. This wine originates from the Jura region of France, created by Tissot Maire.
It is a harmonious combination of two grape varieties: Chardonnay (50%) and Pinot Noir (50%). The Jura region has used these two grape varieties to create a unique flavor for its produce.
You will feel the blend of white fruit with a fresh aroma when enjoying it.
Like the Cava, Crémant du Jura has some similarities. It is also a non-vintage wine. Besides, it is made by the traditional method with bottle fermentation.
Crémant du Jura is rated as Brut (about under 12g/l) in terms of residual sugar.
Crémant Chardonnay
We moved to Alsace – home of another Prosecco alternative – Crémant Chardonnay. It is also a great substitute for port wine.
Cave de Ribeauvillé has picked Chardonnay grapes to flavor its products using the traditional method and bottle fermentation. When finished, this is mixed honey citrus flavors with fresh apple.
With a residual sugar of about 6g/l, Crémant Chardonnay is classified as Extra Brut, but sometimes people consider it Brut.
Just spend £10-15, you can buy a bottle. It is also non-vintage. It's very cheap, has a very low alcohol content – and comes in Magnum sizes.
Altemasi
There are several wines similar to Prosecco. Now we focus on the Altemasi – the wine from Italy.
Cavit producers use the Chardonnay grape variety in the Trentino region to make the drink. This product is the biggest and the most popular with wine lovers.
Traditional methods and fermentation techniques distill Chardonnay grape varieties. Altemasi has fruity creaminess, with white fruit and beeswax tastes, which has some same fruity notes as Prosecco.
Unlike the wines mentioned above, Altemasi had a vintage version in 2016, which is very popular with wine connoisseurs. Despite having a residual sugar content of 7g/l, Altemasi is still classified as Brut.
Pignoletto DOC
If you are looking for a light flavor version to alter Prosecco, we recommend Pignoletto DOC. Righi Soc. Coop. Agr.
produces this alcohol drink, extracted from the Pignoletto grape variety, from the Emilia Romagna region, Italy.
Although this type cannot bring an exact aroma to alter, it is made by the same method as Prosecco, which uses primarily Glera grapes in the Charmat, or tank method, which involves a secondary fermentation in stainless steel autoclaves.
Pignoletto DOC has a completely different brewing method from the above wines. They use the Charmat method (tank method).
It is the process of retaining the effervescent bubbles in the wine through secondary fermentation occurring in large stainless steel tanks.
The strength of the wine (ABV) reaches 12%, and the residual sugar is also average, at about 10g/l. The alcohol sold in retail stores is just under £10, which is very reasonable.
Pata Negra
Back in Spain, we're going to cover an organic sparkling drink. That is Pata Negra, from the D.O Cava region, produced by Jaume Serra.
The producer has used traditional methods and bottle fermentation to distill the Macabeo grape variety, thereby creating the excellent wine of the D.O Cava region.
It brings a flavor of juicy, ripe red fruit. This might remind you of Prosecco.
Residual sugar is just 6g/l (rated as Brut class). Besides, ABV is also at 12%. Like most wines, this organic one is non-vintage. The price is quite low, less than £10ư, very suitable for most buyers.
FAQs
What Percent Alcohol is Prosecco?
Alcohol strength is displayed as alcohol by volume (ABV). For Prosecco, the strength is usually around 12%, which means there is 12% pure alcohol in a glass bottle.
And this figure is also considered a number commonly found in other sparkling wines, similar to champagne or cava.
How Long Would A Bottle of Prosecco Last?
Most bottles usually can keep flavors longer. At the same time, white wine Prosecco also contains a fair amount of sugar, which can easily lead to a loss of scent and spoilage after a while.
After opening the bottle, you should drink it immediately. If you store the leftovers in the fridge, you can keep them for up to five days with a good stopper.
However, connoisseurs suggest you should drink the Prosecco within 24 hours after pouring.
Why Is Prosecco So Easy To Drink?
Prosecco has become popular in recent decades. It is a lighter wine and has a faint grape flavor, making it easier to drink. Plus, it is also refreshingly simple.
Alcoholic drinks make us drunk faster. But it creates a very special feeling of intoxication, different from other ones.
Conclusion
We have summarized detailly about the Prosecco description. After reading this blog, you can pick the best Prosecco substitute on your own.
Many kinds of wine can become alternatives. Thus, make sure that you choose the perfect personal taste and match your meals well.