Ras el hanout is a favorite condiment used in meat, seafood, and vegetable dishes.
It doesn't have a separate recipe, as each chef can add a spice that gives it a special feel. This flavoring combination can contain many different spices.
So, what can be the best quality ras el hanout substitute if you're this spice fanatic and your cupboards or the stores are out of stock? Here are a few suggestions for you.
What Is Ras El Hanout?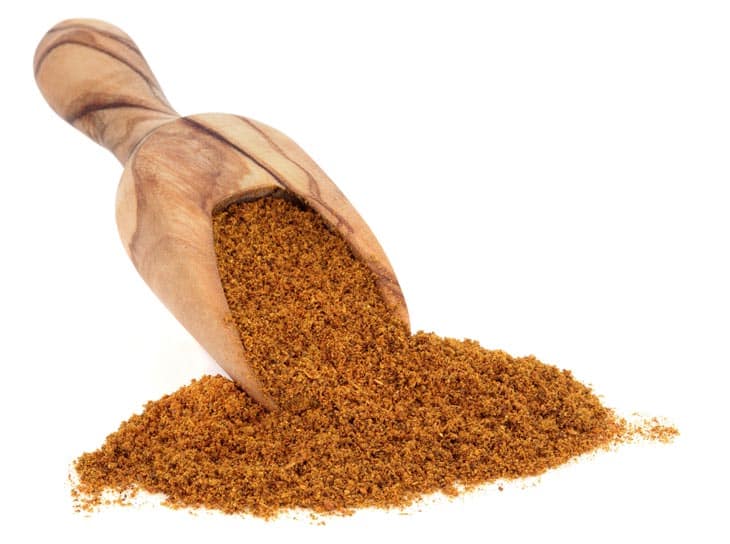 Ras el hanout is a condiment consisting of a mixture of common spices and herbs native to Morocco. This spice is suitable for most dishes from meat, poultry, seafood to vegetables.
It doesn't have a unique recipe for the ingredients used in this spice mix, as each chef can add a spice that gives him a special feeling.
This flavoring combination can contain up to fifty different spice ingredients. Furthermore, manufacturers will create flavor variations using different spices, but you cannot ignore some spices.
Some are pepper, Spanish fly, Kashmiri saffron, cumin, turmeric, cardamom, nutmeg, galangal. Because this seasoning includes so many spices and flavors, it's impossible to find the perfect ras el hanout alternative.
You can look for a mix of spices with a taste and aroma that is as close to ras el hanout as possible. What is a flavored substitute closest to its original? Here are a few suggestions for you.
Top 4 Ras El Hanout Substitutes
1. Baharat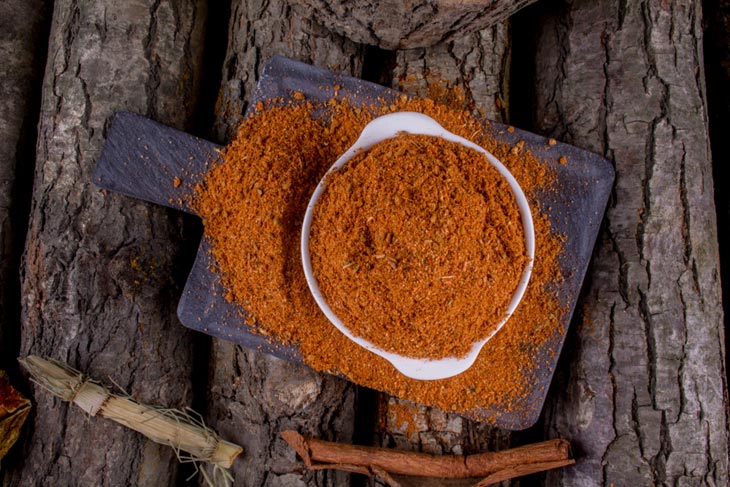 Baharat is a spice blend very popular in Middle Eastern cuisine. It is also a popular condiment that is a good ras el hanout replacement.
Both Baharat and Ras el Hanout share the same ingredients, like black pepper, paprika, coriander, nutmeg, cardamom, cloves, cumin, and cinnamon.
These spices are ground into a fine powder, and people use them in recipes or sprinkle them on dishes. These spices create a warm, earthy aroma that is sweet and smoky without being spicy.
Like ras el hanout, you can use it in many ways in the kitchen. It can marinate meat, cook beef, lamb, seafood, vegetables, or sprinkle on dishes as a condiment.
Because the Baharat flavor isn't too strong, but it's very aromatic, that's why it's best to use a small amount.
It has a slightly stronger flavor than Ras el Hanout so you should use it in smaller amounts while using it instead.
2. Garam Masala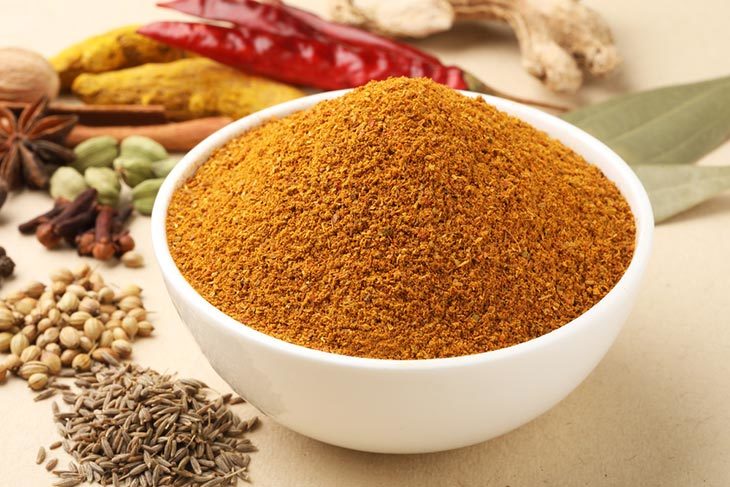 Garam masala is a spice that originated in India. You can use it to substitute for ras el hanout as it is also blended from a mixture of spices such as coriander, cumin, cloves, nutmeg, black pepper, and cinnamon.
Some variations of Garam masala include ginger, garlic, mustard seeds, Malabar leaves, or dried red peppers.
The spices in garam masala are hot, with warm, floral, and sweet flavors and a bit of heat from the black pepper.
The aroma of coriander and the color of turmeric might remind you of curry. There are also various substitutes for garam masala.
Like all condiments, this seasoning comes in many variations depending on the brand and preference of the cook.
You can add it near the end of the cooking process to spice it up and add flavor. It is used mainly with meat and fish dishes, vegetarian dishes, and soups.
To compare Garam masala vs ras el hanout, they contain most of the same core ingredients. So you can replace it in 1:1
3. Chinese Five Spice Powder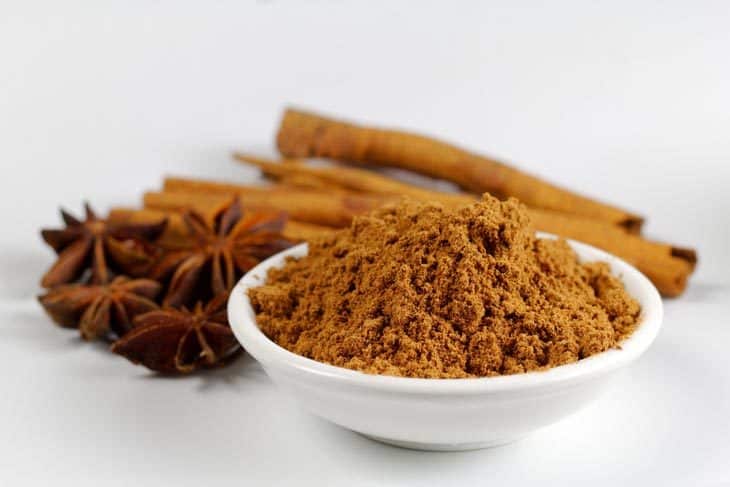 Five-spice powder is a common ingredient in Chinese cuisine. This Asian spice is a blend of five flavors: star anise, cloves, Chinese cinnamon, Sichuan peppercorns, and cumin seeds.
The five-spice powder can be a good substitute because it has the spices in ras el hanout.
According to culinary characteristics, these five different spices make up the five flavors sweet, sour, bitter, salty, and umami.
In addition to enhancing the flavor of dishes, the five-spice powder also brings many health benefits, such as stimulating the digestive system, disinfecting, and warming the abdomen.
Five-spice powder is a seasoning suitable for both vegetarian and savory dishes. Normally, chefs and homemakers often use five-spice powder to prepare stir-fried, fried, grilled, rimmed, khaki, and meat dishes or use directly with cakes.
Five flavors taste similar to ras el hanout, so you can also use them to replace them in the same proportion.
4. Curry Powder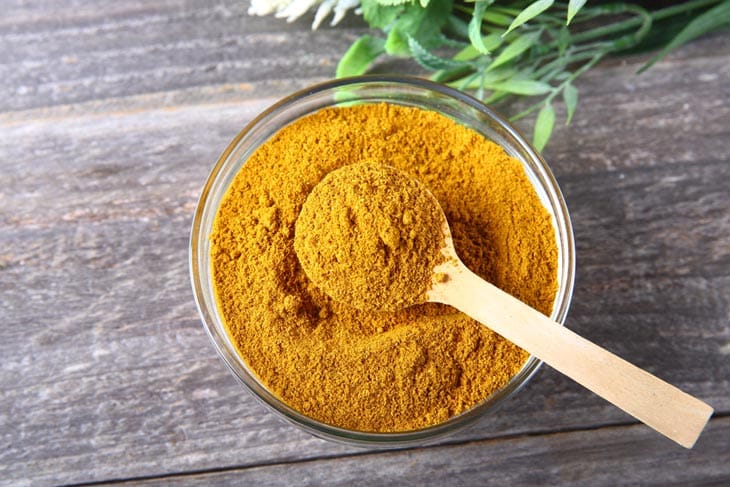 Curry powder is a mixture of spices with bright yellow color and many flavors originating from India. People make it from various spices, including turmeric, coriander, cumin, fenugreek, and chili peppers.
In addition, curry powder also adds other ingredients such as ginger, black pepper, mustard seeds, and curry leaves. Therefore, curry powder can be a ras el hanout spice substitute.
Curry powder has a unique, warm flavor that can offer both sweet and savory flavors depending on the ingredients. Therefore, there is no specific recipe for using this spice.
Because curry powder is a blend of many of the same spices as ras el hanout, it can be used as a flavoring in many dishes such as marinades, salads, roasts, stews, soups.
Moreover, curry powder contains turmeric, making the food more attractive.
Like other spices that substitute for ras el hanout, curry powder has a mild flavor to be used in equal proportions.
Homemade Ras El Hanout Recipe
Ras el hanout is a condiment consisting of a mixture of many types, so it is difficult for ordinary homemakers to find all the ingredients that contain the spice mix.
However, you can ultimately create your own homemade ras el hanout by mixing the required spices.
You need to prepare the following ingredients:
Two teaspoons of grated ginger
Two spoons of mace
Two tablespoons of ground cardamom
One teaspoon of allspice
A teaspoon of ground cinnamon
A teaspoon of ground turmeric
A spoon of nutmeg (if you don't have this ingredient, find a perfect nutmeg substitute)
A spoonful of ground coriander seeds
Half a teaspoon of ground cayenne pepper
Half a teaspoon of ground black pepper
Half a teaspoon of ground white pepper
Half a teaspoon of ground anise seeds
A quarter teaspoon of ground cloves
How to do it:
Mix all of the above spices in a bowl.
Then, stir well to combine them well.
Store the mixture in a glass jar and keep it in a cool, dry place, away from heat and sunlight.
Making your Moroccan spice mix at home is the most effective method when you don't have one on hand.
However, if you do not have all of the above spices available, don't worry too much. You can combine 4 core spices as follows:
Two tablespoons ground dill
One teaspoon coriander seeds
One teaspoon ground ginger
One teaspoon ground cayenne pepper.
This spice mix isn't a perfect substitute, but if you're in need and don't have enough ingredients, you can make use of these four.
Conclusion
Ras el hanout is a unique condiment, and it isn't easy to find a perfect substitute for it because it contains many ingredients and complex flavors.
However, you can make a ras el hanout substitute with seasonings like Baharat, garam masala, curry powder, or Chinese five-spice powder.
Although not the same, you can replace it as needed.
Hopefully, this article will help you find a suitable alternative for each of your dishes.