Top 6 Roquefort Cheese Substitute Will Make You Surprised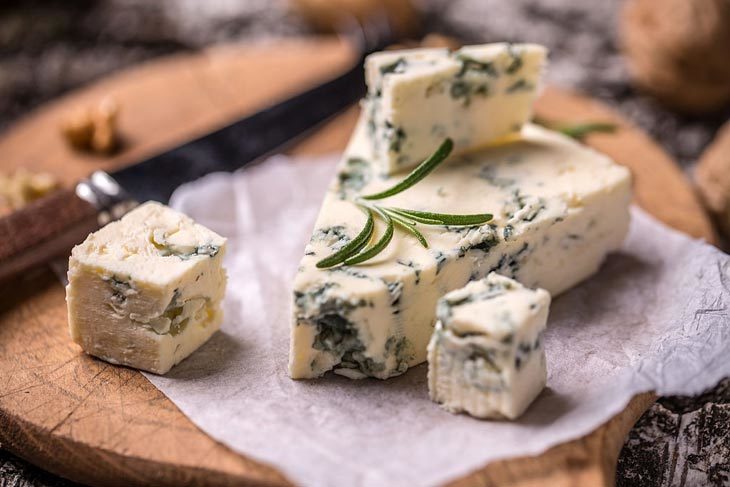 Who doesn't love Roquefort's distinct, intense taste – as it is the king of all the blue cheese. Unfortunately, it belongs to the top 8 illegal cheeses in the USA.
What a pity, right? How can you find a cheese type that comes with such incredible aroma, softness, and complex flavor?
Well, the good news is there are a few cheeses that bear remarkable resemblances to Roquefort.
Are you curious about these cheeses?
Stay stunned, and dive into the article below to discover the best Roquefort cheese substitute.
What is Roquefort Cheese?
Roquefort cheese is one of the most popular cheeses that is widely used over the world.
It was known as "King of Cheeses" because it is one of the most favorite food was used for kings and popes in Southern France.
Its taste was described as tangy, sharp but creamy and aromatic. With crumbly and moist texture, it brings a good experience for cheese lovers in the first bite.
The thing that makes Roquefort cheese special is its blue veins which are different compare with any cheese in the market.
6 Best Roquefort Cheese Substitute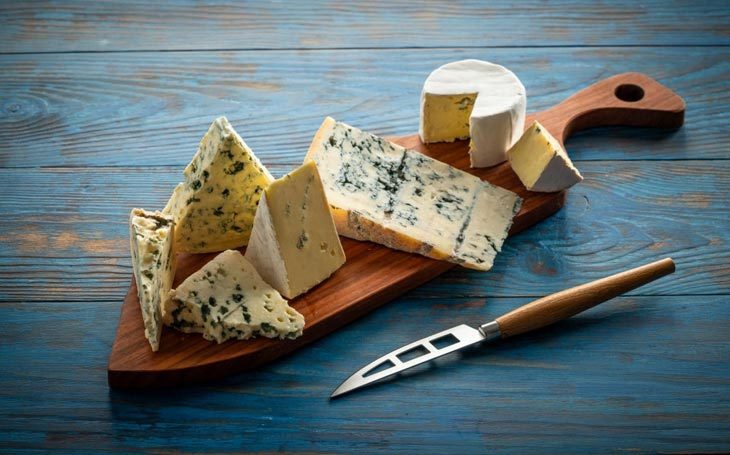 Right here, let's introduce to you the top 6 substitutions for Roquefort Cheese in the US now:
1. Maytag – Easy To Find
Among the types of blue cheese similar to Roquefort, Maytag is the one you can effortlessly purchase in the USA. That's because it's produced by an American corporation – Maytag Dairy Farms.
It takes over six months for Maytag to develop its dense yet crispy texture and semi-sharp flavor.
Try a bite, and you will feel the cheese melting in your mouth and releasing a slightly pungent flavor with a lemony finish.
Due to its tangy flavor, it would be best to melt it onto a burger, add it to your salad or enjoy it with crackers.
2. Gorgonzola – Stronger Flavor
The next fantastic blue mold substitution for Roquefort is Gorgonzola – a famous Italian cheese that comes with a creamy taste added with a slightly spicy flavor.
Gorgonzola is made with either pasteurized or unpasteurized milk, the lactic acid bacteria, and mold spores.
Usually, this blue cheese is aged for low temperatures from three to four months, depending upon the desired texture and taste.
The longer Gorgonzola matures, the firmer texture and creamier taste it would have. Besides, aged cheese also features a pungent odor.
Thus, if you want to enjoy its strong flavor, go for Gorgonzola, which has been aged for an extended period.
What will go well with this blue cheese?
There is a wide range of options you can choose from. For instance, you can use it and toasted walnut to make creamy and nutty cheesecake. Or you can use it as a topping or dressing for salad, pasta, or pizza.
3. Bleu d'Auvergne – Best Choice
Suppose that you want to experience an intense taste, what is the best replacement for Roquefort?
In that case, let's go for Bleu d'Auvergne – a rich and creamy cheese similar to Gorgonzola and Roquefort.
Also, like Roquefort, it originates from France. However, it is a cow milk cheese, whereas Roquefort is a sheep milk one.
As mentioned, it features a strong and pungent taste, yet to a lesser extent compared to other types of blue cheese, including Roquefort. Besides, you will feel its taste a little bit more buttery yet less salty.
For an intense cheese like Bleu d'Auvergne, it would be best if you contrast its heady flavor with the sweetness of fresh fruit, for instance, spreading a little of Bleu d'Auvergne on a slice of apple for a healthy snack.
Moreover, you can mix it with the salad or the vinaigrette for a distinct dressing.
4. Stilton – Sophisticated Taste Cheese
What else can you use to substitute for Roquefort? Stilton – a top-notch blue cheese from England can be another fantastic option.
This famous blue cheese is produced from pasteurized milk, rennet (a complex set of enzymes produced in the caves' stomach), and Penicillium Roqueforti for the mold to grow and create its distinct crust blue veins spread out from the center.
What's about the taste? Does it feature a savory flavor similar to Roquefort blue cheese?
Well, it comes with a milder flavor compared to Roquefort. Its taste is also quite sophisticated. When you eat it, you first feel its creamy, sweet, and yeasty specks, then you find a nutty, salty finish that sticks to your mouth.
If you want to evaluate your pasta's taste, risotto, salad, or dessert, Stilton will surely do wonders for your dishes. You can also mix this delicious cheese with walnuts or figs to create yummy and creamy snacks.
5. Cashel Blue Cheese – Most Popular
The next one on the list is a well-known blue cheese coming from Beechmount in South Tipperary, Ireland – Cashel Blue.
This semi-soft blue cheese features a milky and buttery flavor that makes you fall in love at first bite.
Besides, as its taste is pretty mild, it can be considered a Stilton cheese substitute aside from a replacement for Roquefort.
Similar to other blue cheese types, you can use Cashel Blue in various ways, such as creating a tasty risotto, dressing on the salad, or making a cheese tart.
6. Vegan Blue Cheese – Homemade One
If you have time, why don't you try to make the vegan cheeses at home? It might take a little bit of effort, but we're pretty sure you will be delighted with the results.
Besides, many home-made cheese recipes call for only a few ingredients, including raw cashews, coconut oil, Penicillium Roqueforti, vegan probiotics (Acidophilus), water, and salt to make yummy cheeses.
Moreover, for the home-made vegan blue cheeses, you can customize its creamy consistency and intensity so that you can have the cheese you have been desiring.
Why Is Roquefort Banned In The US?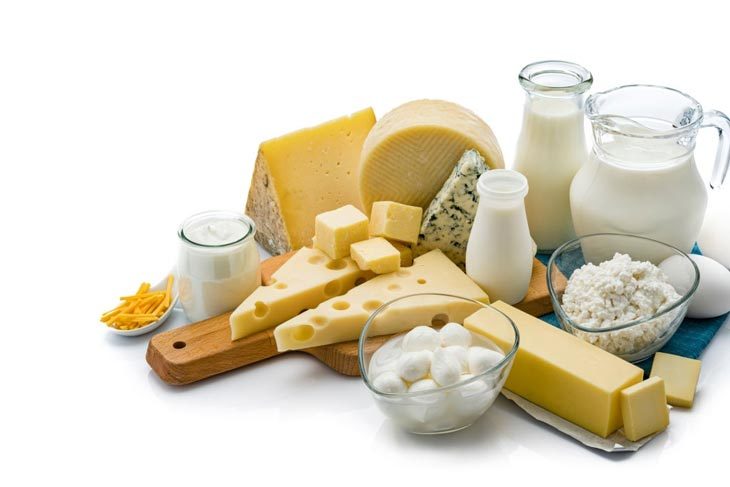 It shocks us all, right? The FDA bans some of the most popular cheeses in the world, including Roquefort. So why do they impose a ban on these divine cheeses?
First, the FDA prohibits unpasteurized cheeses as they believe that these cheeses might bring health issues to the consumers.
Another reason to ban these cheeses is the bacteria levels. Bacteria is well-known as the secret ingredient to create many flavorsome cheeses, especially blue mold cheeses.
However, the FDA only cheeses with the bacteria level 100MPN to 10MPN. This makes the French cheese – Roquefort illegal because of its E. coli bacteria level.
What a pity that you miss out on this fantastic cheese! Is there any cheese type that you can substitute for Roquefort cheese?
Fortunately, yes! There are a few cheeses that mark some significant resemblances to Roquefort. Stay stunned, and let's scroll down to the next part to discover what they are.
Wrapping Up
Here are the best recommendations for the Roquefort cheese substitute. We hope that you will know what you should go for when you need Roquefort in your recipes through this article.
Lastly, thanks for your precious time on this article! We wish you a happy cooking time and many fantastic dishes with these savory cheeses.