5 Best Russian Dressing Substitute Will Make You Surprised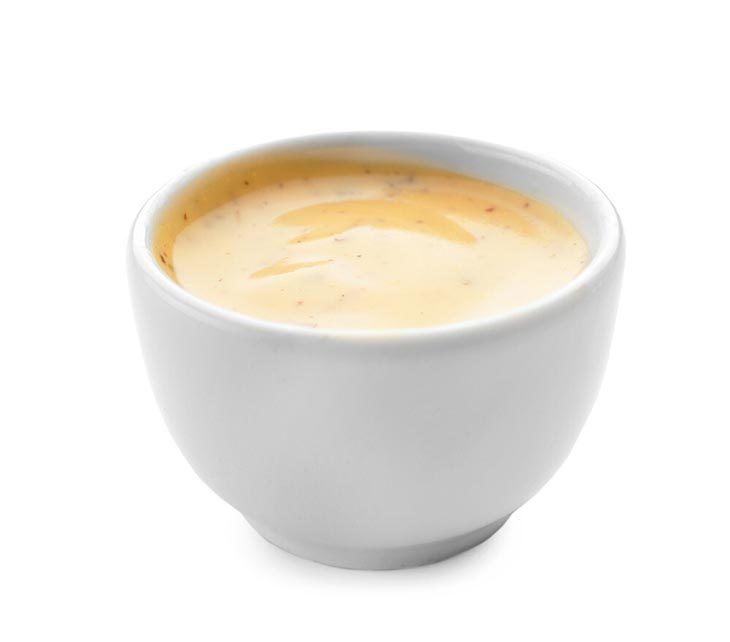 Russian dressing is a flavorsome and appealing relish that helps bring a distinctive taste to many dishes. 
Suppose you need this tasty sauce for your dish, but you are running out of it; what should you use instead to retain the similar features as Russian dressing?
Let our article provide the top replacements for this sauce so that later, you can select the most suitable Russian dressing substitute for your recipe needs. 
List of 5 Alternatives Used As Russian Dressing Substitutes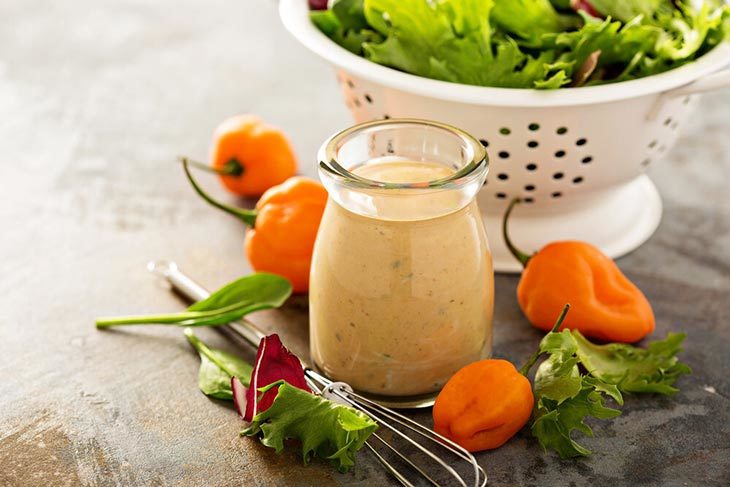 To substitute for Russian Dressing, we can use other dressing type or sauce. But how and how much? let us how you this matter below.
1. Thousand Island Dressing
The first replacement for the Russian salad dressing we would like to introduce to you is Thousand Island dressing – another classic American dressing.
Russian dressing vs Thousand Island dressing – what is the difference when they all share similar ingredients, including mayonnaise, Worcestershire sauce, paprika, and ketchup?
Well, the biggest difference between them is that Thousand Island comes with a sweeter flavor and a creamier texture than the Russian dressing because of the fresh pickles in the sauce.
So, if you are looking for a tangy and zesty Russian salad dressing substitute for some least fishy fish, corned beef for Reubens, or salad, this relish will definitely be the best option!
2. Catalina Dressing
Another substitute for Russian dressing is Catalina salad dressing. Russian dressing vs Catalina dressing – what are the similarities and differences between them?
What makes them similar to each other is the key ingredient – ketchup (or tomato sauce) and some condiments, such as paprika or Worcestershire sauce.
About the difference, people usually replace mayonnaise with oil, such as canola oil and wine vinegar in the Catalina dressing recipe, to make the sauce thinner.
So, what does Catalina dressing taste like?
It comes with a slightly creamy and tangy oil-and-vinegar base with an extra sweet flavor from ketchup. These features make it a perfect relish to season on dishes such as pasta salad, tortilla chips, and taco seasoned meat.
3. French Dressing
What should you go for if you love the sweet and tangy taste of Catalina salad dressing and the creamy texture of Russian dressing at the same time?
In that case, let's try French dressing – the most well-known Catalina dressing substitute.
This dressing has such a beautifully sweet and tangy flavor made of tomato sauce, wine vinegar, and sugar. It also features a creamy texture as it has mayonnaise as the main ingredient.
In case you prefer a pungent taste, let's add chili sauce or chili powder to the sauce. These ingredients will create an explosion of heat for your relish.
Along with the flavorsome taste, it also features an eye-catching color that varies from pale orange to bright red.
Mix creamy and tangy dressing with your green salad, and you will have a healthy and tasty dish that no one can resist.
4. Fry Sauce
The next one on the list of replacements for Russian dressing is fry sauce.
For the most part, this delicious condiment can be found in Utah, Idaho, and parts of Oregon. At its most basic level, it is a mixture of ketchup, mayonnaise, and a few seasonings to boost the flavor.
You probably have seen or eaten this delicious sauce lots of times before; it is commonly served with fast food, such as fried chicken, burger, sandwich, and tostones.
So, if you are looking for a promising relish instead of Russian dressing chicken, fry sauce should be the first one to consider.
5. Blue Cheese Dressing
You want a more buttery yet less spicy substitute for Russian salad dressing, let's give blue cheese dressing a try.
The name says it all because its main ingredient is blue cheese.
To boost the creamy taste and add a mild flavor, people regularly mix this sauce with mayonnaise, sour cream, white vinegar, black pepper, onion powder, and garlic powder.
If If you don't like the vinegar flavor, let's try with other alternatives such as lemon juice, lime juice to cut the vinegar taste in your dressing.
One bite of this relish and you will feel the cheese melts in your mouth. How flavorsome is that!
Because of its distinctive creamy taste, it has become one of the most well-known side sauces for dishes, such as Buffalo wings, chicken salads, and raw vegetables.
Facts and Recipes of Russian Dressing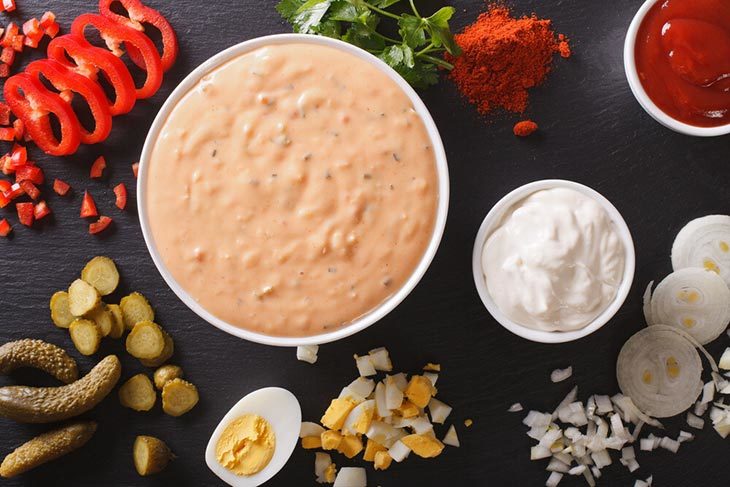 Before dividing into replacements for this classic American dressing, let's discover what's in Russian dressing.
Well, it usually is a mixture of mayonnaise and ketchup complemented with additional ingredients such as chives, horseradish, pimentos, mustard, and other spices.
What's about the flavor? What does Russian dressing taste like? It has a delicious piquant flavor that makes people fall in love at first bite.
Due to its distinctive taste, Russian dressing has been known as the vital ingredient for old-school dishes, such as the Reuben sandwich and Crab Louie Salad.
It is also used to add the tangy flavor to the salad, chicken dish, and so many more.
The simple-to-follow Russian salad dressing recipe
Suppose you want to give yourself a try and make this flavorsome piquant dressing at home; here is one of the easiest Russian dressing recipes to go for.
First, you will need to prepare the ingredients, including:
1 tbsp of chopped onion
1 cup of mayonnaise
¼ cup of ketchup
1 tsp of horseradish
1 tsp of hot sauce
1 tsp of Worcestershire sauce
¼ tsp of paprika
1 tsp of salt
After preparing the ingredients, you can follow these simple steps to create your homemade Russian salad dressing.
Step 1: Mash the minced onion into a paste. 
Step 2: Mix the onion paste with mayonnaise, ketchup, horseradish, hot sauce, Worcestershire sauce, and paprika. 
Step 3: Whisk the mixture until all the ingredients blend perfectly. 
Step 4: Season the sauce with salt until you get your desired flavor.
Step 5: Transfer the mixture into a sealed container and refrigerate for at least 2 hours before using it.