The 5 Best Russian Dressing Substitutes
Russian dressing is a dressing that is flavorful and brings a unique taste to dishes.
If you need this sauce but don't have enough, what can you use instead that will still have the same features as Russian dressing?
Our article will give you the top replacements for this sauce so that you can choose the most suitable Russian dressing substitute for your recipe needs.
List of 5 Alternatives For Russian Dressing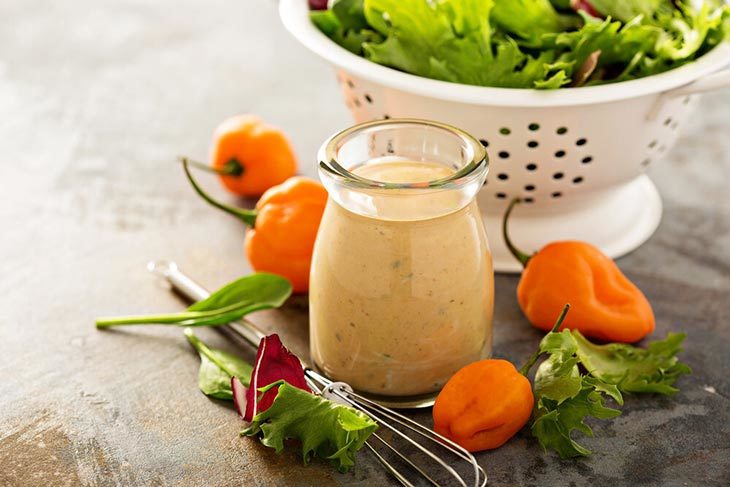 To substitute for Russian Dressing, you can use other dressing types or sauces. But how and how much? Find out below!
1. Thousand Island Dressing
Thousand Island dressing is a classic American dressing which is the first replacement for Russian salad dressing.
Russian dressing vs Thousand Island dressing – what is the difference when they all share similar ingredients, including mayonnaise, Worcestershire sauce, paprika, and ketchup?
The most considerable difference between them is that Thousand Island comes with a sweeter flavor and a creamier texture than the Russian dressing because of the fresh pickles in the sauce.
So, if you are looking for a tangy and zesty Russian salad dressing substitute for Reubens, or a salad, this dressing is a good choice.
2. Catalina Dressing
Another substitute for Russian dressing is Catalina salad dressing.
Russian dressing vs Catalina dressing – what are the similarities and differences between them?
What makes them similar to each other is the key ingredient – ketchup and some condiments, such as paprika or Worcestershire sauce.
About the difference, people usually replace mayonnaise with oil, such as canola oil and wine vinegar in the Catalina dressing recipe, to make the sauce thinner.
So, what does Catalina dressing taste like?
It comes with a slightly creamy and tangy oil-and-vinegar base, with an extra sweet flavor from the ketchup. These features make it a perfect dressing for seasons such as pasta salad, tortilla chips, and seasoned taco meat.
3. French Dressing
What should you go for if you love the sweet and tangy taste of Catalina salad dressing and the creamy texture of Russian dressing at the same time?
In that case, let's try French dressing – one of the most well-known Catalina dressing substitutes.
This dressing has such a beautifully sweet and tangy flavor made of tomato sauce, wine vinegar, and sugar. It also features a creamy texture as it has mayonnaise as the main ingredient.
4. Fry Sauce
The next one on the list of replacements for Russian dressing is fry sauce.
At its most basic level, fry sauce is a mixture of equal parts of ketchup and mayonnaise.
You probably have seen or eaten this delicious sauce plenty of times before; it is commonly served with fast food, such as fried chicken and burgers. It can also be bought in stores, most commonly from Heinz, named "Mayochup"
5. Blue Cheese Dressing
You want a more buttery yet less spicy substitute for Russian salad dressing, give blue cheese dressing a try.
The name says it all because its main ingredient is blue cheese.
Just mix blue cheese with mayonnaise, sour cream, white vinegar, black pepper, onion powder, and garlic powder to create this dressing.
If you don't like the vinegar flavor, let's try with other alternatives such as lemon juice, lime juice to cut the vinegar taste in your dressing.
Because of its distinctive creamy taste, it has become one of the most well-known side sauces for dishes, such as Buffalo wings, chicken salads, and raw vegetables.
More Posts You May Enjoy