Rye Flour Substitute – 5 Best Alternatives For Baking Excellent Flavors
Many people use this flour to make popular cakes, rye bread, and even savory foods in many rye recipes. The dishes made from this ingredient bring a unique sour flavor and nut scent.
This organic baking powder takes a lot of time to process, so it comes at high prices. There may be a chance it isn't available in your local market.
Still, some great alternatives can be used as a rye flour substitute if you can't put your hand on this component.
This article will provide you with in-depth and helpful information about different types of powder you can use to bake foods.
What is Rye Flour?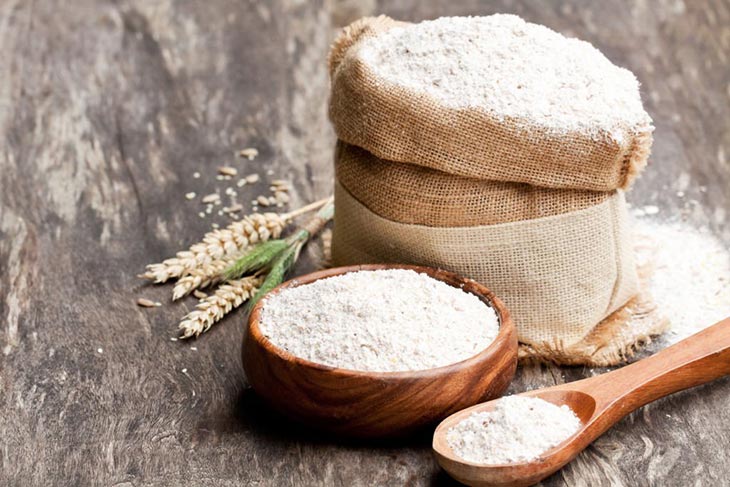 Rye flour is a cooking ingredient processed from ground rye berries or rye kernels. Removing different parts of the rye kernels can produce rye flour in many colors.
There are currently up to four common types of rye texture sold on the market.
Different colors of rye flour come with distinct tastes and components. You should try all four categories to figure out which one tastes best.
That said, the dominant note of the flour is still the nutty touch with a sour and somewhat bitter undertone.
Depending on your preference and the type of food you are making, choose the suitable one for your needs.
You can use this ingredient in baking bread and making cakes. It is rich in protein gluten nutrition. Avoid eating foods made from rye flour if you are allergic to this substance.
Pay attention to the baking time as this powder takes longer to become ripe.
This ingredient can also help prevent digestive disorders due to its substantial source of fiber.
This characteristic also makes it easier to digest rye flour compared to the traditional ones, thereby reducing weight in the long run.
The quality, taste, and health benefits of it are undeniable. But what if this ingredient is unavailable in your kitchen. Consider the alternatives we offer as the substitute for rye flour.
Rye Flour Substitute – Top Five Options
1. Whole Wheat Flour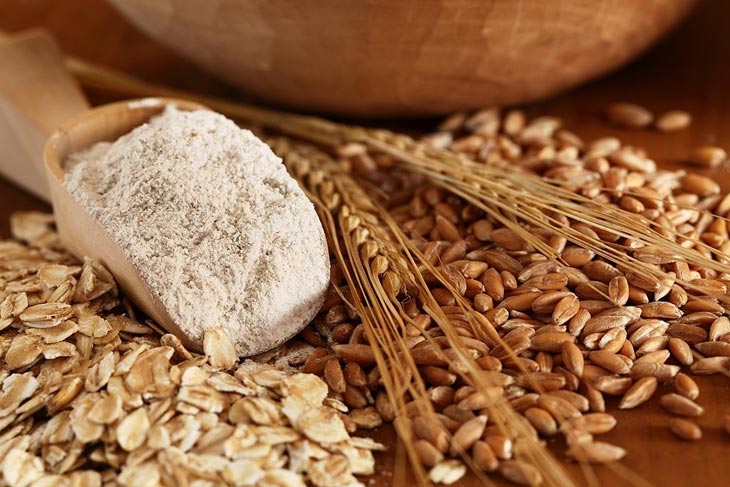 The whole wheat powder contains all the parts of the seed after the grinding process. Due to its more complete components, the nutrients of whole wheat flour are much richer than the common white flour.
It provides our bodies with complete protein, vitamins, and other valuable nutrients.
It is one of the rare products on the market that can match rye flour in nutritional value. Bread made from this substitute has a texture and density similar to those made from rye flour.
This feature makes whole wheat powder a perfect alternative baking choice and making cakes.
Some types of whole wheat flour do contain gluten. Although the index does not have denser texture than rye, people with allergic symptoms should not consume it.
You should take a look at the component description before buying.
You can choose to replace a small portion rather than the whole wheat based on this replacement ratio.
You can begin with swapping one-third of your current amount for whole wheat then increase it if it tastes good. Usually, 50:50 is the perfect choice but it is best to take it slowly.
2. Kamut Flour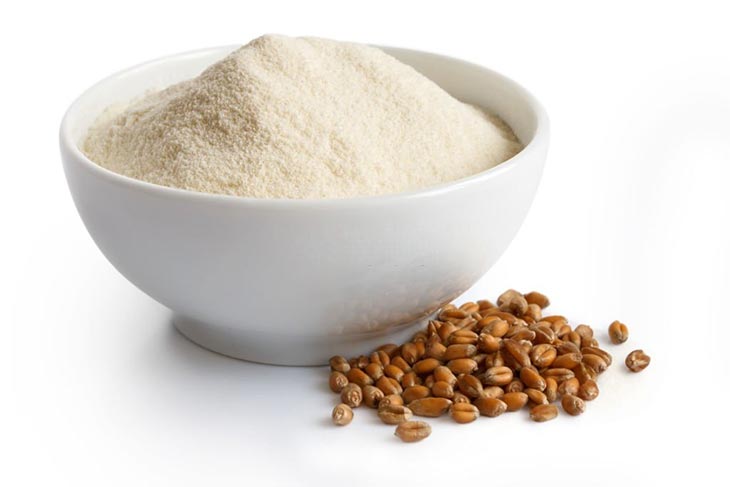 You can find all the good characteristics of rye in Kamut flour. First of all, it has healthy nutrients such as proteins, minerals, and vitamins.
But remember Kamut powder isn't a gluten-free flour, so it is not suitable for people with gluten intolerance.
Although this substitute still has a little gluten, it can be a great component in your bread. In fact, Kamut powder is a perfect ingredient for many people when it comes to making flatbread and wheat bread.
Consumers can trust the quality of this product because of the organic ingredients used in production.
People who grow Kamut powder have asserted that they don't use any hybridization or genetic modification.
Due to its rich fiber, Kamut powder is edible for people with digestive disorders. The appealing golden color, along with the nutty and buttery taste of this substitute, can delight your appetite.
You can combine it with the other types of powders to create fantastic flavors.
Another trade-off is its cost. The Kamut grains used in production only grow in some regions such as North America, with dry climates.
For this reason, it may be hard to find this product in your local grocery store. Shipping it to your kitchen from foreign countries can be expensive and time-consuming.
3. Barley Flour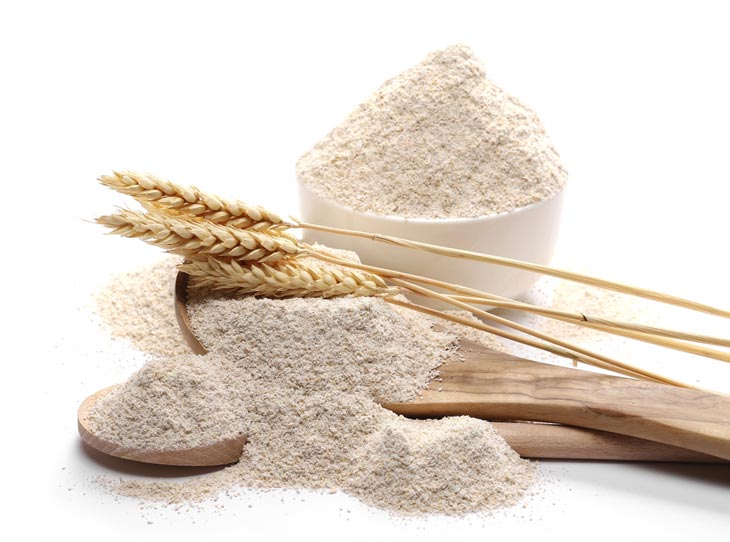 Barley powder is obtained from grinding whole barley grains. We can use it to fill in the blank of grain rye flour in many recipes. It also serves as a food thickener to make soup and cakes.
If the grocery stores nearby don't sell this product, you can make it at home.
You can sprout the barley grains and then grind them using a milling machine.Remember to dry the grains quickly to retain their nutrients.
Barley powder is rich in protein and saturated lipids. With a low to zero amount of cholesterol detected, this powder is very healthy to consume and suitable for people with cardiovascular diseases.
It would be best if you froze the final product in the refrigerator to prolong its lasting. Without a proper storage method, your barley flour can become rancid and harmful to consume.
Barley powder brings a nutty flavor that has a distinctive taste from the other textures.
Please note that this texture can not be used as the only component of your foods. You can use a ratio of 50:50 between barley and wheat texture when making cakes.
4. Rice Flour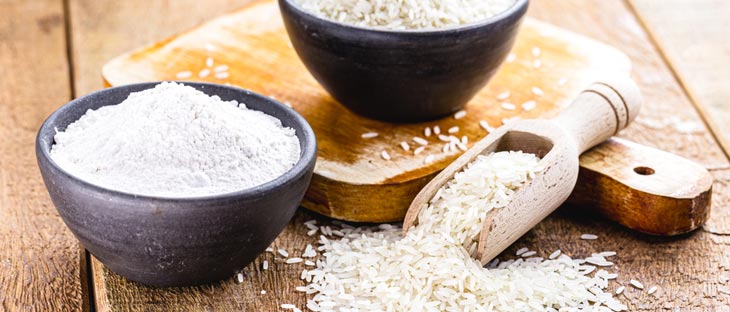 Although many types of powder have higher quality than rice flour, they are not always available at the local market.
When you can't find any better alternatives, rice powder can work in a pinch. You can use it to make bread, culinary, and even noodles.
One unique advantage of this option is that you can make it in your own home from easy-to-find ingredients.
The main component of rice powder is milled rice. You can create it by grinding raw rice using a coffee blender.
Get a bag of rice from the nearby store and open it. Grind the rice for as long as possible to get a smooth consistency.
The finer your texture is, the easier it becomes to make bread. The final product will have a beautiful and pure white creamy color.
Rice texture is a great ingredient for people suffering from gluten allergy symptoms. With zero gluten in its components, this product is often sought after as the gluten-free substitute for rye flour.
People with gluten intolerance no longer have to worry about worsening their symptoms.
It would help to combine this substitute with the other textures in food recipes. Add a small amount of rice powder to make your food more tender and fluffy.
Ensure that you cover all the surfaces to prevent the air from ruining your final product. You should store it in plastic bags or boxes and put them in the refrigerator.
This action can help your rice texture last longer and preserve its distinct flavor over time.
5. Chia Flour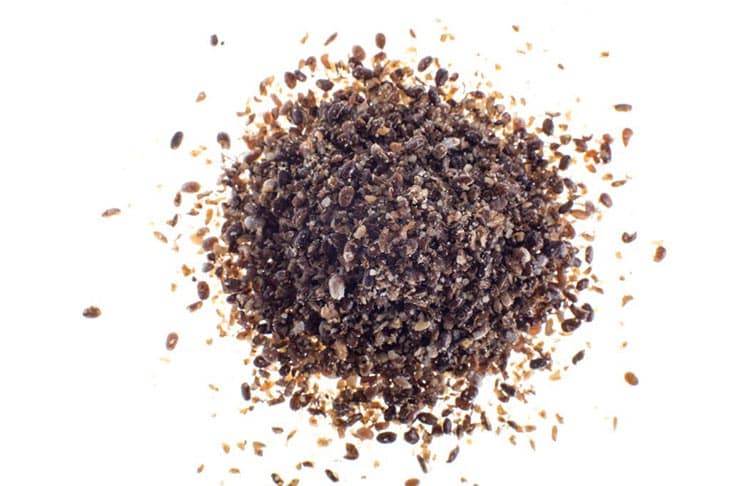 Another good gluten free substitute for rye flour is chia. This whole-grain texture is one of the common flours that you can replace for rye and wheat powder in savory bread, cakes, and sweet food.
Chia products have an iconic nutty flavor which is very similar to rye powder. It serves as a thickening agent in your food.
You can add a small amount of this ingredient to make your food more crumpy and appetizing. It can also help absorb the water and make your dishes drier.
There are various ways you can use chia powder to make foods. Remember to increase your baking time by at least 5 minutes when adding the ingredient. It would be best to use a small fry pan when using this sub.
As chia products originated from the chia seeds, they are inherently rich in nutrients. Chia powder is chock-full of valuable substances like omega-3 and healthy fatty acids.
These better nutrition products offer science-backed effectiveness in reducing cancer risk and boosting intelligence.
How To Choose A Substitute For Rye Flour
Not every alternative can be cooked the same way as rye flour. Thereby, it would help if you blended them with the other textures in different ratios in making cakes and bread.
Remember to check the nutrient description of the product before you buy it. If the product you choose is richer than rye powder in nutrients, it is a good substitute.
Prioritize the textures with zero gluten if you are allergic to this substance. Some products will be marked as "gluten-free" on the package, while some don't (though they contain no gluten).
So, check the package and do some research about the ingredient as well.
Conclusion
We hope that the detailed information about rye flour substitute provided in this post is helpful to you. Each type of powder comes with differences in colors, tastes, and characteristics.
All of the products suggested are available on the online stores specialized in selling bakery foods.
Make sure that you consider all the options and select the most suitable one depending on your body's conditions and preference. Enjoy your time in the kitchen making the most delicious dishes.