Are you tired of the same old breakfast routine? Look no further than this delicious and easy-to-make sausage hash brown balls recipe! Perfect for a hearty breakfast or a weekend brunch, these savory bites will become an instant favorite.
These balls are packed with flavorful sausage and crispy hash browns, and they are sure to satisfy your hunger and make a filling breakfast. Plus, they are a breeze to make and can be enjoyed on their own or with your favorite breakfast sides.
So, gather your ingredients and get ready to impress your family and friends at breakfast with this mouthwatering sausage & hash brown balls recipe!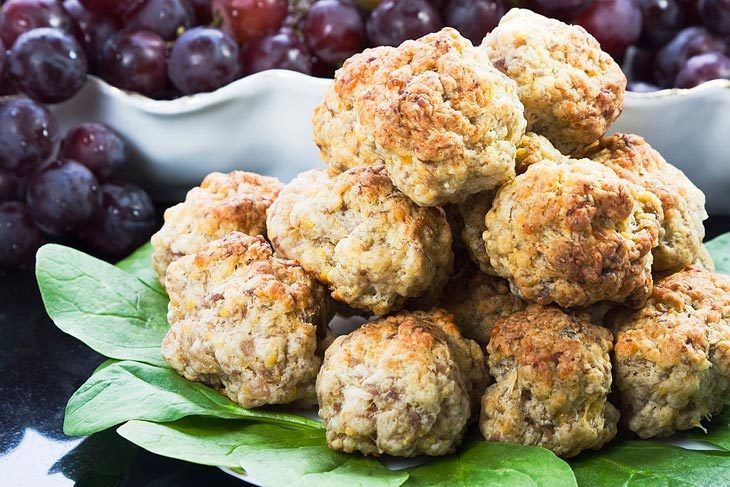 What Can I Serve With Hash Brown Sausage Balls?
Cheese stuffed hash brown balls are a great breakfast example as they are easy to make and are nutritious. If you want a side with these sausage egg balls with other dishes, here are some suggestions to create a collab-dish with breakfast bites with hash browns:
Eggs: Doesn't matter if it is fried or poached or cooked; sausage balls and eggs are a great combination.
Bacon/Ham will add saltiness and savoriness to your breakfast dish and Everyone looks bacon, so this is always a good choice to serve as a side in my opinion.
Breakfast Sandwich: You can slice the hash brown balls and place between an English muffin, croissant, or bagel for a quick-to-go breakfast meal.
Cheese: Who says you cannot have more cheese in this yummy dish? You are welcome to add in extra cheese to boost its flavor and make it extra cheesy!
Common Questions About Sausage Balls
How do you keep sausage balls from falling apart?
Don't over mix the ingredients: Over mixing can break down the texture of the ingredients, making them more likely to fall apart. Mix the ingredients just until they are combined, then stop.
Also, don't make the balls too big: If the sausage balls are too large, they may not cook evenly, which can cause them to fall apart. Aim for balls that are about 1–2 inches in diameter.
How do you know when sausage hash brown balls are ready?
Hare a few things to look for to ensure sausage balls are cooked through and ready to eat:
Color: Sausage balls should be golden brown all over when they're fully cooked. If they're still pale, they need more time in the oven.
Firmness: Sausage balls should be firm to the touch when they're fully cooked. If they're still soft or squishy, they'll need more time in the oven.
Internal temperature: To ensure that the sausage balls are fully cooked, you can use a meat thermometer to check their internal temperature. The USDA recommends cooking ground sausage to an internal temperature of 160 °F (71 °C).
Time: The cooking time for sausage balls can vary depending on their size and the oven temperature. As a general rule, they should be cooked for 20–25 minutes at 400 °F (200 °C) until they are golden brown and crispy.
Why are my sausage hash brown balls flat?
Sausage balls can sometimes turn out flat if the mixture is too wet or if they're not shaped properly. To fix these issues, try adding more flour or using less liquid in the recipe and making sure they balls are about 1 to 2 inches big, hand rolled and evenly sized.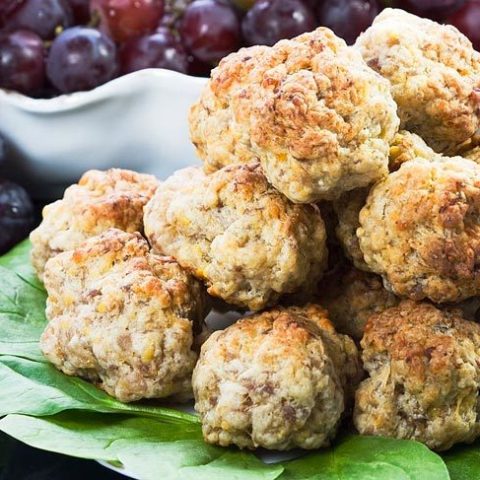 Cheddar Sausage Hash Brown Balls
Hash brown cheese balls are a delicately upgraded version of sausage, so keep in mind that you will need additional ingredients than just sausage to make this tasty breakfast dish.
Ingredients
1 pound breakfast sausage
1 20-ounce bag frozen shredded hash browns
1 cup shredded cheddar cheese
1/2 cup all-purpose flour
1 teaspoon salt
1/2 teaspoon black pepper
2 large eggs
2 tablespoons milk
Cooking spray
Instructions
Preheat your oven to 400 °F (200 °C) and line a baking sheet with parchment paper.
In a large mixing bowl, combine the breakfast sausage, frozen hash browns, shredded cheddar cheese, all-purpose flour, salt, and black pepper, eggs and milk. Mix well until all ingredients are evenly combined.
Using a small cookie scoop or spoon, form the sausage hash brown mixture into 1-2 inch balls.
Lightly spray the tops of the sausage hash brown balls with cooking spray to help them brown.
Bake the sausage hash brown balls for 20–25 minutes, or until they are golden brown and crispy.
Remove the sausage hash brown balls from the oven and let them cool for a few minutes before serving.
Recommended Products
As an Amazon Associate and member of other affiliate programs, I earn from qualifying purchases.