Milk is a staple in many households, whether it's used for cooking, baking, or as a beverage. Skim milk, also known as fat-free or nonfat milk, is a popular option for those who are looking to reduce their calorie and fat intake. However, some people may be looking for a skim milk substitute for various reasons, such as lactose intolerance, veganism, or simply a preference for alternative options.
In this blog post, we will explore some of the most popular skim milk substitutes, their benefits, and how they can be used in different recipes. Whether you're searching for a dairy-free option or simply want to switch up your milk routine, there's sure to be a substitute that's right for you. So, grab a glass and let's dive in!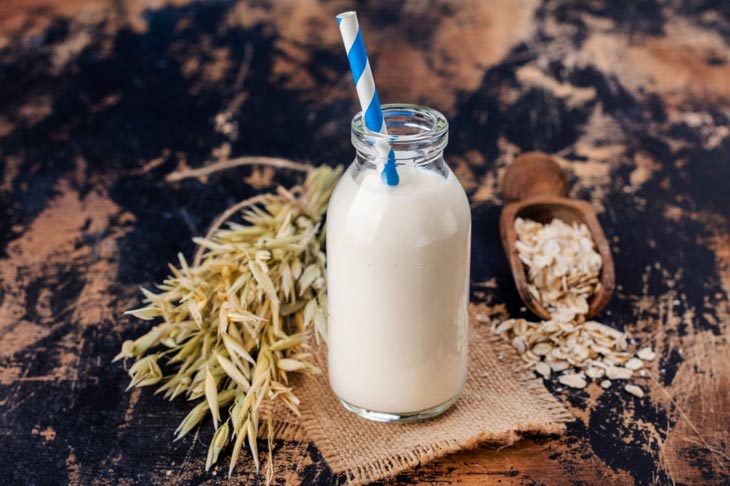 8 Delicious Kind of Milks To Use As Skim Milk Substitute
Thankfully, there are many different types of milk substitutes available that can provide similar taste and nutrition to skim milk. From plant-based milks like almond, soy, and oat, to animal-based options like goat and sheep milk, there are plenty of alternatives to choose from.
Each type of milk substitute has its own unique taste and nutritional benefits, making it important to consider which one is best suited for your individual needs.
1. Whole Milk
One of the first candidates participating in the race for best skim milk substitute is Whole milk. It is rich and less dry compared with skim milk.
In the low-fat recipes which need the fat in them, they will call for whole milk instead of skim milk. Just pay attention to the amount when using it in so fat sensitive recipes because when whole milk contains 4% fat, but skim milk is 0%.
2. Almond Milk
This kind of milk contains ground almonds with water and extra light sweetener.
With these ingredients, fat-free almond milk is certified to be one of the best whole milk substitutes as it is non-dairy milk with light almond flavor.
If you are worried whether the nut smell can ruin your cake or dessert, we can confirm that this different scent will not waste your recipe. The smoothing harmony will take your dessert to a whole new level!
For example, if you want to make taro milk tea with no fat milk, the act of replacing skim to almond milk will create a beautiful harmony between taro and almond. You will love this compounded taste for sure.
Besides using it in drinks, almond milk's best performance can be found in dessert or sweet treats. The slight, delicate flavor of almond will emphasize and elevate your baking's recipe while substituting skim milk.
3. Coconut Milk
Many people mistakenly assume that coconut milk is on sale in the shape of cans only.
However, those cans you regularly see at the market are not the kind of milk we are talking about. The coconut mentioned here is packed and sold in cartons, like original skim milk.
This specific kind of milk is light in weight, texture, and flavor.
Since only a small hint of coconut flavor can be detected in this non-dairy product, it is the perfect substitute for milk in baking and cooking. You should not worry if it strongly affects your recipe or not.
Coconut milk is a perfect company, compared to skim milk when it comes to replacing skim milk in Asian dishes.
Other than that, coconut milk can do a great job in replacing skim milk in terms of desserts or sweet dishes as well.
4. Soy Milk
Soy milk made with either soy protein or soybeans regularly involves vegetable oils and thickeners to increase consistency and taste.
Due to soy's healthy ingredients of vitamins and non-fat protein, Soy Milk is widely recognized as the ultimate skim milk substitute for cooking and diet.
Soymilk is somewhat heftier in protein than most milk options, making it a decent alternative to substitute milk in flavorful sauces and heated products.
However, it contains no fat at all, so you must consider using this kind of meal in any recipe that requires fat.
5. Rice Milk
When soy hypersensitivity developed as concerns, rice milk popped onto the market as another approach to substituting milk. Like soy milk, rice milk is exceptionally flexible and can be utilized in many dishes, from savory to sweet. 
This factor makes it the second-best choice besides cooking with slim milk. When it comes to weight, rice milk is even more lightweight than skim milk.
Its texture can be so light that it feels like water, so, unfortunately, it won't add a lot of extravagance to sauces or frozen yogurts.
Nonetheless, in contrast to soymilk, it works very well in more sensitive pastry plans that don't need a great deal of fat. 
6. Oat Milk
Oat milk is made from oats and enriched with vitamins and calcium, with a low saturated fat level.
With a small hint of oat along with its healthy non-fat ingredients, oat milk is certainly one of the choices you must consider when looking for a skim milk's alternative.
Being creamy with a slightly powdery aftertaste, oat milk's decent natural taste that isn't excessively unpleasant or sweet. It can be a great substitute for skim milk in baking desserts, sweet treats.
And let's not forget that it functions admirably in savory dishes because its texture won't split when heated. Likewise, oat milk is a decent choice for exquisite dinners and desserts rather than skim milk.
7. Hemp Milk
In case you don't know what hemp milk is, it is A mix of hemp seeds and water, braced with calcium and vitamin D. 
Hemp milk- the best substitute for milk in diet – is best used when it is heated, which means that you can replace a hot skim milk cup with hemp milk for a more mild and slightly sweet taste.
In the boiled condition, hemp milk can deliver the best flavor to your drinking and your cooking.
Hemp likewise has a solid taste that can be drawn excessively amazing in milk options. It should be used when making fruit smoothies to extract its natural sugar.
Another way to substitute skim milk using hemp milk is freezing it to make non-dairy ice cream. Hemp milk is an extraordinary sans allergen milk elective that merits testing.
We would abstain from utilizing it in carefully seasoned plans.
8. Flax Milk
Flax Milk is notable for its milk ease. It has enough fat to confer smooth lavishness without being excessively thick.
The flavor is likewise very mellow. It should function admirably in practically any formula that calls for milk, regardless of whether sweet, exquisite, hearty, or fragile.
What To Consider Before Buying A Substitute For Whole Milk?
Before you buy any milk to substitute skim milk, there are specific features that you need to consider. Here is the list of what you expect to understand beforehand:
1. Ingredients
Since nonfat milk's main ingredients are mostly dairy-free, you need to keep in mind this fact before buying whole milk substitute to make sure that the elements have no dairy.
2. Taste And Flavors
If you are making desserts or baking cakes with skim milk, its plain flavor must play an important role in defining your dishes.
So, when trying new options to replace this kind of milk, you might have to understand and beware of how the new dairy can affect your food. 
If there is no such big difference, it will be a good substitute for whole milk.
3. Shelf-Life
A milk's shelf life is worth to be considered once you replace skim milk with it. To make sure that your cooking's result is safe to eat, check the expiry date on the milk package you will use.
Once you have opened any milk, it's best to store them in the fridge and use them before ten days.
If you don't follow the instructions on keeping the milk evenly, any milk will go rancid immediately, even if it is fat milk like buttermilk getting sour or non-fat milk like soy milk fermented.
4. In Recipes
Every skim milk replacement recorded can supplant cow's milk in cooking or heating, utilizing a 1:1 proportion (for example, 1 cup of cow's milk = 1 cup of soy milk).
However, with watery milk such as rice milk, it may take more than 2 cups of it to fulfill the amount you have with skim milk.
So, depending on your recipe, you need to decide how many cups of alternative milk will be enough to supplant the original milk choice.
5. Potential "Hidden" Allergens
If you purchase substitute milk from your local grocery store or supermarket, you will see that there are a variety of choices you can make with one kind of milk only.
However, they have one thing in common: Numerous brands of milk options have commonly added substances to improve their flavor (rosemary), surface (substrate), and usability (preservative). 
For example, milk with gluten should be double-checked about the amount if you detect it in the ingredient list. Soy protein can easily cause one to be allergic.