Slow Cooker Cuban Sandwich
Everybody loves sandwiches for many reasons: they are delicious, nutritious, and even a three-year-old can make one.
With the right cooking technique and delicious ingredients, you can create a high-class sandwich dish, like a Slow Cooker Cuban Sandwich.
If the dish's name has triggered you, then this article is for you, where we will give out the detailed ingredients and instructions on how to create this spectacular sandwich!
Slow Cooker Cuban Sandwich Recipe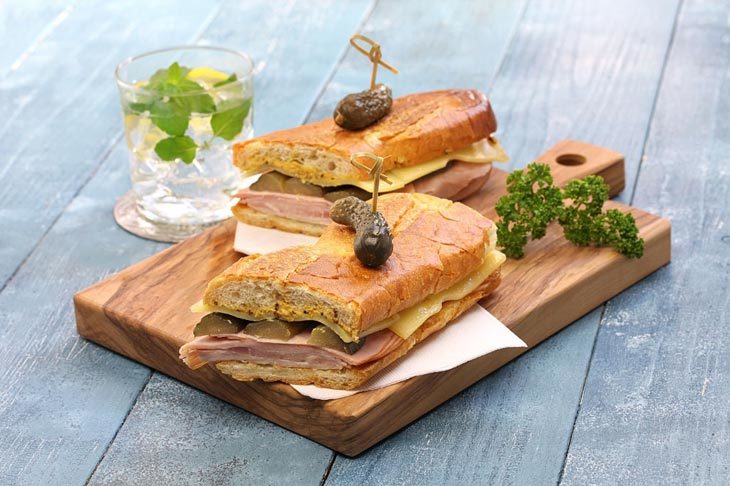 Ingredients
Here is a list of must-have ingredients in a Cuban sandwich pork recipe:
Cuban bread (you can buy Cuban bread in any local supermarket)
3 to 3 1/2-pound slow-roasted boneless shoulder pork (you can buy pre-roasted pork in the market, or you can make roast pork for Cuban sandwich by yourself if you know how to do it)
One pound of sliced ham
Swiss cheese
Pickles
Pickle slices
Mustard
To create stunning spices for your Cuban sandwich, you will need:
2 tablespoons extra-virgin olive oil
1 tablespoon kosher salt
2 teaspoons ground cumin
2 teaspoons dried oregano
1 teaspoon ground black pepper
1/4 teaspoon crushed red pepper
3 to 4 cloves garlic, minced
2 tablespoon of lemon or orange juice
Yellow mustard
Sliced red onions
Directions:
Step 1: Prepare The Pork
For a slow cooker Cuban sandwich, you should choose a slice of pork that is tender such as pork cushion meat. Since we cook the meat with a slow cooker, the pork should already have its moisture so it can stay in the heat without being too dry.
If you had difficulty in choosing what kind of pork to use in this dish, do some research or directly ask the meat seller for a recommendation.
Step 2: Prepare The Sauce
The sauce for the Cuban sandwich includes all the spices we have mentioned before in the ingredients list.
It is a harmonization between spices like salt, cumin, oregano, black pepper, red pepper in the base of oil, garlic-lime juice, and orange juice. You can put all of these spices in one bowl with the suggested amount of ingredients list.
Step 3: Add The Sauce To Pork And Cook With The Slow Cooker
Now we have the meat and the sauce together, and it's time for the fun part. When you finish preparing your pork, remember to poke the meat with a knife or chunk them into parts so that the oil mixture can be absorbed easily into the meat later.
The techniques of getting the oil-absorbing into the meat have many: you can wear gloves, dig the pork into the oil and rub the oil all over the meat with your hand; or you can use a brush and brush the oil thoroughly on the meat.
Once the Cuban sandwich pork has been showered with the oil mixture, we put it in a slow cooker to begin cooking. For extra spices, you can top the pork up with the remaining juice from the oil bowl. Cover the pork and choose "Low cooking" mode.
This is an important issue as if you don't set the right temperature for cooking mode, your pork for Cuban sandwiches will end up very dry. It takes approximately 6 hours for the meat to be well done completely.
Step 4: Prepare The Sandwich
After the meat has been cooked to perfection, remove it from the cooker, let it rest for 5 minutes and start shredding it with a fork to see if it has been cooked or not, and separate it into smaller portions to put in the Cuban pulled pork sandwiches.
The spice of Cuban pulled pork recipe must have been incredible by now. For that reason, we cannot let the bland sandwich ruin the meat's extra flavor.
If you have bought the sandwich before making the meat, it's important to keep the store-bought sandwich fresh in order to have a delightful meal after all. To also highlight the sandwich component, you can smear both sides of the sandwich with mustard to increase its crispiness and salty flavor.
Pulled pork Cuban sandwich's layers include Swiss, ham, pulled pork, and pickles. Then comes the main character, the pork for Cuban sandwich, followed by onions cut into portions.
Step 5: Serve The Dish
The key to serving a pulled pork Cuban sandwich is by how much you can press it down. The more content you can squish between two sandwich layers, the yummier it will appear!
Press your final result in the Panini grill for 5 minutes and remove it once you see the smear on the sandwich's sides. In the end, your sandwich will have a beautiful golden brown coat with melted cheese in the middle.
If you don't have a Panini grill, another way to serve the Cuban sandwich pulled pork is to use a skillet on both sides of the sandwich to make it more organized and tasty. Adding some pickles outside for garnish will make the dish more appetizing as well. And there you go, your delicious, tasty Cuban sandwich!
Tips for Making a Slow Cooker Cuban Sandwich
Authentic Cuban sandwiches can be difficult to find in your local market or supermarket. In case you don't have a Latin bakery close to your neighborhood, think of other Cuban sandwich substitutions such as French bread rolls, telera rolls, bolillo rolls, or Italian bread.
With this bread, you have to adjust them a little bit before filling it by slicing them horizontally or depending on what shape you want the bread to be.
It'd better brush the bread with melted butter plus garlic powder because of a crunchy texture, a nice golden brown color, and extra flavor of the bread.
The pork's quality will not decide if your Cuban sandwich turns out to be delicious or not simply because it is not a decisive factor. Even if the pork has just been thawed, it can still deliver a great flavor to your sandwich.
So, in this case, you can buy new pork or use your frozen leftovers. Either situation will maintain the dish's quality.
Since we are making a slow cooker Cuba sandwich, your cooker must cook in the low setting or else the meat will become too dry. However, if your cooker cooks hot even in low mode, you can add an additional half a glass of chicken broth to ensure that the meat will always stay tender in the high heat.
Good quality spices and filling ingredients will make Cuban sandwich slow cooker tastes even more delicious! The best side dishes to serve with Cuban pulled pork sandwich recipes are pickles or fries.
The Final Word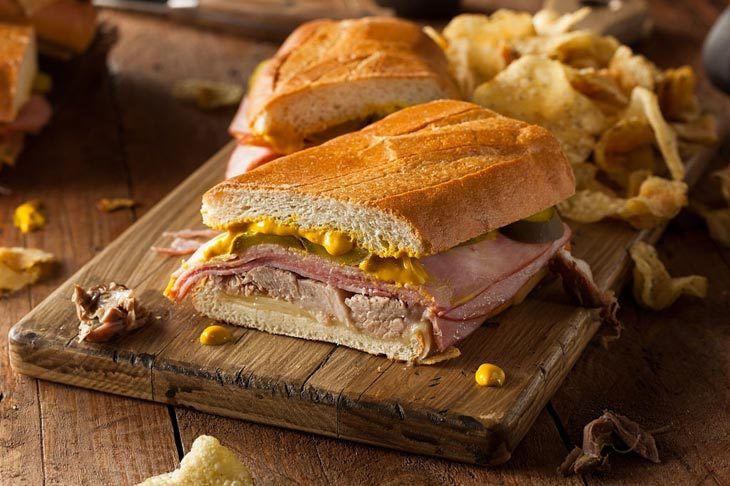 And that's everything you can learn about the recipe of slow cooker Cuban sandwich. By following our instructions, you can have the most delicious Cuban sandwich on hand without too much difficulty.
Thank you for reading our article, and we will see you soon!