4 Best Alternatives Used As Smoked Salt Substitute You Must Know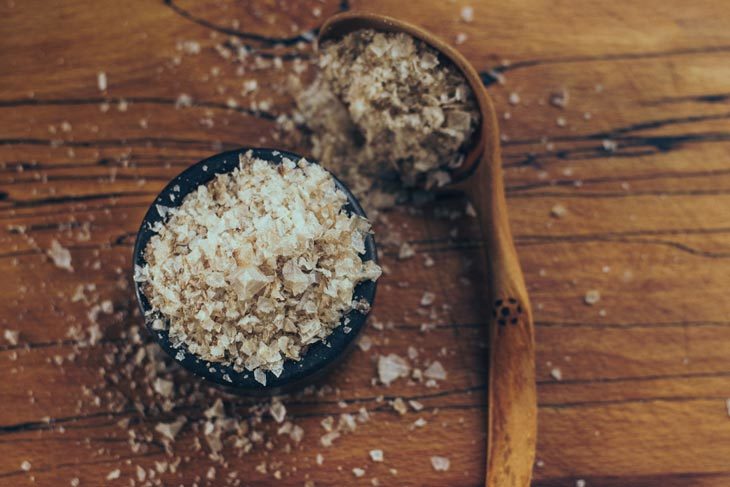 Salt is no doubt an irreplaceable ingredient in everyone's kitchen for any savory and sweet dishes. There are many ways to use salt, including cooking, baking, grilling, etc.
However, smoked salt is on another level to create more aroma and richness for complicated food. People normally add this type of salt to their BBQ and vegan dishes to create a flamed-grilled taste. sIt is much more wonderful than you can imagine. If you've never tried it before, looking up a smoked salt substitute for imagining its flavors easier is a good idea!
Read our post for further information about this kind of salt now. Let's get started!
What Is Smoked Salt
Smoked salt (or hickory salt) is salt-infused from real, untreated wood in the smoker or grill.
The production does not include any artificial colors or flavors, apart from cold smoking. To do this, you need a smoke tube to smoke at least under 80 degrees F of temperature with bark-free woods. It often takes about two weeks to absorb a unique flavor from woods, such as subtle, sweet, or bold.
You can find numerous varieties of smoked flavored salt on the market, and each one will bring a different flavor to your dish.
Let us take some examples. Smoked hickory salt is from hickory wood, which brings a sweet and savory feel. Meanwhile, people often use mesquite wood to create mesquite smoked salt on cold smoking in order to make it have a distinctive sweet flavor.
Unlike any other type of salt, smoked salt is used in numerous recipes to increase the salinity as well as the smokiness of any dish. This salt undeniably begins a new evolution to your food with its specific smoky flavor. Even meat-aholic or vegetarians love the flame-grilled flavor of hickory salt.
4 Ingredients Used As Smoked Salt Substitute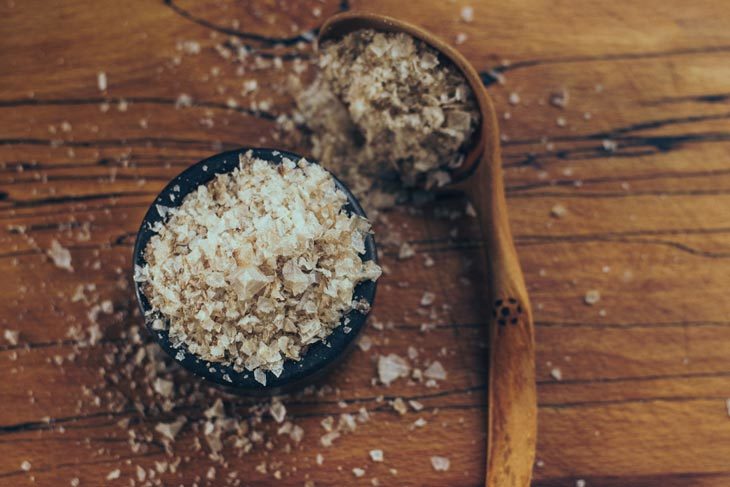 What if you could not find any smoked salt in the market where you live? No big problem, here is a list of its substitutes!
1. Homemade Smoked Salt
Smoke flavored salt makes your cooking more interesting and professional. Indeed, it increases your dishes' natural flavor and adds more earthy smokiness.
Many types of hickory salt are available on the market with different flavors based on the ingredients, the manufacturing progress, or the brands. For example, some manufacturers add liquid smoke or artificial ones to make a smoked salt, while others use artificial coloring.
Some types will somehow not suit your taste or your recipes. For this reason, it will be best if you make the smoked salt substitute by yourself at home!
The convenient thing here is that you can alter the flavors freely, up to your interest. Homemade smoked salt can be utilized as a dry rub to sprinkle on meat, fish, chicken, or directly on desserts, salads.
But remember that this substitute is mostly salt, so you should cut out the regular salt on the recipes!
2. Liquid Smoke
Liquid smoke is another option in case you want to use smoked sea salt on a dish separately without enhancing the smokiness. You can say that smoked salt is a liquid smoke flavoring substitute as well!
Add a tablespoon of this seasoning to your sauces of beef, shrimp, fish, chicken, or vegetables, and you do not have to grill it outdoors to get a barbecue flavor anymore!
Moreover, it is ideal for adding this substitute for smoked salt to baked beans, salad dressings, or chili recipes if you want any hint of smokiness.
You will find it extremely effortless to buy liquid smoke in any standard grocery store. It creates a smoky flavor to your dishes quicker than the homemade one. Yet, take note that this liquid smoke will bring moisture to your food.
3. Black Salt (Kala Namak)
Black salt is a sulfurous salt, which is chemically like sea salt but comes with a specific smell of rotten egg due to its hydrogen sulfide and sodium chloride component.
This alternative, combined with some Indian spices like turmeric, coriander seeds, and mango powder, is incredibly suitable for fried foods or snacks, such as fried legumes, peanuts.
A small amount of black salt can enhance the salinity, like smoked sea salt. Besides, its smell stands out and is detectable in the form of original salt but will disappear immediately after cooking.
4. Smoked Paprika
The last answer to the question "What to use instead of liquid smoke?" is smoked paprika. It is worth considering for a smoky yet spicy flavor. Although it can make any dish taste better, the smoked paprika works best in some foods that use paprika, like paella or chorizo.
Some recommended recipes here are roasted vegetables, scrambled eggs, veggie burgers, homemade aioli, and soup. When it comes to a dessert, you should utilize another salty substitute instead.
How To Choose Smoked Salt Substitute
There are lots of things to consider while choosing smoked salt substitution, including texture, color, convenience, and taste. You have to determine your references before making a decision.
For example, a little liquid smoke is a go-to choice to get a strong smoky taste. Do not forget to pay attention to the size of the grain salt. The larger the grain size, the stronger flavor. It also leaves a longer taste on your tongue. Normally, people opt for black salt when it comes to the impact of saltiness.
It is also totally fine to use either dissolving DIY smoked salt or store-bought one in your dishes. You will not notice any different major tastes here.
Suppose you want to choose a type that is quite easy to sprinkle on food with your fingers. Let's pick smoked paprika or black salt. You can handle these things with no hassle.
If you refuse to put those hickory smoked sea salt alternatives in your cooking recipes, continue reading to find out the hickory smoked salt recipe and make it your own!
How To Make Smoked Salt
Some people wonder how to make smoked salt and whether it is quite tricky to do the homemade one. In fact, it is quite simple to make! We are glad to guide you in particular.
Preparation
Cold smoking is the first thing you need to prepare before getting started. A pellet tube smoker is ideal for creating much cold smoke with a grill under 80 degrees F.
A rimmed baking pan or a homemade one.
An airtight glass container.
Making Process
First and foremost, let's spread salt evenly in a pan that you have prepared. Regarding the homemade pan, you can take some heavy-duty aluminum foil to fold it up around the edges of the pan. It is convenient to toss this layer when finishing the work without damaging your pan.
Now, let's move to the main part of how to make smoked sea salt!
The time you put the salt in the smoke depends on the flavor you want to get. For example, it takes at least four hours for the salt to begin to yellow and become subtle. If you give it six hours of smoking, its color is brown, and its flavor is much deeper than the 4-hour smoked salt.
Plus, the salt continues to change its color and get an intense flavor after twelve hours. The maximum time we recommend is 24 hours in case you love to enjoy the mouth-watering dishes with all the smoky goodness.
Be mindful to stir the combination each hour, no matter how long you smoke the salt. You can go wherever you want, as long as you do the stirring frequently!
When you get the desired salt flavor, let's move it to a glass container and seal it tightly.
In Conclusion
Above is a complete guide of the smoked salt substitute that you might want to know. This salt undoubtedly changes your meals and upgrades them to a new level with minimal effort. Once you try it for the first time, you will end up loving this ingredient and use it for any dishes, from meats to soups, marinates, fresh fruit, snack.
Do not hesitate to share this useful knowledge with your friend if necessary.