Spicy Peanut Butter Noodles – 4 Easy Recipes
Spicy peanut butter noodles – the hot and creamy flavor of this dish can surely win anyone's heart at first bite.
Below you'll find the top four easy spicy peanut noodles recipes. They are easy to follow, so you can make these noodle dishes at home.
#1. The Classic Version Of Spicy Peanut Butter Noodles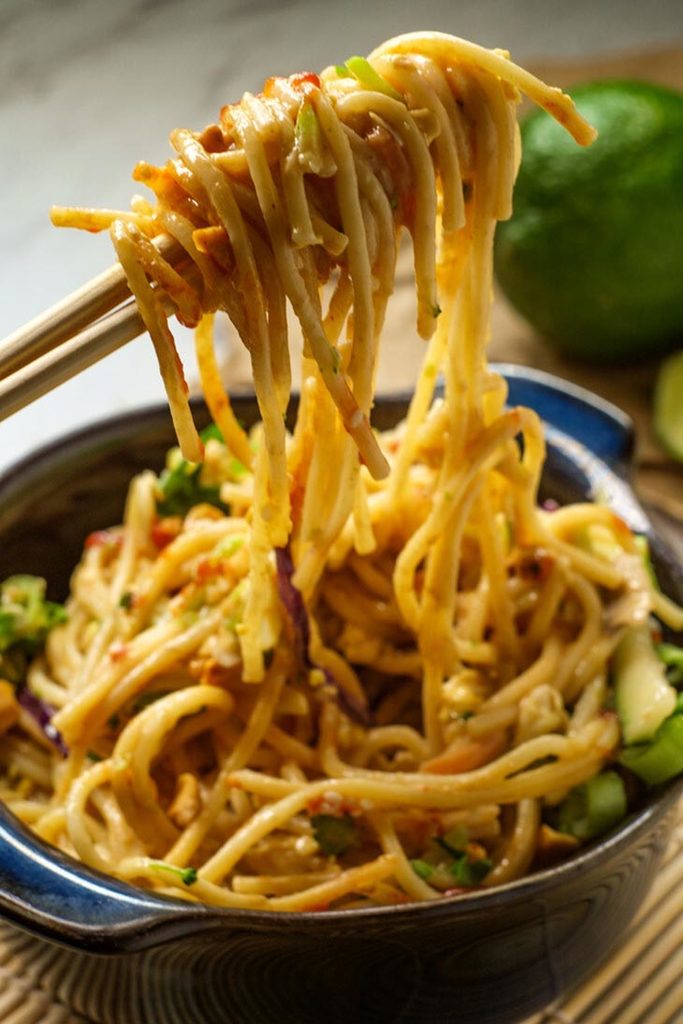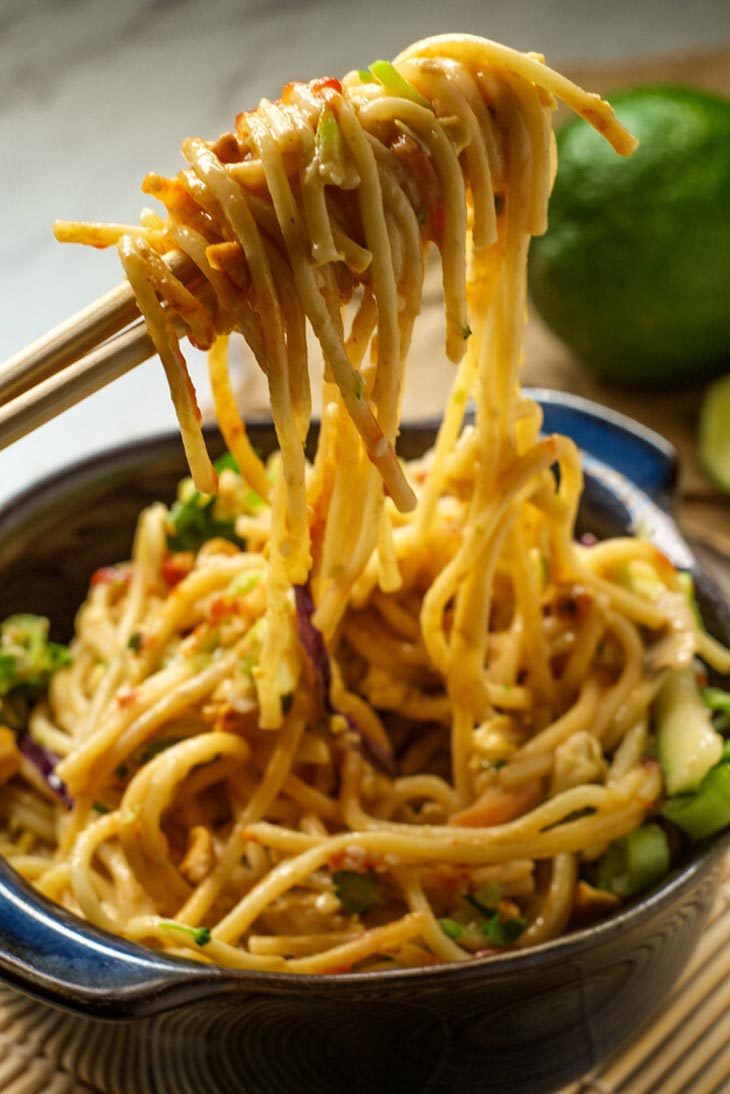 Let's start with the simplest spicy peanut noodles recipe.
Ingredients
400g of udon noodles or any Asian noodles you can find the supermarket
5 tbsp of crunchy peanut butter
3 tbsp of chili oil
1 tbsp of dark soy sauce
1 tbsp of rice vinegar
1 tsp of sesame oil
2 chopped garlic cloves
1 chopped ginger slice
6 sliced spring onions
1 sliced red chili
2 tbsp of toasted sesame seeds
Instructions
Step 1: Cook noodles based on the guidelines on the package.
Step 2: Make the spicy peanut sauce.
Preheat a small saucepan, then combine and whisk together the peanut butter, rice vinegar, soy sauce, oils, ginger, and garlic on medium heat.
Once all these ingredients blend well, add a little hot water, stir, and simmer the mixture for a while. Turn off the heat when you have smooth sauce for peanutty noodles.
Step 3: Drain peanut udon noodles, and toss them with warm sauce. Then, mix the noodles with the spring onions, chili, sesame seeds, and toss again.
Step 4: Transfer spicy peanut noodles to serving bowls or plates and serve them straight away.
#2. Thai Noodles With Spicy Peanut Sauce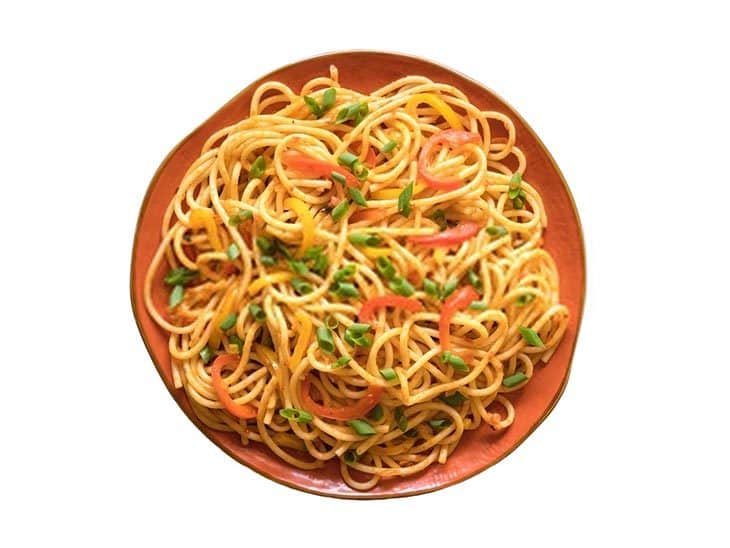 Are you a big fan of spicy Thai food? Then, follow this spicy Thai peanut noodles recipe, and the crave-worthy spicy Thai noodles will be ready to serve you.
Ingredients
For the noodles:
150gr of dry Spaghetti (or any Asian style noodles)
1 large cucumber
1 large bell pepper
A few green onions
A few cilantro
1 carrot
Salted roasted peanuts
Sesame seeds (optional)
For the spicy sauce:
½ cup of smooth peanut butter
2 tbsp of honey
¼ cup of warm water
3 tbsp of soy sauce
2 tbsp of lime juice
2 tbsp of Sriracha (if you don't have this sauce, you can substitute it with crushed chili flakes, chili paste, or cayenne pepper)
½ small fresh ginger
½ garlic bulb
1 tbsp of sesame oil
Instructions
Step 1: Prepare the vegetables by slicing the red bell pepper, cucumber, and peeled carrot into thin strips; chopping the green onions and cilantro; peeling and mincing fresh ginger and garlic.
Step 2: Cook the Spaghetti noodles based on the directions on the noodle package.
Step 3: Mix all sauce ingredients in a bowl, whisk until you have a well-blended and smooth, spicy peanut sauce.
Step 4: Drain the pasta and place them into a serving bowl. Toss them with sauce, then add the prepared veggies in step 1 and toss lightly.
Step 5: Place the spicy Thai peanut noodles in small bowls, garnish them with sesame seeds and serve. Yum!
In case you want to add extra flavors to this spicy Thai dish, use chicken breasts since the spicy peanut noodles with chicken version will taste fantastic.
#3. Cold Spicy Peanut Sesame Noodles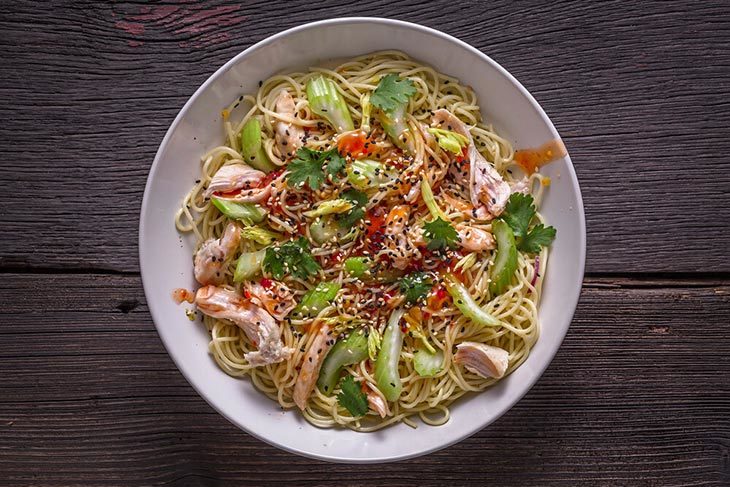 Cold noodles – it sounds a little strange to you, right? These Asian noodles are far different from the hot noodles you have eaten. Thus, if you want to bring fresh air to the meals, let's give this cold spicy peanut noodles recipe a try!
Ingredients
¾ cup of dried Spaghetti (If you don't have ones, you can use Asian rice noodles)
⅔ cup of freshwater
⅓ cup of creamy peanut butter
¼ cup of seasoned rice vinegar
¼ cup of soy sauce (we suggest using the low-sodium one)
3 tbsp of dark brown sugar
¼ cup of peanut oil
1 tsp of sesame oil
3 tsp of chili garlic sauce (more or less based on the heat level you prefer to enjoy)
2 tbsp of toasted sesame seeds
1 garlic clove
A few slices of fresh ginger
Fresh chopped scallions for garnishing
Instructions
Step 1: Cook the Spaghetti noodles based on the instructions on the noodle package and drain well.
Step 2: Combine and blend the water, peanut butter, soy sauce, seasoned rice vinegar, peanut oil, sesame seeds, chili garlic sauce, sesame oil, brown sugar, garlic, and ginger in a blender or a food processor.
Step 3: Add the noodles to a large bowl, then add chili peanut sauce and toss well.
Step 4: Cover and refrigerate the spicy peanut sauce noodles for an hour or more to make it super cold, and the sauce becomes pretty thick.
Step 5: Toss the spicy peanut sesame noodles with lots of sauce before serving. Then, add the fresh scallions and sesame seeds on the top of the dish for garnishing.
#4. Well-Balanced Version Of Spicy Peanut Butter Noodles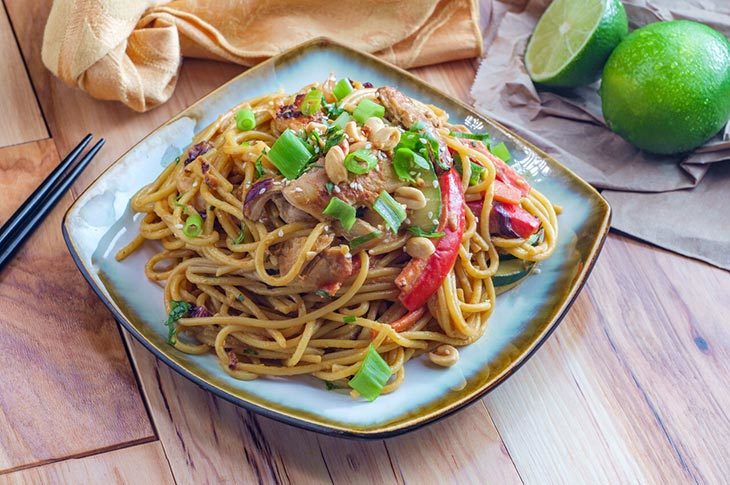 Worry that spicy peanut butter noodles are way too high in calories? Why don't you try this well-balanced peanut butter noodles recipe that cuts down on many calories yet brings delicious peanut flavor?
Ingredients
75gr of soba noodles or brown rice noodles
1 tsp of sesame oil
½ cup of powdered peanut butter
¼ cup of low sodium soy sauce
¼ cup of warm water
2 tbsp of rice wine vinegar
2 minced garlic cloves
1 tbsp of grated ginger
1 tbsp of honey
1 tbsp of fresh lime juice
1 tbsp of Sriracha (or any hot sauce you prefer)
1 chopped red pepper
2 cups of chopped broccoli florets
2 chopped celery stalks
2 cups of shredded green cabbage
4 chopped scallions
¼ cup of cilantro for garnishing
Instructions
Step 1: Cook the soba noodles according to the guidelines printed on the package. Then, rinse peanut pasta under cold water, drain well and set those aside.
Step 2: Make the healthy peanut sauce for noodles by mixing and whisking the powdered peanut butter, soy sauce, water, rice vinegar, lime juice, spices, and chili sauce in a large bowl.
Step 3: Cook the veggies with a few drops of sesame oil at medium heat. You can add a little water so that they become tender much more quickly.
Step 4: Add the noodles and the sauce to the veggies, and toss everything together. Once you are done, divide the healthy peanut noodles into dishes, add cilantro on the top, and serve.
Wrapping Up
Now you know the different versions of spicy peanut butter noodles along with the step-by-step guidelines on how to make them.
It's time for you to grab your favorite peanut pasta recipe and embark on the fantastic cooking journey to create super tasty noodles!
We hope to see your thoughts and photos about the flavorful noodles you have cooked!