Thyme is a herb used in cooking, and is closely related to oregano and mint. It was traditionally used in Mediterranean dishes, but has since found its way into many types of dishes.
Thyme is a member of the mint family, which boasts over 3,500 different plants! This includes herbs such as oregano and marjoram.
Dried thyme comes in jars or shakers, and should be easily found in any supermarket. But is a "sprig of thyme" the same as dried thyme?
Find out more about thyme below!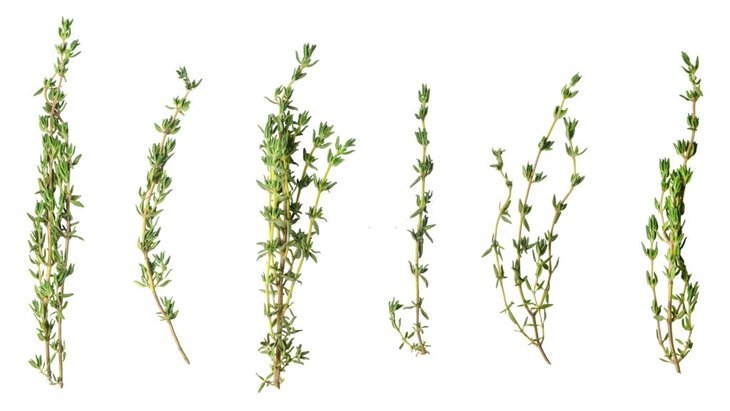 What Is A Sprig of Thyme?
A sprig of thyme is a snippet of fresh thyme, picked directly off a fresh plant. This includes the stem and leaves.
Typically, a sprig of thyme is used in sauces to impart the flavor of thyme without adding any of the vegetation. This is because typically the sprig is not eaten; it is discarded once the dish if finished.
The "sprig" is usually left whole (i.e. not de-stemmed) to make it easy to remove when the dish is completed. If you took the fresh thyme leaves off the stem, there would be no way to remove it.
However, if you accidentally removed the leaves and threw them into your dish before you read this article, don't worry. Fresh thyme will not ruin your dish, and in fact will probably make it taste just as good.
To be honest, using a full sprig of a herb in your dish is more of a culinary flex, than something that has any real usefulness behind it. The flavors and aromas of the herb get infused into the dish regardless of how it's used, and the full stem with its leaves just look great for pictures.
How Much is a Sprig of Thyme?
A sprig of a fresh herb in general – thyme or not – is usually defined as a single stem that is about 4 to 6 inches (12-15 cm) long. This stem will still have its leaves, and it will be fresh.
If you happen to use too much, or not enough, don't fret over it. Honestly, double or half the amount of thyme "sprigs" shouldn't change your dishes flavor too much.
However, if you need a more exact measurement, once plucked, the fresh thyme sprig should create about equal 1/3 teaspoon of fresh leaves.
Fresh Thyme vs. Dried Thyme
In just about any super market, you'll have your choice between fresh or dried thyme. Some recipes ask for a specific one, but they are usually easily substituted for one another depending on what is available to the chef.
Fresh Thyme
Fresh thyme is surprisingly easy to grow indoors. Seeds take a few weeks to sprout, but the plant should last for years if you water it regularly and give it plenty of sunlight. The longer the thyme plant is left to grow, the older stems become woody. These woody stems should not be eaten or used as a sprig. Only use the young stems for this.
Once picked from the plant, these fresh herbs should be refrigerated and wrapped in a damp paper towel. When you properly store fresh thyme, it will retain its freshness and flavor for up to two weeks.
Normally if a recipe calls for fresh thyme, you would de-stem the sprig, and only add the leaves to the dish. If you use the full sprig, then chances are you'll need to remove it before eating.
Fresh thyme adds a mild flavor to the dish, less than the dried version.
Dried Thyme
Dried thyme is – you guessed it – just a dried version of the fresh stuff. Fresh is always better for adding the exact taste to the meal, but dried thyme does a surprisingly good job of holding on to its flavors once dried.
As with most herbs, the best taste will come from the fresh plant.
How much dried thyme equals a sprig? 1 sprig of fresh thyme equals approximately ¾ teaspoon of dried thyme.
One teaspoon of powdered thyme is equivalent to up to 4 teaspoons of fresh thyme.
Substitutes For Thyme
If you don't have thyme, then you'll need to find a substitute. Any of these herbs can be used in the fresh, or dried state.
1. Italian seasoning
The name speaks for itself. This thyme substitute is a mixture of herbs that likely already has some thyme in it.
It is a mix of basil, oregano, marjoram, rosemary and thyme.
2. Oregano
If you do not have fresh thyme on hand, a sprig of oregano should do the trick.
However, unlike the gentle and delicate nature of thyme, oregano's flavor can pack quite a punch and overpower the other elements of your dish.
Usually, you'd substitute 3/4 of the amount of oregano as it needs of thyme.
3. Basil
Basil operates much like oregano here. Use fresh if you can get it, but dried will work in a pinch as well. Since basil can be a bit sweeter than thyme, be careful to not over do it. Add less than what it calls for at first and taste.
How to Use Thyme in Cooking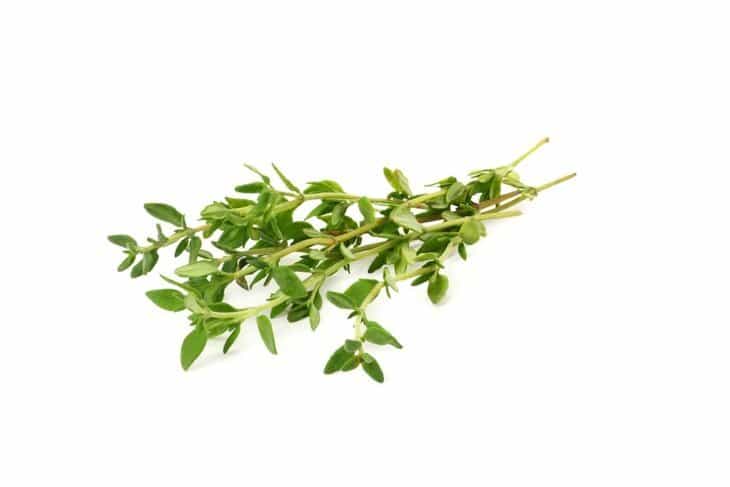 How To Prepare Fresh Thyme
To remove the stem from a sprig of thyme, you can drag the stem through the tines of a fork, or through the holes of a colander. Both of these methods should remove most of the leaves from the stem.
Thyme leaves are small, but it is still a good idea to give them a rough chop before throwing them into your dish. This will open up the leaves so that more flavor gets added to your dish.
Cooking With Thyme
Thyme is very common with chicken dishes. It is the primary herb in our beer can chicken recipe. Thyme is often used with potatoes as well.